The Triumph Speed 400 has made a dent in the segment with its competitive price tag of Rs 2.33 lakh (ex-showroom). This price was Rs 20,000 – 30,000 lower than most optimistic estimates and was further reduced to Rs 2.23 lakh for the first 10,000 buyers. The pricing was undoubtedly the standout feature of the new Triumph Speed 400, reminiscent of the value for money that the KTM 390 Duke offered during its launch. But then price is one thing, how does it ride? Read on! (You could watch on too, YouTube video below).
Upon seeing the Speed 400 in flesh, the bike's build quality and finish removed any doubt of it being 'built to a price'. With premium materials, excellent craftsmanship and attention to details throughout. Triumph ensured that the Speed 400 fit seamlessly into its lineup by borrowing design elements from its larger Speed Twin 900 and 1200 siblings. The retro design gets a fresh touch with all-LED lighting, giving the bike a modern look and a commanding presence. There is no doubt ever that this belongs to the Triumph line.
Despite its compact appearance, the Speed 400 comfortably accommodates two adults, providing a spacious and accommodating riding experience. The motorcycle's 398cc single-cylinder engine impressed with its smoothness, tractability, and flexibility. It excelled in mid-range performance, offering a thrilling riding experience without the need to rev all the way to the redline. It has a dual character and you can potter around town and it will feel like a commuter but be happy on the throttle and it now is a flying beast that packs a punch even at higher rpm's.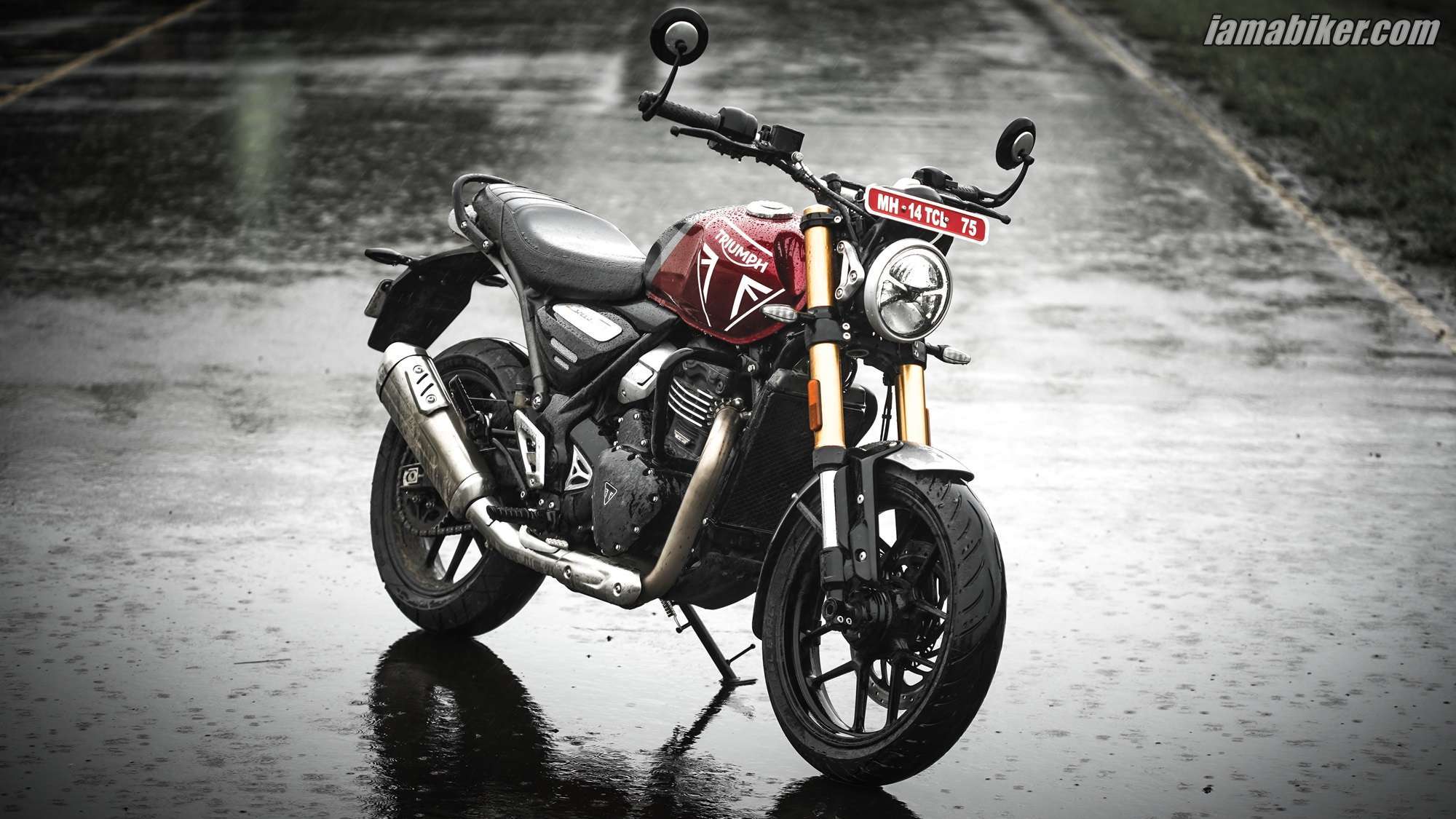 The bike's ride and handling were commendable, with a soft front setup that absorbed bumps on less-than-perfect roads while maintaining composure. On the twisties, the Speed 400 remained predictable and agile, though not quite as sharp as a Duke 390, it held its own and from a majority rider point of view it will most importantly be known for being light. The brakes too were on point, nothing really to complain and never once felt that we needed more from it.
This little Triumph packs in several features, including ride-by-wire, traction control, a torque-assist clutch, all-LED lighting, dual-channel ABS, and an immobilizer. Would have loved the meter better if the instead of the speed the tachometer was needle based, but then that's just us nit picking.
The Triumph Speed 400 has taken what was becoming a very predictable, boring and pricey segment and injected some soul into it. The pricing, the styling and the build quality will definitely make competition rethink their strategies. Bajaj has nailed the production and stuck to their ethos of 'Affordable performance'. We love it, we want more, now bring the Scrambler 400 X!