Indian Motorcycle has filed patents for a new type of adaptive cornering headlamp system. Alongside working as cornering lights, the new system changes the width and length of the headlamp beam as the speed of the motorcycle increases and decreases. This new technology is expected to make riding Indian Motorcycles a lot safer than it currently is.
Motorcycle safety systems have come a long way since the days of the drum brakes, and of the raw power of the big two-strokes not being governed by any electronics. Today, we have traction control, wheelie control, rear-lift mitigation, cornering ABS, 6-axis IMU, switchable riding modes, etc. Some motorcycles are also equipped with cornering lights.
Visibility plays a major role in keeping a motorcycle and its riders safe, especially at night. The advent of LED lights brought about more safety to the world of motorcycling. The development of lights however, didn't really stop. Indian Motorcycle seems to have been working on a new lighting technology — speed-adaptive cornering lights.
Leaked patent images have revealed more details with regard to this new development and it is quite interesting. One of the images shows the different beam patterns at different speeds. At a speed of 30km/h, the beam is widespread and the throw isn't as wide. At around 60km/h, the beam becomes slightly narrower but the throw increases.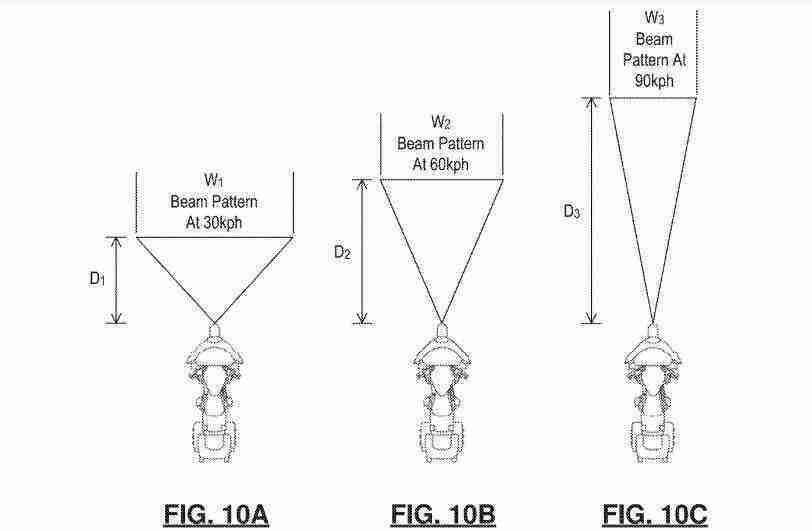 At 90 km/h, the beam's width is half as much as it was at 30km/h, and the throw is twice as much as it was at 30km/h. At slower speeds, the wide focus of the beam makes for a safer ride in town. At 90km/h, the longer and more focused beam makes for a safer ride at highway speeds when the rider has less time to react to an obstacle.
One of the patent images reveals that the new illumination technology is being tested on the Indian Roadmaster. However, it shouldn't be too hard to implement it in other models made by Indian Motorcycle. We could see this speed-adaptive cornering light making it to the production line in the next update to the Indian Roadmaster and other models could follow later.
---
For the latest news in your mailbox click HERE to subscribe to our daily newsletter!
or
Click HERE to Download our APP for all the action right on your mobile device!