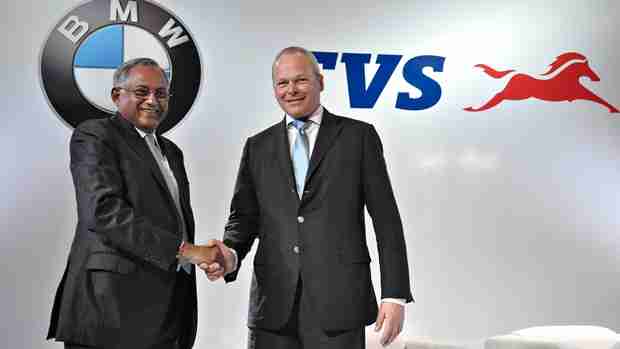 We all knew something was brewing at TVS when top BMW officials visited their plant last year. We all knew further that a partnership of some sort was sure when the visiting BMW officials announced to the press that they were mighty impressed with TVS's manufacturing process. At that point of time we thought the link would be via Husqvarna, but early this year when BMW let go of Husqvarna a direct partnership with TVS was even more imminent. Now as a part of its strategic reorientation, BMW Motorrad will be entering the segment below 500 cubic centimetres. BMW Motorrad and the TVS Motor Company have signed a long-term cooperation agreement for this purpose. This was announced at a press conference today in Chennai, India. The aim of the cooperation is to join forces to develop and produce motorcycles in the segment below 500 cubic centimetres.
The various stages through to the finished serial production motorcycle will be planned by both partners but implemented with different focus areas on each side leveraging the strengths of both companies. The cooperation agreement involves the two companies each offering their own vehicle derivatives, which will be sold through their own distribution channels in India and across the globe. Both contractual partners commented on the future cooperative venture at the press conference.
Stephan Schaller – President BMW Motorrad
"In view of changing motorcycle markets, demographic developments and increasing environmental demands we are expanding our product range so as to tap into fresh growth potential. We have a highly expert and experienced partner in the TVS Motor Company. This means that in future we will be able to offer vehicles in smaller capacity classes in addition to the BMW Motorrad core segments. Various types of motorcycle are conceivable. They will meet the expectations of a BMW motorcycle in terms of riding fun as well as setting a new benchmark when it comes to stability, agility and performance figures. I regard this long-term cooperation as an important step along the road to profitable, sustainable growth."
Venu Srinivasan – Chairman TVS Motor Company
"With BMW Motorrad, we see an ideal long-term strategic partner who shares our core values: focus on quality, engineering prowess, innovation and customer satisfaction. We intend to leverage each other's strengths to deliver a new series of products offering cutting edge technology for our customers."
The cooperation partner BMW Motorrad is one of the world's leading manufacturers of motorcycles and scooters in the premium segment. Celebrating its 90th anniversary in 2013, BMW Motorrad is an integral part of the BMW Group with its brands BMW, MINI and Rolls-Royce. As an international company, the BMW Group operates 28 production and assembly plants in 13 countries as well as a global sales network with branches in over 140 countries (BMW Motorrad over 100). The main production facility of BMW Motorrad is located in Berlin, Germany. In 2012, the BMW Group sold approximately 1.85 million cars and more than 117,000 motorcycles worldwide. Pre-tax income amounted to around 7.82 billion euros (motorcycles 6 million euros), with turnover at 76.85 billion euros (motorcycles 1,490 million euros). The BMW Motorrad model program comprises 19 premium motorcycle and scooter models from 650 to 1600 cc in the categories Enduro, Sport, Roadster, Tour and Urban Mobility. The company is market leader in 13 countries, the core markets are Germany, USA, France, Italy and Brazil
The cooperation partner TVS Motor Company is one of the largest motorcycle manufacturers in India with an annual production volume of some 2 million units and a turnover of more than one billion USD. TVS Motor Company is the flagship company of the 100 year old six billion USD TVS Group, which has some 40 companies and holdings in the automotive sector. TVS Motor Company offers the widest range of product in the Indian two and three wheeler industry. The company's customer inspired engineering approach, has enabled it to introduce a wide product range that caters to all industry segments. TVS Motor Company has international presence in more than 50 countries in Asia, Africa and Latin America.