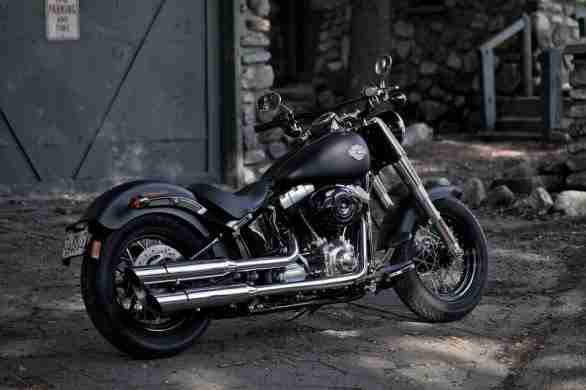 Harley Davidson expands its range for the year 2012 with the addition of two new motorcycles, which follow the recently unveiled Dyna Switchback: they are called Sportster Seventy-Two and Softail Slim. The Sportster seventy-Two somewhat retrieves the legacy of the old Sportster Custom, with a large old school metal spoke wheel at the front and specifically dedicated paint job, whereas the Softail Slim loses the chrome bits in favour of the black color, keeping the frills down to a minimum in order to retain that wicked look that was typical of the 1950s bobbers.
Describing the Seventy-Two, Harley-Davidson emphasizes that the model is inspired by the chopper's pioneering years, when the bikes used to come with flashy colors and loads of chrome bits, but were also deprived of all the superfluous parts in order to make them sleeker and lighter. In fact, looking at the motorbikes of that period, one cannot help but notice how stripped they were, almost like pushbikes: that style of custom bikes is typically American and was originated in California. One of the most distinctive features of the Sportster Seventy-Two is its Hard Candy Big Red Flake paint, which can be found on the small fuel tank, tail and front mudguard, which covers the big 21″ Dunlop tyre with white side (typical of the custom bikes of the 70s). The model is powered by an air-cooled 1200 cc V-Twin Evolution engine – which we have already seen on all the latest Sportster models – and provides a peak torque of 96 Nm at 3,500 rpm. Besides, it makes use of the advanced Electronic Sequential Port Fuel Injection (ESPFI), which waves goodbye to carburettors and boasts increased reliability and less routine maintenance.
With its big, fat tyres and the minimalistic design, the Softail Slim instead is a real 'bobber'. It uses certain elements that are more reminiscent of a Sportster (i.e the fuel tank) but everything on this bike seems to underline its essentiality. After all, this is exactly what H-D had in mind when they got started with the project: taking a Softail and put it on a diet. The Softail Slim has a smaller rear wheel with a shorter mud guard, and leaves an empty space between saddle and tank that allows riders to admire the upper side of the engine while traveling. The bike is powered by an air-cooled 1,690 cc Twin Cam 103B unit with Electronic Sequential Port Fuel Injection (ESPFI), which is mated to a Six-Speed Cruise Drive transmission and produces a maximum torque of 132 Nm at 3,250 rpm. Visit the full Sportster Seventy-Two and Softail Slim gallery.