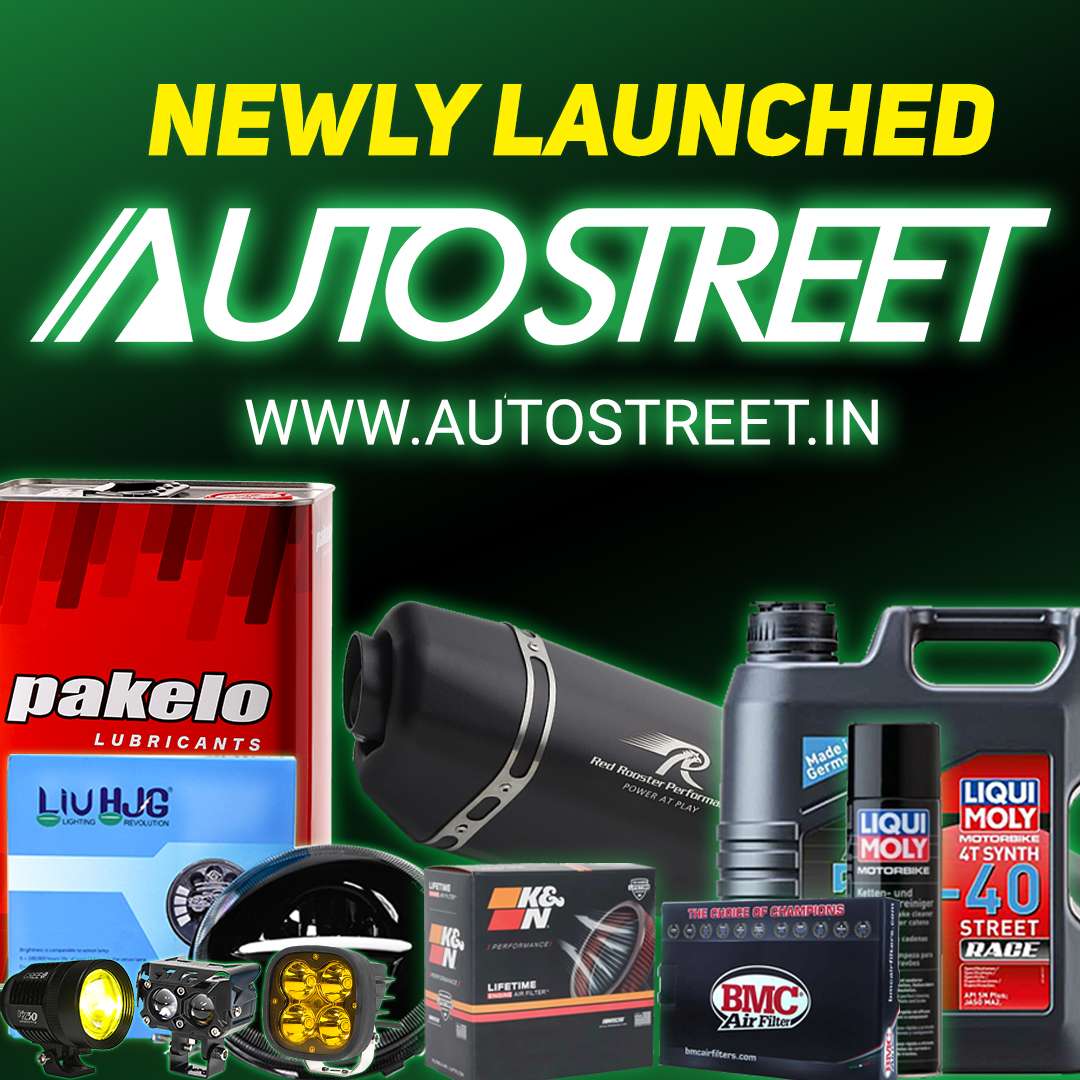 The motorcycle market offers a wide selection of options. To make the selection process easier for you, we have put together a list of the 5 best motorcycles renowned for their horsepower, MPH hits and much more. Let's have a look at the list and see what makes each motorcycle unique and the best choice for racers.
Below is a curated list of the best bikes for racing that you should definitely check out:
Yamaha YZF-R1
Year of release: 1998-present.
Manufacturer: Yamaha Motor Company
Price: $17,999
This is manufactured in Japan sportbike which is known for its power and agility. The motorcycle has a cross-plane engine that produces 200 horsepower. This allows it to reach a top speed of 186mph.
The Yamaha YZF-R1 has a lightweight aluminium frame, precise handling and advanced suspension. It has an aggressive styling well combined with cutting-edge electronics. This racing bike has an aerodynamic bodywork that helps reduce drag and a quick shifter essential for a seamless gear change.
Key Specifications
Top Speed: 186 mph
Fully adjustable KYB suspension
Engine: 998cc cross-plane, inline-four, 200 HP
Acceleration: 0 to 60 mph in 2.7 seconds
Multiple riding modes
Curb Weight: 439 lbs
Torque: 114.9 lb-ft
Lightweight aluminium frame
Traction control and slide control
Strengths
Suitable for beginners, yet fully homologated for MotoAmerica SuperTwin racing.
Just as sharp and nimble as the rest of Yamaha's R models.
Kawasaki Ninja H2R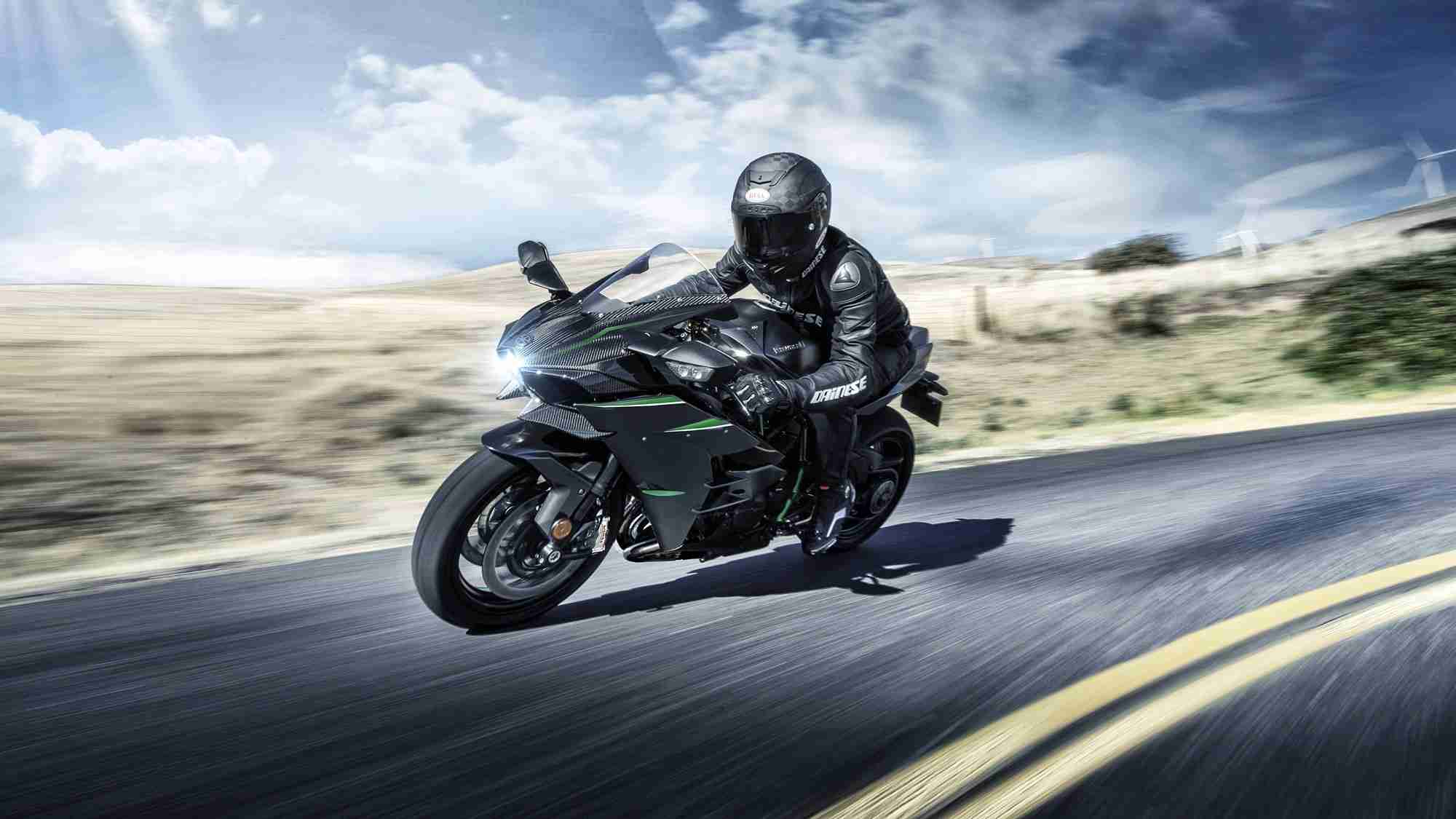 Year of release: 2015–present.
Manufacturer: Kawasaki Motorcycle & Engine Company
Price: $56,500
Another supercharged beast designed for racing is the Kawasaki Ninja H2R. A powerful inline-four engine powers this motorcycle. Its engine produces an astounding 310 horsepower which enables it to attain a remarkable top speed of 249 mph. Its design is coupled with suspension and the intelligent Anti-Lock Braking System (KIBS), providing stability, safety and control for riders when racing. The KIBS plays a crucial role in preventing wheel lock-up during slippery or hard braking conditions.
Additionally, this motorcycle uses an aerospace-derived supercharger technology to increase power output, improve performance and enhance the motorcycle's acceleration capabilities.
Key Specifications
Engine: 998cc supercharged inline-four, 310 HP
Acceleration: 0 to 60 mph in 2.5 seconds
Top Speed: 249 mph
Torque: 165 lb-ft
High Tensile Steel Trellis Frame
Curb Weight: 415 lbs
Multiple Power Modes
Brembo Monobloc Calipers and Carbon Ceramic Brake Discs
Strengths
Manoeuvrable, responsive and communicative when learning how to control the bike on the track.
Affordable price, and not too expensive to repair.
Ducati Panigale V4 R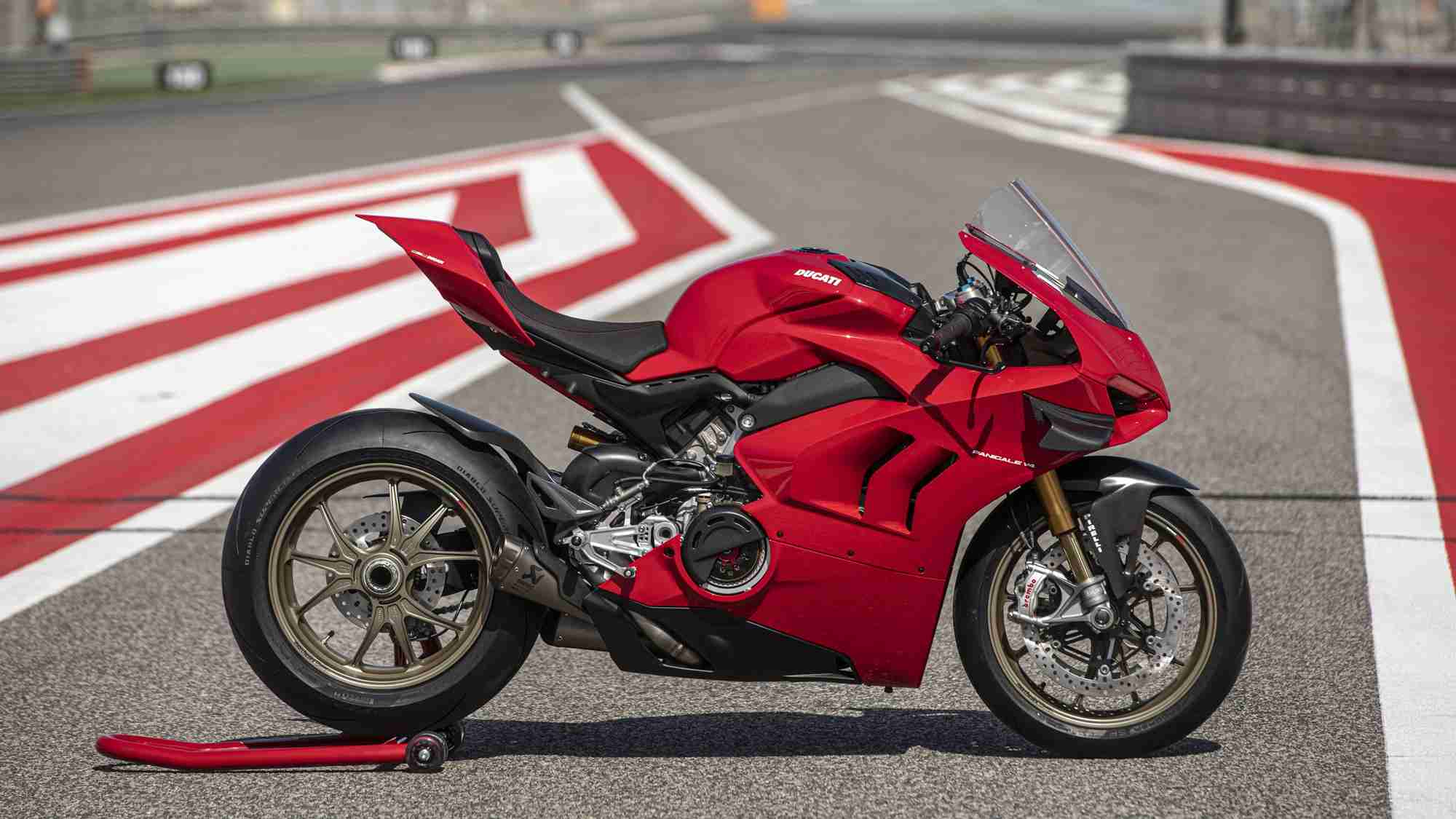 Year of release: 2023
Manufacturer: Ducati
Price: $44,995
Do you need a motorcycle that embodies Italian precision and power for your up-and-coming race? The Ducati Panigale V4 R is the solution to your needs. This machine comes with advanced electronics that include but are not limited to cornering ABS and slide control, ensuring superior handling and stability. It has a 998cc Desmosedici Stradale R engine that boasts 240.5 horsepower.
Moreover, it has a lightweight chassis and an aggressive design compared to the standard V4 making it a standout choice for racing die-hard fans. Not to forget, this motorcycle comes with various race-ready features such as launch control, a quick shifter and aerodynamic winglets.
Interesting fact, a few years ago NextGen Gaming studio wanted to buy the rights to use Ducati in their Easy Slider pokies. It was about six digits, but they failed. You can try to play a demo of this pokie by searching for it online pokies directory, but unfortunately Ducati is not there yet.
Key Specifications
Top Speed: 199 mph
Horsepower: 240.5 HP
Torque: 87 lb-ft
Curb Weight: 425 lbs
Acceleration: 0 to 60 mph in 2.7 seconds
Ducati Quick-Shift EVO 2 for Seamless Gear Changes
Engine: 998cc Desmosedici Stradale R, V4
Aggressive Italian Design
Cornering ABS and Slide Control
Lightweight Chassis
Suzuki GSX-R1000R
Year of release: 2001-present.
Manufacturer: Suzuki
Price: $17,899
One of the racing motorcycles that combine power with precision is the Suzuki GSX-R1000R. It features a variable valve timing system that optimizes performance, hence ensuring there's a smooth power delivery across the RPM range. This motorcycle has advanced suspension components and Brembo brakes that provide excellent control and stability for riders, making it a strong contender in the racing scene.
Also, the Suzuki GSX-R1000R's Showa balance-free forks contribute to improved suspension performance, reduced unsprung weight, and customizability, especially in racing conditions.
Key Specifications
Engine: 999.8cc inline-four
Horsepower: 202 HP
Top Speed: 199 mph
Torque: 113 lb-ft
Acceleration: 0 to 60 mph in 2.8 seconds
Curb Weight: 437 lbs
Brembo Monobloc Calipers
Suzuki Drive Mode Selector for Customizable Performance
Variable Valve Timing System
Strengths
A motorbike that will teach you everything you need to know about cornering, trail braking, rolling and other essential trail knowledge.
BMW S1000RR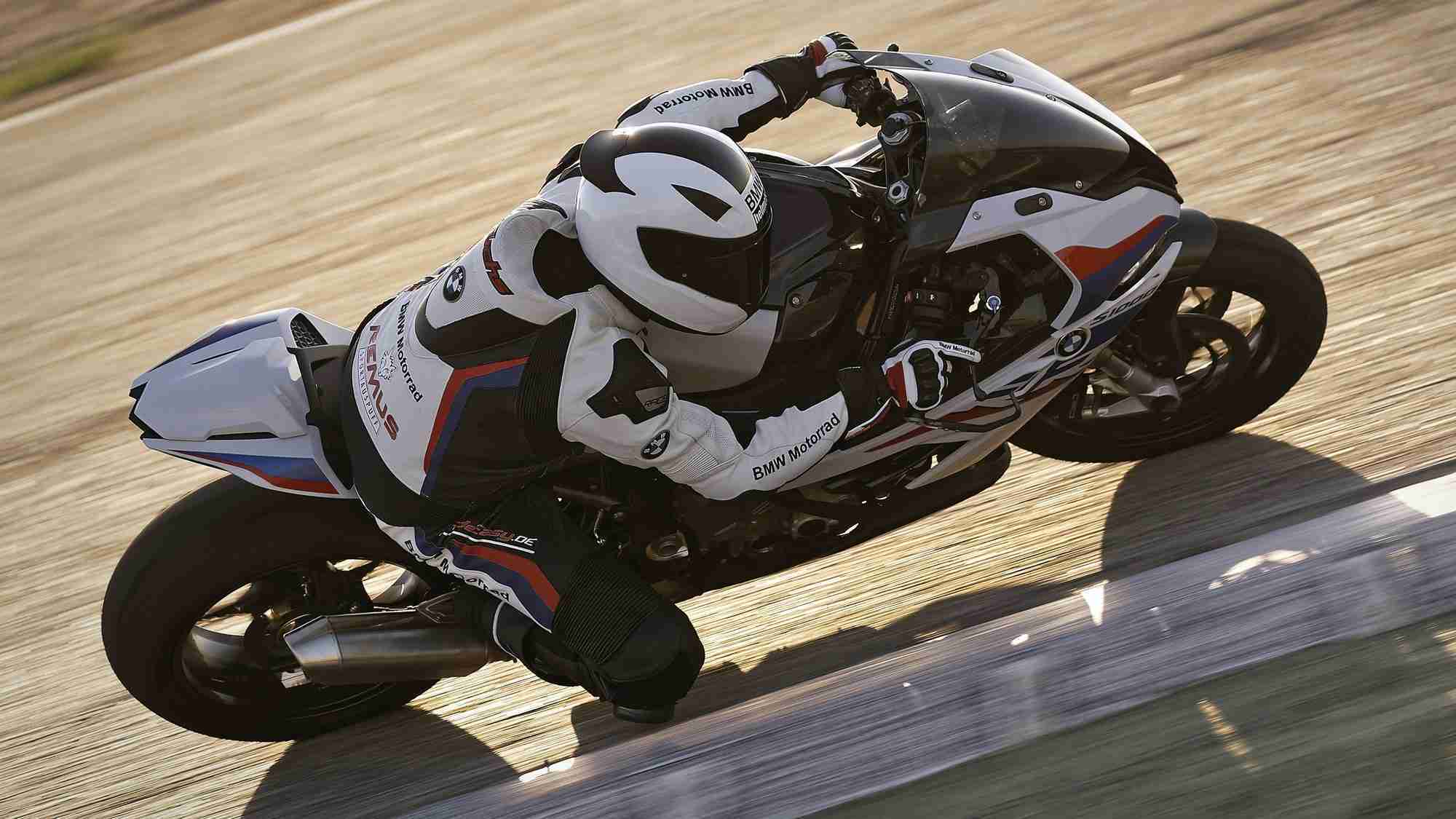 Year of release: 2008–present.
Manufacturer: BMW Motorrad
Price: $17,895
The BMW S1000RR comprises ShiftCam technology which serves a crucial purpose in optimizing the motorcycle's engine performance and efficiency across different RPM ranges. Thus, the ShiftCam enhances torque, increases fuel efficiency, optimizes power delivery and improves the riding experience. Aside from that the BMW S1000RR has a lightweight design combined with customizable riding modes (road, rain, dynamic, race) and advanced electronics that make it a versatile and powerful racing machine.
Another feature that can't go unmentioned is the Thin Film Transistor (TFT) display which serves as a high-tech interface used to provide riders with intuitive control and comprehensive monitoring capabilities. It enhances the overall riding experience by offering precise data feedback in real-time, customizable settings and control options making it a suitable choice for racing.
Key Specifications
BMW Motorrad Race ABS and Dynamic Traction Control (DTC)
ShiftCam Technology for Optimal Power Delivery
Engine: 999cc inline-four 205 HP
Top Speed: 199 mph
Curb Weight: 437 lbs
Acceleration: 0 to 60 mph in 2.7 seconds
Torque: 83 lb-ft
Lightweight Chassis
Strengths
A homologated superbike that's virtually as good as a track bike.
If you want to add a few more race-ready attachments, there's the M Sport package, which brings together the best standard features of the M 1000 RR and they're available on the S 1000 RR without having to spend an extra $15,000.
Final Thoughts
When analyzing the best racing motorcycles, several factors such as performance, technology, and design come into play. The Yamaha YZF-R1, Kawasaki Ninja H2R, Ducati Panigale V4 R, Suzuki GSX-R1000R, and BMW S1000RR are commonly recognized for their features in the racing community. While the Ninja H2R impresses with its supercharged capabilities and the Panigale V4 R boasts Italian precision, there are certain nuances to each bike that might not resonate with every racer.
The thrill of racing can be enticing, but it's also fraught with its own set of risks. If the idea of purchasing a racing motorcycle feels daunting or financially prohibitive, seeking adrenaline rushes elsewhere might be a wise choice. For instance, playing Uusi kasino with fast payout games can offer excitement without the physical risks associated with racing. For example, Biker Gang, Slots Angels, or Bike Mania. Remember, the key is to find what thrills you, but also to understand the associated risks and rewards.