TVS Eurogrip is the latest tyre brand to enter the Indian market that has been launched by TVS Srichakra Limited, the leading 2- and 3-wheeler tyre company. The company says that it has a portfolio of 19 premium tyres ranging from 10-inch scooter tyres to high-performance 17-inch units.
These new TVS tyres are primarily targeted towards the youth who want performance and good visual identify from their tyres. It has been developed using experts from across the globe and most importantly using customer feedback. TVS is also setting up a Design and Innovation centre in Milan that will spearhead new developments.
In total there are 5 categories – Ultra Sport, Urban Sport, Commute, Scooter and Rib which cater to pretty much the entire tyre segment.
The top spec, 17 inch ProTorq Extreme in the Ultra Sport category will be available in 110/70 section for the front tyre and 150/60 section for the rear tyre and has a speed rating of 270 kmph.
This version will also have a zero-degree steel belted radial construction, which basically means it has a steel wrapped layer along the direction of rotation which increases rigidity of the tyre multifold.
Commenting on the new brand launch P Srinivasa Varadhan, President, TVS Srichakra Limited, said, "India will remain a promising market for two-wheelers and we see tremendous growth opportunity. It is a moment of immense pride for all of us as we launch TVS Eurogrip catering to the needs and requirements of the new age Indian rider. With this step, we boldly stride into the future."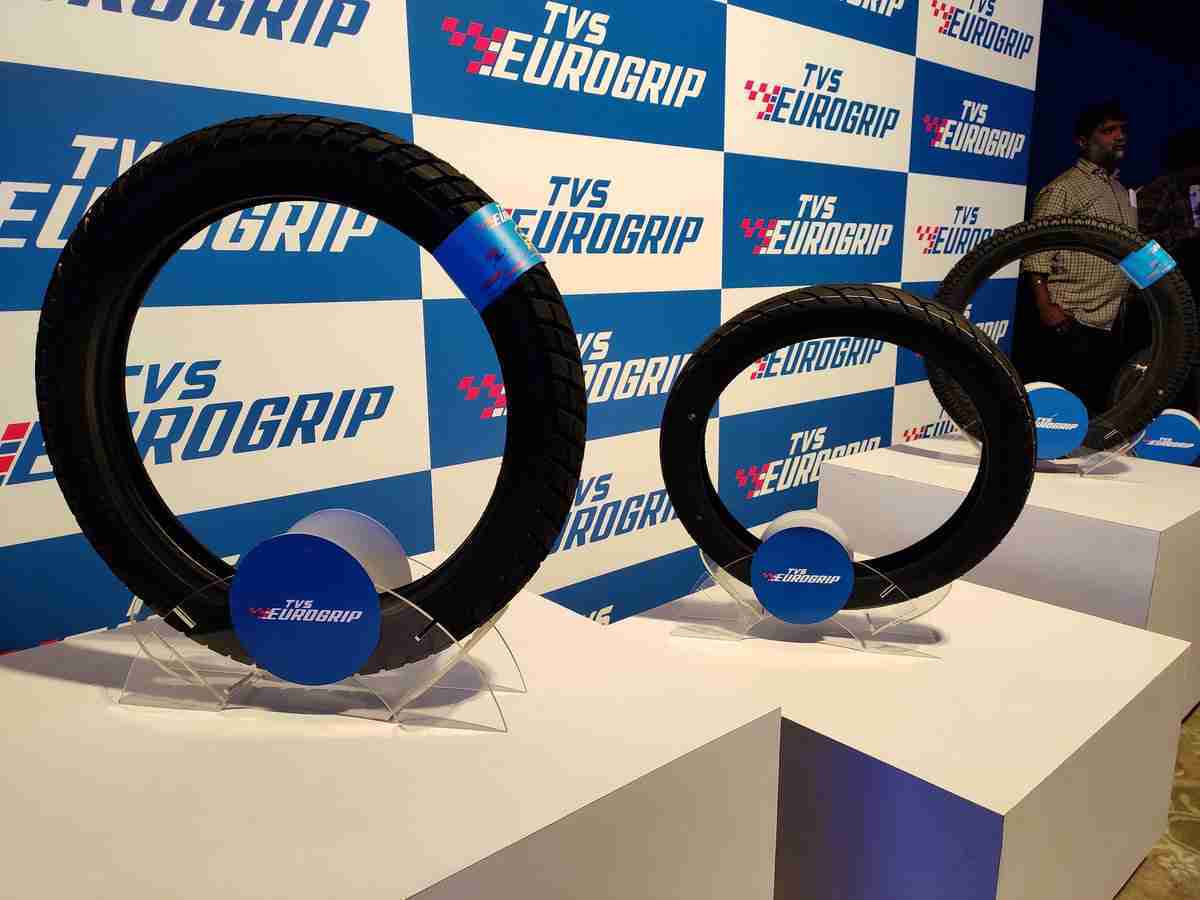 He further added, "For over three decades now, we have established ourselves as a leading global brand in the two-wheeler tyre category. We have always understood customers' needs, their aspirations and dreams, and have provided them with products that enrich their riding experience. TVS Eurogrip has all the elements the new-age rider is looking for – design, superior quality [and] high performance."
TVS Srichakra Limited says that the new tyres are a result of years of research and development in India and overseas. TVS Eurogrip identity brings alive the essence of the brand. It is a sporty, vibrant and youthful visual identity that connotes innovation, superior quality and high performance. Talking about performance, the industry-leading zero-degree steel-belted radial tyres are extreme performance tyres that provide unmatched stability at high speeds and are rated to run at speeds up to 270kmph!
Which tyres are you currently using?
---
For the latest news in your mailbox click HERE to subscribe to our daily newsletter!
or
Click HERE to Download our APP for all the action right on your mobile device!