TVS Motor Company takes another step forward in the betterment of the environment by launching its first-ever ethanol-powered Apache RTR 200 Fi E100. TVS has always been keen on experimenting and transforming ideas into commendable products. This time, it utilised its engineering prowess and gave us an Apache that doesn't run on petrol!
The TVS Apache RTR 200 Fi E100 is priced at Rs 1.2 lakh (ex-showroom). During the initial phase of its launch, it will first reach Maharashtra, UP, and Karnataka. Perhaps, TVS will introduce the bike in the rest of the country in different phases.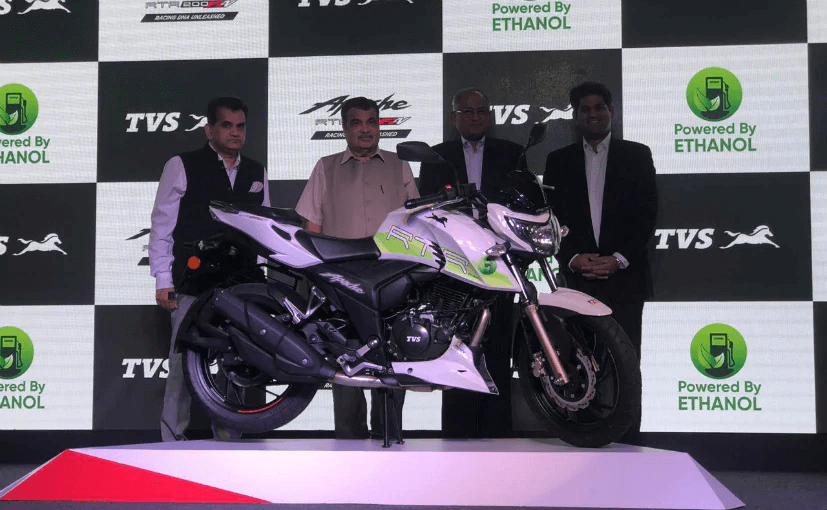 TVS first showcased the concept of this bike at the 2018 Auto Expo and now it's here as a fully-ready production model. Powering this ethanol-run motorcycle is a 200cc single-cylinder engine which produces around 21bhp and 18Nm of torque. It has a claimed top speed of 129kmph. In terms of aesthetics, it looks exactly the same as its other Apache 200 siblings. However, it gets a new white colour with green decals.
So basically ethanol is manufactured from plant residues such as sugarcane molasses and sorghum and is significantly cleaner than fossil fuels. It is basically an oxygenated fuel blend of alcohol and gasoline which gives a higher octane number at lower costs and has cleaner combustion as well. Using Ethanol as a fuel reduces the emission of Carbon Monoxide by up to 35 per cent. There is a significant reduction in the emission of Sulphur Dioxide and particulate matter too. Since it is manufactured from renewable plant resources, Ethanol is bio-degradable and increased usage of Ethanol can reduce the import of petroleum on a larger scale as well.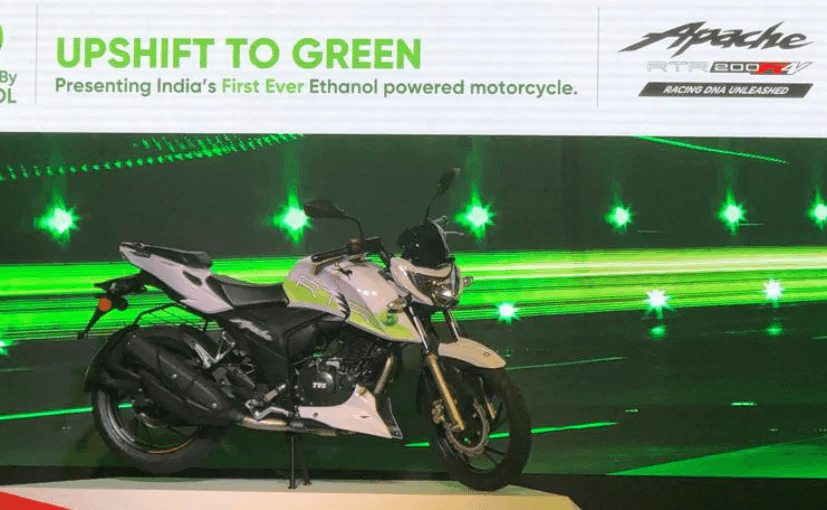 While there are some great benefits of using ethanol as fuel, one of the major problems that the customers would face is availability. Ethanol wouldn't be as readily available as petrol. There would be only a limited number of filling stations which have ethanol. This could also result in long queues and longer waiting period.
We really appreciate TVS' efforts in coming up with a motorcycle that runs on an alternate fuel option other than petrol. While the entire automobile industry is planning for the transition to electric vehicles, TVS was busy working on something else. Do you think such ethanol-powered vehicles could also be an alternative in the future and go side-by-side with electric vehicles?