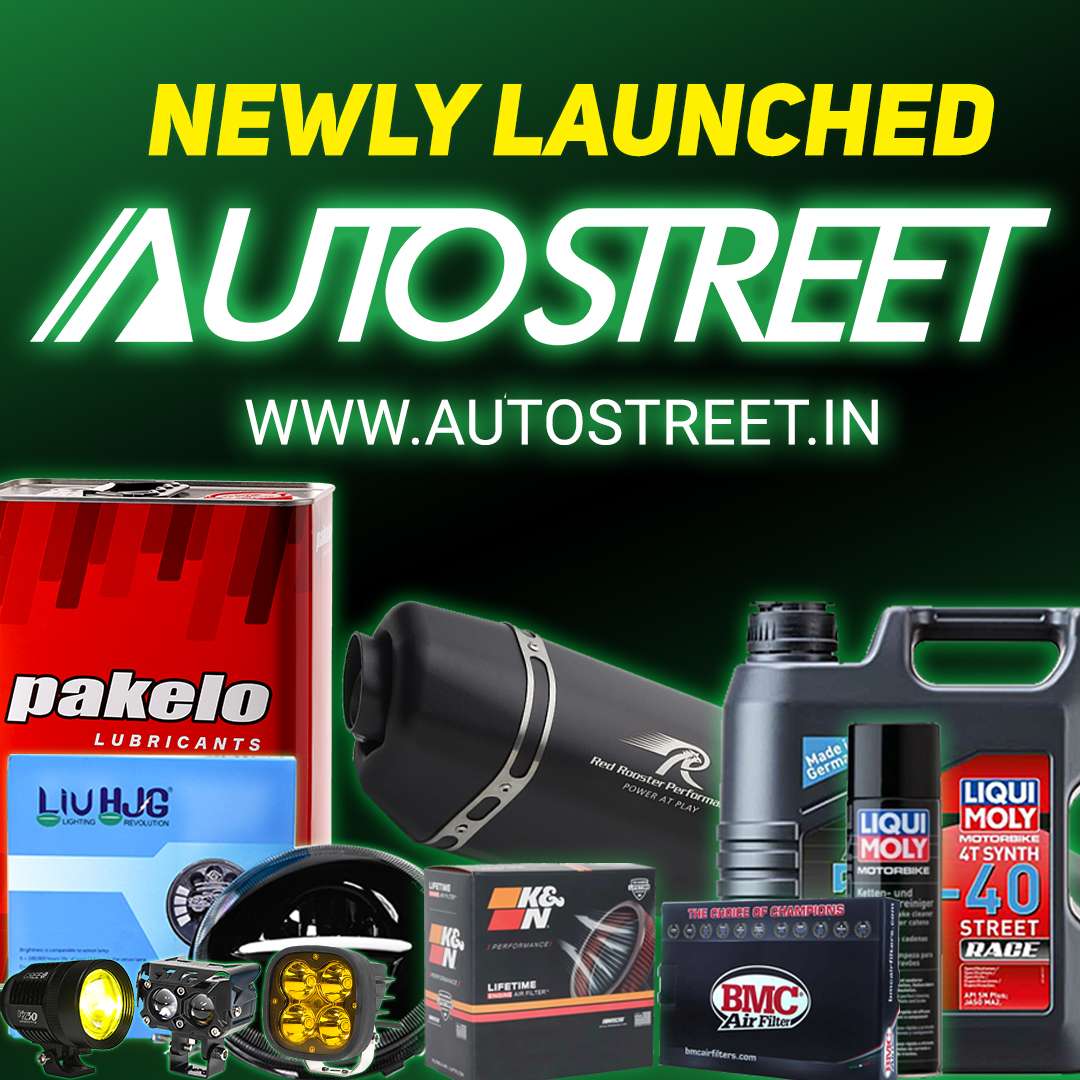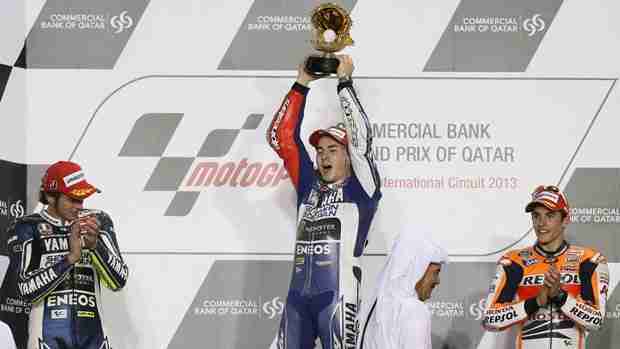 What a start we had to the 2013 MotoGP season! Could you have asked for more? We hardly think so. The post apocalyptic MotoGP era is indeed something different. On one side there is a prodigy whose talent is real and other side there is a veteran, a riding legend who is back being competitive and hungry for wins and podiums and then there is the defending champion who is riding in pristine form, but all about that later. First we should talk about the whole event that breathes back life into Motorcycle racing enthusiasts after 4 long months of wait. The event started with the supporting classes Moto3 and Moto2 which do not stop amazing us fans with a competitive race each and every time.
In Moto3, there were a lot of changes with new riders coming in and riders moving to the Moto2 class. The first ever Moto3 champion Sandro Cortese has moved up to Moto2 along with the Frenchman Luis Rossi as teammates with British rider Danny Kent. The rider who has replaced Sandro Cortese in his Moto3 team is the risk taker Luis Salom. Last year's controversial rider Maverick Vinales has joined a new team, JHK Laglisse team, after acrimoniously separating from Avintia Blusens team last year. He had a bad injury in pre-season tests which caused him lose a small part of his finger. The rider leaving JHK Laglisse team is Efren Vazquez who has joined Indian Moto3 team, Mahindra Racing.  Mahindra has come up with a revised version of the bike this season. The other rider joining Efren is Miguel Olivera who was 8th overall in 2012. Maverick Vinales has the only female rider in MotoGP this year, Anna Carrasco as his teammate.
Luis Salom took pole and when the lights went off and it was him along with Jonas Folger who got a breakthrough late last year when he joined Mapfre Aspar Moto3 team along with the uber talented Alex Rins in the mix at turn one. Moto3's award for the first crasher in 2013 went to the Italian Niccolo Antonelli. As always there are multiple contenders for a win in any given race and it was Alex Rins, Luis Salom, Jonas Folger, Maverick Vinales, Alex Marquez (Yes! he the younger, more talented brother of Marc Marquez) who were the leading group exchanging positions so many times that it was hard to take your eyes off from the screen, such is the competitiveness in Moto3. Not so behind on the track was Malaysian rider Fahmi Khairuddin, who didn't have a great start, but he eventually caught up with the group with 6 laps to go, and battled with Sissis and Oliviera for 6th position and they had their own exchanges the rest of the race. Eventually it was Luis Salom who took the first win of 2013 season and looks to be one of the favorites for the title. The other podium places were grabbed by Maverick Vinales and Alex Rins. Both Mahindra riders finished with points and more importantly in the top ten.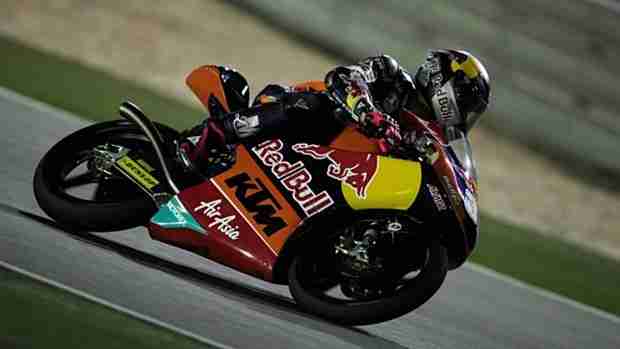 Moto3 race didn't disappoint at all and in coming days it'll be even more breathtaking.
Moto2 in last 3 years has proved to be the series which provides the very thing fans want to see. Bikes slipping, sliding and riders exchanging paint is a common sight. The heart of the motorcycles and that is the Honda powered 600RR engines will continue for the Moto2 class till 2015. Apart from Moto3 riders moving up the class, many Moto2 riders also moved up to the premier class. The biggest name is Marc Marquez moving to the Repsol Honda Factory team replacing retired Casey Stoner alongside Dani Pedrosa. Other big names are Andrea Iannone moving up and joining Pramac Ducati and Bradley Smith joining the Tech3 Yamaha team. There is a minimum weight limit of 215 kilograms i.e. Rider plus the Bike, that is being imposed from this year in Moto2. This will be helpful for the heavier riders like the tall Brit Scott Redding. The lightest and the heaviest riders are in the same team with Scott being heaviest and Mika Kallio being lightest. The lighter rider would have to carry extra weight in their bikes to make the minimum weight limit. The pole position was grabbed by Pol Espargaro. Pol had a crash earlier in the Qualifying which damaged his bike. Moto2 teams have only one bike at their disposal and after fixing up the bike, Pol did a stunning last lap dash to secure pole position. One name that was missing in the race was Thomas Luthi, he didn't make it to the race weekend due to an injury on his right elbow and shoulder, he was substituted by Sergio Gadea. The race itself was entertaining but somehow lacked the usual fierce overtaking with Luthi not there in the race and Marquez, Iannone, Bradley Smith moving up to MotoGP. Riders from the lower class need to step up. After the initial start with Takaki Nakagami leading the race, Scott Redding with 12 laps to go took the lead and Pol Espargaro following him and finally taking the lead with 5 laps to go. Despite Redding's valiant effort Pol won the race using defensive lines. But praises for Redding that he kept his head at the right place and didn't take out himself and Pol as well while trying to win the first race, as the saying goes, "Live today to fight the battle tomorrow". Finishing second is much better than no points by being rash and going for one race glory. The podium was taken by Pol Espargaro, Scott Redding and Takaki Nakagami.
Despite the retirement of the phenomenal Casey Stoner we now have a rider in the form of Marc Marquez who is destined to be a world champion sooner rather than later. The fear of losing our so called fantastic four or the aliens is no more with Marc Marquez joining the Repsol Honda team and Valentino Rossi making a comeback to Yamaha after the treacherous two years with Ducati. Jorge Lorenzo, the defending champion, is riding like a king. He says riding the bike is like dancing; at first you learn the moves but when you have mastered them, you just move with the music and not concentrate actually on your moves. Lorenzo doesn't look like he is trying too hard for those fast laps but those who follow him on the track tell that it is so difficult keep up with him. His race pace is amazing and was evident from the pre-season testing. Meanwhile Rossi is back to Yamaha after what looks like a sabbatical for two years using his race double to ride the Ducatis and he is back from where he left off in 2010. He is once again smooth and suave, his famous dangling leg is back. The Doctor has the sharpest scalpel at his disposal to fix his dented reputation after the Ducati experience.
Dani Pedrosa is fit, without any lingering injuries. He needs to be his best right from the start unlike last year when he started performing little later in the year. Already Lorenzo is fast, Rossi is back to being competitive and most of all he has a teammate who is fast, hungry and will not settle for second best even though it will be his debut year.
Coming to the meaty part of the report now and that is the MotoGP class, which this time for sure has all the ingredients to be epic. The Qatar race has sure given a preview of what's in store for us. Lorenzo took pole position and with his past record at Qatar and current in pre-season testing it was no surprise. What was surprising was the rider who was heading the second row of the starting grid and that was Andrea Dovizioso on the Ducati GP13 ahead of Valentino Rossi who by the way didn't have a great qualifying finding himself heading the third row. Charged up Cal Crutchlow qualified second fastest along with Dani Pedrosa heading the front row.
When the lights went off Rossi made a good start and couple of corners later he had made up four places to be in 3rd. But a rookie mistake saw him going backwards to 7th, he found himself behind Dovi, Stephan Bradl and Bautista. Meanwhile Lorenzo had checked out early, it was much like how Stoner used to ride. Taking the early lead and nearly untouchable after that. Marquez who started from 6th also had a great start and soon he was fighting with Crutchlow and Dani for the second place. Soon both Repsol Honda riders were ahead of Crutchlow and eventually Marquez going ahead of his teammate Dani Pedrosa. Seeing Marquez it didn't look like it was his first race. He is fast, fierce and most of all he is just 20 years of age. Imagine what he can achieve once he has fully mastered the Honda RC213V. While the three were trying in the fight for the second place, Lorenzo had built up a gap of 5 seconds or so and was in a different league; the twitter feeds started joking that Lorenzo has gone so ahead that he started lapping the Austin track which is the next venue after Qatar. Behind the trio, Rossi had taken over Dovi and as soon as he moved ahead of under pressure Bradl, Bradl crashed out of the race. Now with 8 laps to go Marquez was heading the trio for second place and Rossi was around 3.3 seconds behind Crutchlow and it looked like he is closing in section by section being fastest of all the three riders in front of him, and indeed after two laps he was right in the mix with the trio. It had become a group of four. Soon Rossi overtook Cructhlow in the home straight, Crutchlow tried too hard to keep his 4th position but doing so he missed his brake marker and couldn't make the turn 1, went off-track and rejoined again. Rossi had set sights on both the Repsol riders and next lap he was in podium position ahead of Dani Pedrosa. In the next couple of laps Rossi showed his masterclass and showed that he still hasn't forgotten how to ride a MotoGP bike. Marquez, despite his best efforts couldn't stop Rossi from taking second place. Lorenzo won the race with a 5.5 second lead took the bragging rights for the season opener.
Aleix Espargaro was once again the top CRT rider finishing 11th. Ben Spies despite his shoulder problems finished 10th. Iannone wasn't that bad on the Ducati in his first MotoGP race finishing 9th behind Nicky Hayden. Bradley Smith riding the Tech3 Yamaha had crashed out early in the race. The first MotoGP crasher was Karel Abraham riding the Aprilia CRT bike.
Several questions also are arising after yesterday's race. Some of which we can answer some of which we'll have to wait and see:
What happened to Dani Pedrosa?
First of all in the pre-season testing at Jerez, Pedrosa was suffering from a neck pain. Secondly the Honda RC213V wasn't having the edge grip which means Pedrosa wasn't confident enough in the corners when the bike is leaning and tackling the corner. It is only a matter of time before they sorted it out and Dani will be back to his flying ways.
Is Valentino Rossi a title contender yet?
He could very well be. It was apparent that he his hungry. His rookie mistake was an example of his hunger to be at the front. This hunger will either make him reach the top or end up in disappointment at any racetrack  Also his mid race pace was something people should consider. The way he was almost a second faster than Crutchlow, Dani and Marquez and he closed down the gap from 3.3 seconds to nothing in a matter of two laps. But in recent years one thing is certain about Rossi that everything is uncertain about him. So we'll have to wait and watch.
What will happen to the so called friendship when Rossi actually challenges Lorenzo? Will the wall come back?
That's something we can't answer right now. If in the coming races Rossi is seriously challenging Lorenzo, the friendly dynamics might change. We have already seen Lorenzo complaining after Motegi race back in 2010 when Rossi and him were fighting for the podium and Rossi didn't back down just because Lorenzo was on the verge of winning the championship.
Can Ducati be competitive in coming races?
Not anytime soon. Like Paolo Ciabatti, Ducati MotoGP Director says Ducati needs evolution and not a revolution. Ironing out one problem after another and evolution takes time. The revolution kind of strategy has already flopped with Rossi and his crew.
We might see one off performances from Ducati probably from Dovizioso or probably Iannone but nothing miraculous is going to happen from the Ducati camp.
When will Marquez win a MotoGP race?
Might just be the Austin race which is the next venue. The prodigy was fast overall on all days comparing with Dani, Bradl, and the Yamaha team. It's a new track for everybody and all the years of experience for the other riders will have no advantage at the track. It will all be dependent on who takes the most risk and in a way Marquez will be able to take most risk as he might not be under the pressure of winning the championship or be bothered about scoring points unlike all the other top riders. But again we'll see when they actually race there.
All these questions are a supplement to us fans' enthusiasm. This is one season probably we might not be able to afford to miss even a single race. Ride on till then!!