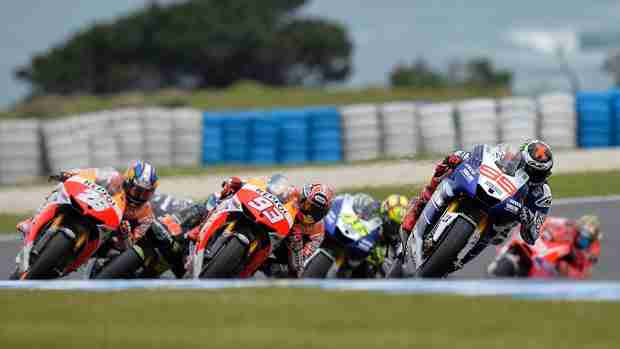 OMG! no it's not the Akshay Kumar starer movie name. It is the only way we can address Sunday's race weekend. Truth is stranger than fiction and also even if some author wanted to script a dramatic turn of events, he wouldn't be able to compare what transpired on Sunday. All three classes of MotoGP have surprised us keeping us on the edge of our seats. Generally when there are only two races left in the season one would probably come to know the newly crowned champions or at least have an idea of who would it be. But not this time! For all three classes you wouldn't even dare to predict what might happen in Valencia when the season ends and who takes the crown of being the champion in any class.
Australian Philip Island GP had a newly paved track and one can say the new tarmac was one of the protagonists for making this weekend mind boggling and unbelievable. The weekend started with a huge worry about tyre wear for the Moto2 and MotoGP class wherein the newly laid tarmac of the circuit was too abrasive and the tyres that were brought by the manufacturers (Dunlop, Bridgestone) were not able to withstand the punishment the riders unleash on them while in the sessions. Obviously whatever evaluations done by the tyre companies prior to this race weekend weren't enough and they didn't have a suitable tyre compound that riders could use safely through the whole race distance. Such was the plight of the tyres that chunks of rubber were coming out making it very dangerous for the riders and there's no way the tyres would have lasted the whole race distance in both Moto2 and MotoGP. The tyre companies couldn't guarantee the safety of the tyres beyond half the race distance in Moto2 and beyond 10 laps for MotoGP. The shots of Cal Crutchlow's bike's rear tyre in the FP4 told the tale rightly.
Hence the decision of curtailing the races was taken and it was decided that Moto2 race will be reduced to 13 laps with full points to be awarded. And in MotoGP it was decided that the race would be shortened and will have 19 laps in it plus there will be a mandatory bike swap at half race distance.
More on that later but let's start with Moto3 where all these tyres issues do not exist thanks to lighter bikes and the lesser power that they have which do not punish the tyres as much as the heavier more powerful bike in Moto2 and MotoGP. It's not new in Moto3 that when the lights go out, there will be a group of 8 riders who would be fighting for the win, making it a very exciting race. The championship points leaders Louis Salom, Alex Rins and Maverick Vinales along with Alex Marquez, Jack Miller, Jonas Folger all fought it out till the finish line. Louis Salom grabbed pole position for the race along with Jonas Folger and Mahindra rider Efren Vazquez (Mahindra in the last race at Sepang scored their first ever podium finish with Miguel Olivera). The usual front runners Alex Rins and Maverick Vinales completed row 2. In the race it was the group of 7 riders who scrapped it out till the finish. The master strategist Louis Salom was not able to pull out the same feat that he has been known to do this year and finished the race at 3rd place. Alex Rins took the win from Maverick Vinales through photo finish beating Vinales by 3 thousandth of a second. Alex Marquez beat home rider Jack Miller to the finish line. The top five riders finished the race within half a second, such close was the race.
Alex Rins has closed the gap in points to Louis Salom by 9 points and only 5 points gap remains between them. Vinales as well is in the contention for the championship sitting 22 points behind Salom. With two races to go (Motegi Japan and Valencia Spain) it is very hard to predict who will take the Moto3 crown this year.
Coming to the Moto2 race it was Espargaro who took the pole position and last race winner and team-mate Esteve Rabat in second. The biggest surprise was what happened to Scott Redding. Redding has a tumble in Qualifying Session and he injured his left wrist in the process. Redding was then taken to the medical centre and diagnosed with a broken wrist and deemed unfit for the race. Redding was leading the points table by 9 points from Pol Espargaro at that point of time and all Pol had to do in the race was to grab as many points as possible to take lead in the points table.
And he did exactly the same. The race was shortened due to the tyre safety issue and was a pure run to the finish with no strategies nothing. Pol, despite early tries from Luthi and Rabat, took the win with rather ease and inflicted maximum damage on Redding's point lead and now he sits on top of the table with 16 points gap from Redding and almost has one or two fingers on the title though there are still two races to go and as they say "It ain't over until it's over". It will be really interesting to see the run down towards Valencia and who is taking the crown of Moto2 2013 championship.
Saturday Qualifying session saw Jorge Lorenzo absolutely decimating the five year circuit lap record held by none other than Casey Stoner at Philip Island. Post qualifying when asked about it he joked that 1.27.899 time was only possible on a play-station game until now. As much as the feat came from Lorenzo's determination to still fight for the title, it was also the extra grippy tarmac that played an important role in that blistering fast time. Front row was completed by Championship leader Marc Marquez and Valentino Rossi (who has been consistently improving on his Yamaha M1). Dani Pedrosa despite topping FP4 couldn't post a fast time to be on the front row, he found himself in the middle of the second row with Alvaro Bautista and Cal Crutchlow. One rider that was missing was LCR Honda rider Stefan Bradl who is still recovering from the ankle injury that he suffered in Sepand Qualifying session.
It was always going to be tricky when the race has been declared a dry flag to flag race wherein, to save the riders endangering themselves riding on seriously worn out tyres, the riders had to mandatorily come into the pits by lap 9 or lap 10 and switch to the bike with fresh tyres on them and then complete the shortened 19 laps race. Sunday morning saw riders practising how they would switch the bike. F1 fans would say what's the big deal in that but this it is a new thing in Motorcycle racing that riders should come into the pits to switch bikes and so there were no strategies and probably a lot of confusion of how to do it, when to do it, whether in lap 9 or lap 10 etc.
Lights went and the usual three front runners were again at it with Lorenzo leading from the pole and Marc Marquez and Dani Pedrosa following him. Valentino Rossi who started from the front row was relegated to fourth and left battling with Bautista and Crutchlow. With laps counting and time for coming into the pits reaching, it was just a wait to see who would be going in and at what time. And by lap 9 we saw Dani Pedrosa coming in for the switch with Lorenzo and Marc continuing. But in his zeal to reach the pits faster so that he can switch the bikes, Dani missed a braking marker which basically tells the rider that post this mark he has to go at a speed of 60 KMPH and not faster. Dani almost did two stoppies to make that marker but couldn't and eventually when he rejoined the race he was notified that he will have drop one position mandatorily as he had broken the pitlane speed rule. Meanwhile next lap it was obvious that both Lorenzo and Marquez had to come in the pits for the swap since it was lap 10. Hence Lorenzo pulled in and to everybody's surprise Marquez continued with the lap and didn't come into the pits. Lorenzo came in and swapped the bikes quickly and got out from the pitlane and continued the race. On lap 11 Marquez did come into the pits and quickly swapped the bikes. When he was about to rejoin the track he saw Lorenzo and Dani catching up, Marquez increased his speed (as he crossed the pitlane speed marker) to join them but Marquez came directly in line with Lorenzo's racing line (Lorenzo was a little wide as he braked pretty late on that corner) and they both had a contact in which Marquez' elbow slider broke off. This contact didn't impact Lorenzo much and he was able to continue his race normally. Dani who was supposed to drop a position had given way to Marquez so Dani was now third and Marquez in second place. Meanwhile all this was happening we still didn't have any idea what would happen to Marquez who had violated the rule that he had to come in the pits by lap 10. Also behind this trio Valentino Rossi and Cal Crutchlow had come in the pits with Crutchlow leading Rossi. They swapped the bikes but Rossi and his team did a better job in the switch and Rossi was able to overtake Crutchlow and join the race at 4th place. After a couple of laps it was eventually notified that Marquez has been black flagged which basically meant that he has been disqualified from the race and there will be no points awarded to him for the race. This was a shocker and had a huge impact on the championship. Lorenzo just had to finish the race at first place and he would be able to close the gap in points from 43 points to 18 points. But it was not the end of surprises, soon after Marquez was disqualified from the race Lorenzo put his hand up notifying the marshals that there is rain. But rain stayed away and Lorenzo continued on to take the win with Dani finishing at second place. Behind the duo Rossi had finally broken off Bautista and Crutchlow and earned another podium and Bautista finished ahead of Crutchlow.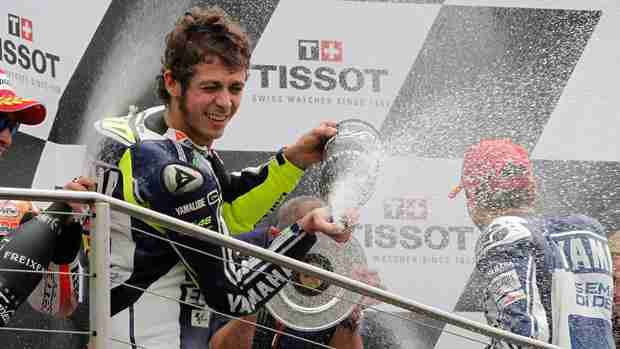 No doubt this race at Philip Island was controversial, dangerous considering the state of tyres and also the way riders had to join the race after the switch (considering the high speed contact between Lorenzo and Marquez) and confusing the way rules were laid out for the bike switch. It was later revealed that it was a mistake from Marquez's team because they had put out wrong information, about when to come into the pits and that's the reason he continued for one lap too much to be disqualified from the race. Different people interpret differently of what one rule says and it is harsh to see the rider pay so much for no mistake of his own. But at the end it's a team effort (although it is the rider that hauls ass on the track) and when other teams can get it right why couldn't Marquez' team do so.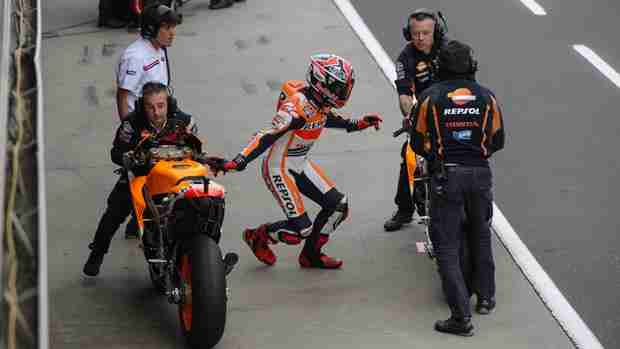 On the other hand there are people who are criticizing the severity of the punishment that was handed out to Marquez that he shouldn't have been disqualified instead he should have been given a ride through penalty. But safety is utmost important and any rider not abiding by the safety rules (doesn't matter it was his fault or his team's) should be appropriately penalized. Seeing the tyre condition from the bike it was already evident that the rider would be a danger to himself as well as to the other riders if he continues to race on those severely worn out tyres. There are always two sides of a story who takes on which side depends upon how one interprets the situation.
The impact on points after Sunday's race is that the points gap between Lorenzo and Marquez has been reduced to 18 points and with two races to go Marquez still holds advantage but theoretically Lorenzo has a better chance now. Not even Lorenzo, even Dani has a better remote chance in the title chase (unlike after Aragon where he was virtually out of it). Dani is now 34 points behind Marquez and there are 50 points to race for in the season. The MotoGP bandwagon goes to Motegi Japan in less than 5 days to go where they will start race weekend.
Marquez needs to finish ahead of Lorenzo to clinch the title but Lorenzo is not the one to give it up so easily. Add Dani Pedrosa and the ever improving Valentino Rossi in the mix it is going to be a cracker of an end to MotoGP season.
With bated breaths we wait for the race weekend to start and it's not that far as well.
Post race rider quotes
Jorge Lorenzo
"I'm really happy with this win, we've also been lucky because Marc made this mistake. Without that he would have been second or first because he was really fast today. So we've been lucky but we were unlucky in the middle of the championship so today is a balance. When I was entering the first corner Marc was exiting the pit at exactly the same time, the situation was almost impossible to avoid. I was braking a little later to open the line and I don't think he was looking so much entering the corner so it was both our fault. Now we have options, if Marc keeps constant on the podium then it is impossible to win the championship but there are a lot of laps to go so anything could happen. It's unbelievable to have 50 Grand Prix victories at 26 years old. It seems like only yesterday when I won in Brazil in 2003 but it's been ten years. I'm very proud of it and hope to win some more in the future!"
Dani Pedrosa
"Today's race was very stressful —above all before the start, as the rules were being changed every five minutes. Everything was turned on its head and it was very difficult to adapt first time, without making any mistakes. Marc [Marquez] made mistakes and I did too. Everything was going so fast and it was confusing for both the riders and the mechanics. We had to be clear about which lap to enter the pits, as it wasn't obvious which was lap 9 and which was lap 10. The two bikes needed to be prepared and the tyres as well, the pit lane was much longer than normal… it was all so strange today. The exit line from the pits wasn't clear, and neither could you see the entry line very well, so it was all a bit improvised. In my case I was able to rectify my mistake on the track and, although the second bike wasn't the same for me as the first, I managed to take second in the race and be very competitive."
Valentino Rossi
"At the end the result was good, I'm so happy to be on the podium here at Phillip Island because it's always a great pleasure and a great atmosphere. I tried to give the maximum, the race was very thrilling and I enjoyed it very much, especially because with the team we were able to do a very good job in the pit and gain two positions. I had a great battle with Cal, when I understood it was for the podium I tried to give the maximum. In the last half of the lap it started to rain which was very scary but at the end it was ok and a good result. We still need to work and improve to be faster for the next race."
Cal Crtuchlow
"It was a bit of shame that I could finish on the podium today but to be honest I'd have only been there because of what happened to Marc. But I am happy because I rode really well. The problem once again was my start. I have got to work on that because once again today it wasn't acceptable. The positive point is I had good consistency in the race and I was a lot faster than I expected to be given what had happened with the tyres over the weekend. It was good to race so close to Valentino on the factory Yamaha and I enjoyed it. It was a very hard but fair battle with him and Alvaro. I actually thought there was one more lap, but because I'd been so close to Valentino on the straight I'd not seen my pit board. I'd have liked to be on the podium but fourth is my best result for a few races and hopefully we can be strong in Japan next weekend."
Bradley Smith
"Sixth position is a very good result and I got another really fast start. It was great to be right up there on the first lap and I could learn a lot in the early stages from the guys with much more experience. The setting we ran wasn't ready to fight for the top six but I gave it my best shot. We damaged the rear tyre in the first run, so I tried to take it a bit steady in the second one. It has not been an easy weekend with a lot of drama and confusion surrounding the tyres, but my Monster Yamaha Tech 3 crew remained calm and concentrated throughout and it was good to pay them back with my first top six for a while."
Alvaro Bautista
"We have managed to salvage a race that we knew was going to be difficult for us because of the enforced tyre choice. We knew it didn't work with our bike but we fought hard and thanks to the exceptional work of the team we have come away with a result we didn't expect. I gave my best, did everything I could on the bike and I have to be happy because I was fighting for a podium finish until the very end. Unfortunately on the last lap I just felt that I couldn't push the tyre any harder and it's a shame because I know that on the soft option we would have been able to get on the podium and achieve the objective we have set ourselves for before the end of the season."
Marc Marquez
"Today was our first experience of a Flag-to-Flag race, and suffice to say it wasn't a good one. My team and I had set out a strategy and we thought that we could come in after lap 10, but in reality this counts as an extra lap. We hadn't had that in mind and this was a huge mistake. We had everything well planned and I followed the instructions on my pit board. You learn from these things though, so now we have to move on and focus on the race in Japan."
MotoGP Philip Island results
1. Jorge Lorenzo (SPA) Yamaha Factory Racing 29'07.155
2. Dani Pedrosa (SPA) Repsol Honda Team + 6.936
3. Valentino Rossi (ITA) Yamaha Factory Racing + 12.344
4. Cal Crutchlow (GBR) Monster Yamaha Tech3 + 12.460
5. Alvaro Bautista (SPA) Go&Fun Honda Gresini + 12.513
6. Bradley Smith (GBR) Monster Yamaha Tech3 + 28.263
7. Nicky Hayden (USA) Ducati Team + 32.953
8. Andrea Iannone (ITA) Pramac Racing Team + 35.062
9. Andrea Dovizioso (ITA) Ducati Team + 35.104
10. Randy De Puniet (FRA) Power Electronics Aspar + 37.426
11. Aleix Espargaro (SPA) Power Electronics Aspar + 46.099
12. Colin Edwards (USA) NGM Mobile Forward Racing + 48.149
13. Yonny Hernandez (COL) Ignite Pramac Racing Team + 49.911
14. Hector Barbera (SPA) Avintia Blusens + 49.998
15. Danilo Petrucci (ITA) Came Iodaracing Project + 58.718
16. Luca Scassa (ITA) Cardion AB Motoracing + 58.791
17. Claudio Corti (ITA) NGM Mobile Forward Racing + 1'08.105
18. Michael Laverty (GBR) Paul Bird Motorsport + 1'27.230
19. Lukas Pesek (CZE) Came IodaRacing Project + 1'31.093
20. Hiroshi Aoyama (JPN) Avintia Blusens After 1 laps
21. Damian Cudlin (AUS) Paul Bird Motorsport After 2 laps
22. Bryan Staring (AUS) Go&Fun Honda Gresini Not classified (12 laps)
23. Marc Marquez (SPA) Repsol Honda Team Not classified (12 laps)
Championship Standings post Philip Island
 1. Marc Marquez (SPA) Repsol Honda Team 298
2. Jorge Lorenzo (SPA) Yamaha Factory Racing 280
3. Dani Pedrosa (SPA) Repsol Honda Team 264
4. Valentino Rossi (ITA) Yamaha Factory Racing 214
5. Cal Crutchlow (GBR) Monster Yamaha Tech3 179
6. Alvaro Bautista (SPA) Go&Fun Honda Gresini 147
7. Stefan Bradl (GER) LCR Honda MotoGP 135
8. Andrea Dovizioso (ITA) Ducati Team 127
9. Nicky Hayden (USA) Ducati Team 111
10. Bradley Smith (GBR) Monster Yamaha Tech3 99
11. Aleix Espargaro (SPA) Power Electronics Aspar 88
12. Andrea Iannone (ITA) Pramac Racing Team 55
13. Michele Pirro (ITA) Ignite Pramac Racing 50
14. Colin Edwards (USA) NGM Mobile Forward Racing 36
15. Randy De Puniet (FRA) Power Electronics Aspar 33
16. Hector Barbera (SPA) Avintia Blusens 31
17. Danilo Petrucci (ITA) Came Iodaracing Project 24
18. Yonny Hernandez (COL) Ignite Pramac Racing Team 20
19. Hiroshi Aoyama (JPN) Avintia Blusens 13
20. Claudio Corti (ITA) NGM Mobile Forward Racing 11
21. Ben Spies (USA) Pramac Racing Team 9
22. Alex De Angelis (RSM) Ignite Pramac Racing 5
23. Karel Abraham (CZE) Cardion AB Motoracing 5
24. Michael Laverty (GBR) Paul Bird Motorsport 3
25. Bryan Staring (AUS) Go&Fun Honda Gresini 2
26. Javier Del Amor (SPA) Avintia Blusens 1