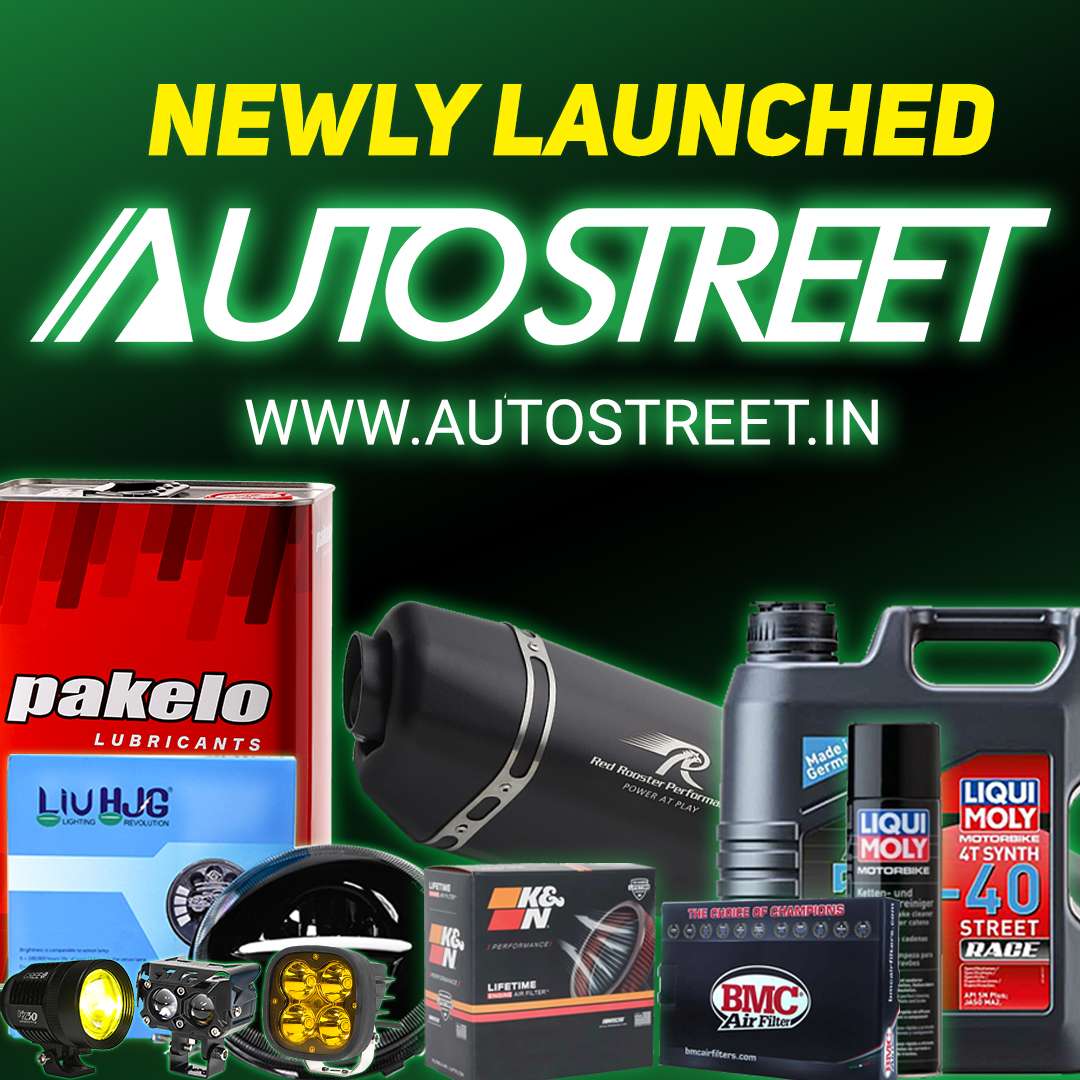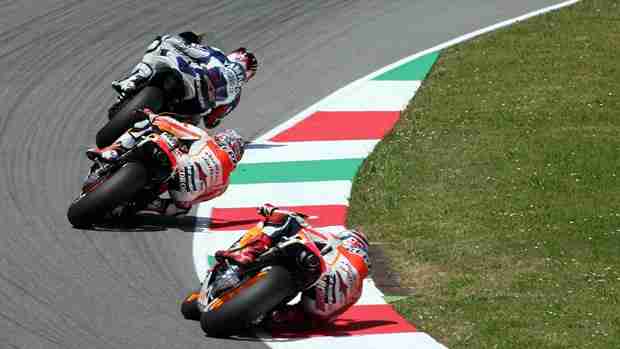 The Italian outing for MotoGP happens in the form of Mugello. Mugello circuit is special in many ways; the location of the track itself is fantastic, it is situated between the Tuscany mountains very near to the city of Florence. Mugello is Ducati's designated test circuit which is actually owned by Ferrari. It is probably the fastest in terms of average speed as well as the top speeds with one of the longest straight in the MotoGP calendar. The top speed record is held by none other than Dani Pedrosa of 349.3 kmph on his Honda in 2009 on the long home straight (which is actually not straight). Mugello is also special for a certain rider named Valentino Rossi who calls it his home race despite Misano being much closer to his actual home, Tavulia. Rossi has won 7 times here in premier class plus two times more in 125 and 250 class making it 9 wins total. Mugello is also one of the two places (Misano being the other one) where Rossi maintains a tradition and that is using a special helmet design and as with his previous designs Rossi unveiled a new design on Saturday which was funny yet depicting Rossi's thoughts about his situation in the season. The new design features the turtle with its big eyes in the front plus it features four figures with different colors, the last one being in Rossi's fluorescent yellow color and others in front being Red, Orange and Blue as if the yellow figure is chasing all the three figures which is exactly the situation of Rossi in the championship. Rossi still getting the grips of the M1 and trying to catch up with Dani, Jorge and Marquez.
Thursday started with an all wet affair with rain coming down heavily and threatening the whole weekend to be a wet one. Friday was relatively dry and Moto3 FP1 started with damp track and as the day progressed conditions improved. The damp moto3 session was topped by Jonas Folger with Maverick Vinales following. FP2 saw Louis Salom taking the charge from Folger and topping the timesheet again in second place and Folger in third. FP3, it was Vinales' turn to take the top position, but in qualifying it was Folger who snatched his first pole of the season. Alex Rins completed the front row with Vinales. The race was nothing short of a spectacle, when the lights went out it was a race long tussle between 6 guys for the win. The group consisted of Folger, Vinales, Alex Rins, Alex Marquez, Luis Salom and Miguel Oliviera. It was a matter of corners that the riders swapped positions numerous times that it was hard to keep a tab who is at what position. It was a lonely ride for Niccolo Antonelli who was behind the leading group and was ahead of even a larger group of riders, as many as 8 riders for the 8th position. It was a classic Moto3 race wherein one couldn't put a name to the podium trophies until the finish line. At the end it was Louis Salom who made the move strategically and took the win with Alex Rins and Vinales completing the podium. It was a hard fought race for all the top 6 riders and heartening for the riders, Oliviera, Folger, Marquez, to miss out on the podium. Great ride by Miguel Oliviera of Mahindra team taking 4th place, a person best as well best result for the team. Luis Salom took his second victory of the season and sits below Maverick Vinales in points table with just 4 points difference. It is going to be an exciting championship.
With the new riders, Sandro Cortese, Louis Rossi, etc , who have graduated from Moto3, are taking their time learning to ride the bigger bike, this year Moto2 has lacked its former sparkles. Thomas Luthi suffering from injuries, Pol Espargaro is having an up and down season and former riders, Marc Marquez, Andrea Iannone, moving up the class hasn't helped either. The only rider who is dominating the class is British rider Scott Redding. Fresh from his French win Redding was again dominant. Taking his second pole position of the season he won the race in a convincing manner. With the new weight limit introduced Redding is no longer suffering from tyre wear thanks to his bigger physical frame. There is a limit of 215kgs of Rider+Bike which makes it even by a little bit among the heavier and lighter riders. Redding is riding with confidence and he believes that he can win at any given race track. This fact is helped by curious case of Pol Espargaro who is on a downfall in terms of performance after winning the first race of season at Qatar. He has crashed twice in 5 races so far languishing 5th in the points table and most importantly is certainly not justifying Tech3 Yamaha's interest in him for 2014. Moto2 race might be lacking in usual excitement but there are some riders who are coming up to the ranks and those riders are Nico Terol the last ever 125cc class champion and runner up Johan Zarco, who completed the podium yesterday at Mugello. They too have taken their time to learn the new moto2 bikes last year and now showing that they are at the top of pile for moto2. Also Pol's teammate Esteve Rabat is looking good. Redding is sitting comfortably at the top of the points table with 43 points, ahead from Nico Terol and his teammate Mika Kallio. Redding is the first British Rider since 1971 to take back to back wins in MotoGP. Although there is still a long way to go but the way he is performing he is looking to clinch his first moto2 title eventually.
The MotoGP prodigy Marc Marquez did not have a happy outing at Mugello from the start, Friday in FP2 he had a horrific high speed crash on the home straight stretch where he lost control of his bike at speeds in excess of 310kmph and crashed at around 280kmph just inches away from the stone wall that runs aside the track. Miraculously he escaped hitting that stone wall and also escaping with minor injuries with a swollen chin. He taken to the medical center and later deemed fit to go ahead for the other sessions. Marquez was not the only one to be taking a tumble. Tech 3 Yamaha riders Bradley Smith also had crashed but escaped any major injuries with Bradley Smith needing a skin graft on his finger. Also Ducati Factory rider Andrea Dovizioso crashed at the turn 1 and strained his already injured neck. But with a little physiotherapy he was able to participate in the qualifying. Marquez had not fared up well in the free practice sessions and he was not even in top 10 times which meant he would have to participate in Q1 session first and if in top 2 of that session (which he did) he will be allowed to take part in Q2 session so that he can qualify for top positions. Q2 was a superb one. While Lorenzo dominated almost all the sessions and was confident that he would grab pole position after his fast lap, at the same time Dani had different plans and grabbed pole position in a spectacular last lap. As usual Valentino Rossi was relegated to 7th, third row start. In the session a couple of riders, Marquez and Hayden, towed Rossi and got their fastest laps in. Rossi topped one of the sessions and it was looking good for him with the race pace as well. It was a consecutive first row start for Dovizioso after Le Mans although he also got a tow from Dani Pedrosa, which he acknowledged, for getting that fast lap but still it was a welcome result for the home track for the rider as well as the Ducati Factory.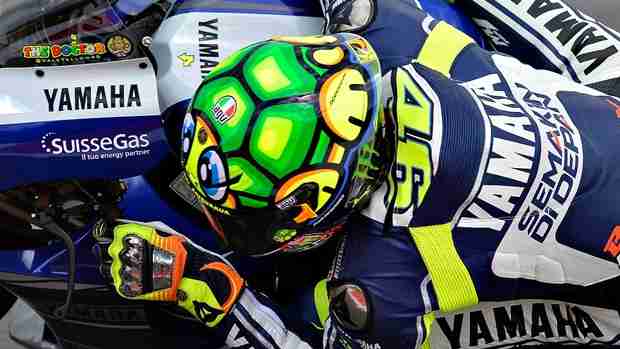 Marquez was able to get sixth fastest time to start from second row. Cal Crutchlow had a tumble in the qualifying due to watery eyes, an allergy he was suffering from at the Mugello track. He qualified 4th with a strong qualifying by Stefan Bradl at 5th.
This was a make or break race for Lorenzo since he was 17 points behind Dani, not that big gap but when we have two strong riders on Honda RC213V hungry for victories it gets difficult if the gap increases. When the lights went out it was Lorenzo who made a fantastic, a little dangerous pass on Dani in the first corner and led the race. But the major heartbreak, if you were a Rossi Fan, was installed in the next couple of corners when Alvaro Bautista in an attempt to make lost positions did not see Rossi coming the outside of the third corner and collided with him. This caused Bautista to crash out and also Rossi to travel on the gravel and eventually crashing into the haystack and tyre wall in a violent manner. Thankfully both escaped with no injuries. But it was a disappointing abrupt end to Rossi's home race where he looked good and probably could have got a podium. Meanwhile Marquez had caught up to the leading duo of Dani and Lorenzo and soon was threatening to overtake Dani for the second place. Marquez kept following Dani for the most part of the race and seemed like he could have take Dani's place anytime he wanted. Seeing this Lorenzo upped his pace and built a little gap over Dani. Eventually Marquez did overtake Dani for second place and had built up a lead and also Lorenzo had also built up a huge gap. It was looking a definite win for Jorge Lorenzo and second place for Marquez. Meanwhile Cal Crutchlow was becoming stronger as the race went on and was only 2 seconds behind Dani. Behind Crutchlow, Stefan Bradl was having a fight for the 5th place with both the Ducati Factory bikes. Just as it was looking like the results are finalized the 'Rookie Mistake' arrived for Marquez and he crashed out of the race when he lost control and slid out of the track. Beneficiaries from this crash were Dani and Crutchlow who were now 2nd and 3rd respectively. Lorenzo won the race and Dani and Crutchlow completed the podium. Bradl crossed the finish line 5th with Dovi and Hayden behind him.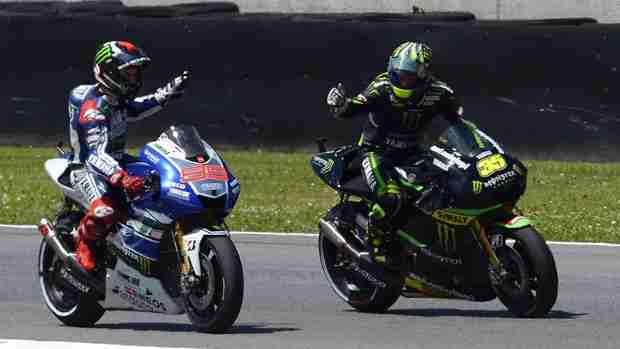 It was a great win for Lorenzo where he was able to catch up in terms of points and is now second, behind Pedrosa with 12 points difference. Marquez with his non-scorer is now third. Cal Crutchlow remains at 4th with his well deserved third place and it is Dovizioso who has climbed up ahead of Rossi thanks to Rossi's non-scorer as well.
Podium celebrations in Mugello however is never complete without Rossi. After the podium celebrations by Lorenzo, Pedrosa and Crutchlow, Rossi appeared to please the home crowd. Sadly it's been the 5th time since 2008 that the homeboy has not won the race here. Looking very bleak for the legend to bounce back and match up the performance of the new-generation riders hence justifying his new helmet design.
The championship has become more open now with Lorenzo's win. The MotoGP circus is now coming back for a second spanish visit in form of Barcelona, Catalunya which is Jorge's home race. If you are a regular MotoGP viewer and you would remember Catalunya 2009 where Rossi pipped Lorenzo and won the race in last lap last corner. And it would be great to see the spectacle repeated this time as well. Probably only this time one of the protagonists might change in the form of Marquez or maybe it will be the same two riders as in 2009. Whatever it is surely it will be exciting and the one not to be missed at any costs.