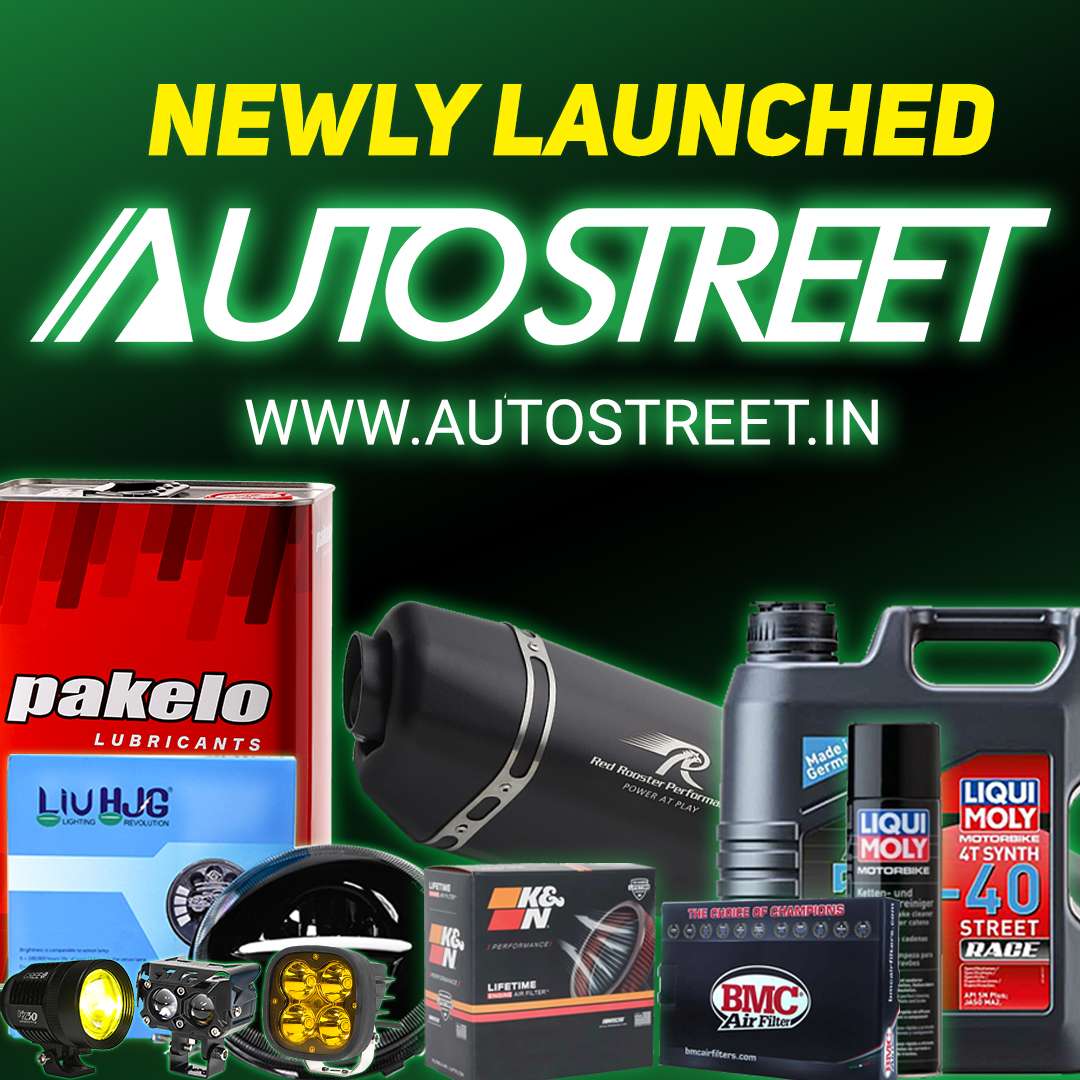 The forecast for the fourth round at Le Mans, France was a wet one and whenever there's rain there's uncertainty and though it makes life difficult for the riders it sure makes the race very interesting for us fans.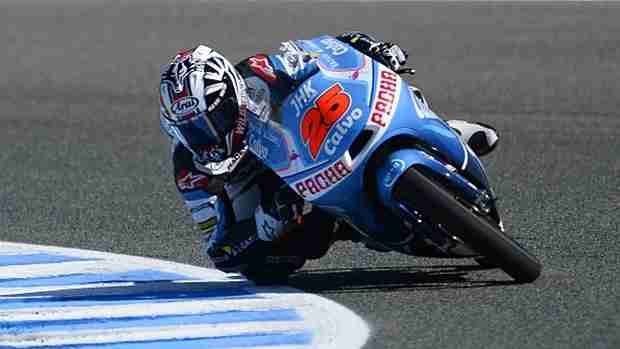 Maverick Vinales took his second victory of the season in an authoritative manner. It was his first pole position of the season as well, a weekend which he truly dominated. The race was a dry race on an almost dry track but there were still wet patches except for on the racing line and there were many crashes whenever riders went even a little way into those damp patches. Mahindra rider Miguel Oliveira who started from a fantastic second position of the grid found himself on one such damp patch when Alex Marquez overtook him and crashed out of the race. Except for the second position start not a great weekend for Mahindra team as Efren Vazquez had already pulled out from the race due to a broken collarbone when he crashed in one of the free practice sessions.
There were other crashers as well. Jonas Folger who has become a regular rider in the top 5 positions after joining the Aspar Moto3 team, went wide on lap 11 and gave the podium place to Luis Salom. Folger finally finished fourth with Alex Marquez finishing a lonely 5th. On the podium were Maverick Vinales, Alex Rins and Louis Salom. It was a welcome second place for Alex Rins after crashing out in the last race at Jerez. Maverick Vinales now leads the points table by 13 points from Louis Salom with Alex Rins at third place.
The Moto2 race was plagued with crashes all around aswell. Mainly because by the time the race started, the weather had become worse with spitting rain. The homeboy Johan Zarco had got a great position on the starting grid at third place, and for sure he would have loved a win or a podium in front of his home crowd. The front row consisted of Japanese rider Takaki Nakagami who claimed his first pole position of the season, Redding at second and Zarco.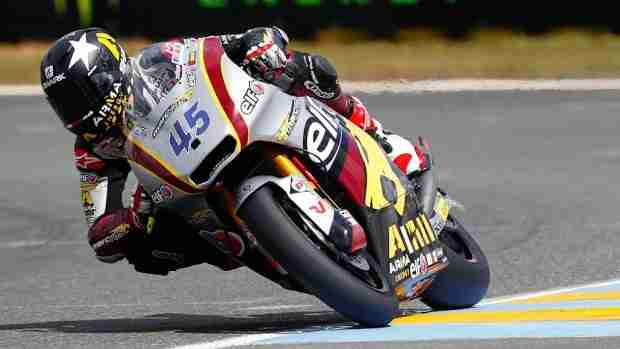 When the lights went out Redding had a disastrous start and he went backwards from 2nd to 10th. Espargaro led race starting from 3rd row of the grid, a lightening fast start but he lost his lead to Takaki Nakagami and Esteve Rabat by lap 3. On the very same lap both Espargaro and Rabat crashed in a synchronized manner. Now Nakagami led the race with Zarco in second place. Lap 8, it was Nakagami's turn to crash and that too at the same corner same place as Espargaro and Rabat. Zarco led the race for some time and then started going backwards and gave the lead to Redding who had made up positions after the bad start. Rain was in the air all the time and by lap 22 it started pouring and Redding was the first one to be putting his hand up signaling that rain was coming down. Since it was a dry race and everybody had slick tyres it was getting dangerous for the riders to continue in the rain and a red flag was soon to be waived. On the start of the lap 23 Zarco who had lost his podium place as well started making up positions hoping by the time the red flag is waved he would make it to the podium and in the very same lap the red flag was indeed shown. But this meant that the race result would be declared based upon the last completed lap i.e. lap number 22 and Zarco was on 5th. The podium positions were taken by Scott Redding, Mika Kallio and Xavier Simeone. It was Redding's first Moto2 victory and also a victory by a British rider after a very long time. This was also the first time in a very long time that the podium was devoid of any Spanish rider. Mika Kallio is for Finlad and Simeone is from Belgium. A good day from Marc VDS team taking first and second podium place.
Till now we have seen three different winners from three races with Jorge Lorenzo, Marc Marquez and Dani Pedrosa each taking the top step at the podium. This weekend it could have been 4 different winners in four races if the remaining top rider Valentino Rossi could have won at Le Mans. The same thing happened way back in 2008 when Valentino Rossi won the Shanghai, China GP. In Free Practice 2 it was looking like indeed Valentino Rossi can pull it off when he was faster than his teammate Jorge Lorenzo. MotoGP class had been escaping the rains altogether in all the sessions up until the race. Dani Pedrosa was leading all the session except for FP4 where Lorenzo was fastest. Start of QP2 Pedrosa found himself in the gravel which cost him a good qualifying and meant that he would start the race from the second row at 6th. Another rider who didn't have a great qualifying was Valentino Rossi; actually this has become a trend mainly because probably Rossi has not got hold of the new Qualifying system which gives riders only 15 minutes of time to register their fastest laps. Rossi likes to take his time and then set a fast lap unlike here when as soon as a rider enters, he has to start looking for a fast lap that would fetch him a good starting position in the grid. Rossi could only register 8th fastest time. Marquez seems to have no problem with this as he pulled an extremely fast lap to seal his pole position. Andrea Dovizioso also pulled out a fast lap to get him a front row start. Le Mans is traditionally a track which favors Ducati with its layout and Dovi took complete advantage of that.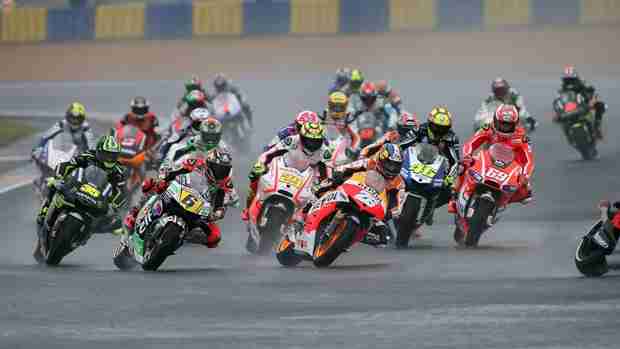 The front row consisted of Marquez, Lorenzo and Dovizioso. FP4 saw one more rider crashing and that was Tech3 rider Cal Crutchlow. Due to the crash the session was briefly red flagged as Cal was not able to get up on his own. Thankfully he was able to move and later in QP2 he accompanied Pedrosa in the second row along with Stefan Bradl. By the time MotoGP race started it was properly raining and the race was declared a wet race. None of the riders had an ideal setup for the wet as it did not rain in any of the sessions prior to the race.
Lights went out and in the first corner it was a pleasant surprise to see Andrea Dovizioso leading the race. Marquez had a bad start and by the first corner he was down to 10th place from his pole position. Rossi also made a good start and picked up some places. Soon it was Dovi leading with Pedrosa behind him and Lorenzo at third. Dovi was able to hold his lead despite attempts from Pedrosa. Meanwhile behind the duo it was Lorenzo who started having major problems with his bike setup for the wet track. Lorenzo tried to keep up with the leading group but eventually had to give up his position when the faster riders arrived in the form of Rossi first and then Crutchlow, Bradl, Hayden and Bautista which relegated him to 8th position. Rossi for a long time was able to keep up with the leading duo of Dovi and Pedrosa and looked like he will be able to compete with them in the coming laps. Soon Crutchlow also joined Rossi and eventually overtook him, Rossi did not seem to fight back. It was unlike Rossi that he would not fight for the place he just gave away to Crutchlow, it was clear that he was also not comfortable with the bike setup. The track was drying all the time and Nicky Hayden was pressurizing Rossi and eventually Rossi made a mistake and crashed. Lucky for him that his bike did not stop due to the crash and was able to rejoin the race. There was another crasher in the form of Stefan Bradl who kept the bike running holding his bike's clutch and was able to rejoin the race.
Marquez all this while was having difficulty since this was his first wet race and several times made mistakes, went wide in corners but somehow kept the bike upright. He had lost a lot of time . Such is his talent that he was able to learn the wet track riding skills and at the same time churning out fast lap times. Soon he was pressurizing Lorenzo and easily overtook him. Meanwhile in the front Dovi and Pedrosa had been exchanging position every now and then. Pedrosa also made some mistakes but he also was able to avoid crashing out.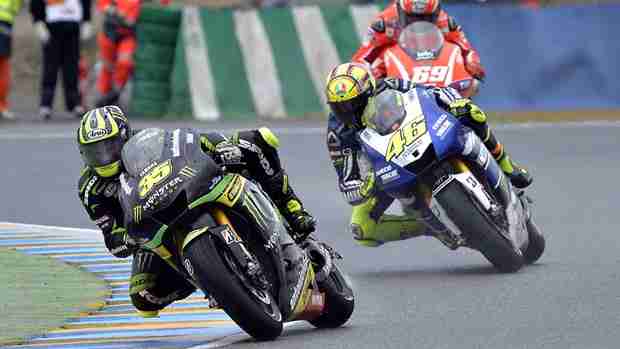 Second half of the race Pedrosa started building a lead over Dovi who was soon joined by Crutchlow. Eventually Dovi had to give up his position to a faster Crutchlow who was now en-route to his best result in MotoGP. Marquez was still churning out fast or rather fastest laps of the race and soon got past Bautista, Hayden covering about 4 seconds in 4 of the last 6 laps. By now he had Dovi in sights and threatening to take Dovi off the podium place. Eventually he did take third place. Dani Pedrosa took a brilliant win with Crutchlow taking second place, kudos to him for his riding especially after he was battered with his previous day's crash causing a small crack in his tibia. An impressive podium for Marquez yet again especially considering his start of the race.
Dovi took a respectable 4th place with his teammate Nicky Hayden taking 5th place ahead of Bautista at 6th and Jorge Lorenzo at 7th place. Rossi and Bradl managed to finish the race at 12th and 10th place respectively.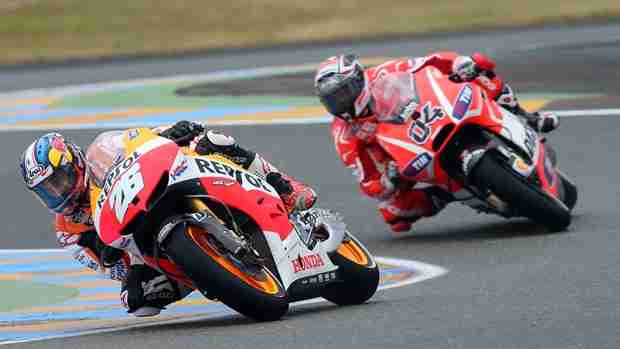 As it happened in the last race, the Mighty Honda riders took a better result on a track which was traditionally not theirs. Dani Pedrosa has taken two back to back victories and with Marquez taking the win at Austin Texas, Hondas are dominating and it is ominous with the fact that the latter half of the season has tracks on which Hondas perform better with the likes of Phillip Island, Australia and Aragon, Spain. Defending Champion Jorge Lorenzo has an uphill task to defend his title against not only Dani Pedrosa but Marc Marquez who is very well in the hunt of the title.
The Doctor, Valentino Rossi also has an uphill task of stepping up and competing with the new generation riders. Really hope both Lorenzo and Rossi up their game otherwise it would just be a Honda affair. Check out the full race results and the updated championship standings for a detailed look at the timings and currents standings.