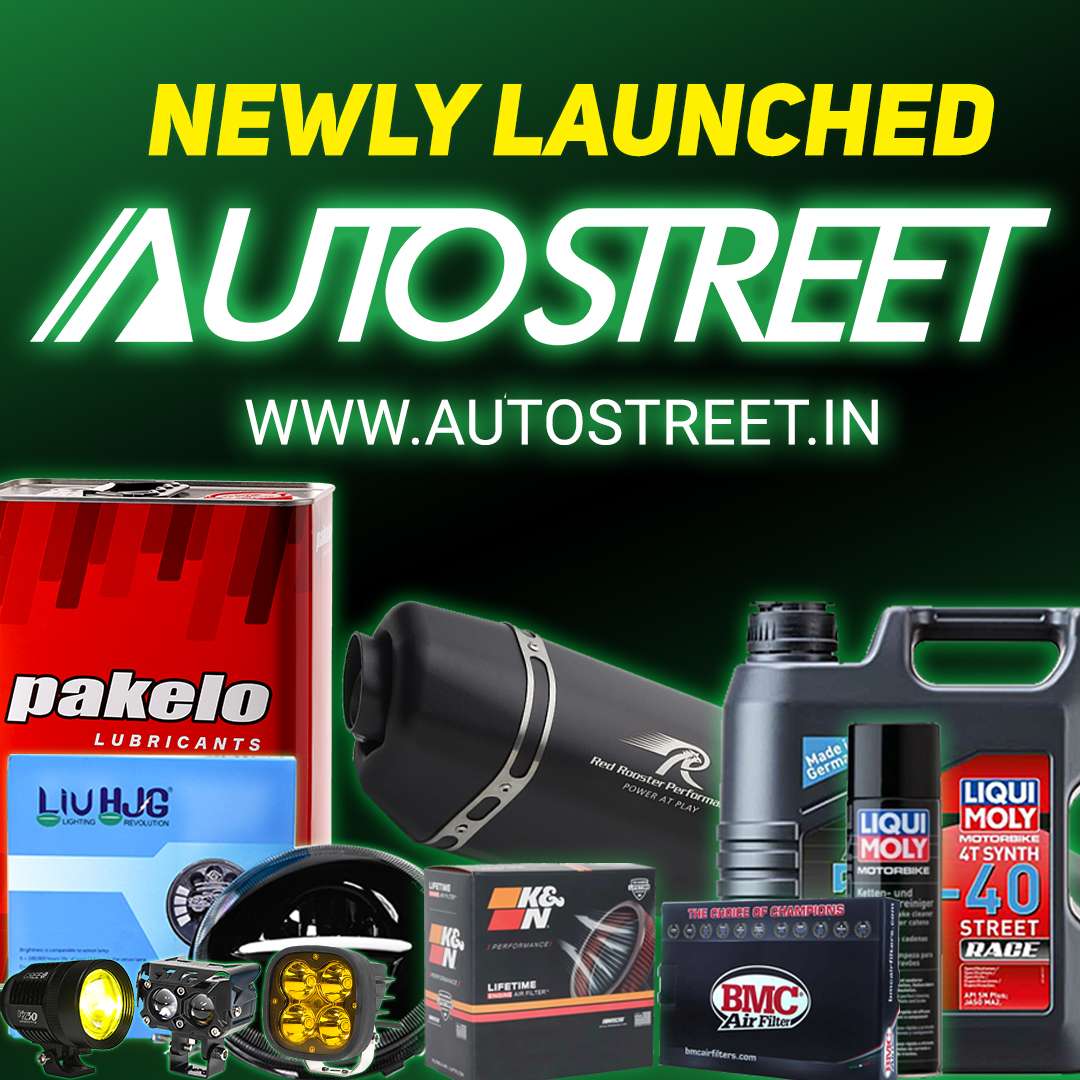 The MotoGP racing season has virtually just begun, but before we begin we would like to share our thoughts and prayers for our Indian rider Dinesh Edwin from Sparkz Racing who had a bad crash yesterday at the Chennai MMSC Track and has been declared brain dead and is in critical condition. Not to start a controversy here, but this is not the first time riders have suffered due to proper lack of safety and emergency services at the track.
Coming back to the MotoGP weekend. The red flag curtailed the Moto3 race yet again. Alex Rins started from his second consecutive pole position and his third consecutive front row start along with usual front runner Luis Salom and Maverick Vinales. The start of the Moto3 race this time lacked the usual risky maneuvers, overtakes, etc. Maverick Vinales took the lead from Alex Rins bringing along Luis Salom as well. The track itself was very greasy due to the mixed conditions. By lap 12 we saw Alex Rins crashing and taking himself out of the equation. The greasy track due to  its high temperatures caused a lot of crashes and eventually the race was red flagged when French rider Alan Techer crashed hard and became unconscious and was motionless on the track. This crash happened on the 17th of the total 23 laps. As per the rules the race has to go beyond two-thirds of the total laps for a decision and unlike last weekend this time the race was stopped in 17th lap and two-thirds i.e. 15 laps were completed and was enough to declare the winner. Maverick Vinales was declared as the winner as he was leading at the end of 15th lap followed by Luis Salom and Jonas Folger in third both of whom benefited from Rin's crash. This was Jonas Folger's first podium of the year.
It was another good weekend for the Mahindra team with both riders finishing within the top ten; Miguel Oliveira and Efren Vazquez finishing 7th and 10th respectively. The Mahindra team itself sits at third in constructors points tally for Moto3.
From the last two Moto3 race weekends there is clearly a pattern that emerges, whenever a rider has crashes and stays motionless or unable to move on his own, the race gets flagged, compared to previous times when the on duty marshalls would try to clear the track somehow as soon as possible so that the race can continue; trying to carry the rider in a haste and sometimes dropping the injured rider on the ground, which was the case evident from the previous two fatals crashes in the past during the crash of late Shoya Tomizawa in Misano 2010 and late Marco Simoncelli in Sepang 2011. Now whether this is the diligence of the track authorities or a strict order to obey the already laid rules we don't know but whatever be the reason it is good for the well being of the riders.
Moto2 also lacked its usual flamboyance in terms of risk taking and overtakes. For Esteve Rabat, teammate of Pol Espargaro, it was a day of firsts; he took his first ever pole position, took his first ever Moto2 win and also for the first time Rabat is leading the points ahead of Scott Redding. Rabat dominated the qualifying and in the same fashion he dominated the race from the start as well. Second place finisher was Scott Redding, a consistent  performer, but now he needs to step his game. Third place was grabbed by another title favorite of the season, Pol Espargaro who had to battle with Japanese rider Takaki Nakagami and only in the last lap was Pol able to take the podium position. With Takaki finishing fourth, the fifth place was taken by last race's winner Nico Terol.
This season the roles of the different classes have been exchanged when it comes to being exciting. For the last two race weekends we have seen that the MotoGP class has provided most of the excitement and entertainment and Moto2 and Moto3 have given sort of predictable results. This weekend was probably the most exciting and probably the most controversial as well. One can say comfortably that the MotoGP official season might have started one month back but the actual MotoGP season has just begun with first race in Europe at Jerez, Spain.
Jerez probably is full of memorable and debatable incidents be it Rossi's last lap last corner move on Gibernau in 2005 or Rossi's second lap first corner crash which took out Casey Stoner as well on a wet Jerez 2011 race. This weekend will probably be discussed for comings decade or rather decades.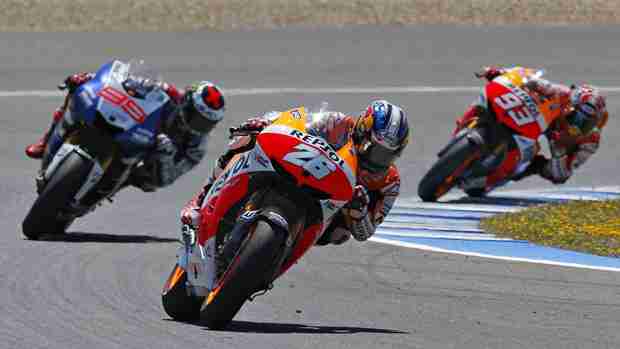 Up until the race, all the sessions were more or less dominated by the defending Champion Jorge Lorenzo, he took pole position and it looked like this will be one of those outing when we see Jorge Lorenzo breaking away from the bunch and taking the win. But when the lights went out the pocket rocket Dani Pedrosa, who started from second position, took the holeshot and led through the first corner. Jorge didn't have a great start but he took back the lost position in a brave move in the next few corners, but Dani Pedrosa had quite a surprise in store, he again overtook Jorge and started building up a lead slowly. Behind the two Spaniards there was another Spanish name, Marquez. Marquez who started the race from third, soon was challenged by none other than Valentino Rossi who started from 5th and had already passed Cal Crutchlow (started from 4th). Rossi overtook Marquez in his usual charismatic way but unlike last time in Qatar, Marquez was not willing to give up the place so easily to him. Marquez soon made his move and took back the third place from Rossi and this time The Doctor did not have an answer to the prodigy whether it was because of not so optimal setup of his M1 or the greasy tarmac of the Jerez track, we don't know.
Soon enough Marquez caught up with Lorenzo who had been left behind by Dani Pedrosa with a gap of over 2 seconds. While Jorge looked to be defending his line with his operation on the M1, Marquez was doing all sort of slipping and sliding on his RC213V, several times almost bumping into Lorenzo's rear wheel. It was as if the rookie mistake, that generally riders do while in their first year in MotoGP, was always just around the corner and almost everybody expected Marquez will crash out of the race. But that wasn't installed on Sunday, what was installed was something very controversial. Marquez had been trying to get ahead of Lorenzo but Jorge's defensive lines was virtually unbreakable and it was looking like Jorge will be able to grab the second place but that was all until the last lap. At the start of last lap Marquez made his move to get past Jorge but he ran wide and Jorge was able to hold his line and take back the his position. Marquez lost a lot of time in that move but surprisingly before the last corner he was again close to Lorenzo. In the last corner Marquez dove inside of Lorenzo, who by the way went a little wide, only to be finding himself not making the corner and also directly coming inline with Lorenzo's line and they both bumped into each other. Lorenzo went wide luckily not crashing and Marquez took second position. Lorenzo finished third and looked both frustrated with the third place and angry with Marquez's move holding his hand above while crossing the finish line. This move will be debated/argued/talked about in the coming days. This thing was obvious that without the touch with Lorenzo's bike Marquez would have crashed out or ran into the gravel since his speed was way more than the bike could hold in that corner. The touch or the move costed Jorge his second place in the race and also in the points table he is relegated to third place from being at the top. Marquez now sits at the top of the points table with Dani with his win at second place. Check out the full MotoGP Jerez results, updated championship standings and rider quotes for a detailed look at the timings and standings.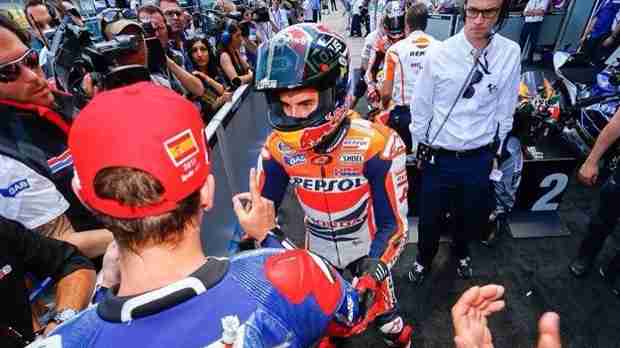 Lorenzo was not willing to accept Marquez apology and denied him the handshake and the champagne tap on the podium celebration as well. He was also very cautious in saying anything against Marquez in the post race conference as well.
Marquez all this while in the season looked pretending to be taking a sedated style of racing in contrast to his previous infamous moves in Moto2 but not any more. Marquez saw there was an opportunity in the last corner and he went for it. Whether it was the right thing to do or not it depends upon how one sees it. If you are a Lorenzo fan or someone who feels that Motorcycling in not a contact sport then you would be saying that what Marquez did was rash, dangerous and could have resulted in both riders crashing or only Lorenzo crashing out of the race. On the other hand if you are a someone who loves risk taking maneuvers and overtakes and more importantly not a Lorenzo fan you might say that was a great and gutsy move by Marquez and if there was a chance it is perfectly ok to make the move and just say that's racing.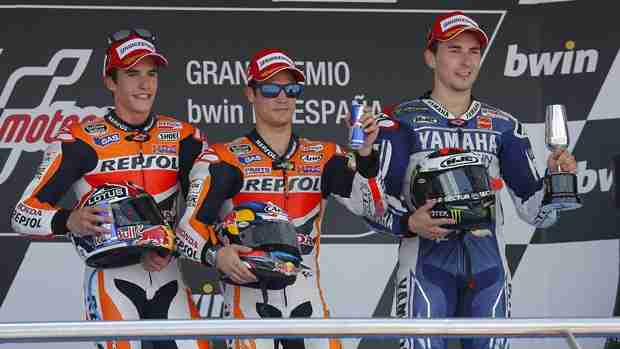 There was a divided opinion in the paddock about the move as well where riders understood that what Marquez did was legit, he saw the chance and he went for it.
Some said it was a dangerous move and Marquez would have got penalized if any one of the riders involved would have crashed but no one did hence it can be termed as racing incident. Some even say that had it been any other rider than Marquez he would have been penalized whether or not the riders would have crashed.
What was ironical that the corner where the incident happened was the very corner that has been named after Jorge Lorenzo this Friday. The contact between Jorge was a Deja Vu moment from the 2005 Rossi-Gibernau incident which happened at the same place when Rossi touched Gibernau's bike and took the victory while Gibernau crashed, recovered and finished second. In the post race conference Marquez even gave a reference of the 2005 while describing his move against Lorenzo in the race.
Whatever way this incident can be looked at, it sure has made the MotoGP races interesting again. Lorenzo might not have said anything to the media but he will not be taking this move lightly and next time he will be well prepared to counter such moves. Marquez is already creating excitement by first winning his first MotoGP at Austin, Texas and also being on podium in all three races.
While Dani's win was overshadowed by the Marquez-Lorenzo incident he deserves an applause for his fantastic performance. Jerez is traditionally a good track for Yamahas and to have a win under his belt on such a track is exceptional. He is once again, not that he was ever out of it, in contention of the title that has eluded him for the last seven years for one reason or other. His win probably is sweeter considering the comments the legend Kevin Schwantz had for Dani regarding his stay in MotoGP for so many years.
Other than the Marquez's move and Dani's win, there was not much that happened. Valentino Rossi finished a lonely fourth with Cal Crutchlow and Alvaro Bautista exchanging positions every once in a while and finishing 5th and 6th respectively. However one has to applaud the way Aleix Espargaro is putting CRT amongst the prototype machines race after race.
Next up is the French round at Le Mans. It is traditionally a Ducati track but watching Ducati languishing the way it is, it will be again the top 4 riders who will be competing for the top position. Whether Dani Pedrosa can continue his form or not, whether Lorenzo can brush aside the Jerez incident and come back to his winning ways, whether Marquez creates more controversial moments, or whether it is The Doctor who can improve and mix in with these three guys. All these questions can only be answered once the weekend arrives. We are eagerly waiting, you should too.