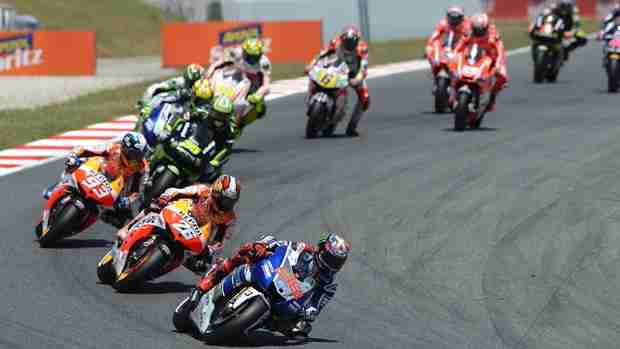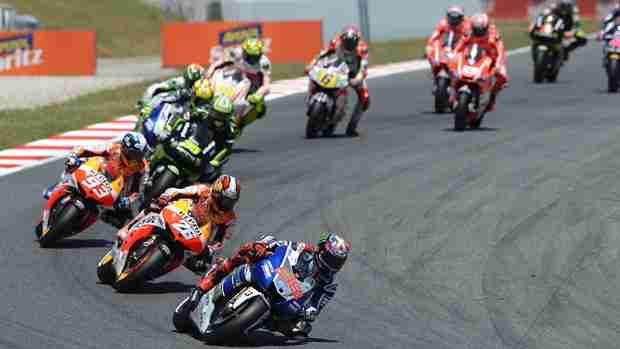 A MotoGP race day which came, happened and went away without much happening, at least from a racing fan's, seeking thrilling overtakes/maneuvers, perspective. And now we can progress and look forward to the next race. The whole weekend however was not uninteresting at all.
It was almost a perfect weekend for a race event, sunny, dry, clear skies with no virtually no wind, although the temperatures were at the high side; the air temperature was pleasant with 25 degrees but the track temperatures were sweltering hot, going up to 57 degrees celsius in the qualifying session.
The Moto3 weekend started with one top rider less in the form of Jonas Folger, who was the pole position holder in the last race, pulling out of the weekend because of a broken wrist caused due to a motocross accident. Free Practice Sessions were topped in turn by Luis Salom, Isaac Vinales (elder cousin of Maverick Vinales) and Alex Rins. But the pole position in the qualifying was captured by Luis Salom. This was Salom's second pole of the season after Qatar. The front row was completed by Alex Rins and Mahindra's Miguel Oliveira, his second front row start of the season.
Race was always exciting with 7 riders, Efren Vazquez, Jack Miller, Alex Rins, Miguel Oliveira, Alex Marquez, Maverick Vinales and Luis Salom, competing for the top place and behind them there was even a bigger group competing for 8th place with riders even from 15th place in the hunt. Riders swapping positions was as they as "blink and you will miss".
Race start saw Luis Salom and Alex Rins leading the first corner and soon joined by other riders and from them on it was the same group until the latter half of the race when the Mahindra riders and Jack Miller could not keep up the pace with the superior KTMs and it was a group 4 riders Vinales, Rins, Marquez and Salom. All this while when riders were swapping places, Salom kept his head in the race and waiting patiently, not involving in the overtaking, strategizing, always trying to save something for the end. With just 6 laps to go Salom finally decided that this was the right time to take over the race and he did it in a spectacular fashion at end of the home straight where he would take the lead passing all the three riders in front of him. And he absolutely timed the move beautifully. None of the other riders were able to match his pace even though Maverick Vinales tried hard by recording a fastest lap of the weekend but that was not enough. In the end Luis Salom took the win Rins behind and Vinales completing the podium. This was a back to back win for Salom after Mugello and just like last time he strategized the race perfectly and probably this was his best race of his career so far. He has won three out of six races this year and has taken the top position in the points table as well with a 5 points gap from Maverick Vinales. Alex Rins is sitting at 3rd place with 22 points difference. It will be really interesting to see the championship chase for Moto3.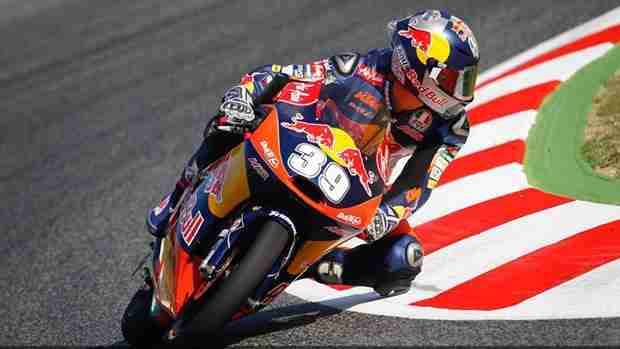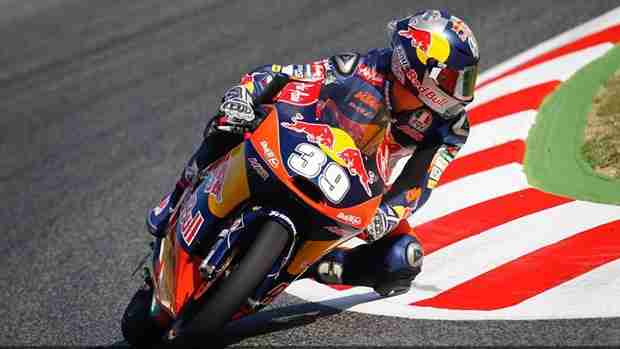 Team Mahindra had a good day with both their riders competing in the leading group for more than half of the race and Oliveira and Vazquez taking 6th and 5th place respectively. This year their bikes have leaped forward in terms of development and both riders, especially Oliveira, is involved with the top guys regularly at least till now. The team has even got attention of the other teams in the paddock as well and they want to use their bikes for the next season! That's really good news that an Indian company is seen competitive and given respect in the highest racing championship though still a lot is need to compete with the mighty KTM's moto3. Their alliance with Suter is paying off well, Suter is the company that supplies bike chassis in Moto3, Moto2 and to the MotoGP CRT bikes as well.
Other riders worth mentioning were Malaysian rider Fahmi Khairuddin who started from 16th and finished at 9th place and similarly Italian talented rider Romano Fenati started from 22nd position finishing the race at 15th.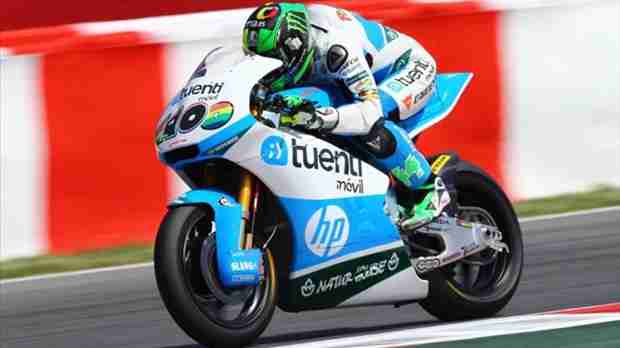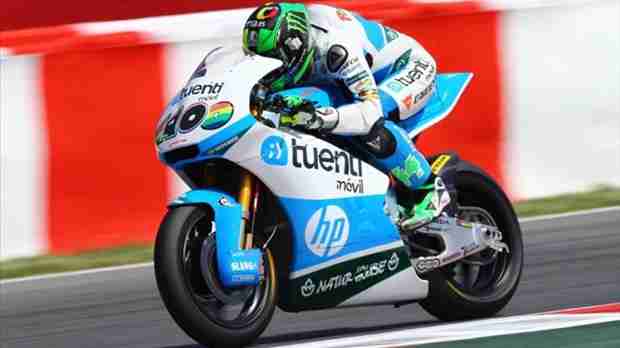 Moto2 race was a homeboy spectacle, Pol Espargaro stamped his authority over the Catalunya circuit in an authoritative way topping every session except for FP3 session and taking the pole position as well. He was joined by Esteve Rabat and Marc VDS rider, Scott Redding at the front row. Japanese rider Takaaki Nakagami was off the front row for the first time in the season. He grabbed 4th position in qualifying with Alex De Angelis and Johann Zarco. What was surprising was Nico Terol's qualifying, he could not record even a 20th fastest timing. Thomas Luthi who too missed previous races due to his shoulder injury was back in form, he had topped the FP3 session on Saturday but he could only qualify only 10th fastest. When the lights went out it was Pol led the first corner. Luthi made a great start and by first corner he was just behind Espargaro but went off track and rejoined at 3rd behind Rabat. Redding had a bad start and went backwards. Apart from the early incidence the race was virtually decided with Espargaro giving the lead to Rabat for some time, only to take back the lead and that was it, Pol won the race with Rabat at second place and Luthi at third. Redding finished the race with a lonely 4th, he just didn't have the race pace to challenge the win and probably settled with 4th place instead of trying too hard only to crash out or wear out the tyre too much that he gave many more positions. Redding still leads the points table with a 35 points gap from Pol Espargaro who climbed several spots with this win also helped by Nico Terol's non scorer result and also a not so good result from Mika Kallio. Still a lot of work required from Pol Espargaro if wants to get back in the championship hunt. His effort has gotten even more difficult because of the fact that his teammate, Rabat, is also performing well, challenging Pol for the wins and also just behind him in the points table.
If you thought Moto2 race boring, MotoGP race would be superlative of that. Well the qualifying wasn't that boring thanks to Dani Pedrosa's scorching lap clocking the fastest ever lap of Catalunya circuit on a motorcycle and also shattering Casey Stoner's long standing lap record, since 2008, by three tenths of a second. And if you are a Rossi you would have had the pleasure of The Doctor topping the charts in a session for the first time this season. It was a pleasant, frankly a surprise as well after his disastrous seasons with Ducati, to see him topping the Free Practice session 2 on Friday, a lap which was already under the race lap record. Rossi is yet to master the new qualifying rules and eventually he could only go 7th fastest and hence the third row start yet again for the legend. Rossi often states that whenever he is on the track for Q2 trying to get a fast lap, the other riders, who are in front of him, drop their speed so that they can tail him and get a tow. Rossi is trying everything to go faster in qualifying and hopefully he will in coming races. Defending champion Jorge Lorenzo also did not have a great qualifying, as soon as he went out in Q2, his bike started having a clutch problem and he had to return to pits without even recording a lap in the time sheets and also had to take his "B" bike, his second bike. Lorenzo could only register third fastest by the end of Q2. Second place in the front row was taken by Tech 3 Yamaha Rider Cal Crutchlow once again showing his brute talent. Marc Marquez grabbed 6th place followed by Nicky Hayden and Alvaro Bautista.
Lights out and for a change we saw Lorenzo getting the holeshot instead of our pocket rocket Dani Pedrosa and Lorenzo led the first corner. Marquez also made a good start and was just behind Dani at 3rd. Bautista, who in the last race at Mugello collided with Rossi crashed, was again trying too hard and on lap 3 he lost his front and almost took out Rossi yet again but luckily not the case this time. The higher track temperatures as we mentioned started playing an important part. Lap 6 Cal Crutchlow lost his front and crashed out of the race, stating post race that the tyres and the track was too greasy for the bike, with an almost full fuel tank, to stop and turn. He was not the only to crash out of retire from the race, Nicky Hayden, Michael Laverty, Lukas Pesek, Karel Abraham, Randy De Puniet, Andrea Iannone all either crashed out or retired from the race. The Bridgestone tyres were not holding up well in the hot greasy Catalunya track surface.
There was absolutely no overtaking going on the track except for a couple of them happening between Tech3's Bradley Smith and Ducati's Andrea Dovizioso way back for 6th place. By lap 19 Lorenzo had put the Hammer (or Mortillo in Spanish) down and started building up the gap and soon he was 1 second ahead of Dani Pedrosa. All race long Marquez had been towing behind Dani and in the last laps he did try to overtake him. But with some brilliant defense from Dani, Marquez could not do so. Penultimate lap Marquez tried one more time and almost crashed due to a tank slapper. He lost around half a second and astonishingly he was again at pace and on Dani's rear tyre only to be again denied a pass through. Despite Dani having front tyre problems he was able to fend off attacks from his teammate which was mighty impressive. Lorenzo ultimately took the win which was his back to back win from Mugello and back to back wins at this circuit as well after winning here in 2012 as well. Dani took second and Marquez third. Valentino Rossi finished the race at a lonely 4th place and was not able to match up the pace of the front runners. He still needs to find some more pace in his M1 so that he can keep up with those three. Bradl finished 5th with Bradley Smith at 6th and Dovi seventh. Follow the link to check out post race rider quotes and the race results.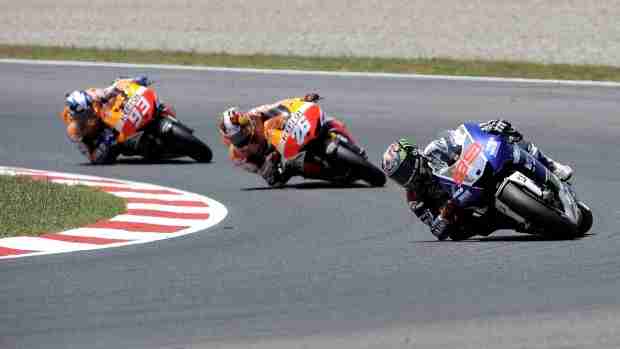 Lorenzo's win has cut short his gap in points table to 7 points to Dani Pedrosa. After qualifying it was looking like an all Dani race but yet again Lorenzo turned the tables around. There is a looming danger as well and that is the number of engines Yamaha has used up compared to Honda with one engine each Rossi and Lorenzo decommissioned. Both Lorenzo and Rossi have taken their fourth out of total 5 engines allowed. The same situation is with Tech 3 as well where Cal Crutchlow is also on his 4th engine. On the other hand both Honda factory riders are still using their first and second engines. This was 6th race of the season and Yamaha riders will have to survive the remaining season with 3 used and 1 unused engine and it will be a start from the pit-lane should they decide go over the quota of engines. This will have an impact at the later point of the season but this is what the teams will have to deal with. Hopefully we do not get to a point where the championship is decided because of this. Roll on to Assen in two weeks time.