Another race and another incident or move that will be talked about for a long time. And one of the common protagonists in this one is once again the prodigy Marc Marquez. Fourteenth race of the season at Spain, Aragon, will be seen as an authoritative stamp on title chase for Marc Marquez but not without a whole lot of talk how he went on to take the Aragon win.
But first lets talk about the other two classes of race. The subordinate class races is where the equations for the championship have been upset. Moto3 saw Alex Rins taking a comprehensive win and another step to pull down the championship gap from the leader Louis Salom and on his way beating another title contender Maverick Vinales forcing Vinales to make a costly error in the last lap. Rins was dominant from the start taking his sixth pole position and from there winning his 5th race of the season. Championship leader Louis Salom wasn't on the pace whole weekend and was in a damage control mode to save as much points he could from the race winner; Salom finished 4th behind Alex Marquez and Vinales. With this win Rins is just 9 points behind Salom and 3 points ahead of Vinales. With just 4 more races to go and with 100 points in play and also given that there is no sure shot winner any given weekend in Moto3, it is going to be very interesting and one just cannot afford to miss any races from here on.
Moto2 also saw the podium finisher, second in the points table, reducing his gap to the championship leader. Pol Espargaro finished third in Aragon just ahead of championship leader Scott Redding thereby reducing his points gap by 3 points. Scott Redding, like Salom in Moto3, was also not on pace this weekend and in qualifying session due to traffic ahead of him Redding could only manage 13th place on the starting grid where as the man trailing him in points, Pol Espargaro, was on the front row. Pol has been on a mission to cut down his points gap by winning the last race at Misano and was looking to repeat the same feat this time as well. The pole position was grabbed by Aspar rider and last ever 125cc champion, Nico Terol. Terol had been diagnosed with Lactose Intolerance, the same issue former champion and MotoGP rider Casey Stoner which had caused him to miss 3 races in 2010, and probably Terol's health issue was hampering his performance in the previous races; he had to change his diet to cure this issue and the change looked to have worked for him. He was on pole and also took the Aragon win in a convincing manner. Behind him was the real fight going on. Redding had found something in his Warm Up session and was able to catch up starting from 13th to 4th and then to be in 2nd place in the early part of the race. Esteve (Tito) Rabat, teammate of Pol Espargaro after a little fight with Pol was able to overtake Redding as well. Now Pol was behind Redding and to have any chance at the championship, he had to finish ahead of Redding. With the dying laps of the race Pol made his move but Redding was not in the mood to give up that easily and immediately took back his position with a rather aggressive move. Pol Espargaro also wasn't going to give up either and finally made his move stick and take the final podium place. The finishing order was a mirror of the qualifying with Terol, Rabat and Espargaro and also all Spanish podium yet again. Espargaro is now 20 points behind Redding and 4 races to go. Needless to say it'll be very interesting climax to the Moto2 title chase as-well.
The premier class with the arrival of Marc Marquez this year is changed and is no more the processional races with no incidents, minimal overtakes, etc. Aragon race was filled with all of those. Qualifying session was also nothing short of excitement. Championship leader Marc Marquez's teammate Dani Pedrosa had almost become the invisible man but he was the first one to break the pole record on Saturday in qualifying, and his fast lap was the start of umpteen number of fast record breaking laps by all the front runners. Real surprise was the legend Valentino Rossi, who still hasn't got hold of the M1 completely, but was on pace and was able to match the timings of the Hondas as well as Lorenzo's. Lorenzo was fast on the M1 trying to build pressure on Marc Marquez who doesn't look to be in any pressure. Eventually it was Marquez who took the pole with Lorenzo and Dani completing the front row. And only 5 thousandth of a second slower from Dani was Rossi who took 4th. Cal Crutchlow was not happy with his bike and could only manage 7th behind Stefan Bradl and Alvaro Bautista.
When the lights went out it was Lorenzo who took the holeshot and tried to build a gap right way, the same modus oprandi as in Misano where he won. But not this time, the Hondas were right on his trail with Marc in front. 4th position it was Rossi with Bradl, Bautista and Crutchlow behind him. Lorenzo was fast but wasn't able to build a considerable gap from Hondas and Dani by lap 5 overtook Marquez and looked to be able to chase down Lorenzo. But Marquez was not going to give up either and the very next lap he tried to take on Dani and turn 12, Marquez was a little too fast for the corner and couldn't have made it safely and also looked like he would have taken Dani with him. He had to stand the bike to avoid the collision and he was able to almost avoid it but he did touch Dani's bike's rear and went wide. Dani didn't look to be affected going into the corner however the moment Dani tried to power out of the corner his bike's rear lost traction and went sideways causing a massive highside and Dani ending up on his back. Visually it didn't look like the crash was due to Marquez' going wide but post race inspection of the bike revealed that Marquez when going wide in that corner had clipped Dani's bike's speed sensor cable which is attached to the rear wheel just above the swingarm. This sensor is basically for traction control and without it when Dani throttled out of the corner the bike went swirling out of the control and caused the highside.
With Dani's bike right in the middle of the track the trailing riders (Rossi, Bradl, Bautista, Crutchlow, etc. ) barely missed hitting it through that corner. Dani looked to have yet again injured himself as he was taken off the track on a stretcher. Thankfully there was no serious injury to him and had only hurt his hip slightly.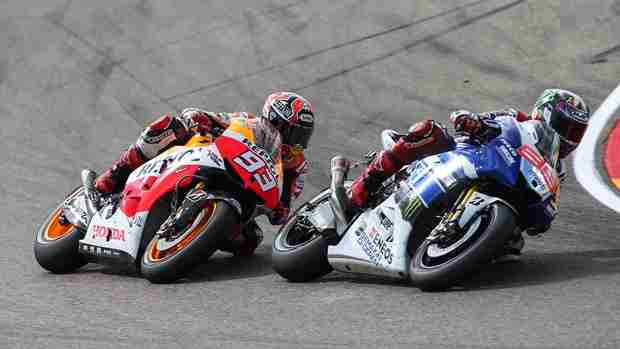 This incident had caused a gap of 2 seconds between Lorenzo and Marquez but surprisingly Marquez was able to catch up in the next 4 laps. With 10 laps to go and Marquez right on his tail Lorenzo tried taking a different approach and he let Marquez go in front. His plan was to be with Marquez till the end making a move in the last laps of the race. But his plan didn't work the way he wanted to and Marquez was stronger than Lorenzo had expected. Marquez eventually took the win quite easily and also with a 3 seconds gap from Lorenzo. It's really spectacular to see Marquez who was behind Lorenzo by 2 seconds after the incident finishing the race 3 seconds ahead of Lorenzo all within 15 laps of the race.
Behind Lorenzo was the real scrapping going on for the final podium position with Rossi, Bradl, Bautista and Cruchtlow a little behind. Rossi was able to fend off attacks from Bradl and Bautista and finally took the third place. Bradl and Bautista provided a fast overtaking spectacle and it was a treat to watch. Bautista was finally able to take 4th place from Bradl. Crutchlow finished 7th.
Coming back to the move itself which saw Dani Pedrosa crashing out and thereby ending his title run altogether. The move was a little over the edge considering that it caused a riders title aspirations go dust, and also the move from a rider who has already scored a lot of infamous points for his dangerous moves (right from his Moto2 days), it has become a talking point. Although it was a racing incident and Marquez didn't intend to cause a crash it is Marquez' style of riding, his lose style on the bike, his over-enthusiasm are the cause of the concern. The consequence of the incident is that the Race Direction is investigating it and will decided if any action would be taken or not.
At the end the title is almost decided with Marquez leading Lorenzo by 39 points and 4 races to go. All Marquez needs to do finish third in every race from here on even with Lorenzo winning every race (which is nigh impossible) and he will be crowned the Rookie champion of 2013, a feat that has only been accomplished once before by kinds of Kenny Roberts in 1978.
The MotoGP championship title chase might be almost finalized but action isn't, there are two other championships that are wide open and will provide excitement to us fans. Roll on it is then to the Malaysian Grad Prix at Sepang in two weeks time.
Marc Marquez
"Today was a very gruelling race, because I had to make two comebacks; the first was to catch Jorge after he broke free at the start, then I needed to make another after Dani passed me and I wanted to overtake him after two laps. I felt comfortable but I went a little wide under braking, lifted the bike up and made light contact with him. I'm not sure he even noticed it, but it was a bit of bad luck because the team told me I caused his traction control cable to snap and I'm sorry for that —it's something very unusual to see. The important thing is that Dani is OK. I was eventually able to overtake Jorge and take the victory, which is important in terms of both the 25 points and for my morale."
Jorge Lorenzo
"My tactic was to start well and open a gap like I did in the last races. I could make one second at the beginning but then simply Marc was faster. When he caught me I closed the throttle to try to save some energy until the end; then he passed me and tried to go away. I tried my best to catch him but it was impossible. Today he was faster than me; there are no excuses. We have to congratulate him and now we think about the next races. The championship is more difficult now than before the race but we are going to fight for it until the end. We will try to win as many races as possible."
Valentino Rossi
"Third position is positive, to be on the podium is good. I expected to go a little bit faster after the practice this morning where I was very strong. I decided for the hard front tyre whilst Marc and Jorge went for the soft and I think it was a better choice for this afternoon as I was a little bit slower. In the end the third position is very positive."
Alvaro Bautista
"It was a great race and I had a lot of fun fighting with Crutchlow, Bradl and Rossi. It's just a shame that I missed out on the podium again but I am happy because I fought for it until the end. Unfortunately I ended up getting into a fight with Bradl on the final lap and lost touch with Valentino but I have no complaints and we have to be happy with a result like this at a circuit where we have had so many difficulties in the past. Thanks to all the guys for the incredible job they are doing. It is nice that we were back to our best today, proving that Misano was not our fault."
Stefan Bradl
"Probably it was an exciting race to watch and it was fun also for me. Overall we had a good weekend and a good race although I lost the last-lap battle with Rossi and Bautista but I am happy anyway. Of course I was dreaming about the podium as we were fast and consistent over the three days, but Alvaro was very strong in the last lap. After Silverstone and Brno tough weekends, our performance is getting stronger and stronger and I gained more confidence on the bike. I only need some more experience to manage the last laps and the drop of the tyres but we took the right direction".
Cal Crutchlow
"I am not unsatisfied with a top 6 result this weekend, I just think we are far from where we should be and that is clearly because we are lacking speed. We lose more than 10km/h every single lap on the straight and in acceleration and that is not good for us, we honestly don't know why also because we used a new engine since this morning and I really don't need to find excuses because you could clearly see it on TV how much I was struggling. In any case we can still take quite a few positives out of this weekend, we had two days of track time less than the others and we don't have the seamless gearbox but we were still able to finish just 1,5 seconds behind Valentino, so we have not done a bad job. Now I am looking forward to the overseas and I am confident we can still fight for the podium this season."
Bradley Smith
"The positive point of today is that we scored our best result since Sachsenring and altogether it was good to stay in front of the Ducatis and especially to pull away from them at the end of the race was a nice feeling. I still believe that we have some more potential to improve our race setting . This will surely be our main aim for the flyaway races and I have no doubt that we will progress is this area. But all in all I can't be unsatisfied with this weekend, especially considering how tough Friday was, when things did not really go according to plan, so to travel to Malaysia with a 7th position in my luggage is not too bad."
Andrea Dovizioso
"I knew that the best I could hope for was to stay with Smith, but unfortunately, I couldn't do it. The first three-quarters of the race were good, as I gritted my teeth and tried to stick with him, but with nine laps left, the rear tyre began to lose grip and I couldn't stay with him to the end. I'm disappointed, but like I said Friday, this track doesn't suit us very well. The fact that we have trouble in fast corners is a big disadvantage here, and when the tyres are worn, this problem becomes worse."
Nicky Hayden
"It's been a tough weekend. We've tried so many things to find grip and get the bike to stop, but we didn't make much progress. On the start, I got a good jump off the line but bogged and lost some positions. I made up a couple and then ran wide in the last corner two different times. Toward the end I went straight at turn twelve, where I'd been having trouble stopping all weekend, and went into the gravel trap. I lost twelve seconds and one spot, which I had to fight to get back. It was a very tough race, and the feeling with my Desmosedici GP13 wasn't great for the whole weekend, but I also made too many mistakes. I'm not very happy at all, so I look forward to getting to Malaysia to put this behind us."
MotoGP Aragon Results 2013
1. Marc Marquez (SPA) Repsol Honda Team 42'03.459
2. Jorge Lorenzo (SPA) Yamaha Factory Racing + 1.356
3. Valentino Rossi (ITA) Yamaha Factory Racing + 12.927
4. Alvaro Bautista (SPA) Go&Fun Honda Gresini + 13.787
5. Stefan Bradl (GER) LCR Honda MotoGP + 13.973
6. Cal Crutchlow (GBR) Monster Yamaha Tech3 + 14.662
7. Bradley Smith (GBR) Monster Yamaha Tech3 + 31.220
8. Andrea Dovizioso (ITA) Ducati Team + 40.671
9. Nicky Hayden (USA) Ducati Team + 53.413
10. Andrea Iannone (ITA) Pramac Racing Team + 55.067
11. Aleix Espargaro (SPA) Power Electronics Aspar + 58.001
12. Yonny Hernandez (COL) Ignite Pramac Racing Team + 1'05.513
13. Randy De Puniet (FRA) Power Electronics Aspar + 1'06.589
14. Hiroshi Aoyama (JPN) Avintia Blusens + 1'08.674
15. Claudio Corti (ITA) NGM Mobile Forward Racing + 1'09.130
16. Colin Edwards (USA) NGM Mobile Forward Racing + 1'12.041
17. Luca Scassa (ITA) Cardion AB Motoracing + 1'45.152
18. Bryan Staring (AUS) Go&Fun Honda Gresini + 1'45.228
19. Lukas Pesek (CZE) Came IodaRacing Project + 1'45.583
20. Hector Barbera (SPA) Avintia Blusens Not classified (15 laps)
21. Dani Pedrosa (SPA) Repsol Honda Team Not classified (18 laps)
22. Damian Cudlin (AUS) Paul Bird Motorsport Not classified (20 laps)
23. Danilo Petrucci (ITA) Came Iodaracing Project Not starting
24. Michael Laverty (GBR) Paul Bird Motorsport Not starting
MotoGP Championship Standings post Aragon
1. Marc Marquez (SPA) Repsol Honda Team 278
2. 99Jorge Lorenzo (SPA) Yamaha Factory Racing 239
3. Dani Pedrosa (SPA) Repsol Honda Team 219
4. 46Valentino Rossi (ITA) Yamaha Factory Racing 185
5. Cal Crutchlow (GBR) Monster Yamaha Tech3 156
6. Stefan Bradl (GER) LCR Honda MotoGP 135
7. Alvaro Bautista (SPA) Go&Fun Honda Gresini 125
8. Andrea Dovizioso (ITA) Ducati Team 112
9. Nicky Hayden (USA) Ducati Team 102
10. Bradley Smith (GBR) Monster Yamaha Tech3 80
11. Aleix Espargaro (SPA) Power Electronics Aspar 76
12. Michele Pirro (ITA) Ignite Pramac Racing 50
13. Andrea Iannone (ITA) Pramac Racing Team 47
14. Colin Edwards (USA) NGM Mobile Forward Racing 31
15. Hector Barbera (SPA) Avintia Blusens 27
16. Danilo Petrucci (ITA) Came Iodaracing Project 23
17. Randy De Puniet (FRA) Power Electronics Aspar 23
18. Yonny Hernandez (COL) Ignite Pramac Racing Team 11
19. Ben Spies (USA) Pramac Racing Team 9
20. Hiroshi Aoyama (JPN) Avintia Blusens 8
21. Claudio Corti (ITA) NGM Mobile Forward Racing 8
22. Karel Abraham (CZE) Cardion AB Motoracing 5
23. Alex De Angelis (RSM) Ignite Pramac Racing 5
24. Michael Laverty (GBR) Paul Bird Motorsport 3
25. Bryan Staring (AUS) Go&Fun Honda Gresini 2
26. Javier Del Amor (SPA) Avintia Blusens 1