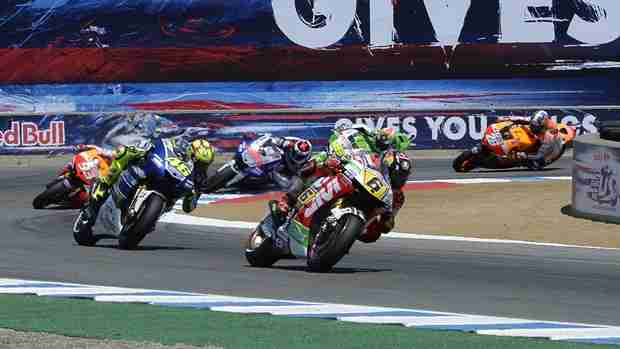 Our sincere thoughts to the family and friends of Andrea Antonelli, the world supersport rider who passed away in a tragic accident yesterday at the track in Moscow, Russia. Antonelli had crashed in the race which was affected by inclement weather.
Every 10 years or so there is a rider who doesn't fit the usual mould and redefines everything that one knows about racing at the highest level and writes his own legacy. And yesterday we saw a glimpse of it. A new era has begun and in that era there is only one rider who looks to dominate in the many years to come. Laguna Seca this Sunday (or Monday early for India) showed exactly that. The prodigy Marc Marquez has once again broken records taking his third win of the season spectacularly.
For Marc Marquez, Laguna Seca was a track where he had never ridden (only MotoGP class races here) and the track traditionally has been a difficult one to master for someone who is riding here first time and that too on MotoGP machinery. But as mentioned in case of Marc Marquez traditions, history books, etc do not apply. After his sighting lap on a scooter on Thursday,  on Friday Free Practice 1 he was already up to speed and third fastest and eventually recording the fastest time in following sessions and by Saturday qualifying he was all set to take the pole position with nobody able to match his timings. However a resurgent Stefan Bradl, on his LCR Honda, snatched pole position from him. Although Bradl was very fast, his pole was helped by Marquez' crash in Q2 as well with just 5 minutes to go and was on a really fast lap. This was also Bradl's first ever pole position in MotoGP.
The injured Spaniards, Jorge Lorenzo and Dani Pedrosa also were declared fit to race but both of them were taking it cautiously not to further injure themselves.
Bradl led the first corner with Rossi following him. Marquez didn't get a good start and for the initial few laps he suffered from movement of the bike due to a full tank of fuel. Despite that soon he was towing Rossi looking for a place to pass. And what better place could it be to do that other than the famous turn 8, "The Corkscrew", a corner made famous by Rossi himself, Marquez overtook Rossi in almost similar fashion as Rossi overtook Stoner back in 2008. Before entering the corner Marquez was faster than Rossi and took the outer line so that he could take inner line in that corner eventually to pass Rossi. Rossi tried whatever he could to block Marquez but he couldn't, Marquez went off track slightly, passing the Rossi Memorial line which Rossi himself had taken in 2008 to pass Casey Stoner. The question whether the move was legit as per the rule books or not is out of the window, when the move was deemed legit back in 2008 Marquez couldn't have been penalized for Sunday as well. Casey Stoner if he was this watching this race and that move by Marquez, would have had a grin of his face for sure.
Definitely this pass by Marquez will be the topic of discussion for a long time.
Soon Marquez tracked Bradl down and passed him with ease with a rather superb manoeuvre and Bradl from that moment on was more focussed on maintaining the gap from Rossi than getting back at Marquez and eventually finished second ahead of Rossi with Marquez winning the race. Rossi however did not have an easy time as Gresini Rider, Alvaro Bautista who had started the race from front row, was looking to pass him all the latter part of the race. Rossi barely managed to keep Bautista at bay till the end of the race.
There was one more battle worth mentioning and that was going on behind Cal Crutchlow, who finished a lowly seventh, between the two factory Ducatis for 8th and 9th position which was eventually won by Nicky Hayden.
Jorge Lorenzo and Dani Pedrosa finished 6th and 5th respectively limiting the points difference to some level. Both were clearly in pain when they got off from the bike at the end of the race. A valiant effort from both.
So with this win Marquez has broken records yet again. He is the first rookie to ever win at Laguna Seca and he is also the first rookie rider to take back to back wins in a MotoGP season. And now he leads the points table by 16 points to Dani Pedrosa. Marquez has won 3 races till now and every race which has happened in US, the previous win being at Austin Texas.
Earlier when Marquez won the Austin, Texas race he led the points table and it was a crazy thought that what if Marquez can clinch a championship title in his first year only. Now with yesterday's win that thought is a little less crazy. If he is indeed is able to do that, although it's still a long season to go, he would be the only person after Kenny Roberts who also won a title in his rookie season in 1978.
Rossi also had his bit of history to make, Thanks to Martin Raines (@motogpmart) for this bit of stat,
"Valentino Rossi is oldest to have 3 successive premier-class GP podiums since Phil Read in 1975."
He has moved up a place in the points table above Cal Crutchlow by just one point and is now 46 points behind Marquez, 20 behind Lorenzo and 30 behind Dani Pedrosa.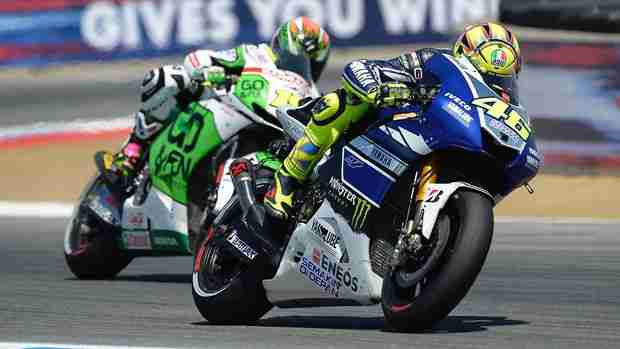 MotoGP now goes into a 4 week summer break now and when they come back in IndianaPolis, it will be a very interesting latter part of the season with such less points gap in the table and the championship has three contenders. It will also be interesting to know the rider movements for the next year. All the Yamaha and Honda factory seats are taken for 2014 and there are quite of riders eyeing on the remaining seats in namely Factory Ducati, Honda Gresini, LCR Honda, probably a seat or two in Tech 3 Yamaha and also in the CRTs which would be re-named as Non-MSMA team in 2014. But all this probably we'll have to cover in a separate place. For now it is a good break for the riders especially Dani and Jorge who will get ample time recover fully and come back at their 100% to start the second half of the season.
Till then we have enough soup to discuss probably argue of who is going to pose a challenge to ever improving Marc Marquez, or whether Rossi will be able to win again this season or not, whether Jorge Lorenzo will be able to defend his title, whether Dani Pedrosa can clinch his first ever MotoGP title and so on. And by the way if you want to check out the post MotoGP Laguna Seca championship standings along with the post race rider quotes head on here.