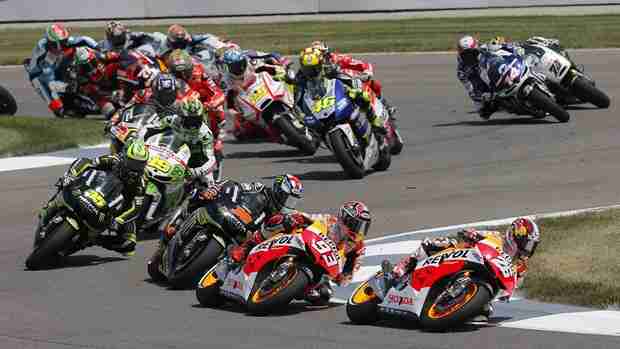 The world is changing and changing fast and if you are not able to keep up with it you will be left behind having no clue where everybody went. And that's exactly happening in the MotoGP world as well. On Sunday somebody named Marc Marquez stamped his authority on MotoGP world. Rookie season  with a few race wins one could have thought, "meh! just a fluke" but not this time. Marquez is not just hype but a new era, he has brought in new style of riding which no one has thought was possible. Knee sliding? everybody does that, even elbow sometimes touches when a rider leans wee bit too much and carrying a lot of speed. But to slide your elbow to get a feel of grip and try to go fast based upon that feel? This is new and now a days we see a lot of other riders sliding their elbow as well. Not comparing the riders here but the same thing happened when the former champion Valentino Rossi started dangling his leg, and other rider started following him and when asked about it Rossi would say he doesn't know if that leg gives him any aerodynamic advantage but he just felt comfortable doing it when he's going fast into a corner and the same way Marquez feels comfortable sliding his elbow just to get a better feel. That is the mark of champions, they have their own way of being at the top.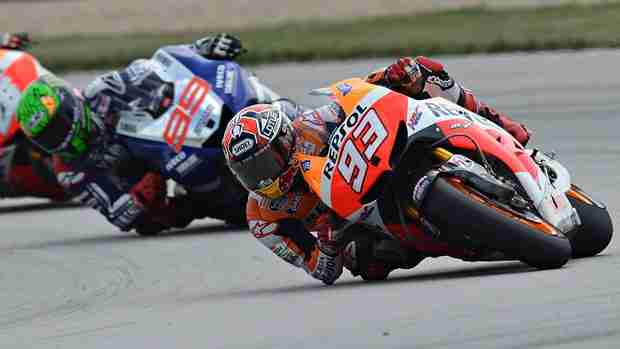 Speaking of the weekend especially MotoGP, it was all Marquez right from the first Free Practice session. He was right on the money and topped all the sessions. In qualifying Marquez shattered the existing pole record and was the only rider ever to record a lap time below 1 minute and 38 seconds. Lorenzo and Dani who both are recovering from broken collarbone injury, were up to speed and completed the front row of the grid. Not a happy hunting ground for Valentino Rossi although he won the very first race here at the Indianapolis Raceway circuit, he could only manage 9th best lap time. Lights out and it was Lorenzo who led the first corner and Dani behind him as always. Lorenzo led the first half of the race with Dani and Marquez tailing behind him. Rossi found it hard to make places earlier and was at a lonely 7th place after passing Bradley Smith who had a lightening start but slowly faded away. Behind the leading trio it was Cal Crutchlow (who recently signed with Ducati Factory for the next two years replacing Nicky Hayden), Stefan Bradl (who also renewed his contract for 2014 with LCR team with a factory support from Honda) and Alvaro Bautista (who is on the brink of staying with Gresini Team). With half of the race spent by chasing Lorenzo and Dani, Marquez made his move on Dani and successfully passed him and now had Lorenzo on his sight and eventually passed Lorenzo as well with a calculated move. Although Marquez was not able to build a gap and Lorenzo and Dani were able to keep up with him. Behind them with 10 laps to go Bautista and Crutchlow had built a gap from Bradl. Rossi was about 5.5 seconds behind Bradl at this point of time.
Indianapolis is track which is tough on tyres with having three different kinds of tarmac over the layout and riders were bound to have tyres trouble in the latter part of the race. With a lot exchanging positions earlier in the race Bautista, Crutchlow and Bradl had probably used up too much of their tyres and by now Rossi was clocking almost a second quicker than those three. In the mean while Marquez had built up a comfortable 1 second gap from Lorenzo and Dani and was maintaining the gap. The real drama was happening behind them when Rossi started closing down the gap from Bradl very quickly. By lap 23 he was right on the back wheel of Bradl and soon passed him with ease. Rossi had somehow managed the tyre very well probably due to the fact that he had very little challenge all through the race. Rossi was lapping at the same pace as the frontrunners Dani and Lorenzo and was visually faster than both Crutchlow and Bautista. In the meantime Dani was able to pass Lorenzo to take second position with Marquez disappearing in the front and the podium positions looked to finalized. Rossi was having a hard time getting ahead of the two guys and the battle went on till the last lap and finally Rossi was able to get ahead of both guys just before last corner. He beat Crutchlow to the line by 6 hundredth of a second with Bautista finishing at 6th. The Ducati riders had their own battle behind these three and on the last lap last corner Nicky made a move which caused both of the riders go wide and in a synchronized way over the bump at turn 4. This little incident gave Bradley Smith, who was trailing these guys, the room to move up and finish ahead of them. Hayden ultimately finished ahead of Dovi at 8th.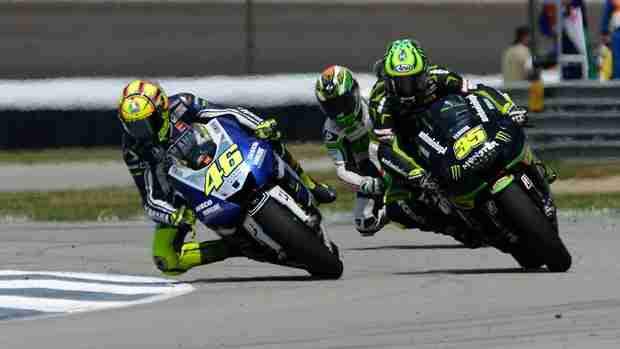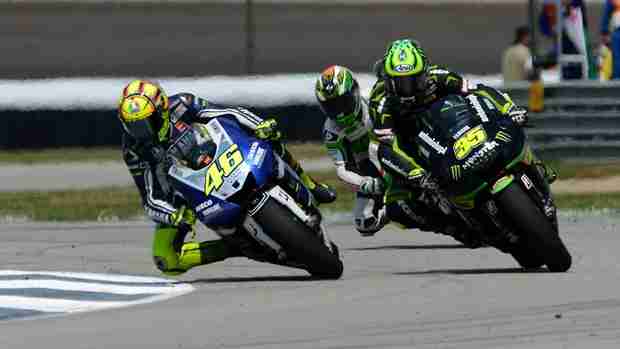 Marquez took the win quiet comfortably and it was a hat-trick for him in two ways. This was his third win in succession after Sachsenring and Laguna Seca. Also Marquez won the third American round after Texas and Laguna Seca. Marquez has built up a lead of 21 points from Dani Pedrosa and 35 points from Lorenzo. He has taken 4 wins this season and shows no signs of slowing down. Only one rider in the history of MotoGP has won a championship in his rookie year and that is the great Kenny Roberts senior in 1978 and Marquez looks planted solid to clinch the world title and be the second rider to do so. Though his title chase would get a bit harder with Dani and Lorenzo recovering to 100% from their injuries.
Hate him or love him Rossi's last laps dash was the only exciting moment and goes to show if Rossi could master his M1 better and also master the new qualifying, Rossi can well be in the mix with Lorenzo, Pedrosa and Marquez though beating them is a whole different story but it would be great to watch. Rossi maintained his 4th spot in the points table with a 51 points difference from Marquez ahead of Crutchlow by 3 points. Check out the full race results, updated championship standings and post race rider quotes here.
Ben Spies' luck doesn't seem to turn around. FP3 session saw him crash at turn 4 which caused his left shoulder to pop out and due to that he had to withdraw from the race. It is sheer cruelty for Ben Spies that he is going through such bad times. He had only come back from a 3 race no show due to his right shoulder injury only to be injured again without even taking part in a race. The fact that there are back to back races after this week has made it difficult for him and with very less time to recover from this should injury.
In the sub-ordinate classes, it was Tito Rabat who outclassed everyone in the latter part of the race where he was able to conserve his tyre and from 6th place he took the win. Most of the race it was Takaaki Nakagami who led the race with Redding and Pol Espargaro exchanging places a couple of times. But it was Redding who was able to get one up on Pol in a spectacular pass in the last laps and took the final podium. The pass showed the true determination of Redding and how much he wanted to beat Espargaro and Espargaro had no answer to that pass, his tyre wear was too much probably. Now Redding leads Pol in the points by a very comfortable 26 points and goes into the remaining rounds as a favourite to clinch the Moto2 title. If he does that it will be only British rider to do so after the Great Barry Sheene did it way back in 1971.
In Moto3 it was Alex Rins who got the best over his team-mate Alex Marquez (younger brother of Marc Marquez) and Maverick Vinales in a race long battle only to be taking the win in the last lap. Alex Rins did not get a good start after his pole start and was relegated to six but he slowly made the positions and finally took the win. Louis Salom, who led the points table, was on a defensive mode after having crashed in the qualifying, started from 10th place and finished 5th behind Jonas Folger. The podium was finalized by Alex Rins, Alex Marquez and Maverick Vinales. Salom still leads the championship but with a diminished gap of 9 points from Maverick Vinales. Also Rins has closed the gap on these two guys with this win. Rins has won both US rounds; Texas and now Indianapolis and also looking ominous, it will be a three way battle for the Moto3 title which makes it very exciting.
Next up is the Czech Republic Grand Prix at Brno. If you remember last year Dani took the win from Lorenzo in a fantastic last lap last corner move. We hope to see a similar finish this time as well. And right after Brno we have the UK race at Silverstone. So no time to rest for the rider and no time for us fans to rest as well. Ride on till Brno.