Coming into the last race of the season with all the titles decided and no burden on their shoulders, all the riders are free to take chances that they wouldn't have taken normally. Riders who have their contracts signed will try to show their prowess and show what they can do next year. And for the riders that haven't been signed, this would be their last chance where they try their best to grab those empty seats.
Moto3, whether it's a title decider or not, is always a spectacle and tomorrow will surely be one. A rally of jump starts in Phillip Island relegated a lot of good riders (Jonas Folger, Louis Salom, Louis Rossi, etc) to lower positions. Tomorrow they wouldn't want to make that mistake again. Jonas Folger has taken the pole position along with the Phillip Island podium finisher, Migeul Olivera starting from 2nd , who recently has signed up with our own Indian team, Mahindra Racing for next year, and the aggressive rider Louis Salom taking the third place of the front row.
The first ever Moto3 Champion, Sandro Cortese, (who is going to move up to Moto2 class next year) will start from the second row along with controversy struck Maverick Vinahles (who looks to be joining Cortese's Moto3 team next year) and outside of the second row is taken by Efren Vazquez, who is also joining the Mahindra Racing next year.
With the great leveller  the rain, looming on the track, it is very hard to predict the winner or even the podiums tomorrow. But we can be sure of the breathtaking racing that every enthusiast would want to see.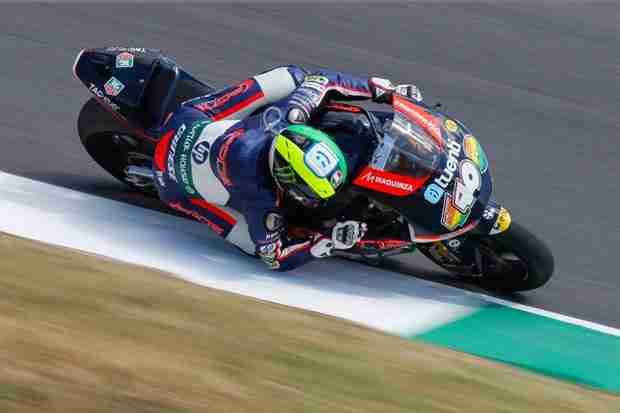 Moto2 has its own protagonists for tomorrow. Pol Espargaro has taken a hat-trick of pole position's with today's pole. After him is the 2012 Moto2 champion, Marc Marquez, well at least in the time sheets. He has been penalized for dangerous riding because of his move on Simone Corsi during Fridays FP2. Maquez will start tomorrow's race from the last place. Not sure of the rulebook, but there should be only two riders in the front row tomorrow.
Marquez has been in controversy with his manoeuvres right from the first race at Qatar when he clipped the front tyre of race leader Thomas Luthi, and caused him to go off track. He is undoubtedly a fast rider but also seems to have tunnelled vision when he is on the bike and doesn't care about any other rider. He is moving to the premier class next year taking Casey Stoner's place in Repsol Honda Team. And he would have to curb his attitude as the RC213V and generally MotoGP bikes are much more faster than Moto2 bikes and in turn making it much more dangerous for himself and other riders as well.
Also all this while in intermediate class his actions have been sort of leniently handled (well I at least feel that way) but premier class is where he would be up against much more high profile riders and it will be a different scenario.
Thomas Luthi takes the final front row place. Second row is headed by Japanese rider Takaaki Nagami who momentarily led the Phillip Island race. He is followed by the last ever 125GP champion, Nico Terol, who is also a home rider for the race and seems to have not got used to the bigger 4-stroke bikes compared to 125cc 2-strokers. It will be interesting to see what he does in the race. The other known riders Scott Redding, Andrea Iannone didn't have a great qualifying and are starting from 8 and 10 respectively.
One well known name which will be missing from race tomorrow is rider number 95, Ant West, who took consecutive podiums since last two races. Ant west has received a 30 day ban having been tested positive for taking a banned substance, Methylhexaneamine, a dietary supplement, at the French Round Le Mans. He has lost his 7th place finish in that race as well. It is not known if West was aware of ingesting that substance. But the onus is on the rider to be careful what substance he takes in his diet. The quantity of the banned substance was very less and hence the punishment wasn't that harsh. A sad end to his 2012 season despite having performed so well recently.
As mentioned earlier weather will play an important role tomorrow. We could see unexpected podiums. One thing to watch out is Marquez starting from the last place tomorrow. If he can repeat what he did in Motegi this year, it will be nothing short of spectacular.
Valencia is a small technical track and as Valentino Rossi jovially named the track in the press conference on Thursday as "Mickey Mouse track". It has been repaved but still doesn't seem to give enough grip that the riders wanted. Evidently Casey Stoner was frustrated but was happy to be on the front row of the grid. Dani Pedrosa continued is excellent and sealed the final pole position of the season by shattering the lap record set by Valentino Rossi back in 2006. Starting from second place is 2012 MotoGP Champion, Jorge Lorenzo. Both Spanish riders would want to excel in front of their home crowd. And with championship burden off the shoulders we could see them taking more risks. Stoner would also want to end his season and also his MotoGP career on a high and continue his good form after Phillip Island.
Second row is headed by Tech 3 rider Cal Crutchlow followed by LCR Honda rider Stefan Bradl and Cal's teammate, Andrea Dovizioso. These same riders provided much of action in the last race.
Easily another disastrous weekend for Valentino Rossi, he has qualified 11th on the grid behind a CRT rider Aleix Espargaro and more importantly more than 2 seconds slower than fastest lap by Dani Pedrosa. Valencia is anyway not a track he likes and on a Ducati, Rossi isn't just Rossi at all. He will just be eager to finish the race at a decent position and start his next adventure on Tuesday as he goes back to his old love, the Yamaha M1. But post race things we can discuss later. Nicky has qualified a decent 7th heading the third row, though highly doubt he would be satisfied with it.
Ben Spies will be missing tomorrow's race due to his injury at Motegi. He will be replaced by test rider Katsuyuki Nakasuga. Another rider who is missing is Yonny Hernandez and is replaced by Moto2 rider Claudio Corti.
With season ending, titles decided and riders already getting ready for their post race tests, as race enthusiasts we expect to see competitive races in all three classes. And we might well get an eventful race. Rain showers expected tomorrow will be a leveller and may give us an exciting, unexpected race weekend. The weekend doesn't end tomorrow, there's more installed after the race as the riders start testing their 2013 prototypes on Tuesday.
MotoGP Valencia Qualifying Times
FRONT ROW
Dani Pedrosa (SPA) Repsol Honda Team 1'30.844
Jorge Lorenzo (SPA) Yamaha Factory Racing 1'31.195
Casey Stoner (AUS) Repsol Honda Team 1'31.428
SECOND ROW
Cal Crutchlow (GBR) Yamaha Tech3 1'31.512
Stefan Bradl (GER) LCR Honda 1'31.757
Andrea Dovizioso (ITA) Yamaha Tech3 1'31.795
THIRD ROW
Nicky Hayden (USA) Ducati Team 1'32.503
Alvaro Bautista (SPA) Honda Gresini 1'32.585
Hector Barbera (SPA) Pramac Racing Team 1'32.605
FOURTH ROW
Aleix Espargaro (SPA) Power Electronics Aspar 1'32.834
Valentino Rossi (ITA) Ducati Team 1'32.877
Randy De Puniet (FRA) Power Electronics Aspar 1'33.346
FIFTH ROW
Karel Abraham (CZE) Cardion AB Motoracing 1'33.442
Colin Edwards (USA) NGM Mobile Forward Racing 1'33.453
Michele Pirro (ITA) San Carlo Honda Gresini 1'33.971
SIXTH ROW
Katsuyuki Nakasuga (JPN) Yamaha Factory Racing 1'33.979
Danilo Petrucci (ITA) Came Iodaracing Project 1'33.980
Ivan Silva (SPA) Avintia Racing 1'34.407
SEVENTH ROW
Roberto Rolfo (ITA) Speed Master 1'34.866
James Ellison (UK) Paul Bird Motorsport 1'34.918
Hiroshi Aoyama (JPN) Avintia Blusens 1'35.363
EIGHTH ROW
Claudio Corti (ITA) Avintia Blusens 1'36.531