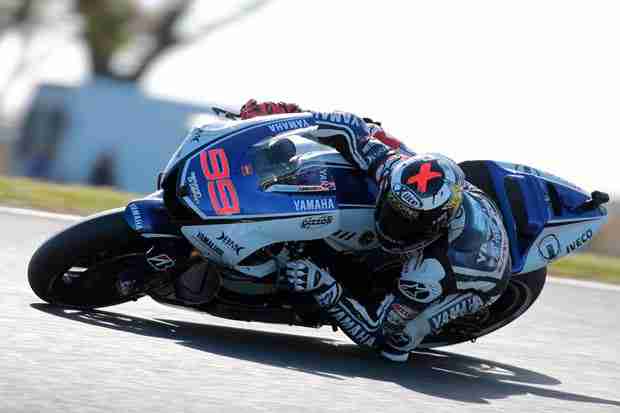 It couldn't have been a better racing day than today. Bright sunshine, ideal temperature of 15 degrees, with very less wind speed. We were in for a great day and in a way it was a great day with two new champions being crowned.
The Moto3 title was already decided at Sepang and as we expected there were unexpected podiums except for the newly crowned champion who again showed his master class. At the start of the race Fahmi Khairuddin got a great start and led to the first corner starting from the second row. It looked like Louis Salom also got a lightening start starting from 9th to the front pack only to be notified later that he had a jumpstart at the lights. He wasn't alone to have done that, not one not two but 5 riders (Louis Salom, Jonas Folger, Jack Miller, Alberto Moncayo and Louis rossi) were involved probably the cause of a chain reaction as one jump start lead to another. They were all given a ride through penalty. Even before the board was shown Louis Rossi took himself out of the contest when he went for an off-road excursion.
At the same time Cortese held a steady head (like he always does) slowly built up the distance along with Miguel Oliveira who took lead from him a couple of laps later. Maverick Vinahles was also in the leading pack alongside Arthur Sissis, Danny Kent, Fenati, Vazquez and Alex Rins. Fahmi Khairuddin looked like he had a mechanical problem, and eventually crashed out. At about half way point Vinahles also crashed and that ended his weekend early.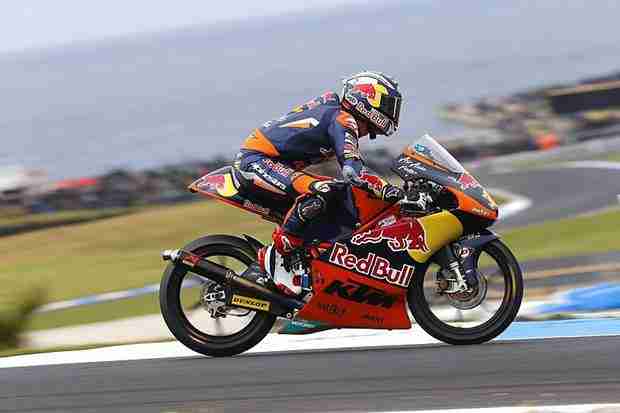 Towards the end it was pretty clear of the two podiums in the form of Cortese and Oliveira but there was a big fight with as many as 6 riders fighting for it and that fight went on till the final home stretch and the podium was taken by the Australian Arthur Sissis. By this time Cortese had made his move to take the lead from Oliveira and eventually the win.
This is the second time we saw a non-spanish podium after Sepang with the German rider Cortese taking the win, Portugese rider, Miguel Oliveira, taking 2nd place and final podium grabbed by Australian Arthur Sissis. At the horizon it is evident that the racing will not be dominated by Spanish riders alone.
It was a great start for the Australians as one home rider, Arthur Sissis, had already taken the podium in Moto3. It was now time for Moto2. The pole man, Pol Espargaro, had the best seat to delay Marc Marquez crowning though not much was there for him to do except for winning the race and hoping for Marquez to crash out or finish less than 14th place which was nigh impossible.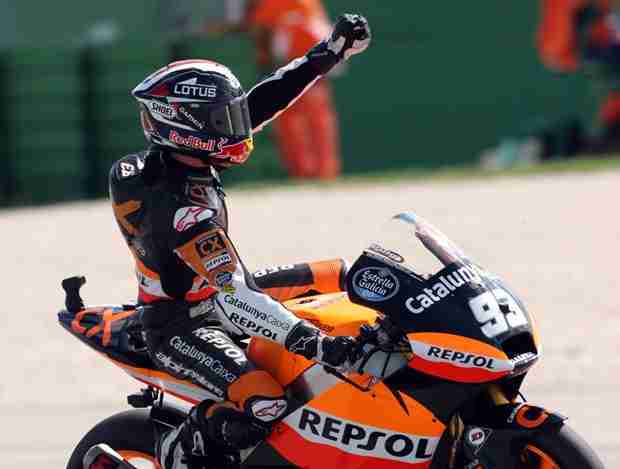 There were virtually two races in today's Moto2 race. One in which Pol Espargaro, who didn't get a great start, was now racing alone having an unmatchable pace that probably would have easily smoked some of the slower CRT bikes running in MotoGP. Pol doing a Stoner alike win at Phillip Island, checking out early and winning the race by a huge margin. And the other virtual race consisted of the remaining riders who were led mostly by the Brit, Scott Redding only to be relegated to third in the last lap. It was a heroic race by the another Australian Ant West, who freshly took the podium in the wet Sepang race, riding with the QMMF racing team, was now fighting in the mid pack until the last few laps when he decided to take the charge and hunt down the duo of Scott Redding and Marc Marquez. With three laps West caught them and made some brave maneuvers, took 2nd place ahead of Scott Redding. The final corner saw Marc Marquez make a spectacular move to take the third position and finally clinching his first Moto2 Championship. Pol Espargaro finished the race with a massive lead of 16 seconds. It would be very exciting to see what Marquez can do moving up to MotoGP premier class replacing Casey Stoner in the Factory Repsol Honda team. How much the title meant to Marquez, the team and his family was evident from his father's expressions when he crossed the finish line.
With Moto2 championship finalized all attention was towards the premier class title. Would the title be decided today? We didn't have to wait too long, not even for the race to be over.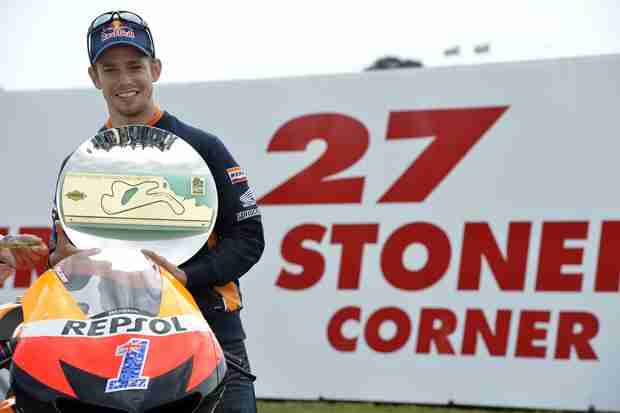 Casey Stoner, the pole man, who now has a corner, turn 3, named after him didn't get a good start and holeshot was claimed by Lorenzo with Dani and Stoner behind. Dani took the charge and the led turn 3, it looked like Dani will repeat his earlier wins this season. But he pushed too hard and lost the rear of his bike. He tried to come back in the race with his damaged bike but the bike was too banged up to continue and returned to pits. Right at this time the title was virtually decided, now Lorenzo just had to finish the race in points to claim it. By this time Stoner had checked out and pulled a huge gap over Lorenzo. It looked like we could see a battle for third position among the satellite Yamahas and Hondas but that too was momentary when Cal Crutchlow pulled a gap from the chasing group that consisted of Doviziozo, Bautista and Bradl.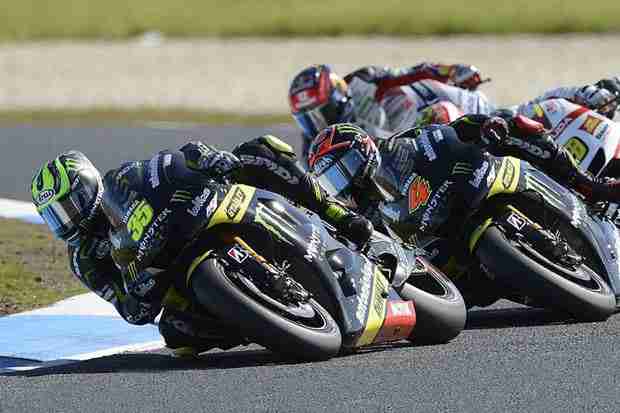 The first three positions were fairly divided with 6 seconds between each other and no one looked to taking any chances. Behind this group was a disappointing group of Ducatis consisting of Valentino Rossi, Nicky Hayden and Karel Abraham. It was a sad sight with Ducati trailing like this especially when two years back they took a victory in the hands of none other than Casey Stoner. At the end Dovi took 4th position by 23rd lap and Stoner took his 6th consecutive win in his own fly away style. Stoner has led each and every lap except for one lap of Phillip Island in last six years since 2007, such is his dominance and we are surely going to miss this spectacle coming back to Phillip Island in the coming years. All in all a great day for Australian racing with home rider having podium position in all classes.
Aleix Espargaro was the top CRT rider for today. Following was his teammate Randy De Puniet. Colin Edwards, Roberto Rolfo and home rider James Ellison were the CRT non finishers of the day.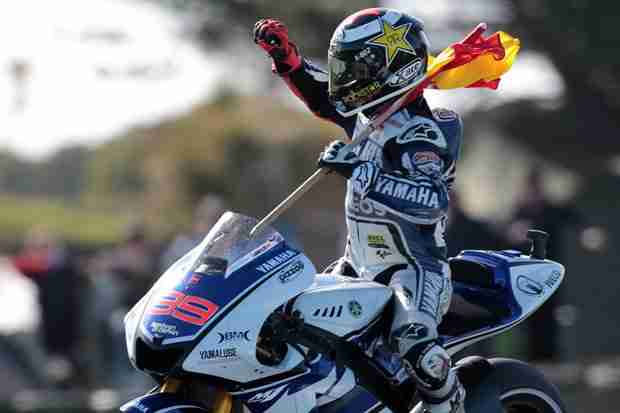 Lorenzo became the first Spaniard to clinch two world title in MotoGP premier class. Lorenzo's celebration looked subdued this time around compared to his earlier antics. He has matured as a rider and as an individual as well. He deserves this title completely. A rider who was on the podium on every single race except for Assen when he was taken out by over excited Alavaro Bautista, deserves to be the Champion. If he (which he most certainly will) scores another podium, grabbing no less than 2nd place will be a new record in its own. Most people say that Dani Pedrosa probably had the best possible chance of winning the title this year with Stoner and Rossi out of the picture. But the way he is performing right now and if he can continue this kind of form next season, no doubts he will be the frontrunner for the championship.
So with all the titles decided this weekend, next race at Valencia would be the place for riders to show their prowess and make an impact for next year. Not to forget the post race test starting for 2013. But those things can be looked into later. For now let's congratulate the two newly crowned champions; Jorge Lorenzo and Marc Marquez.
MotoGP Philip Island results
Casey STONER AUS Repsol Honda Team Honda – 41'01.324
Jorge LORENZO SPA Yamaha Factory Racing Yamaha – +9.223
Cal CRUTCHLOW GBR Monster Yamaha Tech 3 Yamaha – +14.570
Andrea DOVIZIOSO ITA Monster Yamaha Tech 3 Yamaha – +23.303
Alvaro BAUTISTA SPA San Carlo Honda Gresini Honda – +23.432
Stefan BRADL GER LCR Honda MotoGP Honda – +23.467
Valentino ROSSI ITA Ducati Team Ducati – +37.113
Nicky HAYDEN USA Ducati Team Ducati – +38.387
Karel ABRAHAM CZE Cardion AB Motoracing Ducati – +52.613
Aleix ESPARGARO SPA Power Electronics Aspar ART – +1'00.299
Randy DE PUNIET FRA Power Electronics Aspar ART – +1'00.342
Hector BARBERA SPA Pramac Racing Team Ducati – +1'21.951
Danilo PETRUCCI ITA Came IodaRacing Project Ioda-Suter – +1'27.857
Michele PIRRO ITA San Carlo Honda Gresini FTR – 1 Lap
Ivan SILVA SPA Avintia Blusens BQR – 1 Lap
Did not finish
Roberto ROLFO ITA Speed Master ART
Colin EDWARDS USA NGM Mobile Forward Racing Suter
James ELLISON GBR Paul Bird Motorsport ART
Dani PEDROSA SPA Repsol Honda Team Honda