Honda Motorcycles is working on a new type of gearbox that just might change the way we ride motorcycles. Patent images have revealed a new semi-automatic gearbox used in a Honda CB1100 that eliminates the need for a clutch lever.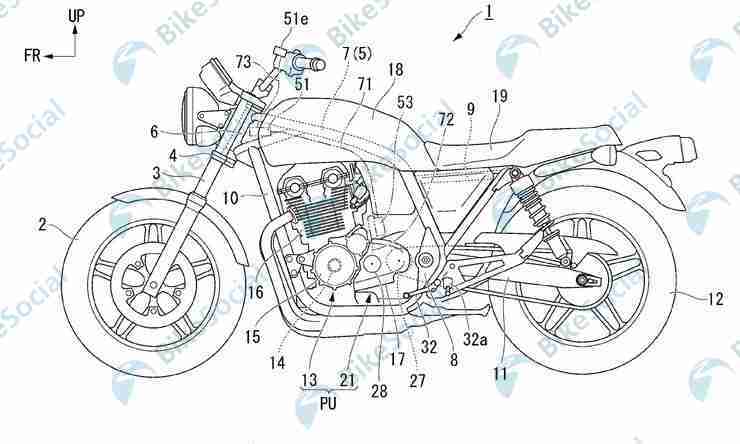 The system makes use of a bi-directional quickshifter and an electronically controlled clutch mechanism. Honda has always been at the forefront of innovation and making riding easier and more comfortable.
It was one of the first to move from two-stroke motorcycles and jump on the four-stroke bandwagon simply because it was too inefficient and noisy. Honda was also the first to introduce automatic gearboxes on a motorcycle.
It was way back in 1970 that it introduced the Hondamatic system that used a torque convertor setup with a two-speed transmission. It was revolutionary, but never caught up in the market. In recent times, Honda gave automatic gearboxes another go with the Dual-Clutch Transmission (DCT) on the Africa Twin. It made riding effortless and touring was a breeze.
Honda had set up the DCT so well on the Africa Twin that it performed very well even in off-road conditions. Riders had to make use of buttons on either side of the handlebar to shift gears. However, a majority of Africa Twin buyers opted for the manual variant showing that motorcyclists aren't ready for automatic gearboxes yet.
Honda however, continued its pursuit of automatic gearboxes and has now filed a patent for a semi-automatic gearbox. The company's engineers seem to have learnt from their past experience with automatic gearboxes.
The biggest problems with the last two attempts were that the mechanisms in the gearbox were too complicated and it lacked rider involvement to a greater extent. Now though, Honda has kept things pretty simple and straightforward with the new semi-automatic transmission.
It makes use of an electronically controlled clutch in which a control unit operates the clutch in traffic and while setting off and even when coming to a stop. While shifting gears though, the motorcycle makes use of a bi-directional quickshifter.
Quickshifters have been around for a long time now and have proven their reliability both in racing and on public roads. With a quickshifter, a rider does not have to operate the clutch as sensors near the gear lever tell the control unit if the rider is upshifting or downshifting.
The control unit cuts ignition and fueling to the engine for a millisecond during upshifting, thereby enabling a smoother shift. While downshifting, the control unit blips the throttle automatically in order to match the engine speed and wheel speed.
Quickshifters have till now been used by those who wanted to go fast, but now Honda is trying to use it as an integral part of a gearbox. We're unsure at the moment of when exactly we might see this new development out on the road. What we are sure of is that this technology will make riding easier.