The Aprilia RS250 SP has been revealed and priced at 9,700 Euros (Rs 8.16 lakh). Aprilia has released images of its newest development — the RS250 SP. It is a race-only motorcycle that is expected to help spawn a new generation of MotoGP contenders.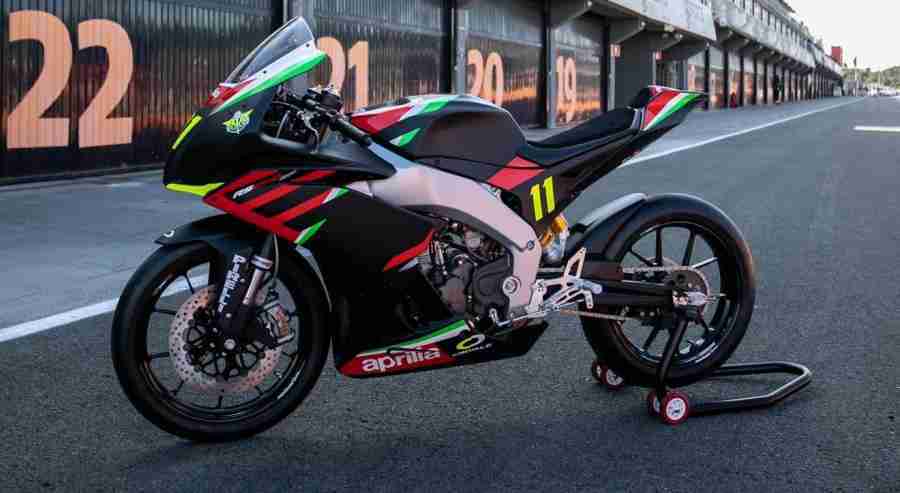 The 250cc segment was once a great segment to be in. Several manufacturers built 250cc road bikes and then 250cc GP bikes. There was no doubt about the 250cc road-bikes being fast, but the 250cc race-bikes took things to the next level.
They were stripped-out, race-bred machines, running on slick tyres, purpose-built to put in some crazy fast times on a closed-circuit. Aprilia was one of those manufacturers who had a lovely 250cc GP machine. MotoGP fans would remember that it was on a two-stroke Aprilia RS250 that Valentino Rossi won his first 250cc MotoGP Championship in 1999.
Since the two-stroke machines were phased out, 250cc supersport track-use motorcycles have been hard to come by. Well, it seems like Aprilia intends to get back to that position of dominating this segment with the new RS250 SP.
The Aprilia RS250 SP has been developed in partnership with Ohvale which is an Italian motorcycle racing brand. It was first revealed at the 2019 EICMA motorcycle show, but now the price and other details have been revealed. What is clear though is that the motorcycle will be used as a stepping stone for those who intend to eventually enter a MotoGP category.
The motorcycle is a thoroughbred race machine in and out. There are no headlamps, tail lamps or indicators. It was stripped of everything considered unnecessary at the racetrack. It rides on superlight Marchesini wheels, and is suspended by racing suspension from Ohlins. It comes with race-ready brakes from Brembo and weighs in at a total of just 105 kilograms.
Powering the Aprilia RS250 SP is a liquid-cooled, race-built, 250cc engine with a maximum power output of 28bhp. While that output figure is not something extraordinary, it will still be fast thanks to the low weight of the motorcycle.
The Aprilia RS250 SP will spawn the FMI Aprilia Sport Production Championship, which is a one-make championship. Six races will be held in 2021 and capable young riders will compete against each other to find the next Italian motorcycle racing champion. 
The Aprilia RS250 SP has a price tag of 9,700 Euros (Rs 8.16 lakh). Now that is a hefty price tag, but seems worth the price given the kind of equipment onboard the bike. 2021 seems to be an interesting year for low-capacity racing as the Aprilia RS250 SP, Kawasaki Ninja ZX-25R and Honda NSF250R all compete in different championships across the world.
It would be interesting if all the 250cc race bikes came together to form a new format, a new championship just below Moto3. Something along the lines of the World Superbike Championship (WSBK) for 250cc machines. Exciting racing action for us enthusiasts. What do you think?