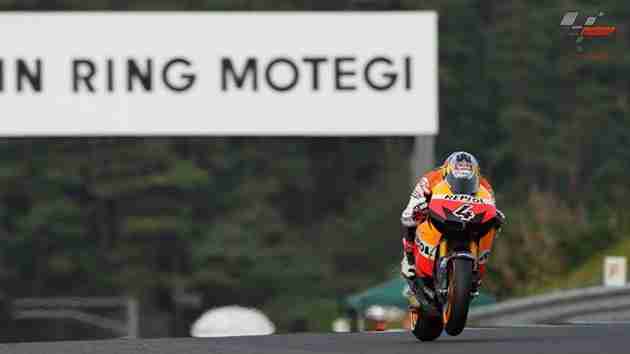 The Japanese Grand Prix, which will take place on Sunday, 2 October, following a postponement due to the terrible earthquake that struck the country on March 11. A stop-and-go track with a predominance of slow corners that are interspersed with medium-length straightaways.
The Motegi track, owned by Honda and where Stoner already won last year. Together with his recent victory in Aragon, the Repsol Honda Team rider has the best background to face the Japanese round, where he will arrive after eight victories this season and a consistency that allowed him to get on the podium in the last 12 races. The Australian rider has a 44-point advantage in the overall standings, just four races before the end of a championship that he has been steadily holding more firmly in his hands.
A year ago, the Japanese Grand Prix was sad for Pedrosa, as a crash in the first practice forced him to retire from the title battle after fracturing his collarbone. Twelve months later, completely recovered and with the most competitive bike of the last seasons, the Repsol rider is, toghether with his Australian team mate, one of the main contenders to victory, after finishing three consecutive times in second position in the last three races. For Dovizioso, always consistent, it will be the chance to forget about his crash in Aragon and get back to the podium, that has avoided him in the last three races.
Here are what couple of the top riders had to say about the upcoming GP.
Dani Pedrosa: "Motegi is one of my favourite circuits not only for the layout but also for the atmosphere; I always ride well there and feel a lot of support from the Japanese fans and I think this year will be even more special for them.
Obviously, last year I had a hard time there due to my injury, but I want to focus on my riding and enjoy the GP. I go there with the same approach as the last races: trying to do our best in all the sessions. We've been at a good level, with three second places in a row and I am looking forward to this race. I have won at this track in 125 and 250, but not yet in MotoGP, so that's a big motivation for me. I enjoy racing in Motegi and together with my team will do our best to perform well".
NICKY HAYDEN:"I've got a lot of fans in Japan, and there are a lot of people who love motorcycles. It would be nice to put on a good show for them, as they've certainly had a hard time this year. The radiation situation seems to be under control, so earthquakes are the only concern. Hopefully we can have a good race. Motegi has probably been my worst track since I've been with Ducati, as I've struggled to get turned in those hairpin corners and get out strong. I'm not expecting an easy weekend, but Ducati is really working hard to give us options and to find the best direction for the future. It's great to see them putting in so much effort, and although we're not seeing immediate results, we're learning a lot and getting a bunch of data that's going to be a big help in the long term."
Andrea Dovizioso:"We go to Japan focused on returning to the podium, this has to be our target. We will arrive at the Japanese GP this year in the same position we were last year –straight from a crash and zero points–, but I'm determined to transform this disappointment with extra motivation.
Last season we had a great race and we almost won, so I'm confident to repeat a great performance at Motegi, a circuit that I like and where I have been on the podium in all the three classes. Moreover, this is Honda's home GP and it's very important to score a good result here. Regarding the characteristics of the track, the Twin Ring Motegi has a lot of acceleration zones so it suits the RC212V well, allowing us to use all the strong points of our machine.
Concerning the Championship, we are third in the World Standings and we aim to strengthen our position, recovering some points on Lorenzo and maintaining the gap to Dani".
Valentino Rossi:"I had a nice race last year at Motegi, despite having a painful shoulder. I had a nice duel with Lorenzo, and I finished on the podium. The Ducati won last year and has also gone well there in the past, so we'll see if we can do any better than we have at the recent races. It's true that we're having to work very hard, but we always approach every Grand Prix with the goal of doing better. We'll try hard this Sunday as well, working on the track with what we have available at this time, while also simultaneously focusing on the future."
Casey Stoner: "Motegi is quite a different circuit, it's similar in a way to Le Mans and is very stop-start, a little like a go kart track, but in general it's nice and more fun than some of the other circuits we visit. It has a lot of hard breaking, a lot of hard accelerating, it's pretty tough on the body and physically demanding.
If you miss your breaking points it's easy to run wide so it will be important to get the set up on the bike just right. As in Aragon, we will be going out there trying to win and not only looking for valuable Championship points. We had a fantastic race here last year, probably one of my best in my opinion and it will be fun to go there on the Honda and see how the bike works around the circuit".