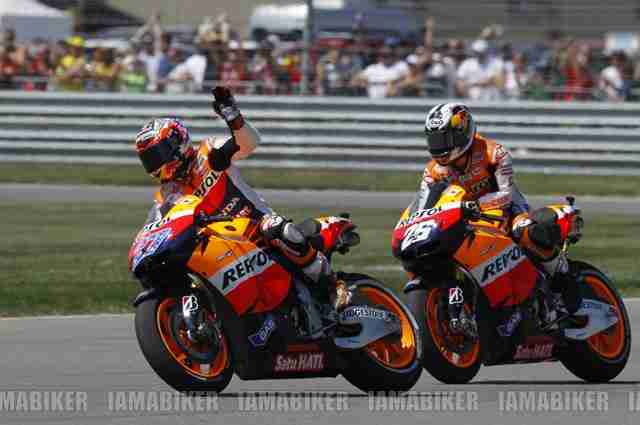 The Australian of the Repsol Honda Team, Casey Stoner, just won the MotoGP World Championship at the Australian circuit of Phillip Island. Today, Sunday and the day he turns 26, in front of his fans and at his home race, Casey Stoner achieved the highest Motorcycling World Championship title for the second time in his sporting career, thus completing a brilliant season in his first year with the Repsol Honda Team.
Yamaha Factory Racing riders Jorge Lorenzo and Ben Spies will not ride in today's Grand Prix of Australia following separate on track incidents by both.
World Champion Lorenzo was declared unfit to race after sustaining an injury to the fourth finger of the left hand during this morning's warm up. He will travel to Melbourne to undergo plastic surgery to repair the damage. A post surgery report will follow.
Lorenzo's team mate Spies received a hit to the head yesterday during the qualifying session after a high speed crash. After attempting to ride some laps in this morning's warm up, the rider reached an agreement with team members that with reduced concentration attempting the race would be considered too dangerous for himself and other competitors.
After dominating both practice days, the Repsol Honda rider only needed to finish sixth to be crowned as World Champion, as a huge crash of his rival for the title, Jorge Lorenzo at the end of today's warm-up prevented him to be at the start, so the Australian only needed to gather the points of the sixth position to close with the World Championship a nearly perfect season. Stoner reached the finish line in first position, winning the world title in his first season with the official HRC team and with the Spanish energy company livery.
Stoner completed a superb season, where he did not give any chance to his rivals and was only once out of the podium, in Jerez, when he was hit by Valentino Rossi during the first laps of the race. The Repsol rider adapted himself perfectly to the Honda RC212V, doing a historic season that showed once again the impressive talent of the fastest Aussie in the planet.
Here is a look at the timings from today:
1. Casey Stoner (Australia) Honda 42:02.425
2. Marco Simoncelli (Italy) Honda 42:04.635
3. Andrea Dovizioso (Italy) Honda 42:04.879
4. Dani Pedrosa (Spain) Honda 42:15.585
5. Colin Edwards (U.S.) Yamaha 42:33.311
6. Randy de Puniet (France) Ducati 42:51.225
7. Nicky Hayden (U.S.) Ducati 43:18.739
8. Toni Elias (Spain) Honda 26 Laps
9. Loris Capirossi (Italy) Ducati 26 Laps
10. Karel Abraham (Czech Republic) Ducati 25 Laps
11. Alvaro Bautista (Spain) Suzuki 23 Laps
12. Hiroshi Aoyama (Japan) Honda 23 Laps
13. Cal Crutchlow (Britain) Yamaha 23 Laps
14. Valentino Rossi (Italy) Ducati 13 Laps
Casey Stoner's numbers
-2011 MotoGP World Champion
-Victories in 2011:9
-Poles positions in 2011: 11
-Podiums in 2011: 15
-First race: 1989 (Started in dirt track and longtrack).
-First Grand Prix: 2001 British GP (125cc)
-First Pole position: 2003 Italian GP (125cc)
-First fastest lap: 2003 Catalunya GP (125cc)
-First podium: 2003 German GP (125cc)
-First victory: 2003 Valencia GP (125cc)
-World Championships: 2 (MotoGP in 2007 and 2011)
-Total Grand Prix: 160 (30 in 125cc, 31 in 250cc and 99 in MotoGP)
-Poles: 37 (2 in 125cc, 2 in 250cc and 33 in MotoGP)
-Podiums: 78 (10 in 125cc, 10 in 250cc and 58 in MotoGP)
-Victories: 39 (2 in 125cc, 5 in 250cc and 32 in MotoGP)
Complete record of wins
First race: 1989 (Beginnings in dirt and longtrack circuits).
First Grand Prix: 2001 English GP (125 c.c.)
First Pole Position: 2003 Italian GP (125 c.c.)
First fastest lap: 2003 Catalan GP (125 c.c.)
First podium finish: 2003 Dutch GP (125 c.c.)
First victory: 2003 GP of Valencia (125 c.c.)
World Championships: 2 (MotoGP in 2007 and 2011)
Total Grand Prix starts: 160 (30 in 125 c.c., 31 in 250 c.c. and 99 in MotoGP)
Fastest laps: 32 (3 in 125 c.c., 1 in 250 c.c. and 28 in MotoGP)
Poles: 37 (2 a 125 c.c., 2 a 250 c.c. i 33 a MotoGP)
Podiums: 78 (10 in 125 c.c., 10 in 250 c.c. and 58 in MotoGP)
Wins: 39 (2 in 125 c.c., 5 in 250 c.c. and 32 in MotoGP)
Sporting career
1989-99
Winner of 41 Australian titles in dirt and longtrack circuits
2000
Winner of the 125 Aprilia Challenge UK (Aprilia)
2001
Runner-up 125 British Championship (Honda)
Runner-up 125 Spanish Championship (Honda)
2002
12th – 250 World Championship (Aprilia)
2003
8th — 125 World Championship (Aprilia)
2004
5th – 125 World Championship (KTM)
2005
2nd — 250 World Championship (Aprilia)
2006
8th – MotoGP World Championship (Honda)
2007
Winner of the MotoGP World Championship (Ducati)
2008
Runner-up – MotoGP World Championship (Ducati)
2009
4th – MotoGP World Championship (Ducati)
2010
4th – MotoGP World Championship (Ducati)