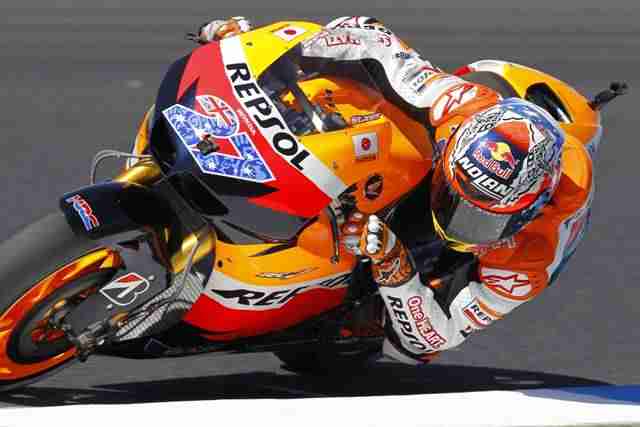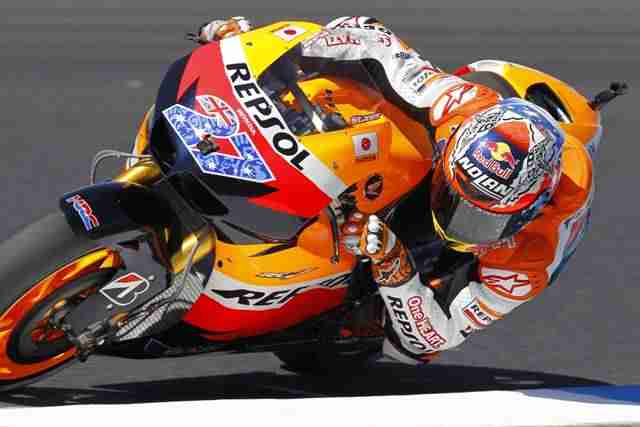 The Grand Prix of Australia got underway today at the Phillip Island circuit with two free practice sessions run under glorious sunshine and warm conditions. The Ducati Team started its setup work for the Phillip Island circuit today, ending with Nicky Hayden and Valentino Rossi ninth and thirteenth, respectively. After a good start in the morning session, the American wasn't able to improve in the afternoon, while the Italian lowered his time by just one tenth.
Tomorrow, both riders will try to find a solution to improve grip with the Desmosedici, and Rossi, who is also having trouble with persistent pain in his left hand, will work with his team to improve braking and corner entry, searching for the good feeling he had at Motegi.
Yamaha Factory Racing rider Jorge Lorenzo was very quick to find a good pace in the morning session, the only rider able to get close to Championship leader Casey Stoner. Lorenzo wrapped up the morning in second, just 0.269 seconds from first. The afternoon saw times suffer a little as track conditions changed, the Mallorcan's pace dropping slightly as he hunted extra rear grip, finishing in third, 0.576 seconds from provisional pole.
Ben Spies made big improvements between the two sessions today. The Texan struggled in the morning session, unable to find a good pace with no positive set up. Some hard work by his crew delivered a much more competitive set up for the afternoon enabling him to climb from eighth in session one to fourth in session two, finding over half a second of extra speed.
Local hero Casey Stoner started in the best possible way his home Grand Prix. The Repsol Honda Team rider led today's two free practice sessions, despite a minor crash in the morning, in a day in which Andrea Dovizioso and Dani Pedrosa finished in sixth and seventh position.
Highly motivated by competing at home, in a circuit he knows perfectly well and in front of his fans, Casey Stoner set the pace from the first minute. In fact, the Repsol rider set the fastest time of the day in only his third lap, registering 1 minute, 30 seconds and 475 thousandths. Nevertheless, a lap later the Australian lost grip in one of the few slow corners of Phillip Island and suffered a minor crash without consequences for him or his bike.
His team mates at the Repsol Honda Team, Andrea Dovizioso and Dani Pedrosa, finished a little behind. Fifth and sixth, respectively, in the first session, both a bit more than one second away from Stoner. They finished sixth and seventh at the end of the day, as they were surpassed by Ben Spies in the second session. In a track with more bumps than in previous years, they suffered specially with the front. After working in the set-up of his bike, Pedrosa was able to improve by some thousandths his morning fastest time, but still far from Stoner, who in the second was again unbeatable, setting laps under 1 minute, 31 seconds up to seven times, showing a pace very superior to that of the rest of the riders.
Results:
| | | |
| --- | --- | --- |
| 1. | Casey Stoner (Repsol Honda Team) | 1:30.475 |
| 2. | Jorge Lorenzo (Yamaha) | 1:30.744 |
| 3. | Marco Simoncelli (Honda) | 1:30.912 |
| 4. | Colin Edwards (Tech 3) | 1:31.480 |
| 5. | Ben Spies (Yamaha) | 1:31.495 |
| 6. | Andrea Dovizioso(Repsol Honda Team) | 1:31.532 |
| 7. | Dani Pedrosa (Repsol Honda Team) | 1:31.543 |