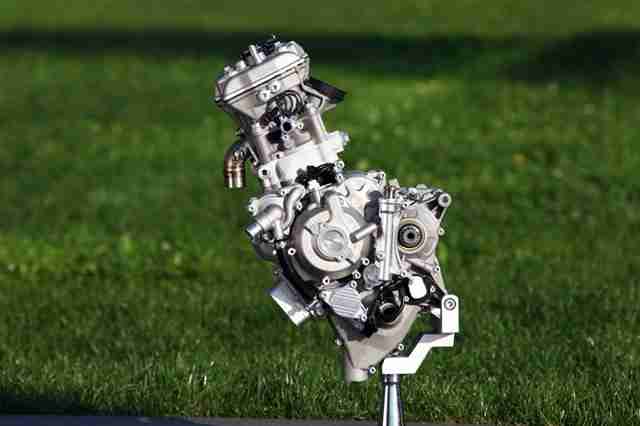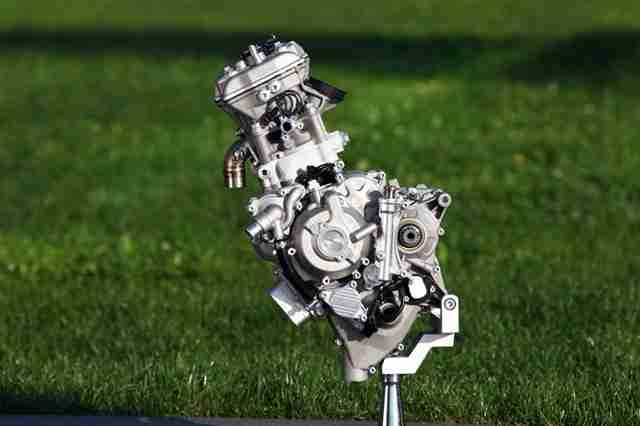 The Austrian manufacturer discontinued its Grand Prix road racing program in 2009, withdrawing from the 125cc class. With the Moto3 class set to replace the 125cc class in 2012, KTM will return with a new racebike. KTM also announced an exclusive partnership to supply Moto3 engines to Kalex Engineering, which produces Moto2 racebikes.
The single cylinder engine is all new and not a repurposed motor from KTM's 250cc offroad engine portfolio and is said to weigh just 55 pounds. Official specs were not released, but Moto3 regulations dictate a maximum bore of 81mm, a rev limit of 14,000rpm. Pneumatic or hydraulic valve systems are not allowed and the valve timing system must be chain driven.Under Moto3 rules, the engine must be available to any race team for a fixed price of 12,000 euros (US$16,000) including any add-on tuning kits. KTM must also provide enough engines and spare parts to support up to 15 riders for an entire season.
KTM has previously announced it will produce a full Moto3 race bike as well as supply engines for chassis builder Kalex. KTM is expected to test its Moto3 racebike Oct. 7 at Spain's Cartagena circuit.
Meanwhile a leaked photo of a Powerpoint slide from KTM's North American dealer meeting listed a Moto3 350 production model for 2014. No other details about this Moto3 350 have been revealed, though it will likely use a version of KTM's Moto3 race bike frame and its 350cc engine.