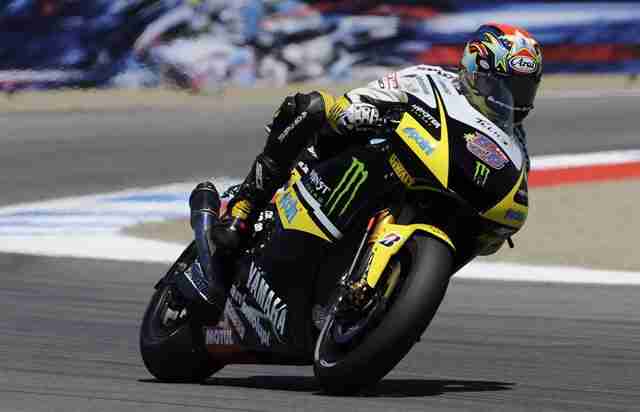 Monster Yamaha Tech 3 Team rider Colin Edwards is recovering well from injuries sustained in the tragic accident that claimed the life of popular Italian rider Marco Simoncelli in Sepang last weekend.
The 37-year-old though will not be fit to ride his YZR-M1 machine in next weekend's Valencia MotoGP round, as he requires surgery on a left arm injury that resulted from a three-rider incident on the second lap of the Malaysian Grand Prix.
Edwards was assessed by orthopedic specialist Dr Henry Small at the University General Hospital in Houston on Wednesday and it was confirmed he has multiple small fractures to the top of his left humerus bone, which connects the shoulder to the elbow.
There is also damage to the cartilage around the tip of the humerus bone, which will require surgery next Tuesday. With a four-week recovery period, Edwards will not be able to take part in the Valencia race on November 6, which was due to be his final appearance for the Monster Yamaha Tech 3 Team. Edwards also suffered severe bruising and swelling to both wrists and right heel in the accident, but additional checks at the University General Hospital showed no fractures.
The Monster Yamaha Tech 3 Team is currently considering replacement options for the Valencia round and an announcement will be made at the earliest opportunity.
Here is what Colin had to say:
"Firstly, I want to thank everybody for all their messages of support since Sunday. The support and love has been overwhelming and it has been a great comfort to me at this difficult time. My heart goes out to the family and friends of Marco and I will miss him a lot, as will the entire MotoGP family. I watched Marco's funeral yesterday and I really wish I could have been there. I wanted to go but unfortunately my injuries meant I was unable to travel. I know Valentino spoke to Marco's family on my behalf and I thank him for that. It was a great service and a fitting celebration of his life. I also wanted to be in Valencia next week to give my support to MotoGP, but it is not going to be possible because of the surgery I need on my left arm. The top of my left humerus bone has got multiple small fractures but the cartilage that is around the top of the bone has been pulled off. The surgery will anchor the cartilage back to the bone but there is no nerve damage, so I should be 100 per cent in about four weeks."