Triumph Motorcycles has been announced as the exclusive engine supplier to the FIM Moto2 World Championship from the 2019 season onwards. Triumph has signed a three-year contract with Dorna – the commercial rights holder of MotoGP – to supply a dedicated race tuned 765cc Triumph triple engine, based on the power plant from the all-new 2017 Triumph Street Triple.
The new engine is a significant development of the race-winning Daytona 675R power plant that has powered supersports wins at the Isle of Man TT, Daytona 200 and British Supersports Championships in 2014 and 2015.
Based on the highest specification 765cc power plant from the Street Triple RS it has been developed for Moto2 with the following modifications;
Modified cylinder head with revised inlet and exhaust ports for optimised gas flow
Titanium valves and stiffer valve springs for increased rpm
Low Output race kit alternator for reduced inertia
Taller 1st gear ratio
Race developed slipper clutch which will be tune
Specific race ECU; which will be developed with Magneti Marelli
Revised engine covers for reduced width
Different sump to allow for improved header run
[youtube https://www.youtube.com/watch?v=bDT8y0WEfxo?rel=0&showinfo=0&autohide=1&autoplay=1&cc_load_policy=0&iv_load_policy=3&modestbranding=1]
The Triumph Moto2 engine
Based on the new 2017 Street Triple power plant, the Triumph Moto2 765cc triple engine has been developed and tuned for a major step up in power and torque.
In 'road' set-up the new 765cc engine delivers the highest ever level of performance for a Street Triple; delivering power of 123 PS @ 11,700 rpm and 77 Nm Torque @ 10,800 rpm.
It has more than 80 new parts compared to the previous generation engine, including an increase to the bore and stroke. All-new engine components include;
new crank
new pistons
new con-rods and balancer shaft
Nikasil plated aluminium barrels
Revised gearbox
The race spec Triumph 765cc Moto2 engine has been developed further to allow the engine to breathe more freely and rev harder than the production bike; increasing overall performance. Other changes have been made specifically to adapt the engine for race use.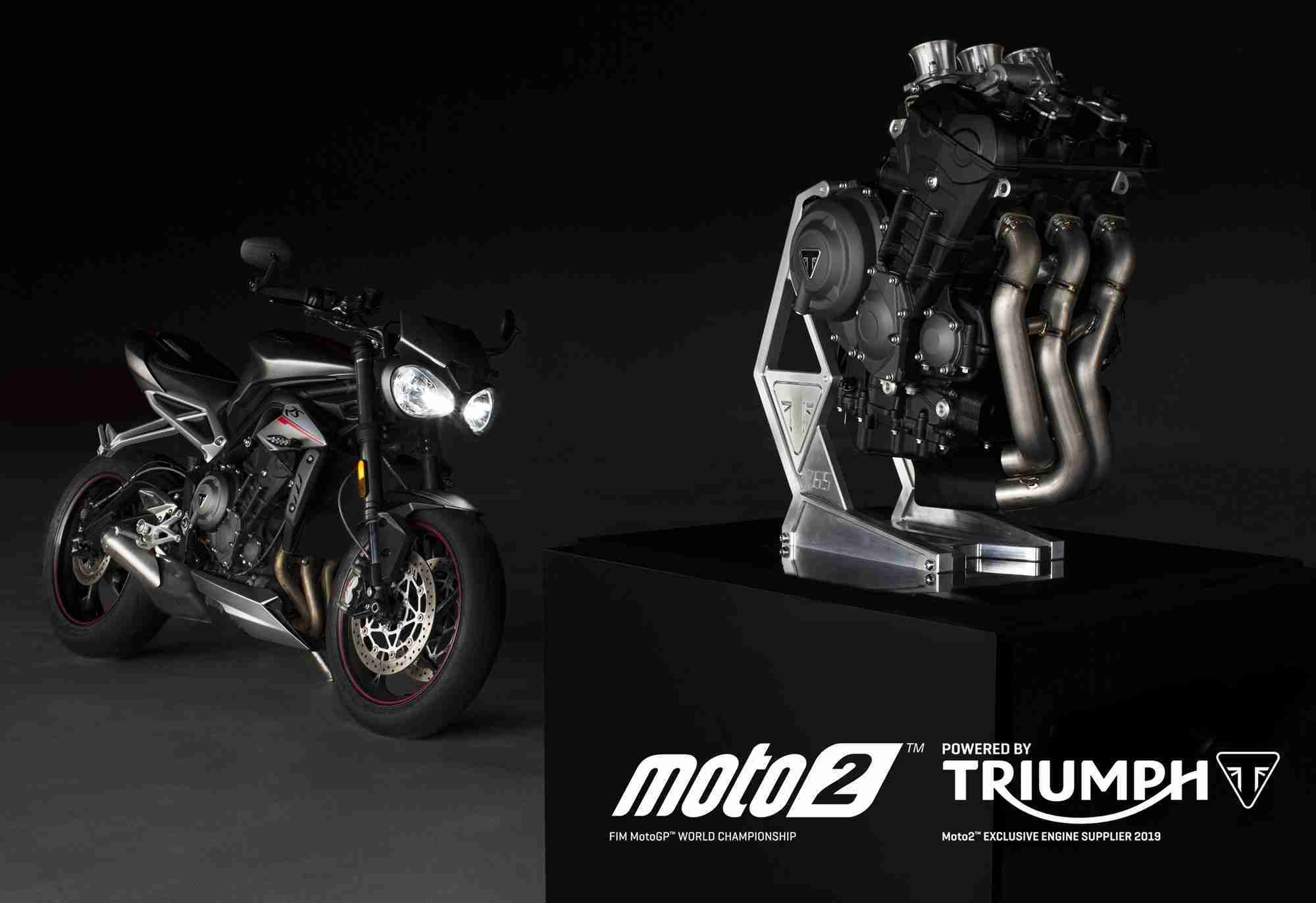 Paul Stroud, Chief Commercial Officer for Triumph Motorcycles, said; "This is a significant moment for Triumph that brings an exciting new chapter to our 110-year racing history and builds on our celebrated TT and Supersports race winning triple engines. We look forward to a long and thrilling relationship with Dorna and the Moto2 teams, riders and fans."
Carmelo Ezpeleta, Chief Executive Officer of Dorna added; "We are very excited to be working with one of the world's most iconic motorcycle brands. The Triumph triple engines are renowned for their strong, linear power and torque delivery and have achieved many successes on the track making them the ideal choice for the Moto2 Championship. We are looking forward to the 2019 season and the beginning of a new generation of Moto2 in partnership with Triumph."
Herve Poncharal, President of IRTA, stated; "Moto2™ is a key category in feeding talent into MotoGP™. We're seeing a lot of top riders in MotoGP all come through the intermediate category. The arrival of Triumph as the sole engine supplier and with new ECU's in the intermediate class, marks a new era that is sure to prove another incredible step in its evolution, making it remain the ultimate category on the way to MotoGP.
Trevor Morris, Technical Director from ExternPro, who will be responsible for the final preparation of the engines for the race series, commented; "It is incredibly exciting to be working in conjunction with the iconic Triumph motorcycle company in supplying engines for the Moto2 world championship. I have been a fan of the triple engine for a long time, its unique characteristics and performance will ensure and enhance the future success of the championship."
Vimal Sumbly, Managing Director of Triumph Motorcycles India, said; "Triumph has grown at a significant pace in India in the luxury motorcycle segment providing a complete riding experience. In fact, we have received an overwhelming response from our consumers and partners on our association with CSS (California Superbike School) and JK Tyre Racing Championship. Triumph's exciting partnership in Moto-2 will not only boost brand awareness among motor-sports enthusiasts in India, but will also give riders a chance to own a piece of Moto 2 engine technology with the new Street Triple range."
Julian Simon, 2009 125cc World Champion and Moto2 runner-up and experienced Moto2 test rider, who has been involved with the engine development testing at Aragon, said "The engine feels strong and In particular the mid-range is very impressive. The feel between the throttle and the rear wheel is very direct and controllable. The general feeling is very good and the engine already shows great potential."
Triumph Moto2 engine image gallery