Today marked the launch of the all-new 2017 Triumph Street Scrambler here in India. The Scrambler builds on the brands position as the fun and accessible contemporary Bonneville and brings a significant update in capability and style to the iconic Triumph Scrambler.
The all-new Street Scrambler has been developed to deliver more purposeful and beautiful Scrambler style with unique features and detailing. Sharing the same contemporary custom styling principles as the Street Twin, the new Street Scrambler has the iconic Bonneville silhouette combined with clean lines, minimal bodywork and modern finishes such as the elegant fuel tank with locking cap, black sculpted engine covers with the Triumph makers mark and engine badge, single throttle body with aluminium finisher and distinctive fined head and header clamps.
In-keeping with the name and heritage, the Street Scrambler is packed with distinctive and beautiful scrambler finishes including –
Interchangeable pillion seat and aluminium rear rack as standard
Removable pillion pegs and hangers
Steel high grip 'Bear Trap' adventure style front foot pegs
All terrain style bash plate
Ribbed Alcantara-style twin seat with contrast stitching and Triumph embossed logo
Aluminium headlight bracket and black headlight bezel
Distinctive competition inspired number-board side panel
New front mudguard mounts to suit the larger wheel
Unique detailed dual compound rubber knee pads for enhanced grip
New contemporary mirrors
The premium touch of the entire Bonneville range is present in the details, including unique gun-metal finish engine badges, real brushed aluminium tank logo decals and black headlight bezel.
The all-new Street Scrambler is available in three exciting colour options –
Jet Black
Matt Khaki Green
Korosi Red and Frozen Silver with jet black hand painted coach lining and unique tank decals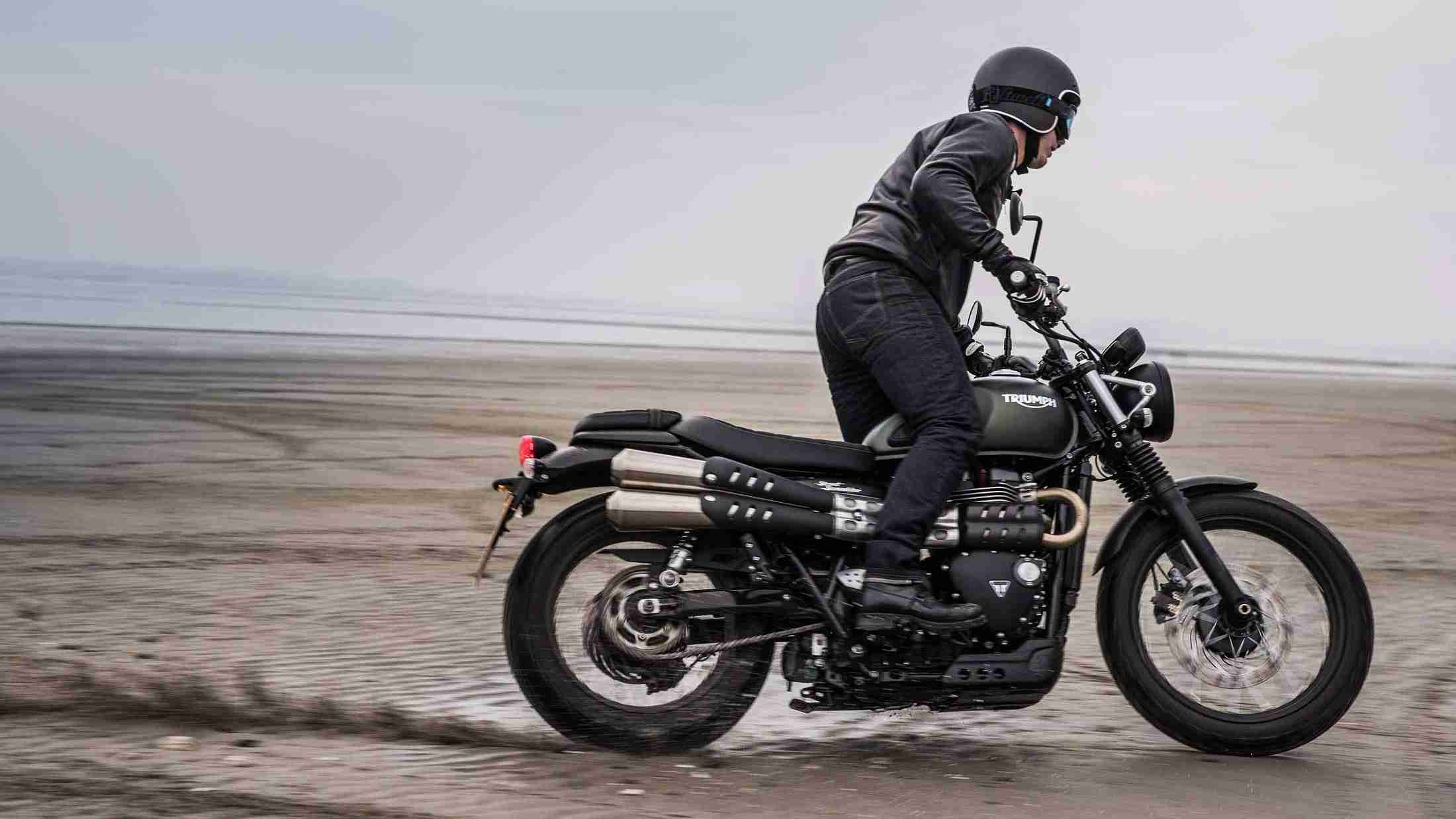 There's been a major step forward from the previous generation Scrambler in regards to engine, exhaust and rider focused technology. All combining to give more performance and a better riding experience from the new Street Scrambler.
Fitted with the critically acclaimed 900cc Bonneville high torque engine, the Street Scrambler delivers much more torque and power low down and in the mid-range, perfect for around town and light off-roading. A key update to the original Bonneville engine platform, the 900cc engine features a charismatic 270° firing interval for smooth, linear power delivery from the slick five-speed gearbox.
Enhanced throttle response from Triumph's ride-by-wire fuel injection and cutting-edge liquid cooling system have been carefully integrated into the unique style of the Street Scrambler. This reduces fuel emissions and significantly improves fuel efficiency whilst providing smooth and precise drive for a higher level of control and rideability. This, combined with a new extended service interval of 10,000 miles (16,000km) dramatically reduces the overall cost of ownership.
The all new, more compact, high level twin Scrambler exhaust in beautiful stainless steel delivers a unique scrambler soundtrack, authentic scrambler style and features an intricate header run that cleverly integrates the cat box and is finished off with brushed stainless steel silencers with stylish contrasting black heat shields.
Ride-by-wire
Enhanced rideability, safety and control, from a single throttle body.
Switchable ABS
A unique feature on the Street Scrambler that reinforces its capability is switchable ABS, accessed via the instrument menu. This is the latest generation anti-lock braking system – introducing a new level of safety and control yet remaining unobtrusive and with minimal visual impact.
Switchable traction control, accessed via the instrument menu, helps to maximise rider safety and control.
Torque assist clutch – Designed to reduce clutch lever effort for the rider, bringing a lighter touch and feel to the clutch and making it easier to ride, and for longer.
Liquid cooling – For cleaner and more fuel-efficient riding (up to 36% better fuel economy).
LED rear light – Incorporated into the classic design, it creates a distinctive light pattern with enhanced power efficiency.
Engine immobiliser – That immobiliser with a transponder incorporated into new key.
USB charging socket – Mounted underneath the seat for convenient charging of essential devices.
Stylish twin clocks – Feature packed clock cleverly incorporating a digital menu system for fingertip control while riding. With:
– Rev counter
– Gear position indicator
– Odometer
– Two trip settings
– Service indicator
– Range to empty
– Fuel level
– Average and current fuel consumption
– Clock
With a dedicated new Scrambler chassis and suspension, the Street Scrambler has had a major upgrade to its capability and has been given more dynamic Scrambler poise.
Just like the Street Twin the new Street Scrambler chassis set-up is tuned to deliver a neutral and predictable ride. This, combined with the same confidence inspiring evolution to "stand-over" ergonomics for manoeuvrability and seat height considerably lower than the previous model, makes it a really accessible and fun bike for every type of rider. Contributing to the commanding riding position and signature silhouette are the new model specific front forks and rear suspension units which raise the back end for addition ride height, wider tapered aluminium handlebars and classic larger sized wire spoked wheels. The new Street Scrambler comes with a large 19'' wheel on the front and 17'' wheel on the rear both of which have stylish steel blacked out hubs and rims. A further increase in specification comes from the new high value 2-piston sliding axial Nissin caliper with machined branding.
Just like the Street Twin, the new Street Scrambler has been designed with personalisation at its heart and has more than 150 accessories to deliver more rugged off road focus, more style and more everyday usability. The off-road accessories include, adjustable rear piggy back FOX shocks with threaded preload adjustment and 24 position compression damping, black glass-filled nylon headlight grill with a pressed steel matt black finish bezel, and a forged and machined aluminium handlebar brace in a black anodised finish (fitted with a stylish black or brown vinyl bar pad embroidered with the Triumph logo).
For even more style the accessories range include slip on Vance and Hines single exit silencers, a traditional scrambler twin bench seat and 70mm diameter bar end peep mirrors in anodised black or clear aluminium with a laser etched Triumph logo.
For everyday usability, there are internally wired heated grips available along with a steel fabricated centre stand kit, an auxiliary power socket and cockpit mounting kit and highly durable engine bars.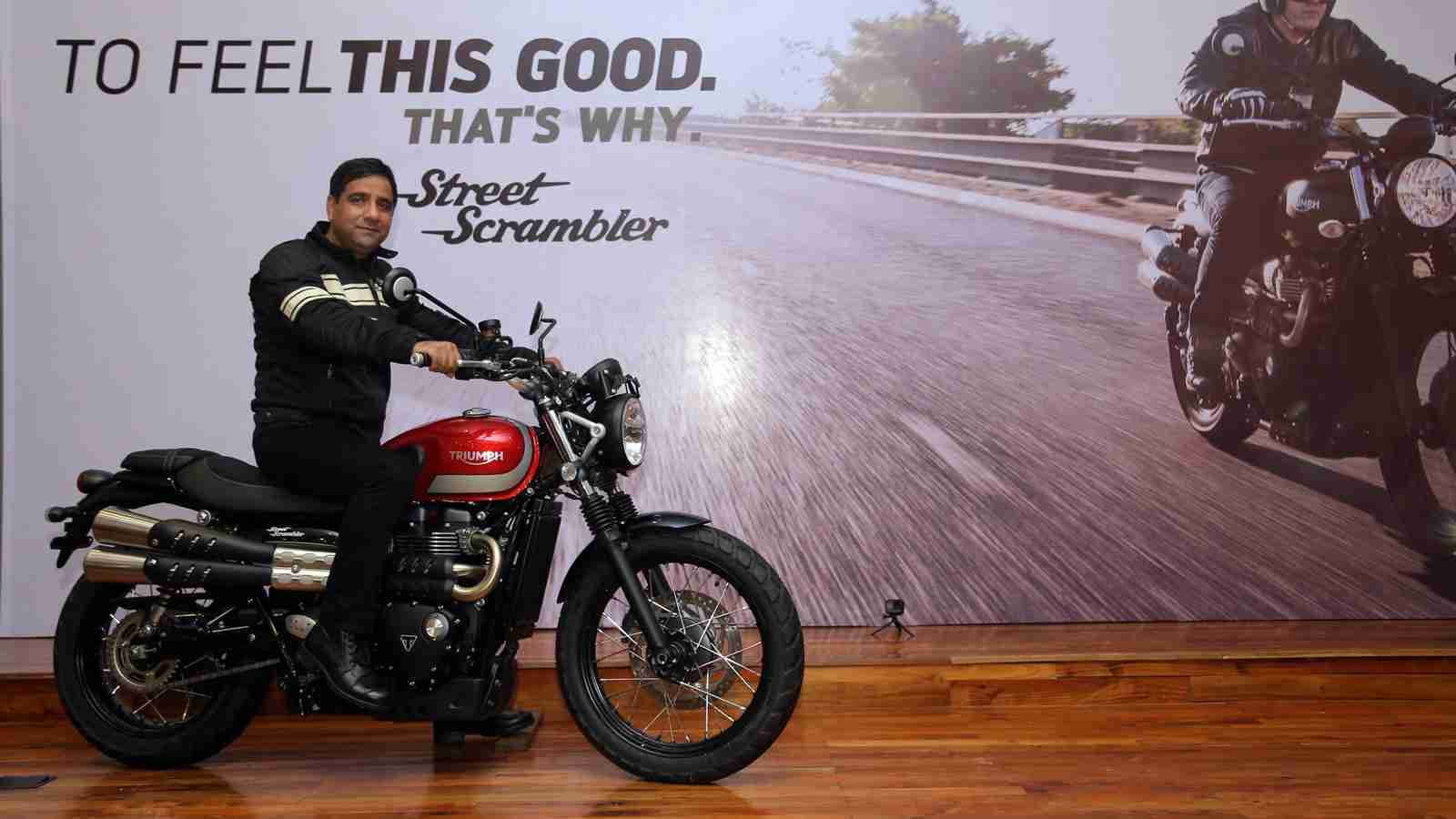 Mr. Vimal Sumbly, Managing Director, Triumph Motorcycles India Pvt Ltd. commented "Our ambition was to deliver a new segment state of the art rugged off road styled motorcycle that is both addictive everyday fun and an off-road motorcycle but with its own distinctive attitude. The Triumph Street Scrambler delivers on these while demonstrating unique levels of capability, performance, fun to ride accessibility and ready to personalise with individual custom likes. Our hope is to keep making newer and better associations and products and to keep delivering on the high-standards that is the Triumph way of riding. I am certain that given the diversity of trails and varied riding conditions here in India the all new Street Scrambler will be an instant hit winning over hearts and minds of the Indian riders. This motorcycle feels light and nimble, is excellent to ride around town, and is extremely capable on the long distance trails. It's confidence inspiring and easy to ride, and more importantly, it's incredibly fun to ride. I think it is a great daily riding bike and will add more and more riders to the ever-growing segment here in the country."