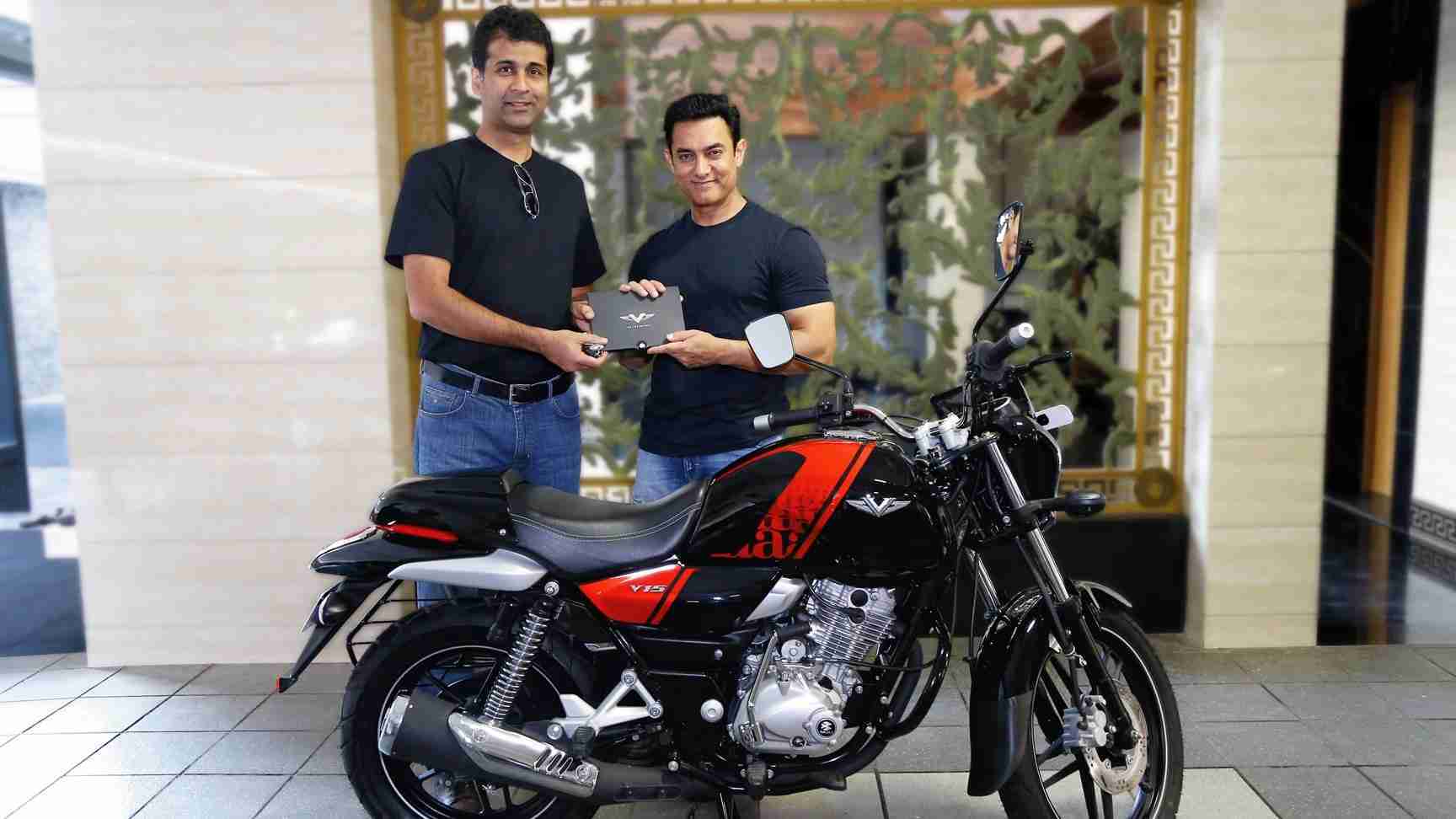 Bajaj Auto, one of the largest two-wheeler manufacturers in India, is known for experimenting with its bikes. With the new Bajaj V15, the company has tried to step out of the old-school thought train that commuter motorcycles have to be serious and boring. Apart from the new and unique design of the Bajaj V15, the bike also made news because of its link with the INS Vikrant, India's first ever aircraft carrier which was decommissioned couple of years back. After gaining knowledge of the fact that the Bajaj V15 has got recycled metal obtained from the INS Vikrant, Bollywood celebrity Aamir Khan known for his strong patriotism got interested and booked himself a Bajaj V15.
When Mr. Rajiv Bajaj, who is also a close friend of Aamir, got to know that the actor has booked a V15, he decided to do some customization to the motorcycle before the handover. This includes a special 'a' pattern embossed on the fuel tank and also a graphic design on the tail cover which says 'Chote Lal'. Mr. Bajaj personally went to Aamir's residence and handed over the bike to him.
After receiving the Bajaj V15 Aamir said that the V is a special bike and he wouldn't compare it with anything else. It has a piece of history ingrained into it. For him it's a proud moment to own a piece of metal from the INS Vikrant which was the military pride of India for decades.
The Bajaj V15 is powered by a 149.5cc single-cylinder engine which produces 12 HP of power and 13 Nm of peak torque. Being a commuter, the Bajaj V15 is a very comfortable motorcycle to ride. It has a fuel efficiency of approx 55 km/l. Just like the Pulsar Series of motorcycles, we hope that this too would begin a new trend in the Indian market. Check out our detailed ride review for a better understanding of the motorcycle.
Aamir Khans Bajaj V15 images