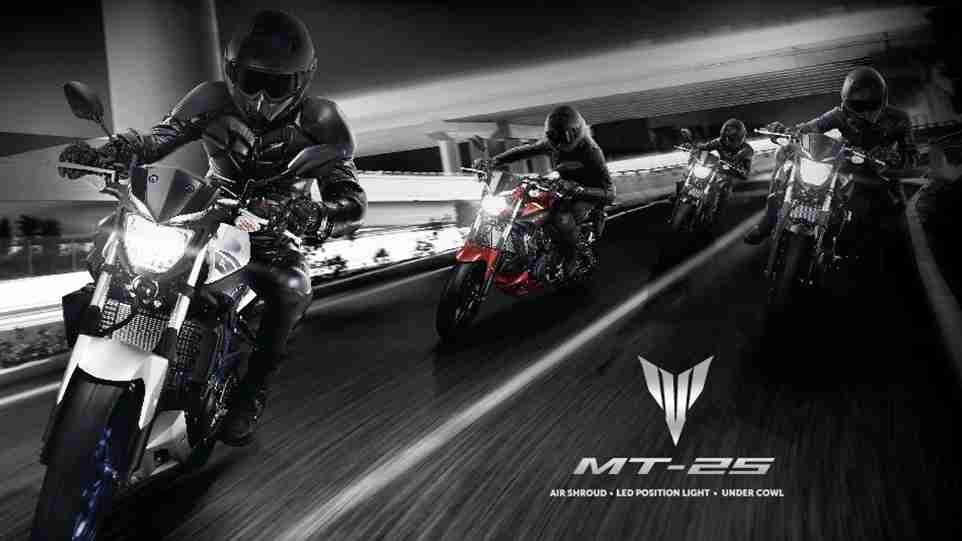 As expected, Yamaha Indonesia have launched the much awaited Yamaha MT-25. A model that will soon will be available across the globe in either its 250cc or 300cc engine trim depending on markets. The U.S., European and Indian markets will for sure get the MT-03, while the Japanese market will mostly get the MT-25. Yamaha have priced the MT-25 at 46 million rupiah, which converts to about 2.2 lakh rupees ex-showroom. In comparison the Yamaha R25 which was launched much earlier is priced at 53 million rupiah, which converts to about 2.7 lakh Indian rupees. We in India are expected to have similar pricing as the both these motorcycles will be made in right here and will not be imports from Indonesia. The Yamaha MT-25 will be available in three colour options Silver, Black and Red.
As expected, the Yamaha MT-25 is just a direct strip down of the R25. There has been no changes to the engine and gearing, and it still is a high revving twin cylinder engine. So that means the engine produces 36 Ps at 12,000 RPM and 22.6 Nm at 10,000 RPM. We are really interested to see how Yamaha have geared this motorcycle as they claim that even with the peaky power output they have given a strong and quick low end. Design wise there is nothing new, the fairings have been removed, it gets a single headlight that looks similar to the FZ's and the diamond frame chassis gets blue highlights in the Silver colour option and remains black in the Red and Black colour option. The clip-on handlebars are also replaced with the regular single pipe type and is now higher for a more relaxed riding position. What is surprising is that even with the fairing and the double headlights removed, the Yamaha MT-25 which weighs 165 kg and is only 1 kg lighter than the R25. Yamaha MT-25 images below.
And so the MT-25 / MT-03 series have begun to roll out globally and we are still wondering what Yamaha India are upto. If you ask us, the Yamaha R25/R3 is already about a year late and going by the latest reports that we could gather, expect a July launch with deliveries in October-November. Being the more daily use friendly motorcycle we are sure the MT-25 or mostly the MT-03 for India will be much awaited, but sadly will be even further away in terms of a launch. Too bad that we have to wait so long for what we know is a good motorcycle especially when it is readily available elsewhere.