Suzuki Gixxer 155 review
Overview
Make: Suzuki
Model: Gixxer 155
Cubic Capacity: 154.9 CC
Horse Power: 14.59 HP
Top Speed: 119 kmph
Mileage: 42 kmpl
Delhi on-road Price: Rs. 83,473/-
Pros
Peppy engine
Decent mileage
Looks good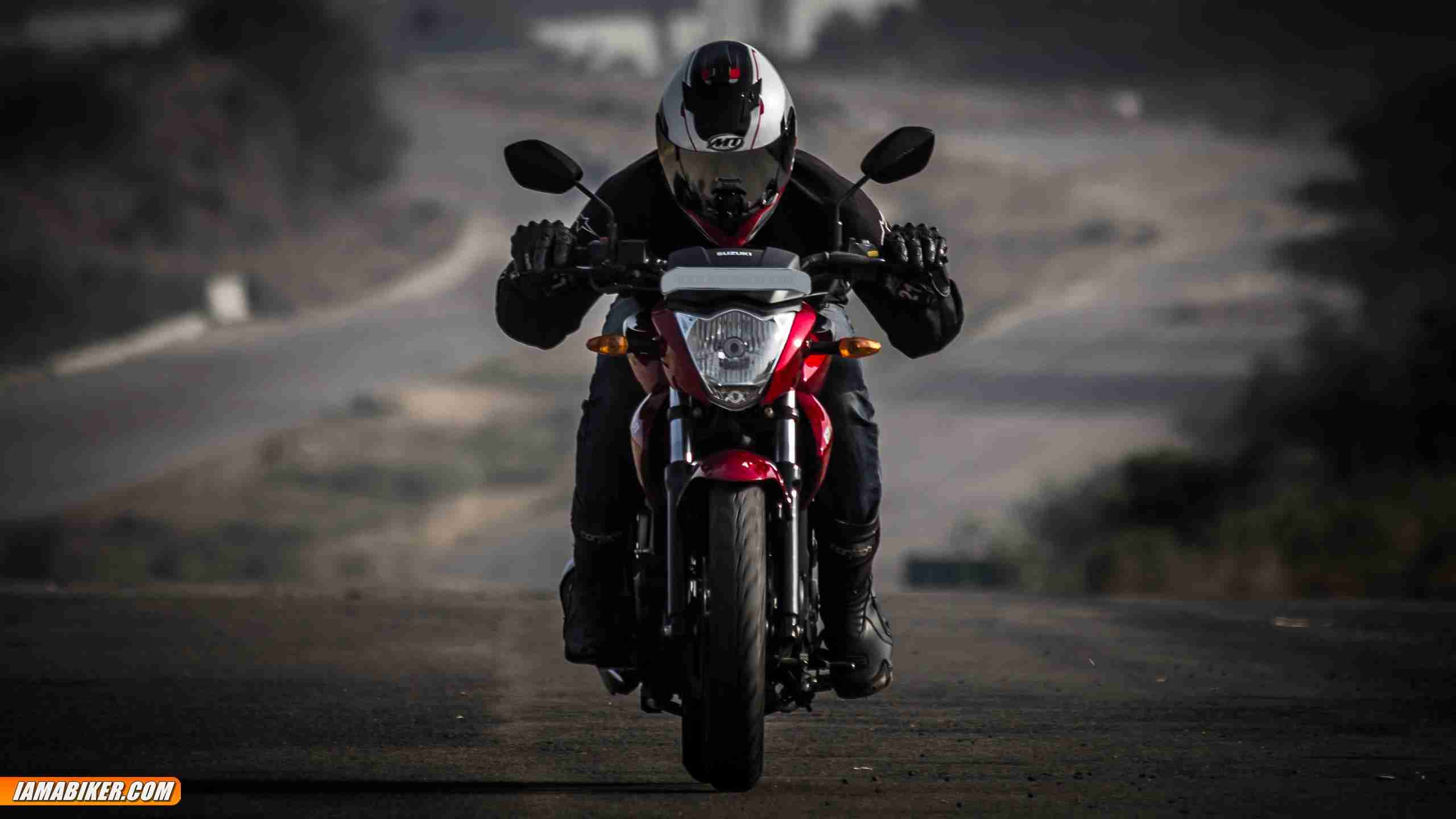 With the Suzuki Gixxer 155, Suzuki India has made a bold statement. Bold because, till now Suzuki India has never been associated with a motorcycle that potentially could be the trend setter in it's segment. Their scooter segment saw a resurrection in the past couple of years, but the motorcycle segment remained a tough scene to crack. The Suzuki Gixxer 155 could not have come in at a better time. The market is opening up wider with every passing month and on paper at least the Gixxer looks to be the motorcycle to beat. Finally a good looking motorcycle from Suzuki right? A unique looking motorcycle that looks nothing like anything Suzuki India has ever made. So lets see what this mini Gixxer can really do and if it can be the new 150 cc segment king.
Engine and Performance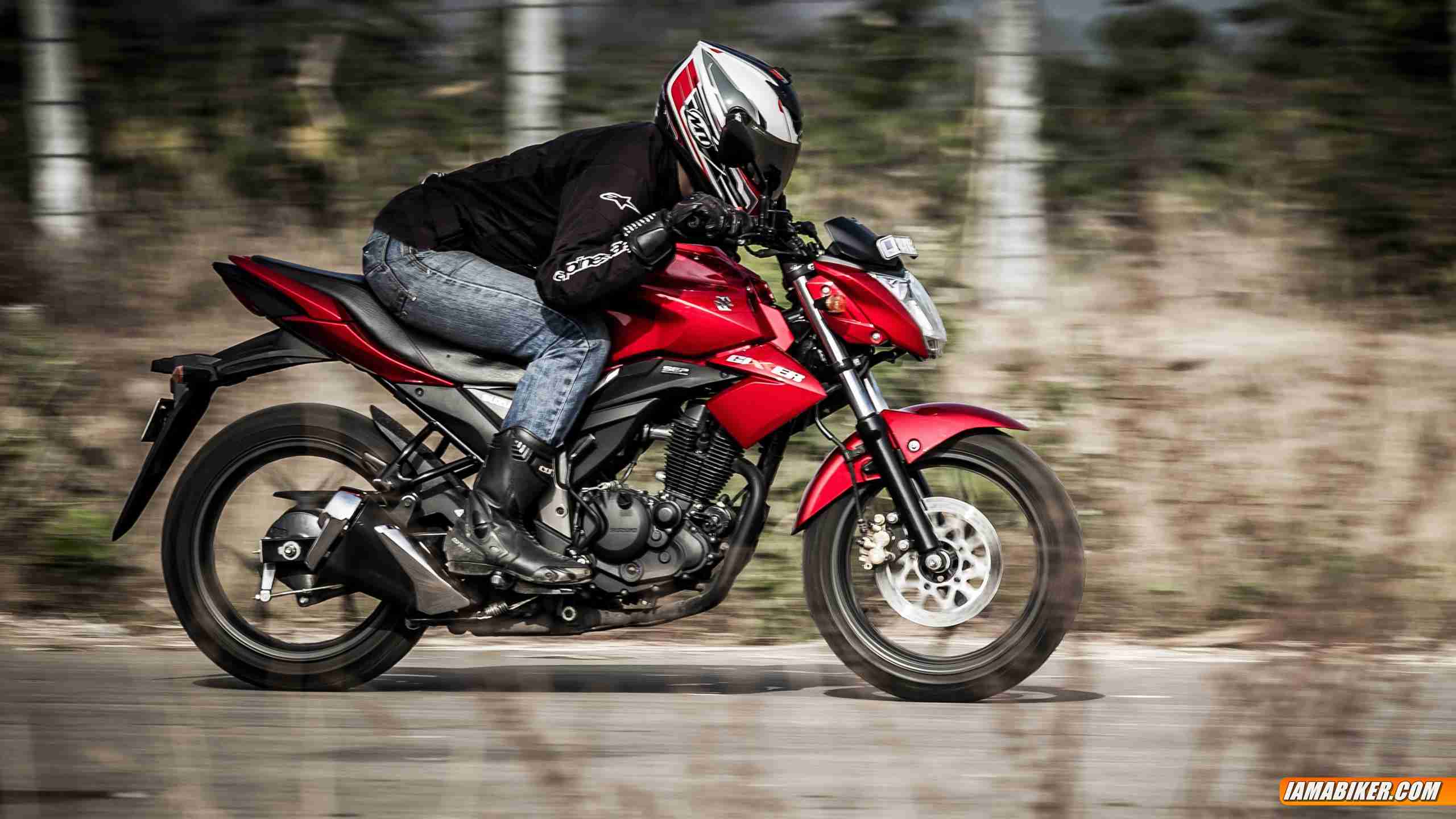 Suzuki has always been known internationally for their rock solid engines and gearboxes. The Gixxer 155 proudly carries down this lineage. Everything about the engine and the gearbox of the Suzuki Gixxer 155 is slick and smooth. The 5 speed gear box has a very confident and precise feel to it. The 154.9 cc engine is just so eager to get going. Work that gear box quick and it will reach 100 kmph in fourth gear at 9k RPM in 15.45 seconds. It will do a comfortable 100 kmph in 5th gear at 7500 RPM. Top speed achieved on the Gixxer 155 was 119 kmph, not too shabby. But anything above 100kmph the engine feels stressed. The best feature of this engine though is the fact that how incredibly refined it is. Even at its limit there are absolutely no vibrations. After many a kilometer of city and highway riding, not once did we miss a fuel injection unit on this machine. Mileage returned by Gixxer was a constant 42 kmpl. Ride it at its limit and that number drops to 40 and that's the worst we got. Check out the Suzuki Gixxer 155 top speed, 0 – 60 and 0 – 100 video below.
[youtube http://www.youtube.com/watch?v=_N7ARLbhqBc?rel=0&showinfo=0&wmode=transparent]
Look and Feel and Build Quality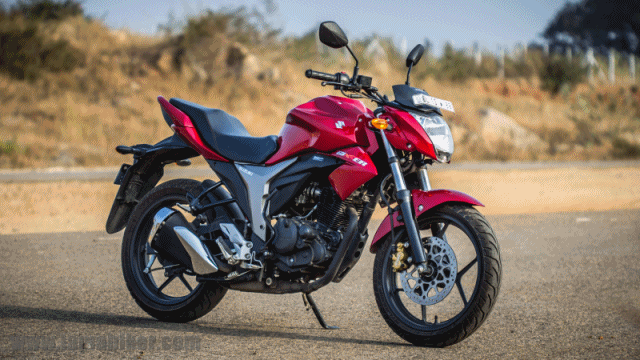 The Suzuki Gixxer scores almost a perfect ten on ten in the looks department. The 41 mm forks up front, the high chiseled tank finishing off with the Gixxer branded tank scoops and the flowing tail section with the well integrated pillion grab rails, all these make the Suzuki Gixxer one heck of a looker. The bike looks deceptively big, but is actually quite compact and easy to manage around. You sit tall on the bike and feel well in control. The seat has a unique finish with red stitching to it and that gives the Gixxer a premium feel. The 140 section rear tyre compliments its big bike look and there are always a lot of people taking a second look. The chrome tipped exhaust has a dual out purely for cosmetic purpose and gives the Gixxer a very singular look. The weird thing though is that the Suzuki Gixxer looks good from any angle except the head on look. From this angle the proportions are clearly visible and the bike looks kinda small. Plastic quality is good all over and all panels merge well with almost no ugly panel gaps. Build quality actually could have been better, as we already saw rusting on different parts of the bike. Suzuki however did confirm that models from January 2015 will have that issue sorted out. Colour options are five in number, namely, Metallic Triton Blue,Candy Antares Red, Pearl Mirage White, Glass Sparkle Black and Metallic Oort Grey.
Handling and Braking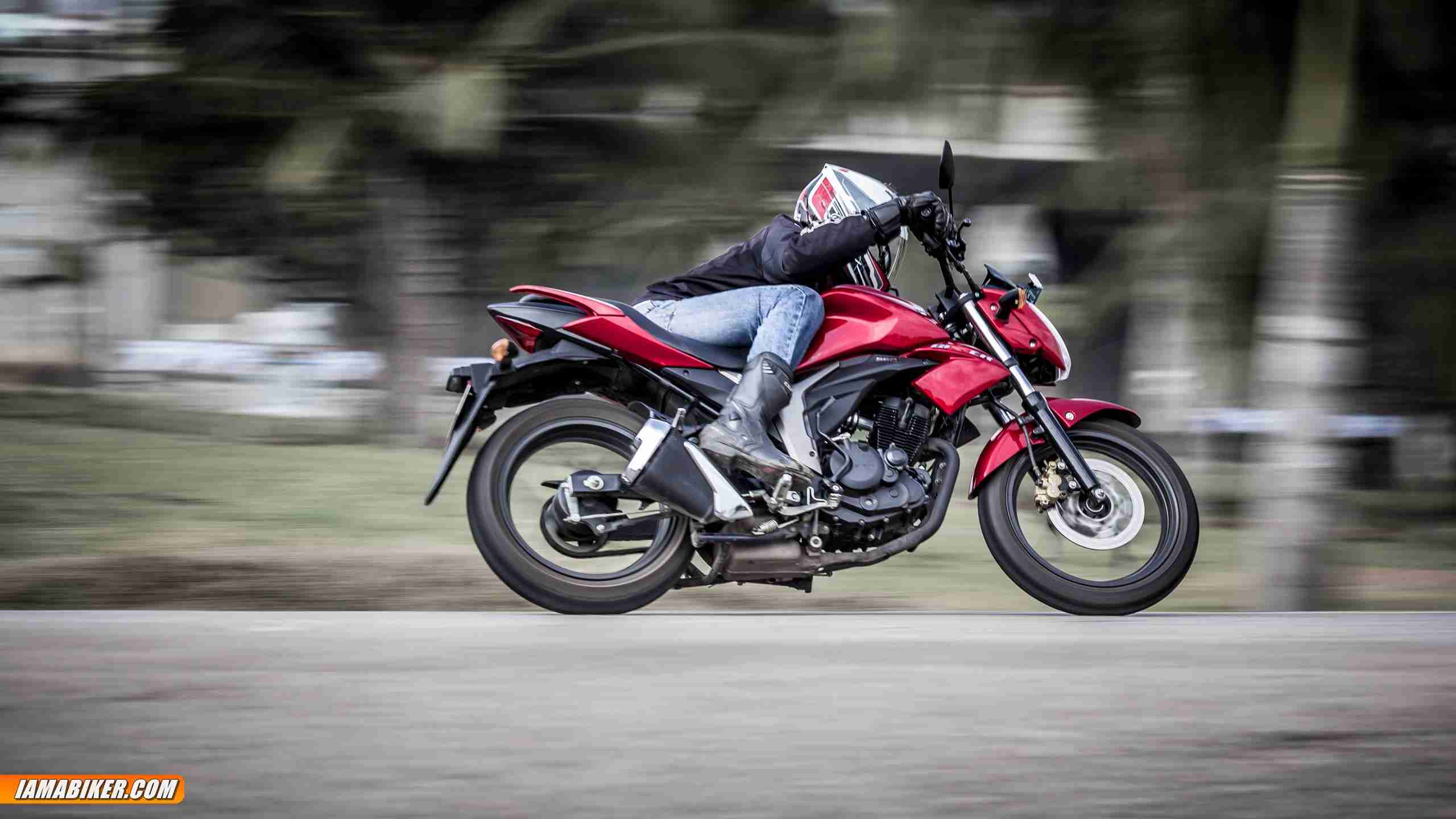 The Suzuki Gixxer 155 is so unbelievably light to handle. Changing directions and zipping through traffic is almost a pleasurable experience. Suspensions on both ends are on the firmer side, and while the rear is 7 step adjustable for pre-load it still is quite firm. The real handling test of a motorcycle is when you are pushing it through some corners and the Suzuki Gixxer 155 will surprise you. If you have been riding something heavier then you will immediately over steer this bike into a corner, simply because it is so light. You can tip the bike in easily and it will remain there till you just think about changing direction, that easy. The light and easy handling means you are never really stressed out even after riding in stop and go traffic. The only noteworthy issue we had with the Suzuki Gixxer 155 was the ground clearance. The specifications say 160 mm, but the exhaust expansion chamber below the bike does scrape on some of the scientifically designed speed breakers that we have on our roads. And this is especially true when you have a pillion on board. And while we are on the topic of a pillion rider. The Gixxer does not loose it cool even with a heavy pillion and still handles like a charm; and that speaks volumes on the overall balance of the bike.
Key features & VFM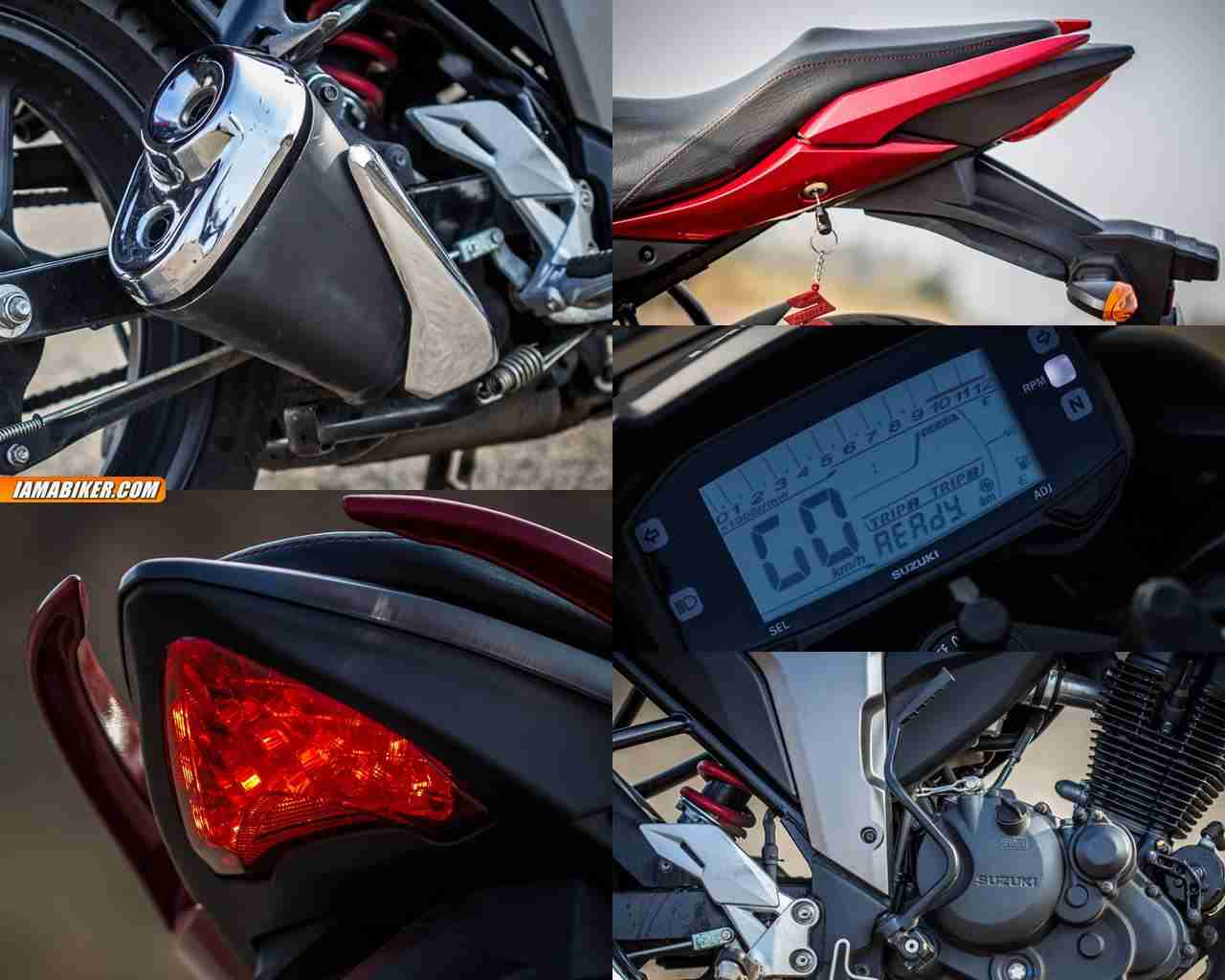 The Suzuki Gixxer 155 has few tricks up its sleeve to set it apart from the rest. We already told you about the twin outs for the exhaust. Then comes the digital meter that is packed with a lot of information. Suzuki has managed to fit in an RPM meter, Speedometer, Odometer, two trip meters, fuel meter, gear indicator and a clock on that orange backlit LCD screen. At first it feels a bit too much and cluttered but you get used to it quite easily and then you just cannot accept any other bike without all these. Then comes the LED tail light. It is bright and again adds to the premium look. Not going for fuel injection as allowed Suzuki to give the Gixxer 155 a kick start. Although in this day and age, one does not really need one due to the reliable electronics, there still are many that consider it a deal breaker. The headlights are 35/35W and those are not exactly numbers that scream illumination but the good reflectors ensure a good throw. Coming to the value for money bit. The Suzuki Gixxer 155 is priced cheaper than its biggest competition the Yamaha FZ V2.0. And that is a huge plus point for it in our intensely price sensitive market. Also check out the video.
[youtube http://www.youtube.com/watch?v=GQthfpgVkh4?rel=0&showinfo=0&wmode=transparent]
Final Verdict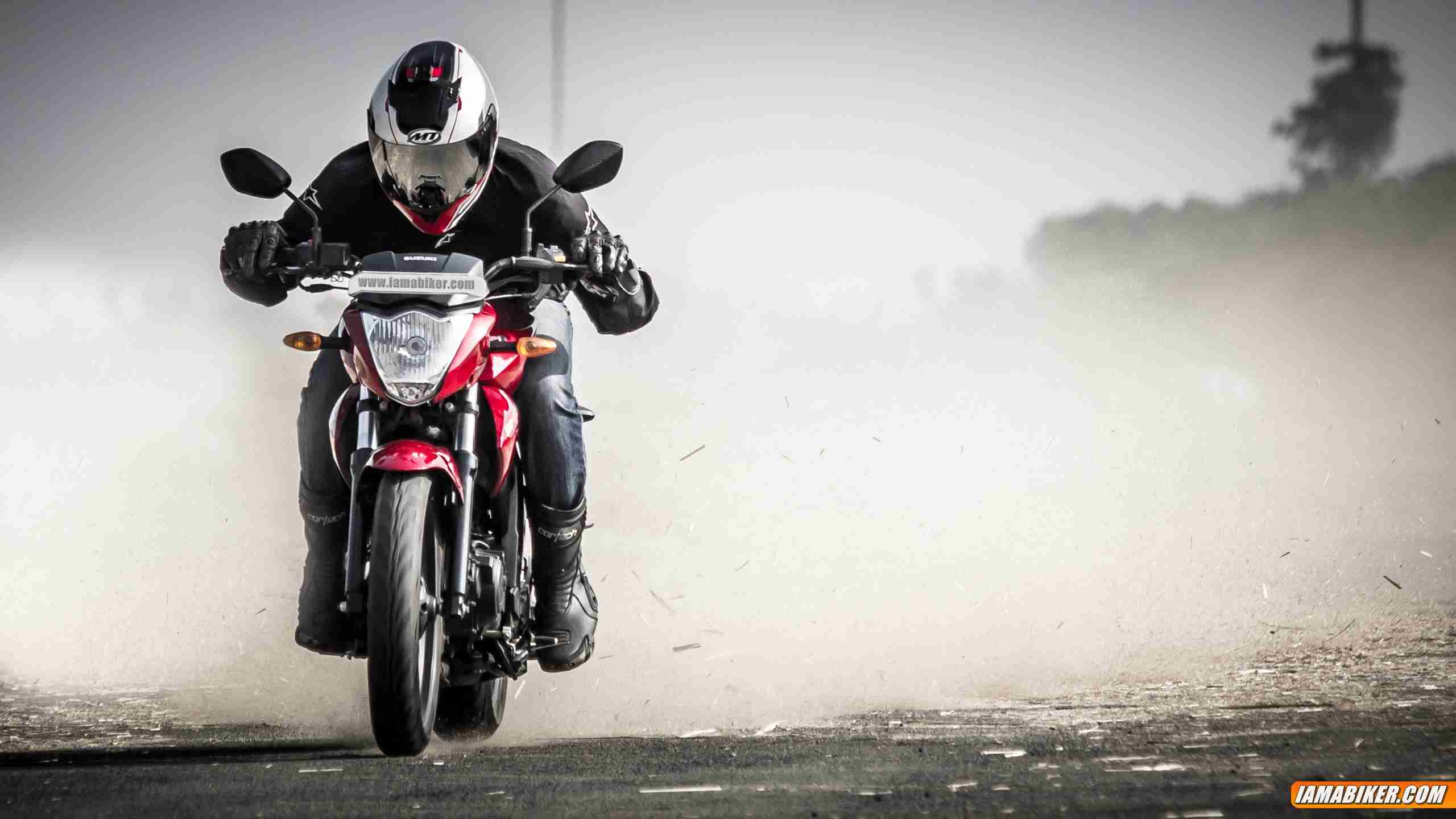 The Suzuki Gixxer 155 misses out on fuel injection and a rear disc brake. And we really thought these two aspects might drag down the bike. But we have to admit, the Suzuki Gixxer 155 is right up there at the top with the best and not once did we miss those two features. In a next upgrade if these features do come in, it surely will be the best in its class. We finally have a motorcycle from Suzuki that is the talk of the town. A bike, that will surely be written about in the history books as one that turned around Suzuki's fortune in India.
Specifications Sheet
ENGINE
| | |
| --- | --- |
| Design | 4 Stroke,Single cylinder,Air Cooled |
| Bore * Stroke | 56.0 mm x 62.9 mm |
| Cubic Capacity | 154.9 cc |
| Torque | 14 Nm @ 6000 RPM |
| Power | 14.8 HP @ 8000 RPM |
| Fuel delivery | Carb |
| Starting aid | Electric and Kick |
| Transmission | 5 Speed, MT |
CHASSIS
| | |
| --- | --- |
| Frame | Stressed engine mounted single downtube |
| Front Suspension | 41 mm Telescopic |
| Rear Shock absorber | 7 step adjustable Mono Suspension |
| Brake system Front | 2 piston disc |
| Brake system Rear | Drum |
| Front tyre | 100/80-17-Tubeless |
| Rear tyre | 140/60R-17-Tubeless |
| Fuel tank capacity | 12 L |
| Headlight | 12V 35W/35W |
| Wheelbase | 1,330 mm |
| Seat height | 780 mm |
| Ground clearance | 160 mm |
| Kerb Weight | 135 kg |
| Colour options | 5 – Metallic Triton Blue / Candy Antares Red / Pearl Mirage White / Glass Sparkle Black / Metallic Oort Grey |
Suzuki Gixxer 155 detailed part by part images
Test Riders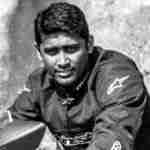 Sudeep
Avin
Nijish
Pavan