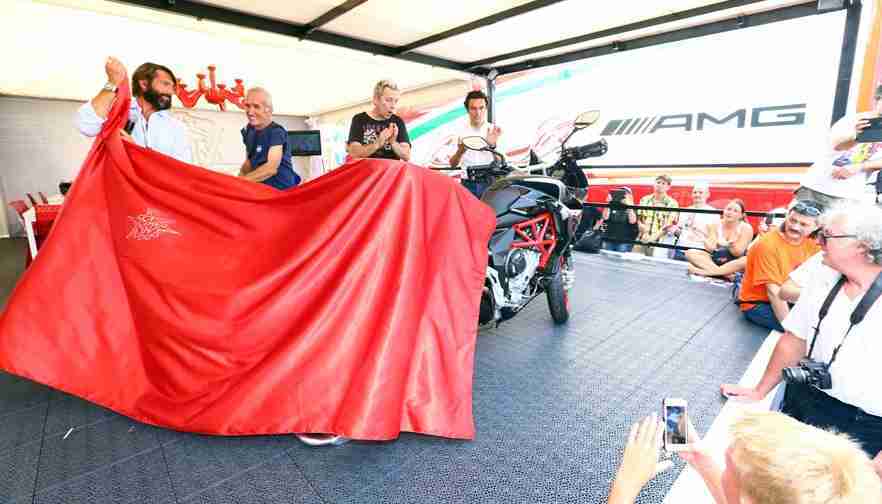 At the recently concluded 2015 FRIENDS OF CLAUDIO event at Varese-Italy, MV Agusta top man Giovanni Castiglioni announced that the company is working on a new family of superbikes. An MV Agusta which will be of 1000cc capacity and totally new ground up including a new frame. At this point it is not sure whether it will be a replacement to the existing line up, which is in fact doing well or go alongside it.  But what is sure is the fact that it will be a 2016 model year motorcycle and that means we could see it as early as the EICMA later this year. The superbike platform will also play host to a naked streetfighter and a sports tourer, a trend which is becoming the norm nowadays. MV Agusta have chosen not to divulge any more information as they are looking to make a huge impact on the superbike market with these motorcycles.
The FRIENDS OF CLAUDIO or the "Gli amici di Claudio" is an annual event to celebrate the life of the iconic owner of company, Claudio Castiglioni. A man who is responsible for the laying the strong path to the recovery of the company. The event also saw participation of MV Agusta WSS championship riders Lorenzo Zanetti and Jules Cluzel and the legendary Giacomo Agostini. The event bore witness to about 300 motorcycles from all over Europe. Special mention should be given to the Cagiva Elefant 900 which has clocked more than 3,45,000 km. Other interesting motorcycles were a Aermacchi TV 350 and an F4 bearing the AMG livery. The event also had a contest running with the ultimate prize being an MV Agusta Turismo Veloce.
The 2015 EICMA is not far away and with almost every manufacturer having used 2015 to take their flagship motorcycle to the next level, we sure are glad MV Agusta has also joined the ranks. Eagerly waiting for the EICMA now.