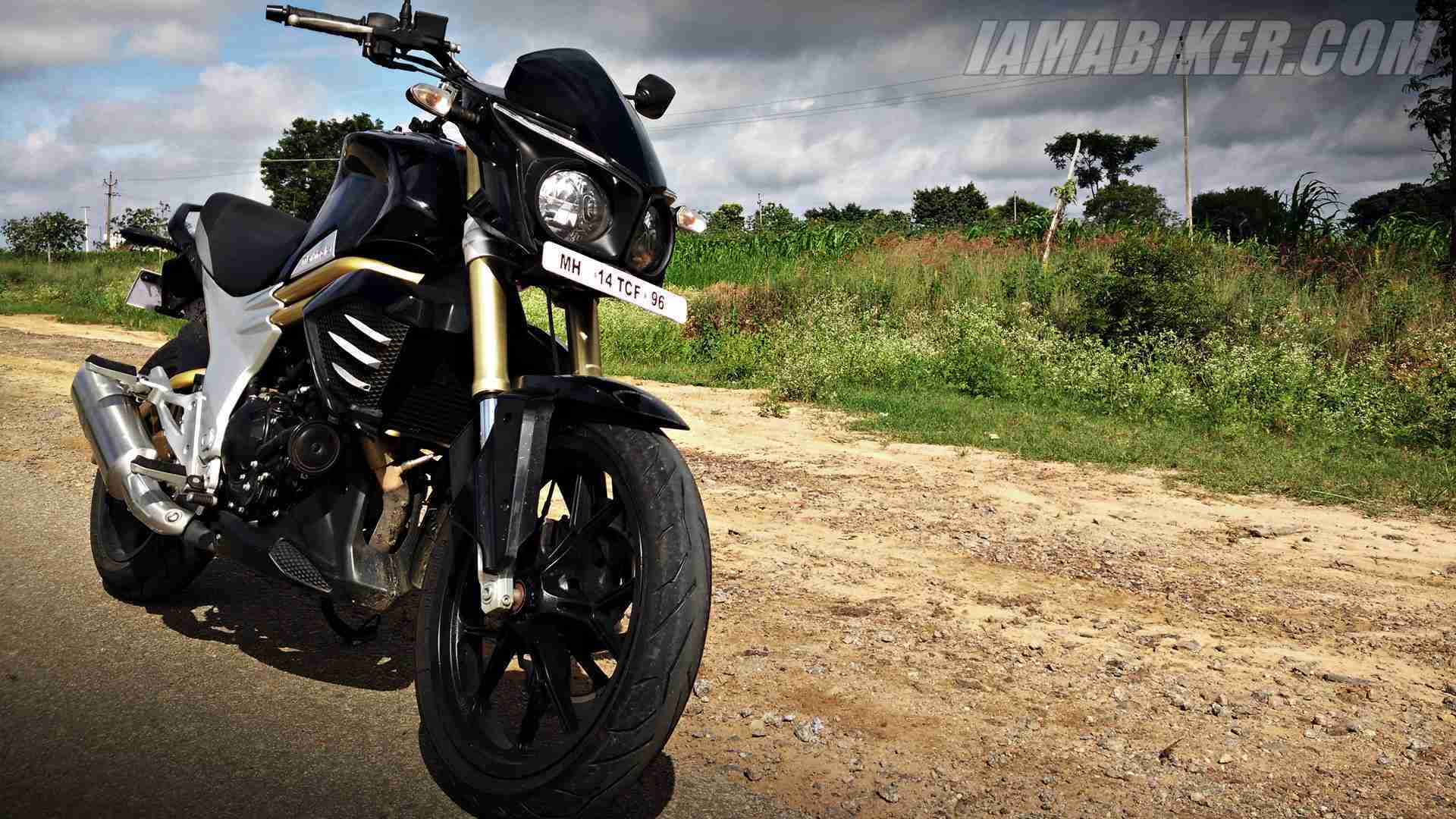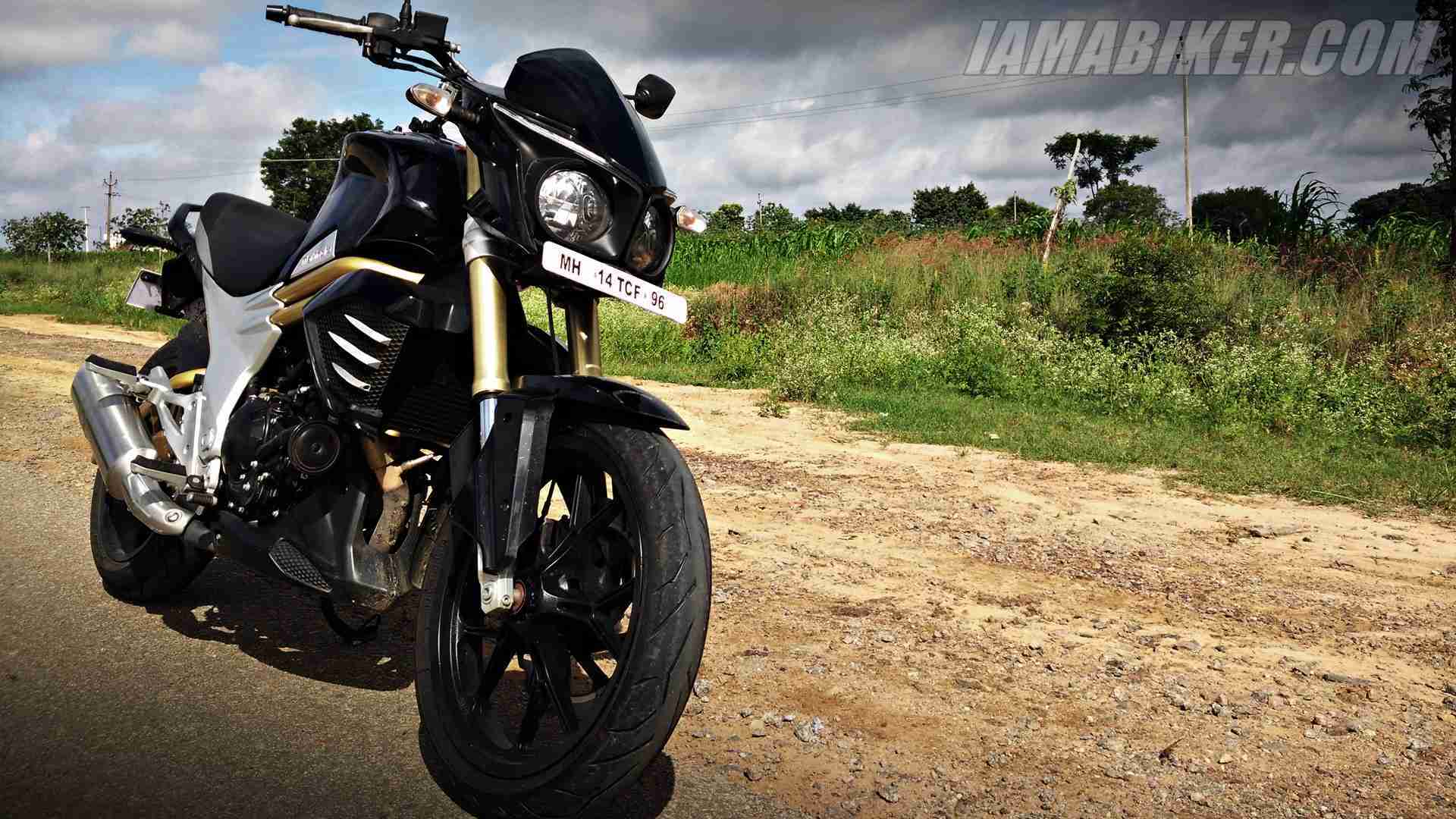 It took long enough, but the Mahindra Mojo is finally here. It will be launched officially on the 16th of October and that function is now a mere formality. There are very few details that we do not know about the Mahindra Mojo. The bike will produce 27 Ps at 8,000 RPM and 30 Nm of torque at 5,500 RPM. Tyres will be the Pirelli Diablo Rosso II at both ends (110/70-17 front and 150/60-17 rear) and the braking will be handled by the Jjuan discs of size 320 mm at front and 240 mm at the rear. The Mahindra Mojo weighs 165 kg dry, so with the 21 odd litre fuel tank and about 2 litre of engine oil capacity, expect a kerb weight in excess of 185 kgs fully loaded. Ground clearance is in the range of 173.5mm and wheelbase is at 1,465 mm. Suspension travel at both ends is at 143 mm and has USD forks at the front and monoshock setup at the rear set at 25°.
Phew! That's a lot of numbers we just threw at you, but numbers that will be constantly referenced to here on. Let's move past the fact that Mahindra took their own sweet time to bring out this bike. The biggest change that we personally loved was the fact that Mahindra moved the focus of the bike from a race and performance oriented motorcycle to an outright touring machine. A decision that we think will benefit Mahindra with hefty rewards. In this report lets not talk about the looks, that, as always, is subjective.
We first saw the Mahindra Mojo in the flesh in its final avatar couple of weeks back and took it out for a spin. There is one thing that is very evident immediately, the torque and so much of it. The 30 Nm coming in at a rather low 5,500 RPM is something that will always keep you smiling. Off the line the Mahindra Mojo is really quick and manages a 0 – 100 kmph in just below 9 seconds. Top whack we saw on the speedo was 153 kmph and we reckon it could touch 160 kmph. But this machine is not meant for the top speeds, it's about cruising and munching kilometers. The engine even when maxed out feels so refined and relaxed, you can comfortably cruise around the 120 kmph mark all day. The gearing is one of the major contributors of this characteristic. While the first 3 gears give you a nice clean pull the 5th is pretty much overdrive and the 6th massively so. Vibrations are almost null no matter what gear and RPM. Expected fuel efficiency is around the 28 kmpl mark.
[youtube http://www.youtube.com/watch?v=pvizjgY7roI?rel=0&showinfo=0&autohide=1&autoplay=1&cc_load_policy=0&iv_load_policy=3&modestbranding=1&w=1280&h=720]
The Mahindra Mojo is a very comfortable motorcycle. The suspensions have a lot of travel and couple that with the comfortable seat, you are almost cruising along on a sofa. The handlebar is high and wide and give you good control over the bike. While the Mahindra Mojo does not exactly have a sharp corner carving DNA, it does feel well planted and easy to handle. It's a fun motorcycle even with its long wheelbase. You can almost consciously steer it with the rear wheel.
Build quality was not "Japanese" good, but better than what you are used to from some of our Indian manufacturers. The only immediate disappointments where the headlights and the instrument cluster. The twin 35 watt setup simply do not provide proper illumination, a 55 watt setup would have made this motorcycle a killer. The instrument cluster has a lot of information but design wise seems like an over kill. A clean setup of an analogue rev meter with a slightly bigger digital screen would have been more class.
Now, while we wait for the bike to do a full detailed review, Mahindra will be officially launching the Mahindra Mojo on the 16th. The expected ex-showroom price is at 1.6 lakh with Mahindra targeting an on-road price below 2 lakh in all cities. The first set of Mahindra Mojo customers will also be getting several goodies from the company. This will include riding apparel and mostly even a cash discount. It sure is an interesting deal and from what we have experienced with the Mahindra Mojo, it sure looks like a great package.