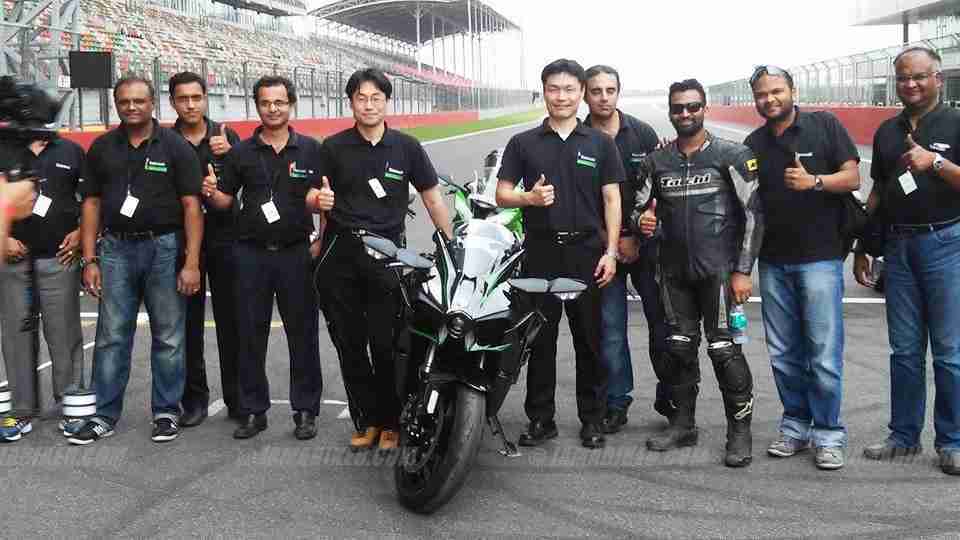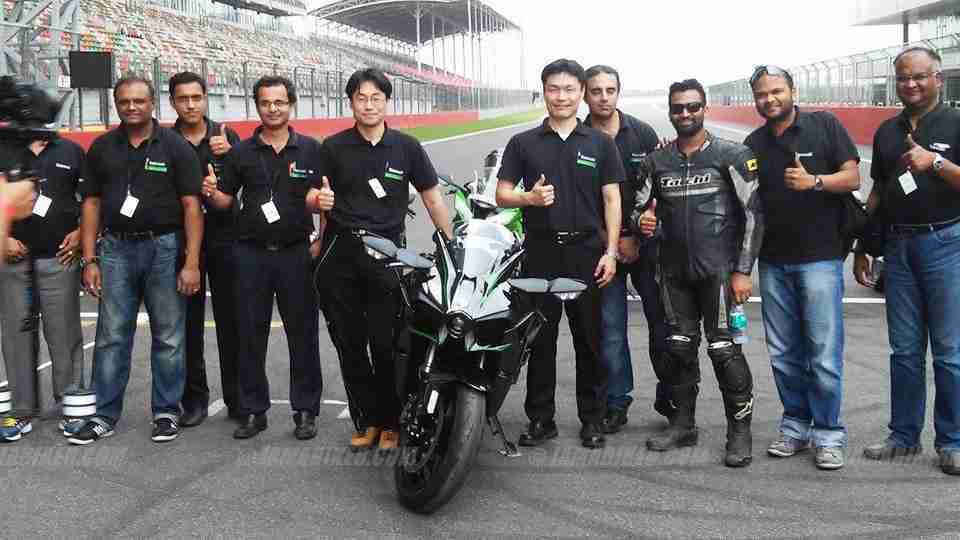 Kawasaki India yesterday launched their supercharged monster the Ninja H2 in India. The Kawasaki Ninja H2 has a price of Rs. 29,00,000/- ex-showroom Delhi. Although technically the Ninja H2 would be available across Kawasaki's top dealers in Delhi, Mumbai, Chennai, Kolkata and Bangalore, it is highly unlikely that you could get your hands on one these. Why? From the news we gathered at the launch it looks like only 5 bikes have been allocated for India and all of them are already sold. In fact the motorcycle that was present at the launch at the Buddh International Circuit belonged to cricketer MS Dhoni. It is quite surprising that Kawasaki did not have a ride session for the moto journalists present, especially considering the fact that they just had an event last month at the Losail circuit, where global media were given a chance to test out both the Ninja H2 and the track only H2R.
Coming back to the motorcycle, the H2 series for Kawasaki is one of great sentiment. It is a motorcycle that has Kawasaki's rich heritage not just as a motorcycle manufacturer but as a huge business conglomerate embodied in it. It is a motorcycle that has been developed using expertise from all the various Kawasaki industry specialities. Be it the supercharger, or the extensive aerodynamics all have come from specialists in the Kawasaki group. The Ninja H2 has an 998cc in-line four engine but the magic of it all lies elsewhere. The Kawasaki supercharger is really what makes this machine the beast it is. The engine produces a massive 200 PS of power at 11,000 RPM and once you get going, thanks to the RAM air intake, that number rises to 210 PS. Torque figures lie at 133.5 Nm at 10,500 RPM. The funny bit of this all is that the H2 engine is capable of far more. The unrestricted engine that is on the H2R produces an earth shattering 310 PS of power with RAM support. Coming back to the Ninja H2, the bike weighs 238 kgs and has a tank capacity of 17 litres. Electronics wise, the Ninja H2 has just about everything and here is the list –
KTRC (Kawasaki Traction Control)
KLCM (Kawasaki Launch Control Mode)
KEBC (Kawasaki Engine Brake Control)
KIBS (Kawasaki Intelligent anti-lock Brake System)
KQS (Kawasaki Quick Shifter)
The Kawasaki Ninja H2 is surely a big step in a totally new direction for motorcycle development. With the trend going towards lower capacity machines, a supercharger might be the solution that makes the quarter litres and mid range machines pack a punch. Special thanks to Henna from Apex Racing for the photographs.