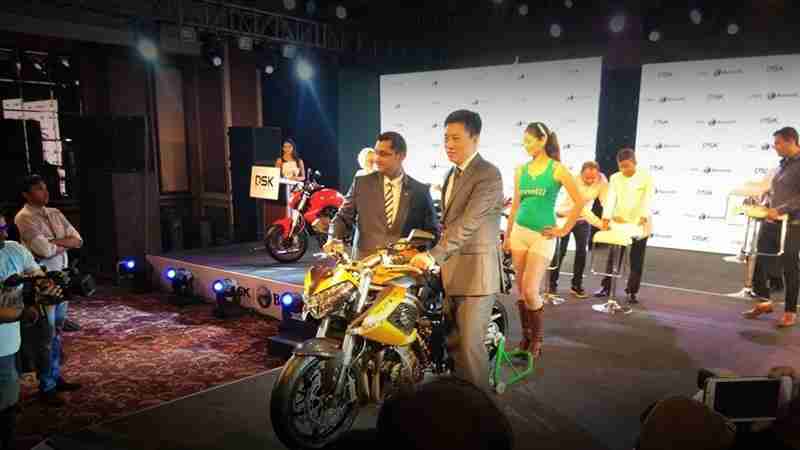 DSK Benelli have officially launched their motorcycle range in India and today unveiled the prices at which they will be selling these motorcycles. The story of Benelli motorcycles starts in 1911 from a garage that used to just repair motorcycles and cycles. By the 1960's Benelli had become a formidable force in the two wheeler world. Multiple models across various cubic capacity ranges and even doing exceptionally well in motorsports. The invasion of Japanese motorcycles soon saw them fighting a tough battle and at one point Moto Guzzi and Benelli were owned by the same person and made motorcycles together. Benelli always was ahead in the technology they used on their motorcycles but often fell short in terms of reliability. This lead to a huge downfall by the 1980's and by 1988 pretty much shut down. In 1989 there was an attempt to revive the motorcycle brand, but that did not last. It was finally only in 2002 the brand finally saw a bounce back into the limelight and currently is owned by the Chinese business conglomerate Qianjiang. Now truth be told, the brand is no longer associated with the technological wizardry it once used to be popular for. Essentially now the bikes are Chinese made and not exactly the Italian stallions. Now, in no way does that mean they are bad. We will reserve our comments till we have ridden and reviewed these motorcycles.
The launch event saw Benelli top men like George Wong  (board member), Dante Gustos (Marketing Director) and of course Mr. Shirish Kulkarni (M.D. DSK Benelli India). DSK Benelli are looking to make India one of its global hubs. Currently all bikes are CKD units and there is a plan to go local soon. Later this year they plan to expand their existing range and we could see the TNT25 making an appearance which could really propel the brand. DSK Benelli is on route to a total of 20 dealerships across India by this year end with 9 of them functional right away. Some of the bikes (800cc) have a slightly lesser power than the international specs due to homologation and emission requirements, difference of about 5 to 10%. ABS will be introduced on all models by next year when it becomes mandatory and will be optional for now. We leave you with prices of the DSK Benelli range along with dealership locations and quick spec for each.
DSK Benelli India price list
DSK Benelli TNT 300 – Rs. 2.83 lakhs (ex-showroom Delhi).
DSK Benelli TNT 600i – Rs. 5.15 lakhs (ex-showroom Delhi).
DSK Benelli TNT 600 GT – Rs. 5.62 lakhs (ex-showroom Delhi).
DSK Benelli TNT 899 – Rs. 9.48 lakhs (ex-showroom Delhi).
DSK Benelli TNT 1130 – Rs. 11.81 lakhs (ex-showroom Delhi).
DSK Benelli India dealership list
DSK Benelli Pune dealership – Factory owned and operated at Wakdewadi – Contact number – +91 70309 55220
DSK Benelli Mumbai dealership – Western Express Highway – Contact number- +91 80820 59999
DSK Benelli Bangalore dealership – Richmond Circle – Contact number – +91 95910 73333
DSK Benelli Chennai dealership – Anna Salai – Contact number – +91 91766 26655
DSK Benelli Hyderabad dealership – Jubilee hills – Contact number- +91 9885004004
DSK Benelli Delhi dealership – Torq bikes – Contact number – +91 85888 47598
DSK Benelli Ahmedabad dealership – SG Road – Contact number – +91 80007 00090
DSK Benelli Kolkata dealership – New Town – Contact number- +91 98316 39393
DSK Benelli Goa dealership – NH 17 Porvorim – Contact number- +91 94224 43287
DSK Benelli TNT 300
Engine – 300 cc parallel twin
Power – 37 Ps at 11,500 RPM
Torque – 27 Nm at 9,000 RPM
Kerb weight – 200 kg
DSK Benelli TNT 600i
Engine – 600 cc inline four
Power – 82 Ps at 11,500 RPM
Torque – 54 Nm at 10,500 RPM
Kerb weight – 222 kg
DSK Benelli TNT 600 GT
Engine – 600 cc inline four
Power – 82 Ps at 11,000 RPM
Torque – 55 Nm at 8,000 RPM
Kerb weight – 249 kg
DSK Benelli TNT 899
Engine – 899 cc inline 3 cylinder
Power – 115 Ps at 9,500 RPM
Torque – 88 Nm at 8,000 RPM
Kerb weight – 218 kg
DSK Benelli TNT 1130
Engine – 1131 cc inline 3 cylinder
Power – 129 Ps at 8,500 RPM
Torque – 110 Nm at 5,250 RPM
Kerb weight – 218 kg