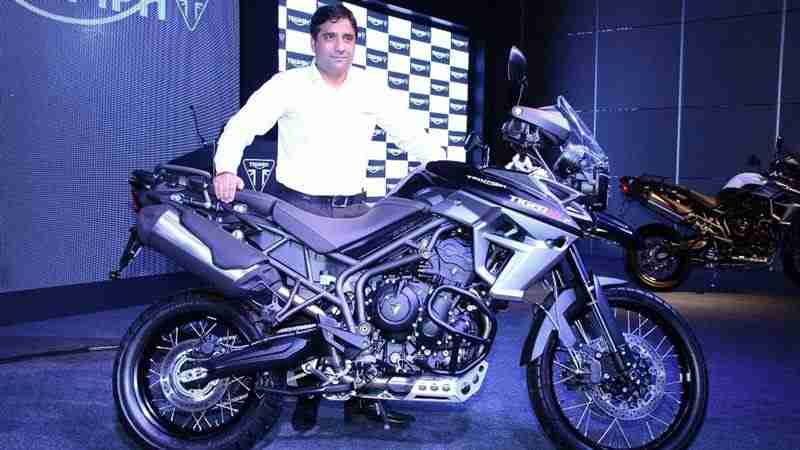 Triumph Motorcycles India have officially launched the 2015 Triumph Tiger range in India. The Triumph Tiger 800 XR has been priced at Rs. 10.5 lakh, the Tiger 800 XRx has been priced at Rs. 11.6 lakh and the Tiger 800 XCx has been priced at Rs. 12.7 lakh. All prices ex-showroom Delhi. Triumph have been able to price these Tigers so competitively because they have chosen the CKD route to bring in these motorcycles. The Tigers will be assembled here hence attracting lower taxes. This also means that certain amount of localisation has been done on the Tigers ensuring pocket friendly maintenance. With these launches we in India now have the entire Triumph Tiger 800 range available.
Each of the launched bike has a specific character to it. The 'x' tag to the names makes it even more purpose oriented. What is common across all the models is the addition of a ride by wire throttle. This basically enables the ECU to control the throttle inputs making available finer throttle actions along with smoother throttle response and also be more efficient. The XC range is for the off-road enthusiast and the XCx makes it even more in tune with this riding pattern. It gets engine protection bars and an underbelly engine bash guard. The Tiger 800 XRx gets a more comfortable pillion and rider seats and adjustable windscreens. The entire 'x' range – XCx and XRx gets three riding modes of which one can be programmed by the rider. Other electronics include – cruise control, traction control, throttle maps for different terrains and ABS. It even gets an additional 12V charging socket. The 'x' versions also get minor updates like handguards, a better and advanced trip counter, centre stand and auto cancelling indicators. The engine remains the same though but more fuel efficient. It produces 94 horses at 9250 RPM and 79 Nm of torque at 7850 RPM.
At this price point the Tiger range from Triumph is quite untouchable. Mind you these motorcycles are still pricey but way cheaper and better than what the competition has to offer. Which is precisely why Triumph Motorcycles India have been doing quite excellently in terms of sales. To boost the sales further Triumph is also planning to expand its dealer network, two more of which will be added later this year.