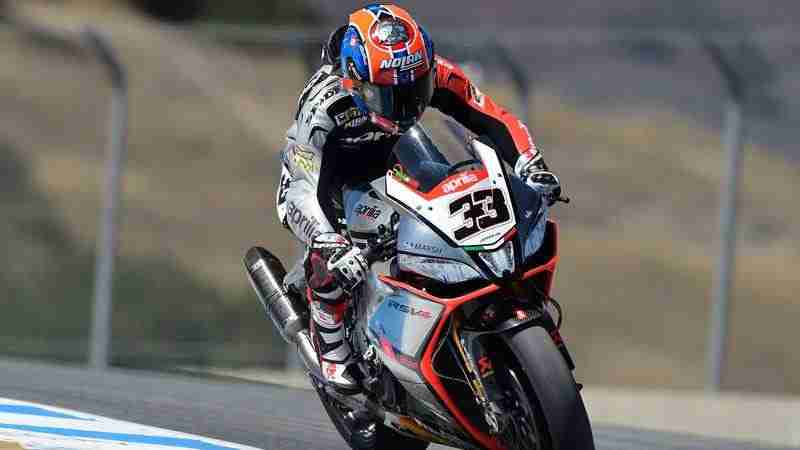 Race 1 on the exciting Laguna Seca track was a triumph for Aprilia. Off to an excellent start, Melandri and Guintoli took the race lead in the first lap, taking advantage of an error by Tom Sykes at the "corkscrew". The three immediately showed that they had a completely different pace than the rest and the progressively opened up the gap at the front. Before the midway point the two Aprilia standard bearers, with Melandri in the lead, progressively increased their advantage over Sykes until, in the second half of the race, Melandri set a pace that his team mate was unable to keep, crossing the finish line first for the third time this season after his double win in Malaysia. For his part Guintoli was able to maintain his lead over Sykes, taking an excellent second place.
On a very busy raceday Sykes had a strong run in the first race, with only a small lack of rear traction keeping him in third position, rather than challenging for the race win. He had started from pole and was leading the race before he ran wide into The Corkscrew section, went off track and was passed by Marco Melandri and Sylvain Guintoli. He could not quite get back on terms and finished third, for his 12th podium of the year.
The second race was also marked by Marco Melandri's consistent domination with him taking a solid lead when the race was red flagged due to a crash by Lowes. At the second start Melandri took the lead once again ahead of Sykes and team mate Guintoli, but the race was suspended again because of an accident involving Barrier. For the third start Melandri got another great start in front of everyone and established an authoritative lead. All signs pointed to a second win for the rider from Ravenna — whose feeling with the reigning Manufacturer World Champion RSV4 is increasing from race to race — when a sliding crash 5 laps from the end put the brakes on his hopes for victory. It was a result that does not change the fact that Melandri was a true protagonist of the Californian weekend. With just a few laps left Guintoli chalked up another second place finish which confirms the Frenchman's great competitiveness and consistency, lying firmly in second place in the Championship standings.
In race two, finally held over only seven laps after two restarts after red flag accidents, Tom was sitting behind leading rider Melandri when the Italian rider fell, giving Tom a lead from lap two that he would maintain to win by over a second. Sykes now leads by 44 points in the championship standings, over Sylvain Guintoli. Baz's set-up and overall performance improved in race two and he is currently fourth in the championship, only eight points from third place.
Marco Melandri
"My start in Race 1 was great even if I was a bit nervous in the first laps since Tom usually tries to pull the pin straight away. When he made that mistake at the Corkscrew I thought that was the right opportunity to push it to the limit. I set my pace, staying focused and not making any mistakes. It's a shame about Race 2. I made a few gear changing mistakes on the third start that made me think there was a problem with the ratios and that cost me my concentration. When I realised that everything was fine I decided to push hard but I went long at the last turn. I'm disappointed because a double win was definitely within reach, but I'm still happy about the work we did this weekend."
Tom Sykes
"An eighth win of the year and one more point ahead in the championship. I knew this circuit would be difficult for us after last year, and then again after race one this year, so if you had offered me that deal last night I would have taken it. I thought my points gap may have been reduced after this round. I ran a bit wide at the Corkscrew on lap one of race one but the bike was working well, just not well enough to win. The guys who finished ahead of me have a great track record here, have ridden so many times in GPs and both did well last year. I was happy with everything in race one but in the pure performance of rear traction we gave away too much. In race one you can talk about having a strategy but in race two, with all the red flags and a short race it was a case of go big! I was motivated after race one and the bike was working well. We made changes for the first attempt at race two and we improved it, and then for the first restart it was better again and then for the final part we made another change and it was better again. I am very happy to have extended my championship lead and a great pleasure to take the win. I can go into the summer break very relaxed and very motivated."