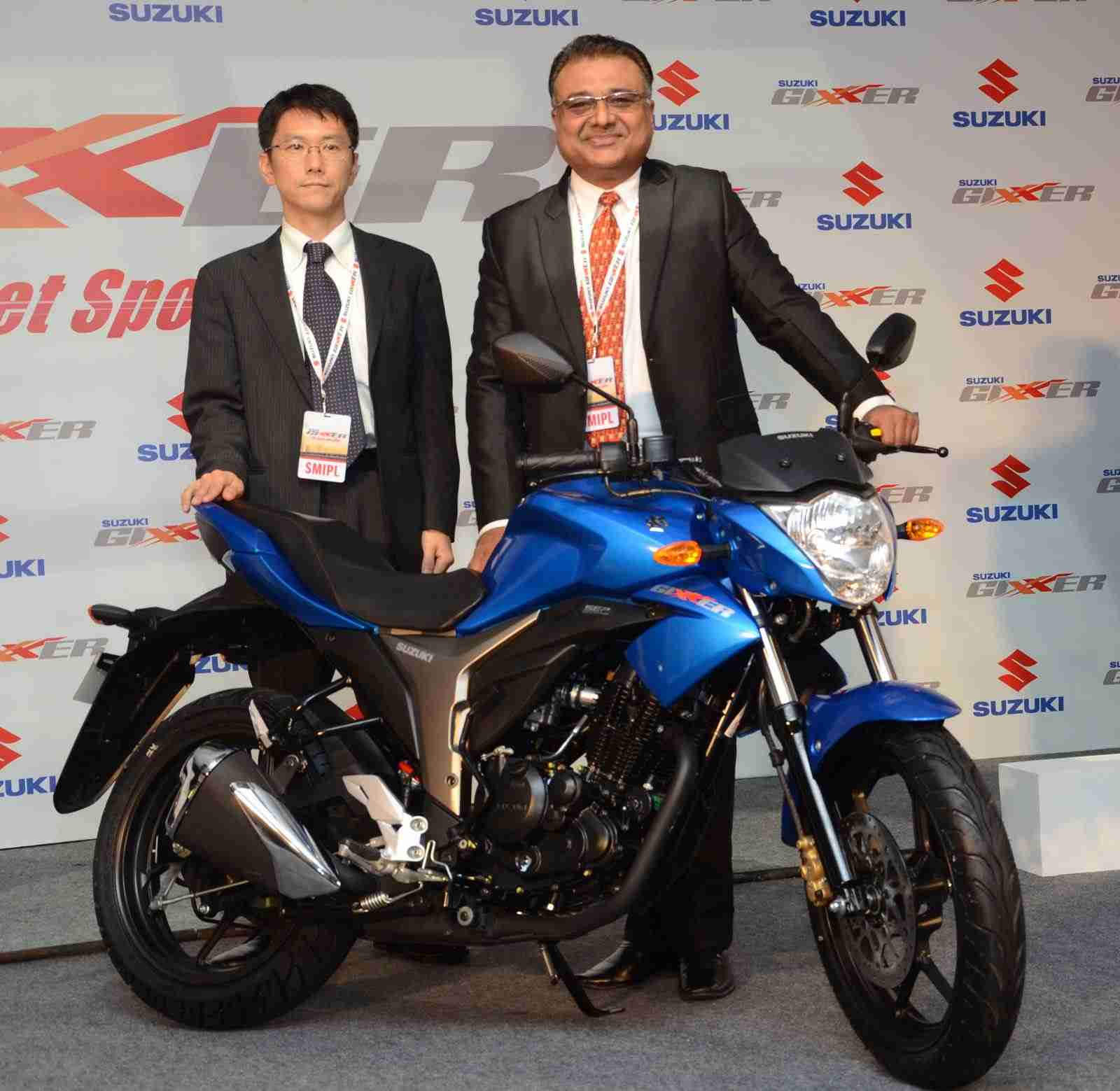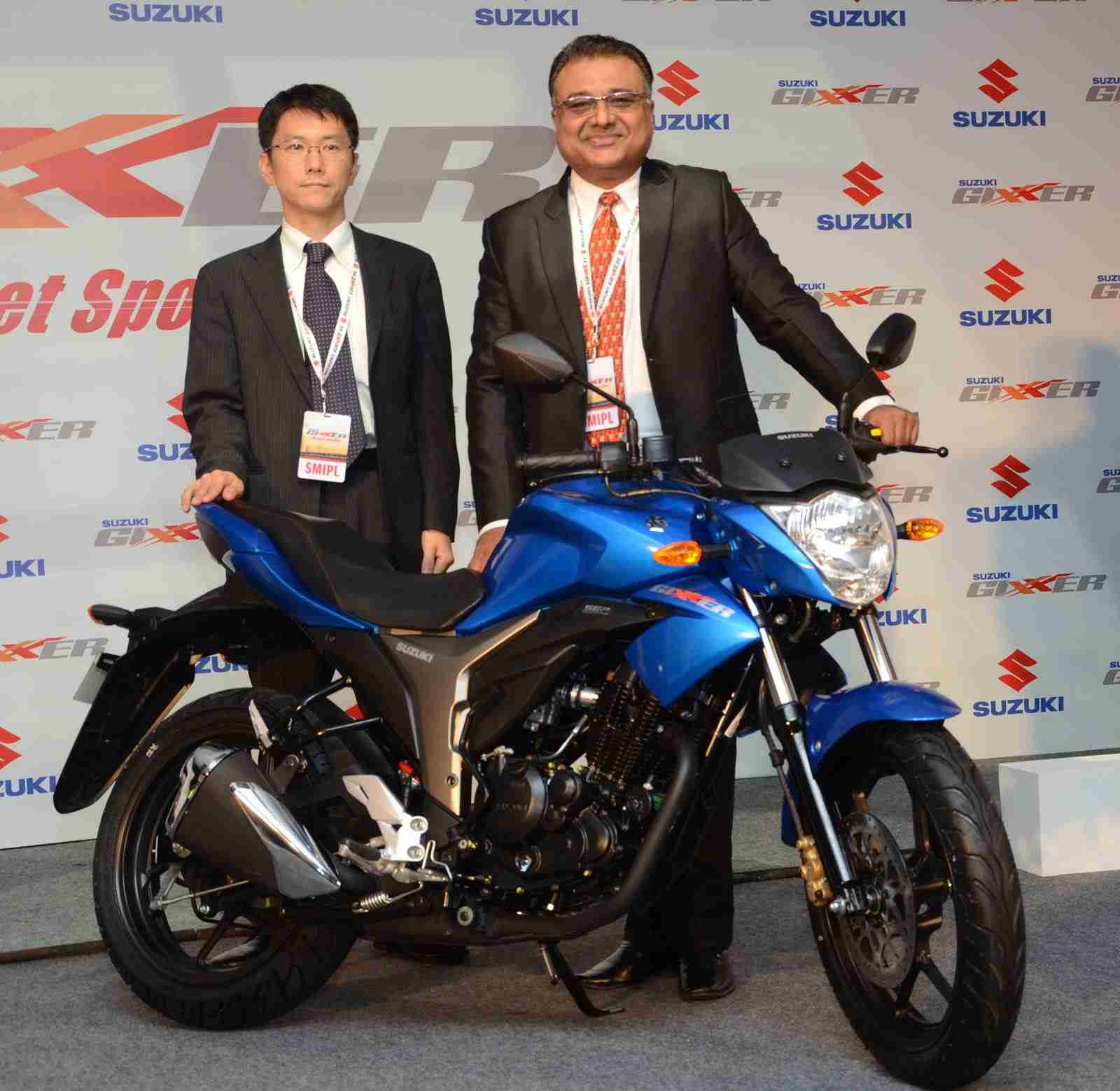 Suzuki Gixxer has now been officially launched and will be available in 5 color options — Metallic Oort Grey, Candy Antares Red, Glass Sparkle Black, Metallic Triton Blue and Pearl Mirage White at a price of Rs.72,199 (Ex-showroom, Delhi). Crafted by the engineers of the legendary Suzuki GSX-R Series, the dream has finally reached its culmination – the Suzuki GIXXER is here!! The GIXXER was launched today by Suzuki Motorcycle India Private Limited (SMIPL), a subsidiary of one of the world's leading two-wheeler manufacturers, Suzuki Motor Corporation, Japan.
The GIXXER promises to make hearts race and pulses soar as it races the street! This stylish 'Street Sport' motorcycle turns the streets into a riders' playground. The design team at Suzuki is sure that the bike will be best friends to all the customers out there, for it is a stylish, powerful, and gorgeous machine, coupled with unmatched genes, offering the same passion as the GSX-R1000. The GIXXERalso boasts of special features like a sporty dual muffler and a trendy, smartphone-resembling digital speedometer.
The GIXXER is powered by a 155cc, single cylinder, air cooled engine with a five-speed gearbox. Its ultra-light weight and punchy engine with cutting edge SEP technology enables the GIXXER to deliver power without compromising on fuel economy.  GIXXER's new engine gives an exceptional running performance with a broad low-end torque and dynamic mid-range power for strong acceleration. Suzuki claims that its latest offering is the answer to passionate bikers in India looking for a motorcycle that couples Suzuki's legendary riding dynamics and rider ergonomics.
Mr. Atul Gupta, Executive Vice President, SMIPL
"Loaded with exciting equipment, power, handling and trusted Suzuki quality, the GIXXER will make a statement without saying a word. It is an overall mix of elegant styling, classy on-road presence and promising performance, and will attract young bikers to rev up and ride. We expect GIXXER to create a strong foothold for itself in the market. Suzuki is keen on providing youth-centric products for the Indian customers at a very competitive price. Our track record of new launches iterates Suzuki's legacy built on the ethos of credibility along with advanced, unmatched engineering."
In tune with its endeavours to reach out to maximum potential buyers the motorcycle major is also coming up with a marketing campaign featuring the actor-endorser Salman Khan. Suzuki two-wheelers is introducing a path-breaking and cutting edge SEP technology to the Indian market in the form of SEP engine. Theengine enables the motorcycle to deliver top-class fuel efficiency without compromising on power or performance.
The engineers at Suzuki, with their vast experience and racing heritage have developed this revolutionary new cutting edge SEPtechnology which is achieved by reducing all kinds of mechanical losses, efficient design of every component and attention to detail in our manufacturing process. This helps achieve the best of both worlds — economy and performance.
The GIXXER's punchy 155cc engine and chassis was developed by the engineers who designed the legendary GSX-R series. The Suzuki GIXXER is a sporty street motorcycle with functional beauty combining edgy styling and performance. Complemented by a light and stiff frame for sporty handling, it offers an exhilarating ride.  The engineers at Suzuki have developed a powerful new engine with cutting edge SEP technology, which gives an exceptional running performance with a broad low-end torque and dynamic mid-range power for strong acceleration. Loaded with exciting equipment, immense power and ease of handling, the GIXXER is an invitation to ride!