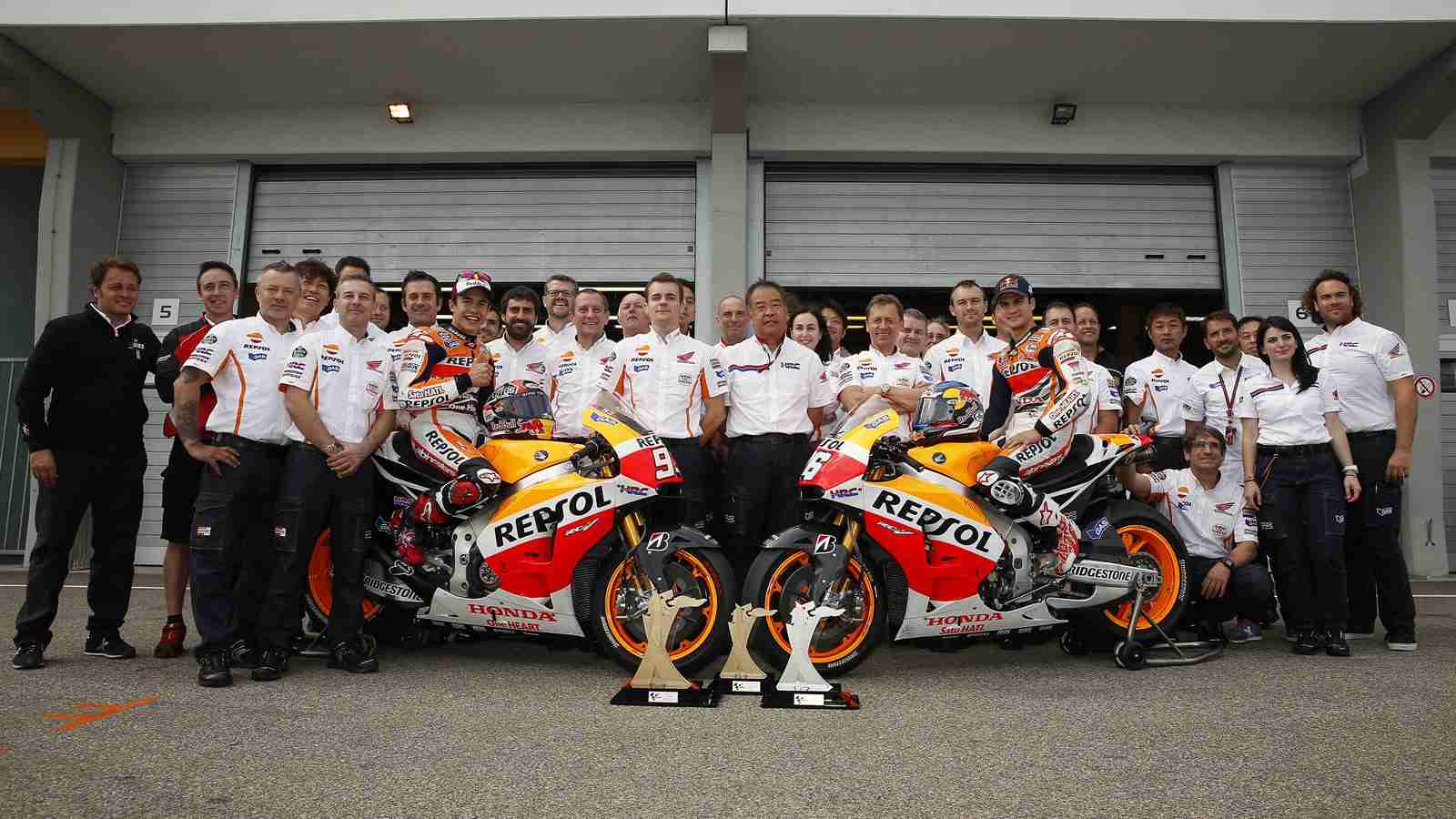 This is the longest running sponsor-factory agreement of its kind in the history of the motorcycle World Championship, and has converted the Repsol Honda bikes into icons within the motorsport world. Reigning World Champion, Marc Marquez, together with teammate and Honda stalwart Dani Pedrosa, will continue to represent these two prestigious brands as the factory riders.
The collaboration – which this year celebrates it's 20th Anniversary – began in February of 1995 providing a perfect combination between bike, fuel and lubricant that has brought sporting success and technological development. Over these 20 years, the team has taken 10 rider titles, 133 victories, with Mick Doohan's 35 and Dani Pedrosa's 25 of particular note.
Added to this are 354 podiums, 137 pole positions and 152 race fastest laps. Repsol Honda have also been team champions on 6 occasions, since the award was created in 2002. Half of the World Championship titles won in the past 20 years have gone to Repsol Honda thanks to Mick Doohan (between 1995 and 1998), Alex Criville (1999), Valentino Rossi (2002 and 2003), Nicky Hayden (2006), Casey Stoner (2011) and Marc Marquez (2013).
For Repsol, the close collaboration with Honda is a stimulus in the development of products for as demanding a category as the MotoGP World Championship. These developments are later made available to the company's more than 4,000 service stations. The bond between Repsol and Honda goes beyond a conventional sporting sponsorship arrangement and is solidified with the relationship between the Honda laboratories in Saitama, Japan, and the Repsol Technology Centre in Mostoles, Spain.
In the 1990s, the collaboration began with the development for 2-stroke engines later moving on to the challenge of developing for 4-strokes. At the Repsol Technology Centre, investigations take place with a unique single cylinder engine identical to those used in Marc and Dani's bikes – only the Honda engineers in Saitama have one like it. This year, MotoGP fuel tanks house one litre less than in 2013 (a reduction from 21L to 20L per race), making efficiency a challenge.
Begoña Elices – General Director Communication and Chairman's Office Repsol
"We are very satisfied with the renewal of this agreement, which has been in place since 1995 and has given us such success —both in terms of sporting results and technological development. We have two exceptional riders in Marc Marquez and Dani Pedrosa, who represent Repsol Values perfectly. This bond with the highest level of competition is the best impulse to improve as a global company, to investigate and develop cutting edge fuels and lubricants. Our alliance with Honda is an example of teamwork, completed by two riders who are ambassadors of our values —such as integrity, responsibility, bravery, enthusiasm and overcoming adversity ".
Shuhei Nakamoto – HRC Executive Vice President
"There is no better moment to celebrate this renewal, after a fantastic 1-2 finish in Germany and now we're 1-2 in the Championship. We are very happy to extend our partnership with Repsol, which is not only a sponsorship agreement but key technical relationship. With the new 20 litre fuel rules in 2014, we have worked closely with Repsol and we are proud to share our successes both now and in the future!".