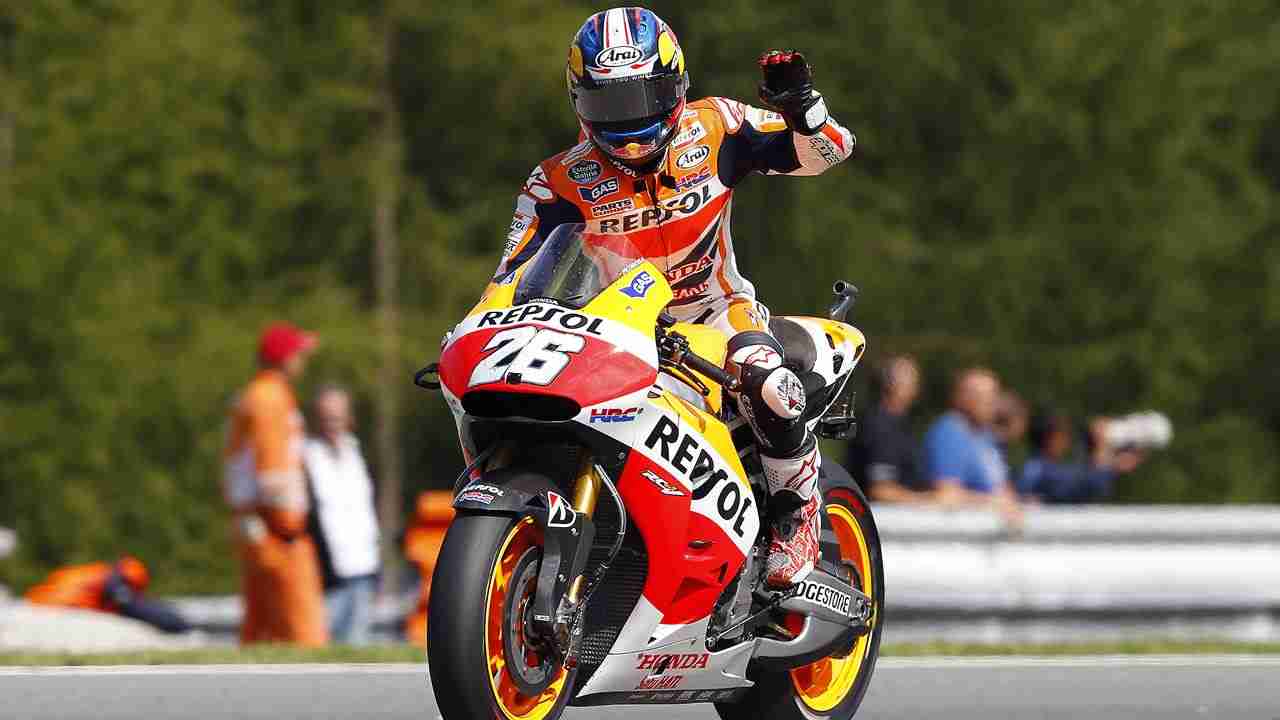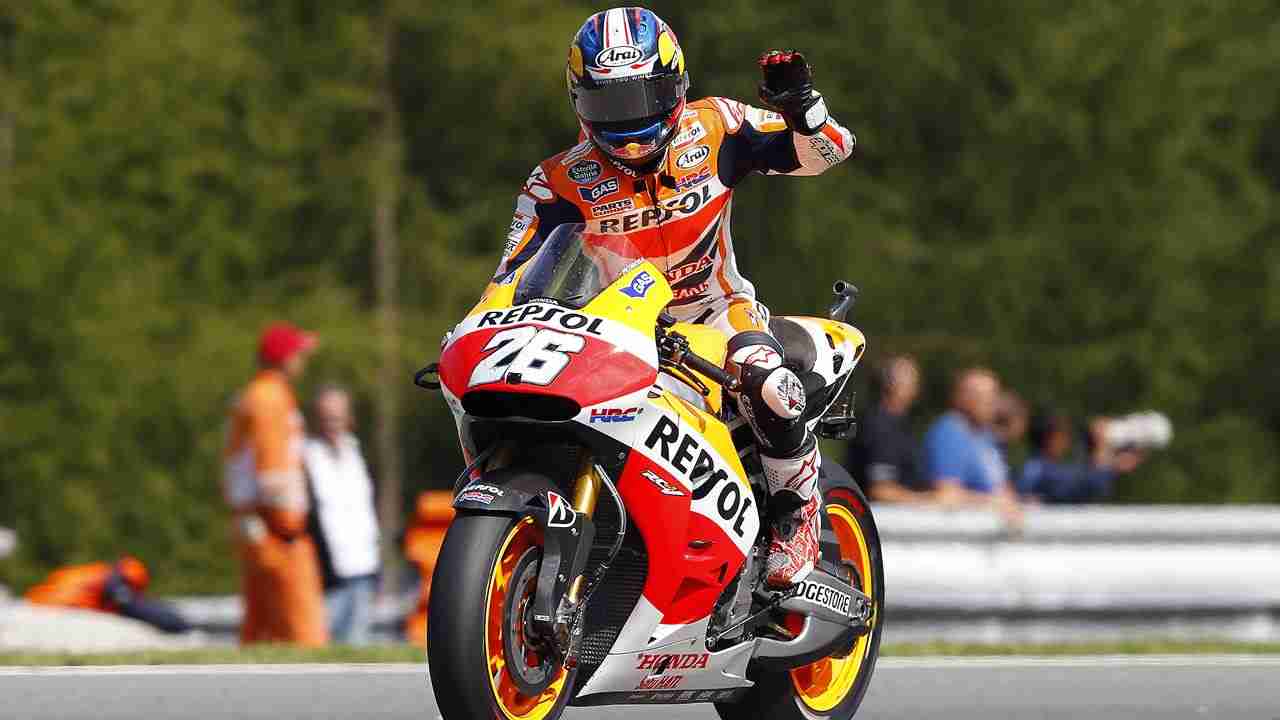 Repsol Honda's Dani Pedrosa set a scorching pace to take his first win of the MotoGP season ahead of the Movistar Yamaha MotoGP duo of Jorge Lorenzo and Valentino Rossi who finished in second and third place respectively. On his way to victory, Pedrosa set a new Circuit Record Lap of 1'56.027 and kept a fast pace throughout the twenty-two laps of the Brno circuit, and despite a late push from Lorenzo, managed to cross the finish line 0.410 seconds ahead of his Spanish rival. Rossi enjoyed an entertaining battle with Repsol Honda's Marc Marquez during the middle stages of the race, before breaking away and comfortably claiming the final podium position. Today's Czech Republic Grand Prix was the fastest ever race to take part at the Automotodrom Brno, with Pedrosa's total race time being three seconds quicker than the existing record time set at last year's Czech Republic Grand Prix.
In what has almost become a tradition on race day, drops of rain fell and dark clouds loomed as the riders set out on the formation lap, but the rain didn't eventuate allowing the twenty-two laps of the race to be run in dry conditions. The peak track temperature during the race was 29°C which was 7°C down on the highest reading yesterday. The cooler temperatures and threat of rain resulted in four of the twenty-four starters selecting the soft compound front slick, with the other twenty riders opting for the medium compound front slick. Rear tyre choice saw every rider except one select the softest rear slick option available to them; medium compound for the Factory Honda and Yamaha, and soft compound for the Ducati and Open-class riders. Although he finished off the podium for the first time this season, Marquez still holds a massive 77 point lead in the standings over his teammate Pedrosa, while Rossi is a further 13 points back and sits in third position overall on the championship points table.
Marc Marquez
"Today was one of those Sundays in which I neither felt completely comfortable, nor had found the best setup for the bike. It wasn't down to a mistake by me or by the team, it was simply that we didn't have the same feeling as on other Sundays. In a way it's taken a weight off my shoulders, as now people won't be asking me if I can win every race anymore. It was also important that we were able to focus on staying in fourth, even though it was tough not to be fighting for the win; we took 13 points that are important for the World Championship and we have a big advantage. What matters is who wins the title -not who wins the most races".
Dani Pedrosa
"I am very happy to have won this race! This year it has been a tough road to victory, but today everybody in the team is very happy. Seeing their smiling faces makes me happy as well, because you always try to get the best results but don't always manage to do so. This year we have an amazing rival in Marc, who has had great performances at every round so far. Maybe today wasn't his best day, but I think that we also worked very well this weekend; bringing home the win for the team feels fantastic".
Jorge Lorenzo
"Finally we beat Marc, but unfortunately it was not me who got the victory this time. I had a chance to get the win because I was feeling good during the warm up and also on the first laps of the race. The only problem was that the feeling of the bike changed after a few laps and Dani caught me. I need to be more aggressive, because he managed to get away. The bike was not so bad at the end of race but I was on the limit to catch him. If there would have been one more lap I would have been able to try and beat him, but it was too late. I wanted to try and fight for the win, but Dani rode a really good race. It was a good opportunity for us to win because Marc was not fit enough, but we didn't plan the race perfectly so we have to learn from this experience in the future. I'm very happy with Yamaha's work and how they have improved the bike these last few races. I think it will also be a big improvement for other tracks. I also feel very strong physically so if it goes well we can fight for the victory."
Valentino Rossi
"I'm very happy about this result, because it was a difficult weekend. Yesterday I crashed and injured my finger. This morning it was very bad when checking the setting also with pain making it difficult to ride. This afternoon I visited the Clinica Mobile for my finger to prepare it for the race. With Silvano (Galbusera) and the whole team we were able to set up the bike and we were able to have a good race. I'm happy. We had a good pace and got another podium. Unfortunately I lost a bit of time on the first laps because I wasn't sure, but after I found the rhythm and then it was a great pleasure to beat Marc. He was sliding and had a problem so he wasn't fast enough. Of course we tried to arrive more in front but the third place was not so bad in Brno because Dani and Jorge rode a very strong race."
Andrea Iannone
"I'm really happy with today's result. I managed to do a lap in the lead! I knew that Jorge, Dani, Vale and Marq were faster than me, but I pushed thinking about my race. I enjoyed the first part of the race, I tried to follow Dani when he overtook me, in the warm-up session I was able to keep up with him, but in the race he was three tenths of a second faster than me and i decide to not push so much because it didn't make much sense. In the second part Dovi and I passed each other several times, he was able to brake harder than me. I had funit and I'm happy for me, my team and Ducati. I am beginning to see a bit of light for the future! "
Hiroshi Aoyama
"Today we started from sixteenth on the grid and finished thirteenth, so we are fairly satisfied with the result. At the start of the race I lost a few places, but around the midway point I recovered and was able to make back some positions. I felt strong from the beginning and was comfortable on the bike, with a pace similar to that of the practice sessions. Pirro and Redding were fighting amongst themselves, which allowed me to close them down. I intended to latch onto them at the end to try and pass, but Redding escaped slightly and Pirro also closed the door well on the last lap. The race was pretty exciting for me, so I am happy and confident about Silverstone."
Leon Camier
"Today I felt much more comfortable than last week in Indianapolis; we had more data and more hours of riding under our belts, and that allowed us to be more consistent. I am happy because we have improved a lot in a short time, but as I said, we need more time to fully understand the bike. Completing an entire race has helped me to understand the behaviour of the bike and the tyre wear, which are completely different to what I am used to with other bikes. Taking a further step in the learning process has helped me to gain confidence. Although I hope Nicky recovers as soon as possible, if I had the opportunity to also ride for the DRIVE M7 team at Silverstone it would be like a dream come true. It's a circuit I love, I know it well, and I am convinced that I could take another big step forward there."
Bradley Smith
"It goes without saying that the result today was much lower than I had anticipated after such a strong qualifying and I was sure that I could ride much closer to the leading bikes. It is a mystery as to why but I had less rear grip compared to this morning and yesterday afternoon. My traction control system needed to work considerably more during the race and I lost a lot of time exiting the corners, plus even when I was coming down the straight the rear was spinning. This is a frustrating end to the weekend as I know I have a much better pace than what I showed today. I feel we should be in the top six and challenging the factory boys but these things happen sometimes, so now we need to find out why and then get ready as I head to my home Grand Prix where I am convinced I can have a great race in front of my home fans."
Pol Espargaro
"I can't hide that I'm disappointed as a crash is never how a rider wants to end a GP but I still think we did a good job throughout the weekend. Our race pace seemed to be really promising and my start was not too bad as I managed to recover a couple of positions. But the front of the bike felt really nervous and I made a small mistake going straight so I lost some ground on Valentino and couldn't follow the group anymore. Afterwards Bradl passed me and at this stage I started to feel a bit more comfortable whilst finding a better rhythm, but when I realised that he was opening a small gap, I pushed harder and lost the front without any warning. It's a real pity as it certainly wasn't how I wanted to finish the weekend, but now I have to think about our test day tomorrow as we have a lot of work to prepare and we will try to improve the biggest piece of the package, which is me."
Alvaro Bautista
"During the race I was able to recover some positions, but I'm not happy with the feeling I had with the bike: I struggled with the same problems we had during the whole weekend, I can't actually feel the contact between the rear wheel and the asphalt and in these conditions it was difficult to ride. I made ​​a good start, but soon after some riders passed me because they could get into the corner more quickly, while I was not able to do it due to lack of rear grip. Then I recovered those positions, but I couldn't do much more. Too bad, unfortunately at the moment we can no longer find the good feeling of the first races of the season. We need to work hard in the next few races to find something that can allow us to get more grip".
Scott Redding
"Overall I'm happy with the race, even though it was difficult: I had a small crash also this morning in the Warm Up and I didn't have confidence with the cold temperatures, but in the race my feeling started to come back, even if it took some laps. I was just stuck behind Pirro for almost all the race: I had a few tenths in the pocket but I couldn't use it, and this allowed Aoyama to almost catch us. So in the final stages I decided to make a move on Pirro, because I knew that I could stay in front of him. As I said, I'm happy with the result, but it would have been nice to stay closer to the other riders in front of me".
Yonny Hernandez
"I'm very disappointed because of the front tire. I was sure I could have done good race, I had a good race pace and I felt ready to do well. We worked hard and well this weekend, the bike was fine. I hope to be more lucky for the coming races, I will do my utmost to bring home points and a good result. It's been three races that do not get in the points and my opponents have approached me in the standings. I thank the team for their work and support they give me even in these cases. "
MotoGP Brno 2014 results
1. Dani Pedrosa (SPA) Repsol Honda Team 42'47.800
2. Jorge Lorenzo (SPA) Movistar Yamaha MotoGP + 00.410
3. Valentino Rossi (ITA) Movistar Yamaha MotoGP + 5.259
4. Marc Marquez (SPA) Repsol Honda Team + 10.454
5. Andrea Iannone (ITA) Pramac Racing + 17.639
6. Andrea Dovizioso (ITA) Ducati Team + 17.834
7. Stefan Bradl (GER) LCR Honda MotoGP + 23.819
8. Aleix Espargaro (SPA) NGM Forward Racing + 29.621
9. Bradley Smith (GBR) Monster Yamaha Tech3 + 30.364
10. Alvaro Bautista (SPA) Go&Fun Honda Gresini + 37.639
11. Scott Redding (GBR) Go&Fun Honda Gresini + 55.604
12. Michele Pirro (ITA) Ducati Team + 56.727
13. Hiroshi Aoyama (JPN) Drive M7 Aspar + 56.908
14. Karel Abraham (CZE) Cardion AB Motoracing + 1'04.135
15. Leon Camier (GBR) Drive M7 Aspar + 1'04.902
16. Alex De Angelis (RSM) NGM Forward Racing + 1'20.666
17. Hector Barbera (SPA) Avintia Racing + 1'24.282
18. Mike Di Meglio (FRA) Avintia Racing + 1'27.436
19. Brok Parkes (AUS) Paul Bird Motorsport + 1'38.867
20. Danilo Petrucci (ITA) Octo IodaRacing Team Not classified (2 laps)
21. Cal Crutchlow (GBR) Ducati Team Not classified (15 laps)
22. Pol Espargarò (SPA) Monster Yamaha Tech3 Not classified (16 laps)
23. Michael Laverty (GBR) Paul Bird Motorsport Not classified (16 laps)
24. Yonny Hernandez (COL) Energy T.I. Pramac Racing Not classified (17 laps)
Championship Standings post Brno 2014
1. Marc Marquez (SPA) Repsol Honda Team 263
2. Dani Pedrosa (SPA) Repsol Honda Team 186
3. Valentino Rossi (ITA) Movistar Yamaha MotoGP 173
4. Jorge Lorenzo (SPA) Movistar Yamaha MotoGP 137
5. Andrea Dovizioso (ITA) Ducati Team 118
6. Aleix Espargaro (SPA) NGM Forward Racing 85
7. Pol Espargarò (SPA) Monster Yamaha Tech3 78
8. Andrea Iannone (ITA) Pramac Racing 73
9. Bradley Smith (GBR) Monster Yamaha Tech3 65
10. Stefan Bradl (GER) LCR Honda MotoGP 65
11. Alvaro Bautista (SPA) Go&Fun Honda Gresini 56
12. Scott Redding (GBR) Go&Fun Honda Gresini 46
13. Hiroshi Aoyama (JPN) Drive M7 Aspar 37
14. Cal Crutchlow (GBR) Ducati Team 36
15. Nicky Hayden (USA) Drive M7 Aspar 28
16. Yonny Hernandez (COL) Energy T.I. Pramac Racing 27
17. Karel Abraham (CZE) Cardion AB Motoracing 25
18. Michele Pirro (ITA) Ducati Team 11
19. Colin Edwards (USA) NGM Forward Racing 11
20. Brok Parkes (AUS) Paul Bird Motorsport 7
21. Mike Di Meglio (FRA) Avintia Racing 4
22. Danilo Petrucci (ITA) Octo IodaRacing Team 4
23. Hector Barbera (SPA) Avintia Racing 2
24. Michael Laverty (GBR) Paul Bird Motorsport 2
25. Leon Camier (GBR) Drive M7 Aspar 1