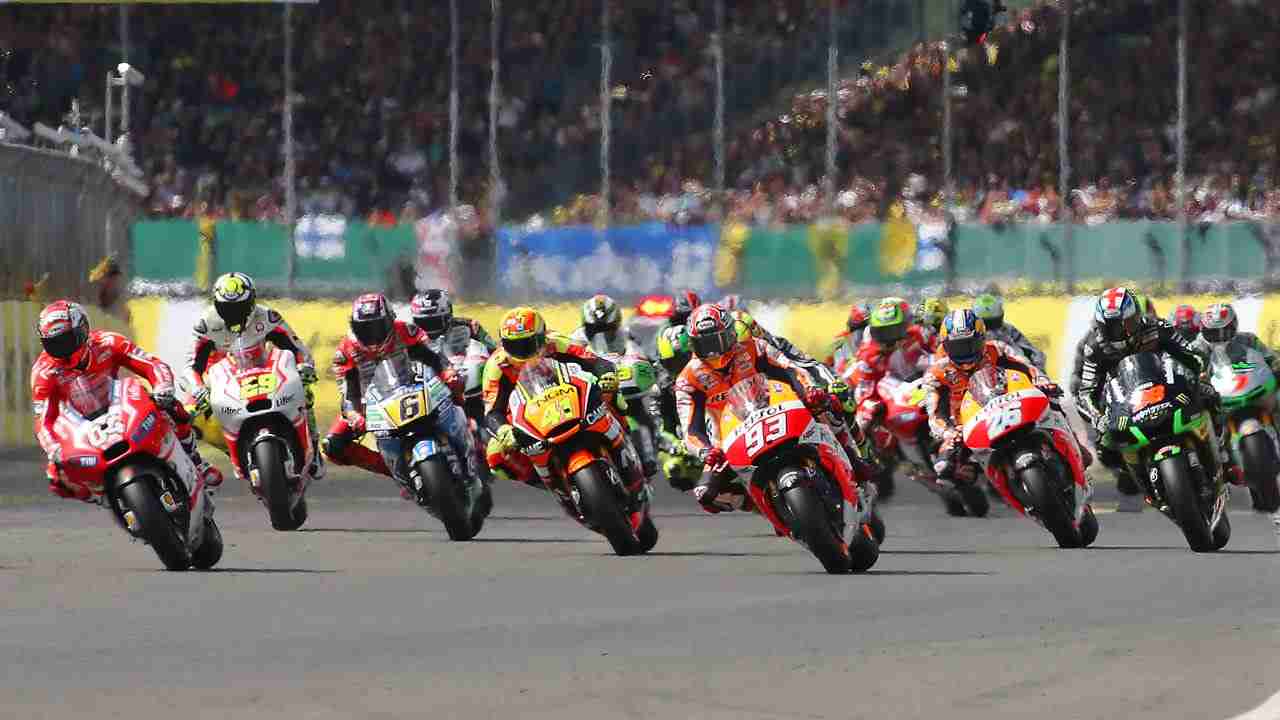 Round thirteen of the 2014 MotoGP season is the San Marino and Rimini Grand Prix taking place at the Misano World Circuit Marco Simoncelli, which is traditionally the second of the two Grands Prix held on the Italian peninsula each year. At 4.226 kilometres in length, Misano features a tight, stop-and-go layout, the most demanding section being from turns eleven to fourteen, starting with the flat-out Curvone which sweeps into progressively tighter right-hand corners that challenge the riders and tyres. The circuit requires good cornering feel but also strong acceleration and braking performance, so an optimal bike setup is important to maintain a quick pace without overheating the tyres.
Overall, Misano is not excessively demanding on tyres although the compound selection has to provide the best combination of grip, durability and heat-resistance as tyres spend a lot of time at high lean angles. With ten right-hand turns compared to just six left-hand turns, asymmetric slicks with slightly harder rubber on the right shoulder are supplied. The rear slick compounds for the Ducati and Open-class riders are the soft and medium options, while the Factory Honda and Yamaha riders have access to the medium and hard compound rear slicks. The front slick options at Misano are the soft, medium and hard compounds to ensure suitable options for every possible weather condition. As it is quite an abrasive circuit in wet conditions, Misano is one of the few venues on the calendar where Bridgestone specifies its hard compound wet tyre as the main wet option, although every rider can select up to two front and rear wet tyres in the alternative, soft compound.
Marc Marquez
"It was nice to be back on the top step of the podium in Silverstone, the team did a great job the whole weekend. Now we head to Misano which is a smaller and slower track compared to others on the calendar. We will have to work hard from Friday to get the setup on the bike just right, to suit the demands on braking at this twisty track and let's hope the weather is also nice!"
Dani Pedrosa
"I'm looking forward to Misano this weekend! There is always a nice crowd over the three days and a good atmosphere with the Italian fans. Hopefully we'll have good weather from the Friday and get things going in the right direction. It's a short lap but intense with many overtaking points and it's quite bumpy, so set up is key. Let's hope for an exciting race!"
Valentino Rossi
"When the season arrives at the Misano Grand Prix, I'm always very happy. For me it is a really special GP. First because it's only ten kilometers from my house in Tavullia and here is my family, all my friends and my fans. Then because Misano is my track, I love this place and I like this circuit, because it has a lot of fast corners and there are many places where you can make overtakes and I always enjoy so much when I'm on this track. This race is very important for me, for many reasons and we have to do even more than we usually do. We will try to prepare the bike perfectly, from the first day. I want to stay in front and try to fight with Jorge and Marc. At Silverstone I went again on the podium and here I want to do the same thing. I'll do my best. I hope the weather will be good, even during the first practice. It will be important to work in dry conditions to prepare the bike. I'm ready for the Misano Grand Prix!"
Jorge Lorenzo
"I think we're on the good path as we saw at Silverstone and, although we were not able to win there, we did a fantastic job. Perhaps we suffered more at Silverstone because the rear tyre was different from what we used in the previous races. I thought Silverstone was the ideal scenario to get the first win but was unable to prevail, despite big expectations. Misano could definitely be the place to aim for the win, but I don't want to obsess about it. I won't do anything crazy, I'll just try to do my best and show our best performance. If I can't win, another podium would be nice. I think we're at the best level we've been this year and we're doing a fantastic job with the team. The bike works well and, to me, Misano is a really lovely track because of its quick lay-out and plenty of fast corners."
Pol Espargaro
"It was encouraging to complete the race in sixth and as the leading satellite bike at Silverstone, but I am determined to finish even closer to the factory riders at Misano. It will be highly competitive as always, but my feeling with the Yamaha has improved considerably and now it's time to start inching closer to the leading riders as well as overtaking them. In addition, my experience is growing so I am ready for the battle and I always want to better myself. Last year I won from pole position here en route to my Moto2 World Championship title, which puts me in a good frame of mind for this weekend. I just need to be a bit smoother and I am convinced that I have the potential to be where I want to be so I really look forward to my first taste of Misano on the Yamaha YZR-M1 MotoGP bike in front of the Italian fans who are always fantastic."
Bradley Smith
"I can't wait to get going in Misano and I feel supremely confident of clinching a good result here this weekend. It was disappointing to complete my home race the way it did, which prevented any chances of home glory but what's over is over and I intend to take a firm finish as a late thank you to my fans. I like the Misano circuit a lot, its fun to ride and the weather plus the fans are always great which makes this GP one that we all look forward to. The plan of action will be to get up to speed immediately and focus especially on the qualifying which is essential for this race as the run to the first corner is very short for the 28 lap sprint on Sunday. There will be some work to undertake for the team and I, but I believe we can have a strong result at Misano."
Aleix Espargaro
"I'm confident for Misano, the track is small and technical and I think it suits well our bike. There are strong braking and accelerations and I think we can do well. I look forward to get a good result. We are sixth in the championship and I would like to consolidate and try to improve this position."
Alex De Angelis
"Misano is a special weekend because it's my home GP and there are always many friends and fans to support me. Moreover I like the layout of the track a lot so I hope that these two things combined together will give me an extra boost. This year it will be even better as I will compete in MotoGP, so I'm very excited. Our target is to reduce the gap from the front guys and improve our results."
Hiroshi Aoyama
"The last race didn't go to plan, I don't like Silverstone much and we struggled to find a good set-up there. I am sure this weekend will be different because I really like Misano and my feeling is usually very good there. It is a tight track and quite unique, you need a good set-up because there are some sections where you can lose a lot of time. Hopefully we can enjoy the weekend at Misano and I am sure the team will do a great job a usual. As usual my goal will be to fight for a top ten finish."
Leon Camier
"I rode at Misano for three years in World Superbikes and it is quite a strange track. It is demanding, with some hard braking, some tight and slow corners, and we are going to have to work very hard to adapt the set-up of the bike. We struggled to get on the pace at Silverstone, maybe because we went the wrong way with the set-up at the start of the weekend and never managed to recover. We have a very clear plan for Misano, we know which direction we need to go in for me to continue learning about this category and this bike. I'll try to complete as many laps as I can and hopefully we can show our best on Sunday."
Alvaro Bautista
"At Silverstone our weekend ended with a fall, however we try to collect the positive things also from a negative race: during the Sunday morning warm up we found a solution that allowed me to improve my feeling with the bike and as a result my race pace was not so bad. Therefore we arrive at Misano knowing that we are on the right path: we will continue to try this set-up solution hoping to make further progress. Misano is a special place, not only because it hosts the Team's home Grand Prix, but also because I have always had good results there in the last few years: if we will have more luck, we will try to exploit it! The important thing, as always, is to keep working hard without becoming demoralized".
Scott Redding
"At Silverstone we were expecting an uphill race weekend because of the long straights, but actually our gap from some of the Factory bikes proved to be not so high; at the contrary, on a quite small track like Misano we need to see if we can be competitive: paradoxically, we might face more difficulties compared to what we saw in England. In any case, we will keep the same approach we had at Silverstone, which means to try to catch some of the Factory bikes, to see if we can fight with them".
Andrea Dovizioso
"Even though I won my first race there on big bikes, Misano is not one of my favourite circuits, but this grand prix is also our second 'home race', so I'm sure the fans will be an extra help! It will be not easy to confirm our Silverstone performance, but we had the opportunity to do a good test at Misano before we went to the UK, so we are going there in an optimistic mood."
Cal Crutchlow
"I'm looking forward to Misano, we had a good test there a couple of weeks ago and I felt we found some positives so hopefully this will help for the race weekend. It's another home of Ducati, and being in Italy we have many fans coming to the race so I look forward to improving on the Silverstone result and doing a good job with the team."