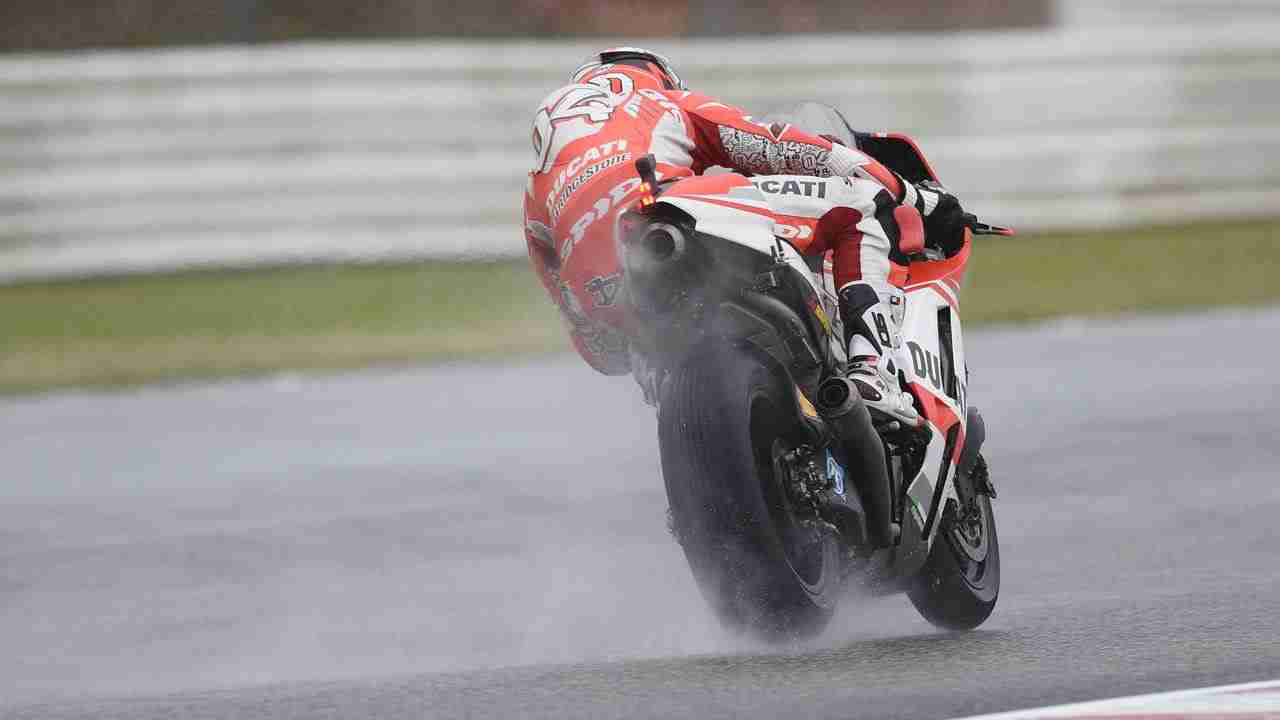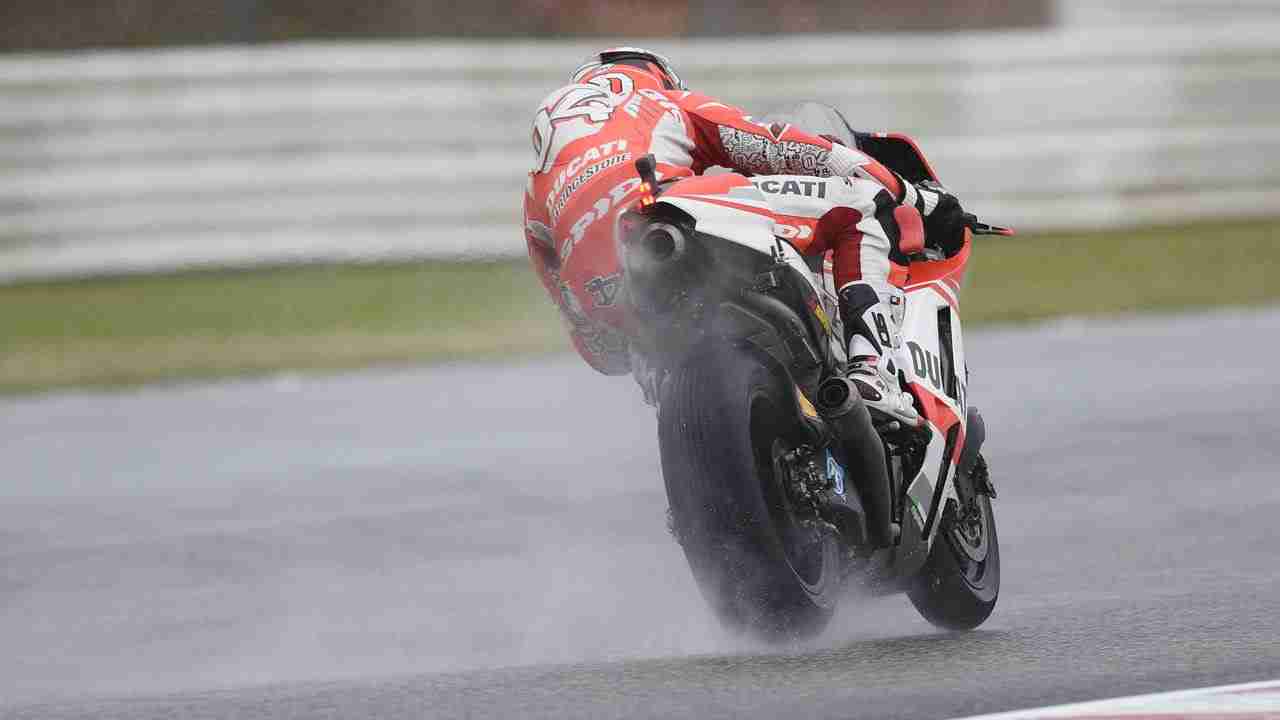 Ducati Team's Andrea Dovizioso led the field on a challenging opening day to the San Marino and Rimini Grand Prix race weekend, the Italian rider's lap time of 1'49.195 in a wet Free Practice 2 helping to warm the hearts of the Italian fans on a damp day at Misano. Both sessions at Misano today were subject to wet and cool conditions, but Dovizioso showed his affinity for the Misano circuit by ending the day 1.115 seconds quicker than his closest rival, Energy T.I. Pramac Racing's Yonny Hernandez who was second quickest today. Repsol Honda's Dani Pedrosa was in third place on the timesheets and a further 0.046 seconds behind Dovizioso's benchmark time. Both Dovizioso and Pedrosa set their best time on the soft compound wet tyres front and rear in FP2, while Hernandez set his quickest time of the day on a set of hard compound wet tyres during FP1.
Track temperatures at Misano today were the coolest yet recorded this MotoGP™ season, with a peak of just 18°C today and with both sessions experiencing heavy rain, only wet tyres were used. For the first session of the weekend, FP1, all riders used the main wet tyre at Misano, the hard compound wet, but after the grip level of the Misano asphalt in wet conditions was found to be unexpectedly low, almost every rider opted to use the alternative, soft compound wet tyre in FP2. To ensure maximum rider safety, Bridgestone elected to expand the wet tyre allocation for the San Marino and Rimini Grand Prix by providing four extra sets of soft compound wet tyres to all riders. Forecasts indicate the worst of the weather has passed, with tomorrow's FP3 session likely to take place in dry conditions.
Andrea Dovizioso
"Of course I am very happy because it's always a pleasure to set the quickest time! It was a pity about the crash at the start of this afternoon's session, but we did manage to understand the reason why and then thanks to the modifications we made for the final run, we made a big step forward and this allowed me to regain feeling in the bike and set the fastest time at the end of the session. We have good pace, also in the wet, and I think that we will manage to be quite quick in the dry, seeing as we did a test here less than one month ago."
Marc Marquez
"Today was a strange day, as it looks like the rest of the weekend will be totally different; there is a chance of some rain tomorrow afternoon, but the race is forecast to be dry on Sunday. So today was a day for doing our homework and only staying out for as long as strictly necessary, because it was very risky and you have to avoid these kinds of situations, at least in my case. I felt good putting in only five or six laps in each run, and as I felt confident I decided not to do much more than that".
Dani Pedrosa
"Today we were only able to put in a few laps because the track was so slippery. The tyres didn't have any grip in the morning and we had to change from the intermediate to the soft compound – and even then the problem wasn't resolved. Tomorrow we will see if we have dry conditions and can get more grip, but I'm sure that this will also be difficult".
Jorge Lorenzo
"At least we didn't crash because today almost everyone did. We have been one of the few lucky ones. The pace has been very difficult to find. I needed a lot of laps to get onto a good rhythm. The tyres didn't give me so much confidence, that is one of the reasons, but the other is me. I needed more time than the others to build my confidence but I found it in the end to get eighth position. Obviously we need to improve the bike in the rain as our competitors are faster but I also need to improve my riding."
Valentino Rossi
"Today was a difficult day for everybody, especially in the morning. Unfortunately we had to go on the track with a hard option tyre. It was very dangerous and very difficult, especially because the grip of the track was very low and the asphalt is a bit damaged so there were a lot of crashes. This afternoon it was coming better with a softer tyre and the feeling with the bike improved a lot. Personally speaking we are still not fast enough. We tried some different settings for the rear part of the bike mainly but I don't have enough feeling and I don't have enough grip in the corner entry, so we have to work and we have to improve."
Andrea Iannone
"This morning I crashed in the first free practice session, I slammed my foot that initially hurt a lot. After the session, I went to the mobile clinic and they gave me a painkiller that helped my pain. I'm sorry I slipped in FP2 too, because I was very fast and I was improving lap by lap. The feeling with the bike is good but there is a problem with the front tire, which doesn't warn when it loses grip and you suddenly find yourself on the ground."
Yonny Hernandez
"I am very happy with this first day of practice. This morning I did my best result in MotoGP finishing first! I was very fast throughout the hole day and in the combined classification i'm second. For tomorrow we still have much work in both cases of rain and sun. If tomorrow there are the same conditions as today we have to look for a bit more grip otherwise if the track is dry will start with our usual dry setting."
Cal Crutchlow
"We had some technical problems in the afternoon session, so I am disappointed with the position. I'm sure that our potential is obviously a lot better than what we've shown so far, and that's a positive from today, because I felt quite comfortable and confident in the rain conditions. I used the harder front tyre in the morning and crashed: it was a strange session, and the track is obviously really slick in the rain but I'm fine with no injury."
Alvaro Bautista
"For sure the conditions today were really bad, this morning I saw that it was so risky, so we preferred to complete not too many laps, but in the afternoon we were able to make more laps, but the track condition was still bad, my feeling was like riding on ice, very complicated. I was improving my feeling on the bike and my lap times step by step, I was improving my lap times every lap, but I crashed with two minutes to go. At the end this two sessions probably are useless, because we expect dry conditions tomorrow and Sunday for the race, so we will start from scratch tomorrow. Normally this track has not so bad grip, but perhaps the cars racing here some days ago left some rubber on the braking points, which made the surface more slippery when wet".
Scott Redding
"It's been quite a good day: my feeling was not so good this morning, but then the situation improved in the afternoon, I felt pretty good and we were able to be quite fast in the beginning, then I had a small crash in the end, but the track conditions were really strange. When the rain stopped to fall, the track quickly became very slippery. I lost the front under braking, but everything is okay and all in all I'm quite happy so far. We just have a few small things to try to make more comfortable for me beacuse I have some wheelie and quite a lot of spinning, but our base now is not bad".
Hiroshi Aoyama
"The track conditions were dreadful today here at Misano and the bike had no grip. I also crashed early in the first session and didn't do as many laps as I would have liked. The mechanics did a great job and we improved the feeling in the afternoon but the rear tyre still didn't seem to be working properly. It looks like we weren't the only ones with this problem because there were lot of crashes today. The positive thing is that despite the lack of grip out there we were able to improve significantly from the morning to the afternoon."
Leon Camier
"It's strange because usually I am fast in the wet but today I struggled. At the start the bike had no grip at all but then I built my confidence and feeling. There are some points on the track where there is rubber from the car racing here. Some corners have quite good grips but others don't have any at all so you have to be careful even putting your knee down. If the weather is like this again tomorrow we have some changes planned and if not we'll push ahead with the original idea for today. We made some mistakes at Silverstone but we won't be making them again here."
MotoGP Misano 2014 COMBINED FREE PRACTICE Results
1. Andrea Dovizioso (ITA) Ducati Team 1'49.195
2. Yonny Hernandez (COL) Energy T.I. Pramac Racing 1'50.310
3. Dani Pedrosa (SPA) Repsol Honda Team 1'50.356
4. Marc Marquez (SPA) Repsol Honda Team 1'50.519
5. Danilo Petrucci (ITA) Octo IodaRacing Team 1'50.641
6. Pol Espargarò (SPA) Monster Yamaha Tech3 1'50.761
7. Stefan Bradl (GER) LCR Honda MotoGP 1'50.848
8. Jorge Lorenzo (SPA) Movistar Yamaha MotoGP 1'51.541
9. Andrea Iannone (ITA) Pramac Racing 1'51.603
10. Valentino Rossi (ITA) Movistar Yamaha MotoGP 1'51.738
11. Cal Crutchlow (GBR) Ducati Team 1'51.757
12. Aleix Espargaro (SPA) NGM Forward Racing 1'52.164
13. Scott Redding (GBR) Go&Fun Honda Gresini 1'52.213
14. Alvaro Bautista (SPA) Go&Fun Honda Gresini 1'52.298
15. Hiroshi Aoyama (JPN) Drive M7 Aspar 1'52.584
16. Karel Abraham (CZE) Cardion AB Motoracing 1'52.814
17. Michael Laverty (GBR) Paul Bird Motorsport 1'53.326
18. Bradley Smith (GBR) Monster Yamaha Tech3 1'53.329
19. Leon Camier (GBR) Drive M7 Aspar 1'53.699
20. Alex De Angelis (RSM) NGM Forward Racing 1'54.105
21. Brok Parkes (AUS) Paul Bird Motorsport 1'56.128
22. Hector Barbera (SPA) Avintia Racing 1'56.632
23. Mike Di Meglio (FRA) Avintia Racing 1'58.788