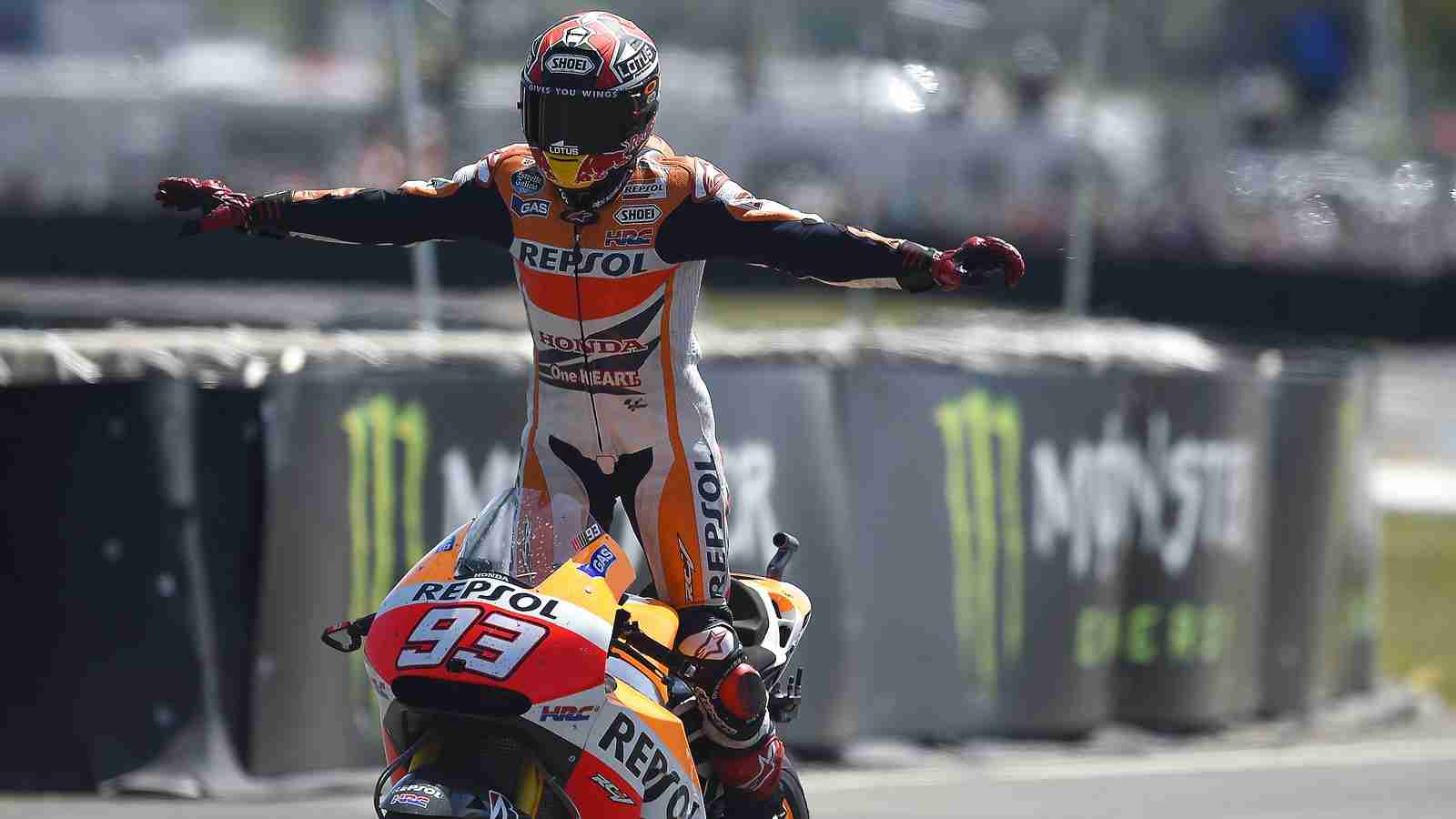 Repsol Honda's Marc Marquez continued his relentless push for a second MotoGP World Championship as the Spaniard won his fifth race in a row with victory at the French Grand Prix at Le Mans. Starting from pole position, Marquez had a poor start and as the riders completed their first lap, found himself in tenth position. The reigning champion then increased his pace and made his way through the field, setting a new Circuit Record Lap time of 1'33.548 on lap eight, and then taking the race lead on lap twelve. Marquez's constant pace led him to victory over Movistar Yamaha MotoGP's Valentino Rossi, who claimed his third second-place finish of the year. Taking third place was GO&FUN Honda Gresini's Alvaro Bautista, who rode brilliantly to claim his first podium since the 2012 Japanese Grand Prix.
The track temperature today reached its highest level of the race weekend, with a figure of 46°C recorded in the final stages of the race. Race tyre choice amongst the riders was similar to that from yesterday's Free Practice 4 session, with the soft compound front and rear slicks proving to be most popular. Only one rider selected the medium compound front slick for the race, the other twenty-one riders selected the soft compound front. Fourteen of the twenty-two starters opted for the soft compound rear slick, while eight riders selected the extra-soft rear that was available only to the Ducati and Open-class entrants. Despite the warmer than usual temperatures at Le Mans, tyre performance during race was excellent, with today's French Grand Prix having the highest average speed ever recorded at this circuit.
Marquez's latest victory sees his lead in the championship over his teammate Dani Pedrosa increase to forty-three points. Rossi remains in third place in the rider standings, but now sits just two points behind Pedrosa after five rounds.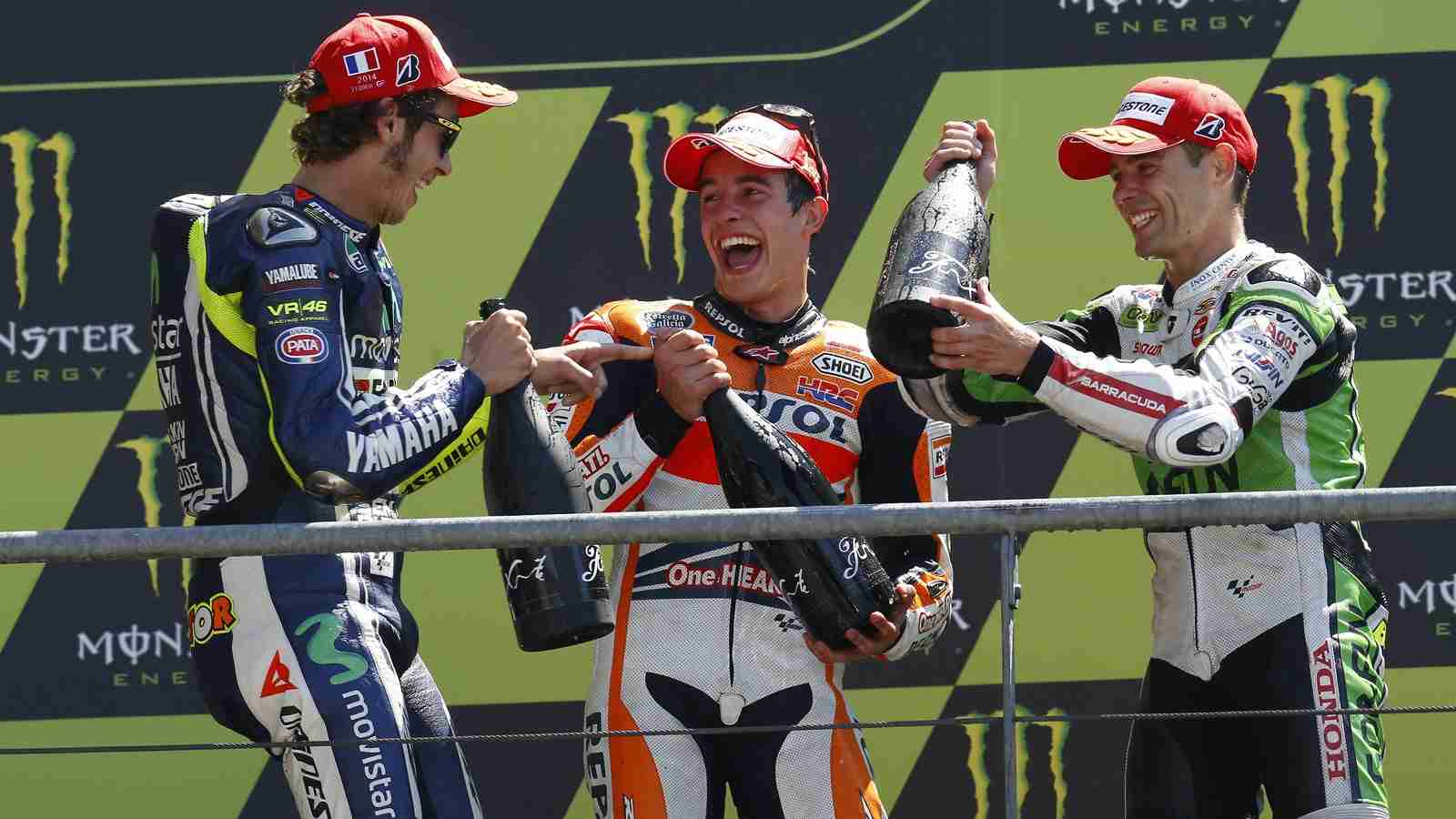 Marc Marquez
"I am really happy with this win, which was different to the other victories. I made a mistake at the start; maybe I was too relaxed off the line, then when Jorge [Lorenzo] passed me I had to take a wide line otherwise we would have touched and as a result, many riders overtook me. However, from that moment on I began a really good comeback it was a lot of fun, ending in my fifth consecutive victory. Although it might look easy to people, we are working extremely hard and this is the reward for the whole team!"
Valentino Rossi
"For sure I'm very happy about the race and the result. I made a very good start and when I saw Dovi and Bradl in front I knew I could go faster than them so I overtook. I got in front and tried as hard as possible but it was more difficult with the front today, maybe because the asphalt was hot. Anyway I tried the maximum and my pace was not so bad. I was waiting for Marc or Jorge and Dani to arrive, when Marc arrived I tried to push a lot to stay on the 1'34.0 to make the work difficult for him but in the crucial moment of the race I made a mistake in braking. I braked a little bit too deep and went wide. It's a great pity as it was too easy for Marc. If not we could have fought a little bit because today I was not so bad, difficult to beat but for sure more fun. I hoped he would wait for me but… he didn't! We'll have to try again next week in Mugello, I want to do a good weekend and try to fight with him another time. I'm happy because my target is to be competitive, to stay with the front and fight with them. At this moment I'm not able to win a race but I am always there and I'm enjoying it very much."
Alvaro Bautista
"It's been an amazing day! We have experienced a difficult start to the season, in which we have suffered so much, but we always continued to work hard, so I would like to thank the team because they worked very well throughout the whole weekend. I knew I could get a good result in the race because during practice we were very close to the other riders, apart from Marquez who has always shown a higher potential. I started the race pretty well, but in the early laps there was a lot of traffic; in any case I keep calm and slowly I took my pace, recovering many positions. Once I reached the third position, I tried to push to try to catch Rossi, but the gap was too high. Thanks to the whole team and our sponsors, who were close to us even in difficult times".
MotoGP 2014 Le Mans results
1. Marc Marquez (SPA) -Repsol Honda Team -44'03.925
2. Valentino Rossi (ITA) -Movistar Yamaha MotoGP + 1.486
3. Alvaro Bautista (SPA) -Go&Fun Honda Gresini + 3.144
4. Pol Espargarò (SPA) -Monster Yamaha Tech3 + 3.717
5. Dani Pedrosa (SPA) -Repsol Honda Team + 4.077
6. Jorge Lorenzo (SPA) -Movistar Yamaha MotoGP + 7.088
7. Stefan Bradl (GER) -LCR Honda MotoGP + 11.527
8. Andrea Dovizioso (ITA) -Ducati Team + 22.103
9. Aleix Espargaro (SPA) -NGM Mobile Forward Racing + 22.626
10. Bradley Smith (GBR) -Monster Yamaha Tech3 + 23.108
11. Cal Crutchlow (GBR) -Ducati Team + 25.780
12. Scott Redding (GBR) -Go&Fun Honda Gresini + 39.523
13. Yonny Hernandez (COL) -Energy T.I. Pramac Racing + 42.544
14. Hiroshi Aoyama (JPN) -Drive M7 Aspar + 42.736
15. Karel Abraham (CZE) -Cardion AB Motoracing + 56.644
16. Michael Laverty (GBR) -Paul Bird Motorsport + 1'14.123
17. Colin Edwards (USA) -NGM Mobile Forward Racing + 1'19.723
18. Brok Parkes (AUS) -Paul Bird Motorsport + 1'30.934
19. Mike Di Meglio (FRA) -Avintia Racing + 1'34.521
20. Andrea Iannone (ITA) -Pramac Racing Not classified (27 laps)
21. Hector Barbera (SPA) -Avintia Racing Not classified (27 laps)
22. Nicky Hayden (USA) -Drive M7 Aspar Not classified
Updated MotoGP Championship standings
1. Marc Marquez (SPA) -Repsol Honda Team -125
2. Dani Pedrosa (SPA) -Repsol Honda Team -83
3. Valentino Rossi (ITA) -Movistar Yamaha MotoGP -81
4. Andrea Dovizioso (ITA) -Ducati Team -53
5. Jorge Lorenzo (SPA) -Movistar Yamaha MotoGP -45
6. Stefan Bradl (GER) -LCR Honda MotoGP -39
7. Pol Espargarò (SPA) -Monster Yamaha Tech3 -38
8. Aleix Espargaro (SPA) -NGM Mobile Forward Racing -37
9. Bradley Smith (GBR) -Monster Yamaha Tech3 -34
10. Alvaro Bautista (SPA) -Go&Fun Honda Gresini -26
11. Andrea Iannone (ITA) -Pramac Racing -25
12. Nicky Hayden (USA) -Drive M7 Aspar -23
13. Hiroshi Aoyama (JPN) -Drive M7 Aspar -21
14. Scott Redding (GBR) -Go&Fun Honda Gresini -18
15. Yonny Hernandez (COL) -Energy T.I. Pramac Racing -16
16. Cal Crutchlow (GBR) -Ducati Team -15
17. Karel Abraham (CZE) -Cardion AB Motoracing -9
18. Colin Edwards (USA) -NGM Mobile Forward Racing -7
19. Danilo Petrucci (ITA) -Came Iodaracing Project -2
20. Hector Barbera (SPA) -Avintia Racing -2
21. Brok Parkes (AUS) -Paul Bird Motorsport -1