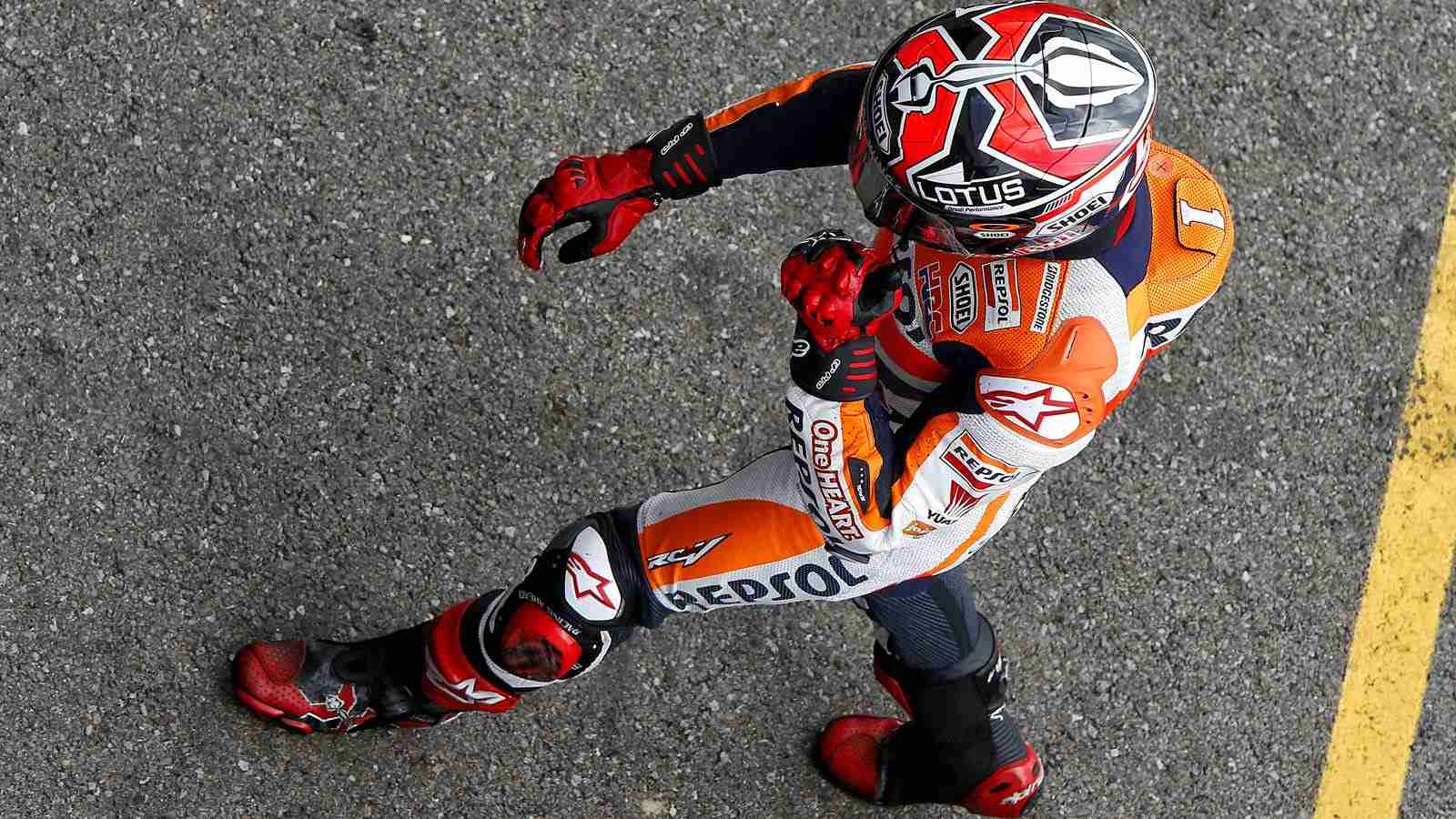 Repsol Honda's Marc Marquez claimed his ninth pole position of the season at Brno in an entertaining qualifying session in which the top eleven riders were covered by just half a second in Qualifying Practice 2. Marquez's best lap time of 1'55.585 was just 0.058 seconds shy of the Circuit Best Lap record and was enough to see him grab pole position ahead of a pair of Ducati riders that claimed a front row start for tomorrow's race. Ducati Team's Andrea Dovizioso was second quickest in qualifying after clocking a time of 1'55.714 to finish just 0.012 seconds ahead of Pramac Racing's Andrea Iannone who was third quickest in QP2. Both Dovizioso and Iannone set their personal best times using the combination of the medium compound front and soft compound rear slicks, while Marquez used the medium compound front and rear slicks on the way to pole position.
Weather conditions today were similar to yesterday with cool ambient temperatures and occasional rain falling throughout the day. The rain didn't affect any of the MotoGP sessions and the track temperature reached a maximum of 36°C – 5° warmer than yesterday's peak reading. With yesterday's Free Practice 2 session a washout, the riders used today to hone their setup on their preferred tyre combination and perform race simulations in the afternoon FP4 session. The cool temperatures resulted in the majority of riders preferring to use their softer rear slick option; medium compound for the Factory Honda and Yamaha riders, soft compound for the Ducati and Open-class riders for both long runs in practice and to set a quick lap in qualifying. The majority of riders opted for the medium compound front slick today due to its balance of braking and cornering performance, with other riders preferring the better warm-up performance and edge grip of the soft compound front.
Marc Marquez
"I'm happy about the pole position today. I had Iannone behind me so the only solution was to push, because I had to set a hot lap. As for tomorrow's race, we have pole but the toughest rivals will start from the second row, especially Dani. We will see what condition Valentino is in and hopefully he can ride well, because he has also been strong this weekend and I hope Jorge can be in the fight too. I'm expecting a tough battle from start to finish for the win".
Dani Pedrosa
"Today was positive as it didn't rain and we were able to try out tyres in the dry. We are pretty clear now about which direction we will go for the race. It was a pity that we couldn't get a spot on the front row in qualifying, but it was difficult because the times were extremely close. I hope I can make a good start tomorrow and have a good race".
Jorge Lorenzo
"The lap times are not bad. I had some pretty fast laps even on used tyres. Some days if you can't go a little bit faster it makes a big difference. It could have been worse, because also the riders in seventh, eight and ninth place are very close to my lap times. When we put a soft tyre on the front it gave me much more confidence. Unfortunately it won't be possible to use this tyre for tomorrow's race, so we have to work on the bike to give me more confidence with the harder front tyre. I swopped bikes during the qualifying session because we put a special brake on the number one bike and the braking was good, but we lost a lot of time with speed and acceleration, especially on the last corner. We concentrated on the normal bike with our last try and it was better."
Valentino Rossi
"I was pushing a lot and my pace was fast but unfortunately when entering turn eleven I was a little bit too wide. I was braking hard, trying to enter the corner anyway but I lost the front and damaged my little finger. It's very important for tomorrow that there is no fracture. It seems like there won't be any problem. My finger is not broken; it's just a little bit damaged. I think and hope that it won't give me problems during the race. Using the soft front tyre for tomorrow is not an option for me. I think using the hard tyre on the front is better."
Andrea Iannone
"I'm glad it was a good qualifying for us. We are catching up with what we could not do yesterday, I rode with difficulty, and then this morning I managed to get better and better. We found solutions that helped us. I regret that during the second lap I went a little wide on turn thirteen but the first lap was already great. Tomorrow I hope to finish the race in the top six."
Yonny Hernandez
"I am really very happy that I was able to access the Q2 after the first qualifying session. It's very important for me to stay close to the top riders to take advantage of the opportunity and learn more and more. Tomorrow I want to be able to get into the points and if possible to finish in the top ten.
Andrea Dovizioso
"I am very happy with this weekend because we got off to a good start right from the first Friday session. We have worked a lot with the medium tyre, which I think almost everyone will use tomorrow in the race, and we are competitive and much closer to the front guys. This second place is much better than the one at Indianapolis, because I did the lap time on my own. We have worked really well, I've got a good feeling with my GP14, and above all it was important to reduce the gap to the front. My qualifying was perfect and the lap time I did was really over the top! Tomorrow for sure it'll be important to start up front, but I'm confident I can do a good race."
Cal Crutchlow
"I'm happy enough with today. I know the position is not the best but the lap time was respectable for where we've been all weekend. So to be half-a-second off pole position is not too bad! In qualifying I had a problem with my first tyre and that made me have no confidence for half-a-lap with the second one. Despite this I gained 1.5 seconds in one lap and maybe could have gone a bit faster, but in any case I'm confident enough for the race now."
Alvaro Bautista
"Today I crashed in FP4, just before the Qualifying 1 session: when I started to brake, I lost the front end immediately. I don't know if there was something strange on the track surface, but I saw that Rossi crashed in front of me in the same way. Luckily I haven't sustained big injuries. Before the crash we tried a different chassis geometry on my first bike, which helped me to get more rear grip, but then after the crash I had to make the Qualifying 1 with the second bike, with the old set-up, so I couldn't improve a lot my lap times. The qualifying was not good, but with the new set-up we have been a little bit more competitive during FP4, so I'm confident ahead of tomorrow's race: we will try to make a good start and then to keep our pace, that is not too bad".
Scott Redding
"Today was difficult, because I don't have a good feeling with the bike; I'm struggling with edge grip and also rear traction, so it was quite difficult for me to feel comfortable. I also had a crash in FP4 , therefore I didn't have a great feeling going into qualifying; we still did not a bad job, anyway, but I need to be more consistent for the race tomorrow. We need to find something which can give me more feeling under braking and corner entry and also to find more rear grip".
Hiroshi Aoyama
"We had two very different sessions yesterday, one wet and one dry, so we didn't get to work out the best set-up for the bike. So this morning we had to check some things and try a change. We made some good progress and continued with that this afternoon, setting a consistent pace throughout the day. Obviously we need to continue improving and to find a bit more pace for the race but we still have room to improve we know what we need to do."
Leon Camier
"Even though I set a strong and consistent pace today I didn't manage to put a hot lap together. I am happy with the work we did though and we know where we need to improve. To be honest I think the progress we have made is pretty incredible, we've taken a few seconds off the lap time from yesterday to today, but we need more time and losing a session to the rain yesterday didn't help. We are gradually closing the gap to the guys in front of us, our pace here is better than it was at Indy and hopefully we can have a good race tomorrow after all the hard work so far this weekend."
Michele Pirro
"I am quite happy because I did a good time in any case, almost two seconds quicker than my lap last year, and this means that the bike has improved a lot. I've got out of the habit of doing qualifying a bit, seeing as I haven't raced since Barcelona. I did a good time, just missing out on Q2 by a whisker, and maybe I could have done even better. In any case to lap 1.4 seconds away from the front guys on a track that I don't like very much, is a great satisfaction. We're working really hard and I hope to do a good race tomorrow to gather useful information for the team and bring home a good result."
MotoGP Brno 2014 Qualifying timings
FRONT ROW
1. Marc Marquez (SPA) Repsol Honda Team 1'55.585
2. Andrea Dovizioso (ITA) Ducati Team 1'55.714
3. Andrea Iannone (ITA) Pramac Racing 1'55.726
SECOND ROW
4. Bradley Smith (GBR) Monster Yamaha Tech3 1'55.730
5. Dani Pedrosa (SPA) Repsol Honda Team 1'55.812
6. Jorge Lorenzo (SPA) Movistar Yamaha MotoGP 1'55.815
THIRD ROW
7. Valentino Rossi (ITA) Movistar Yamaha MotoGP 1'55.821
8. Stefan Bradl (GER) LCR Honda MotoGP 1'55.871
9. Pol Espargarò (SPA) Monster Yamaha Tech3 1'55.899
FOURTH ROW
10. Aleix Espargaro (SPA) NGM Forward Racing 1'56.090
11. Cal Crutchlow (GBR) Ducati Team 1'56.129
12. Yonny Hernandez (COL) Energy T.I. Pramac Racing 1'56.622
FIFTH ROW
13. Michele Pirro (ITA) Ducati Team 1'57.093
14. Alvaro Bautista (SPA) Go&Fun Honda Gresini 1'57.428
15. Scott Redding (GBR) Go&Fun Honda Gresini 1'57.557
SIXTH ROW
16. Hiroshi Aoyama (JPN) Drive M7 Aspar 1'57.984
17. Karel Abraham (CZE) Cardion AB Motoracing 1'58.100
18. Leon Camier (GBR) Drive M7 Aspar 1'58.635
SEVENTH ROW
19. Danilo Petrucci (ITA) Octo IodaRacing Team 1'58.863
20. Alex De Angelis (RSM) NGM Forward Racing 1'58.948
21. Hector Barbera (SPA) Avintia Racing 1'58.968
EIGHTH ROW
22. Michael Laverty (GBR) Paul Bird Motorsport 1'58.968
23. Brok Parkes (AUS) Paul Bird Motorsport 1'59.581
24. Mike Di Meglio (FRA) Avintia Racing 2'00.117