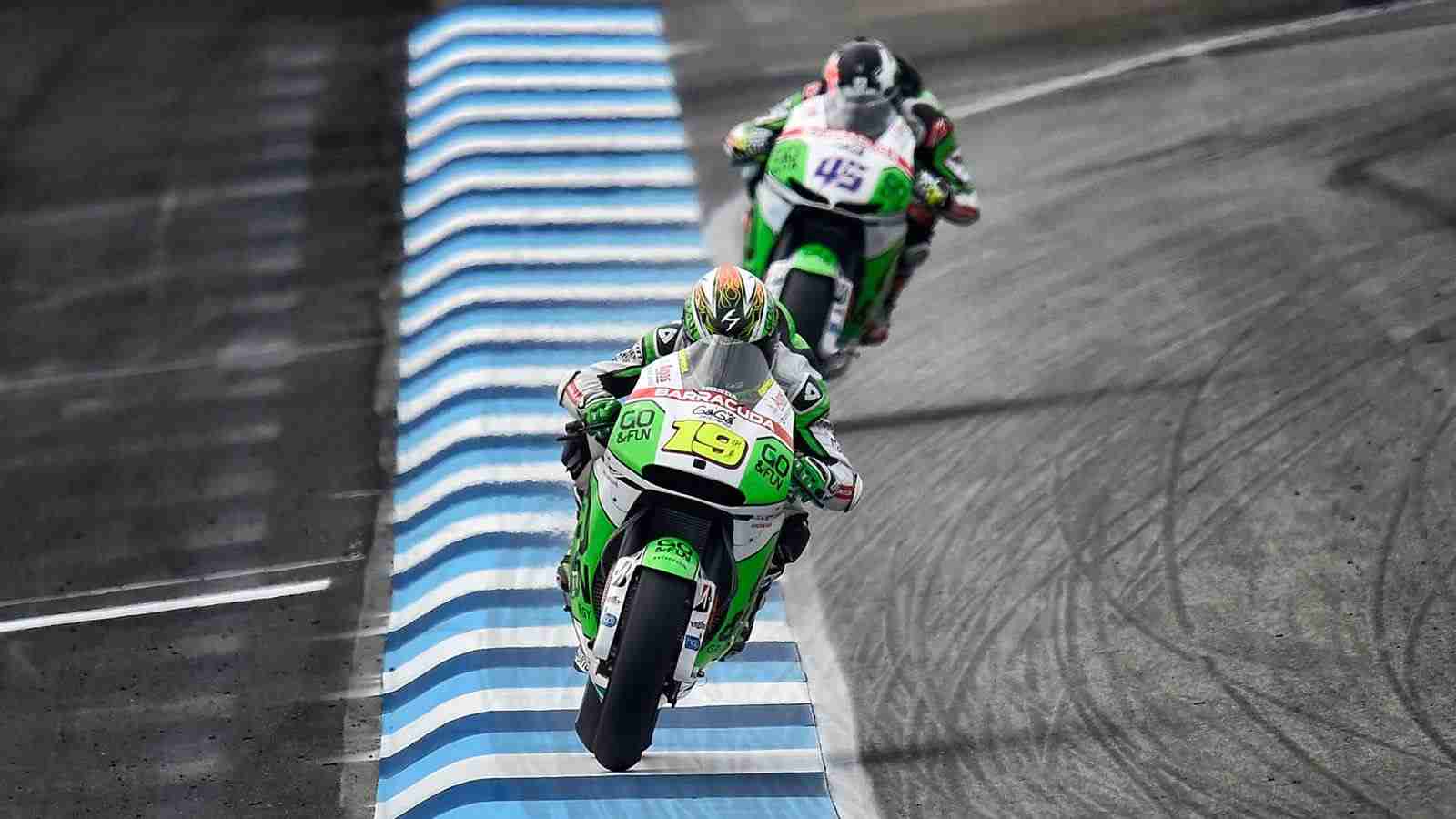 Round eleven of the 2014 MotoGP season the series return to Europe with the Czech Republic's stunning Brno circuit providing riders with technical corners and big elevation changes. Brno is 5.403 kilometres in length and has numerous straight sections joined together by a series of left-right corner combinations. The circuit also features an elevation difference between its highest and lowest sections of over 70 metres, which make braking into the downhill sections challenging and require the front tyre to provide high levels of stability. Exceptional grip from the rear tyre is also important to ensure optimum drive onto the straight sections of the circuit and adding to the technical complexity of this circuit for tyres is the abrasive tarmac which demands superior durability.
There are eight right-hand and six left-hand corners at this circuit and although asymmetric rear slicks are provided at this circuit, the difference in force imposed on the left and right shoulders of the rear tyre is not as large as at other circuits. The rear slick tyre options for the Factory Honda and Yamaha riders at Brno are the medium and hard compounds, while the Ducati and Open-class riders get the soft and medium compound options. The main front slick options for the Czech Republic Grand Prix are the soft and medium compounds, while a maximum of three front slicks in the alternative, hard compound are also available to riders. The main wet tyre for Brno is the soft compound, although every rider will be able to also select up to two front and rear wet tyres in the alternative, hard compound option.
Marc Marquez
"We've not really stopped! After the race on Sunday we had a nice dinner with the team and then yesterday we were travelling all day to Europe. Brno isn't one of my favourite tracks but I've had quite good results there in the past. We were testing here a month ago and even if the grip was very low at the time, I hope some of the data we collected will be a help! Everyone knows that historically Yamaha are strong here so we'll have to work hard from Friday to give ourselves the best chance on Sunday!"
Dani Pedrosa
"Brno is a track that I really enjoy, I usually do well there. I am really looking forward to get there and get back the feeling with the bike since Indianapolis did not go too well. I am hoping to be able to take full advantage of the good feeling we had while testing there before the Summer break and the setting we found then will help us push to get good results."
Valentino Rossi
"I really like the Brno circuit. In the past I really did good races although in the last couple of years I've not had a great performance there. In Czech Republic we will have to repeat what we did in Indianapolis; concentrate, study corner by corner in every practice and do the maximum to fight with Marc and Jorge. It would be great to return to the podium there."
Jorge Lorenzo
"I think Brno could be good for us like in Mugello or Montmeló. It will be difficult because Marc is pretty constant in all the tracks. We have improved a lot from Barcelona and we found some little things that permit us to be more constant and competitive as well. Physically I feel already in a good shape and I can keep a good pace during the race. Maybe in Brno with this bike we can fight for the win but to be more competitive in all the tracks we need more efforts to get some more tenths. Anyway I'm happy after the race at Indy and we will keep fighting until the end."
Pol Espargaro
"The first thing I must say is that it was good to finish Indy with a strong result after the summer break. I am feeling more confident every time I run with the Yamaha YZR-M1 and for round 11 in the Czech Republic I intend to step it up further. The Brno circuit is great fun to ride especially with the hills and flowing corners, so for me I am very excited to see what the Yamaha and I can do here this weekend with my results at Brno being good in the past, including qualifying on the front row here last year in Moto2. At beyond the mid point of this season I am still learning. Although I'm enjoying myself a lot, for sure it will be a long race weekend where we will have to work hard to get everything set up for a strong qualifying on Saturday then the Grand Prix on Sunday, but I can't wait to get going and ride the hills at Brno!"
Bradley Smith
"After a good summer break, it was a decent way to commence the second half of the season with a sixth placed finish in Indy as this is where I need to be. There is no rest this time as we went straight back to Europe for Brno, which I am really fired up for and where I will once again be doing my best to get close to the factory MotoGP bikes. My finger is healing gradually and as always I will be giving my all to get a top result in the Czech Republic with my confidence high. I qualified well last year where I achieved my joint highest qualifying result of my rookie year in sixth and even though the race didn't go to plan, this year I am aiming to continue the good form found at Indianapolis. The fast sweeping corners of Brno should suit the Yamaha YZR-M1's character, so I hope to qualify in the top six and then really go for it on Sunday."
Aleix Espargaro
"After the zero at Indy, we want to return even stronger at Brno. It was a pity because I lost important points, so now we need to recover. My target is to catch Dovi who is currently fifth in the championship. I like Brno, it's a track with many elevations changes, similar to Mugello. There is a long uphill, so we know that we will suffer a bit. Anyway we will go back on track to get the best possible result."
Alex De Angelis
"I'm excited to start this new adventure with the Forward Racing Team on board of the Forward Yamaha. It's great to return racing in the premiere class and I'd like to thank the NGM Forward Racing Team for this opportunity. I will try to use at the maximum the free practices to start learning this new machine."
Andrea Iannone
"I really like the Brno track I enjoy riding here. It's a good chance to do well after the bad luck of Indianapolis. This track in the history of Ducati has been a good track for the bike, so we hope to get a good result. "
Yonny Hernandez
"I'm happy to be here in Brno, I want to be able to get a good result after the zero of Indianapolis. I am very disappointed for the crash, even though it was not my fault. I'm positive and I want to do well. "
Alavro Bautista
"We want to forget as soon as possible the Indianapolis weekend, in order to get to Brno motivated and full of charge. We will find a very different track from the one we faced in the last Grand Prix, wide and characterized by really fast changes of direction; last year we were competitive, so we expect to be able to find a good feeling with the bike also this year, although at the moment we are struggling. Of course, we will give our best, as always, and especially it will be important to work well with the team and with Showa technicians to try to fix the rear grip issues that made ​​us struggle in the last few races".
Scott Redding
"Brno is not one of my favourite circuits, however with this bike my riding style is different compared to the past and therefore it suits a lot of tracks. In fact, I've never loved Sachsenring, but this year I was fast there. We just need to see the conditions once we get there, and then try to replicate the good job done in Indianapolis, maybe taking another step forward and trying to close the gap to some Factory guys. It's going to be hard because like I said Brno is not one of my favourite circuits but now I have a strong motivation because I know that I'm growing step by step, so I want to keep this rhythm and keep learning".
Hiroshi Aoyama
"The tenth place finish at Indianapolis gives us great motivation for the second half of the championship. It is really important that we came back strongly after the summer break but we still have a lot of work in front of us. We need to find some more mid-corner speed this weekend and some more confidence on the front. Hopefully at Brno we can get through practice without the setbacks we had last weekend. We will try to be strong from Friday and work from a good plan that will see us competitive right through the weekend."
Leon Camier
"Even though I didn't manage to finish my debut MotoGP race at Indianapolis I learnt a lot of things — mainly in terms of the direction we need to go with the chassis set-up and what I need to do to ride this bike fast. Hopefully at Brno we can continue working in the same way. I felt more comfortable with every passing lap of Sunday's race and understood what I needed to do to improve my pace, so I think that will be an important step for us going into this weekend at a circuit I know well."
Andrea Dovizioso
"Brno is a nice, difficult track and totally different from Indianapolis. I like its up-and-down layout, even though it's not one of my favorite circuits. The track itself has got a lot of straights, and my Desmosedici GP14 is certainly not lacking in power after the debut of the new engine at Indianapolis, so I'm feeling confident that we can again be closer to the others, like we were at Indy."
Cal Crutchlow
"I'm looking forward to going back to Brno, which is one of my favourite circuits, and I'll be aiming to get a good result there. The track seems more suitable for the Ducati, because there are a lot of hard acceleration areas where I think we can gain some time, and the GP14 is also strong in the braking zone, even though we still need to still improve the cornering. My guys are working very hard for me and I look forward to working with them again in Brno."
Michele Pirro
"I am very happy to return to the track to take part in a grand prix race. I have been training hard and I hope to be able to help the engineers to gather data on this track, but at the same time I want to try and get as close as possible to the factory riders. The Brno circuit is not one of my favourites, but I am convinced that in any case I can get a good result."