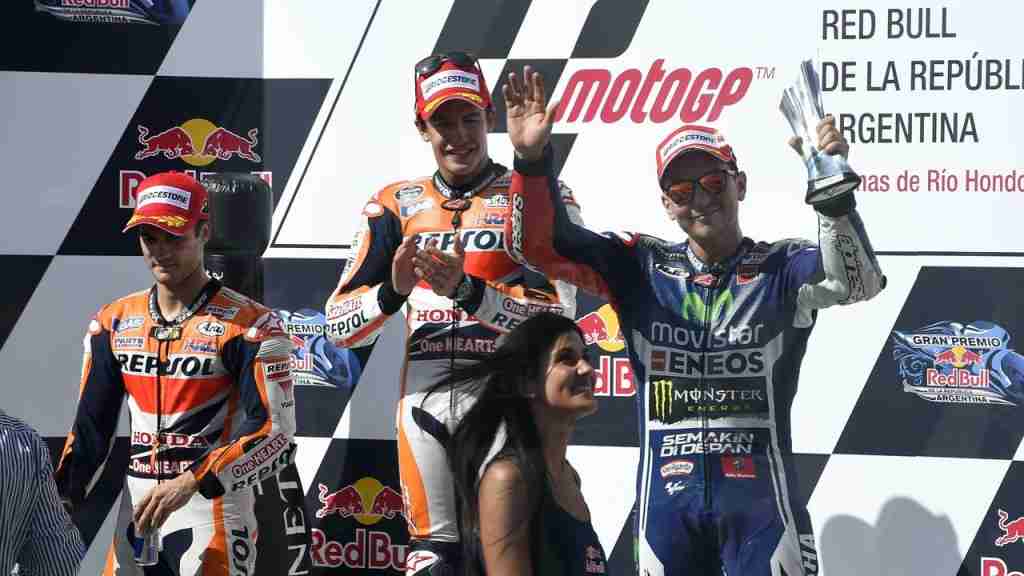 Another dominant display from Marc Marquez this weekend culminated in the Repsol Honda rider winning his third race in a row at the Argentina Grand Prix. Starting on pole, Marquez found himself as low as seventh place during the opening laps of the race, before he charged through the field to take the lead on lap seventeen. Marquez ultimately won the race by 1.837 seconds from teammate Dani Pedrosa, who has now finished on the podium at every race this year. In third place for the Argentina Grand Prix was Movistar Yamaha MotoGP's Jorge Lorenzo, the Spanish rider leading the first sixteen laps of the race after taking the holeshot into the first corner.
Clear skies and calmer winds than yesterday resulted in the best track conditions of the race weekend, with a peak track temperature of 45°C recorded during the race. The warmer conditions resulted in all riders selecting the hardest rear slick option available; hard compound for Factory Yamaha and Honda riders, and medium compound for the Ducati and open-class entrants. Front tyre choice saw six of the twenty-three starters select the hard compound front slick, with the remaining seventeen riders selecting the medium compound front. Tyre performance throughout the race remained consistent, with Pedrosa setting the fastest lap time of the race on lap twenty-two. Marquez's perfect win record gives him seventy-five championship points, while Pedrosa is in second place on fifty-six points. Movistar Yamaha MotoGP's Valentino Rossi remains third in the championship classification on forty-one points after finishing in fourth place today.
Marc Marquez
"I am happy with how the weekend went in general and I'd like to thank all my team! I think it was a nice race for the fans, with plenty of passes and I wasn't expecting it to be like that. As the race went on and I saw what the gap was to Jorge Lorenzo and I tried to catch up with him quickly and spend a few laps on his tail. When I saw that Dani [Pedrosa] was getting closer, I tried to overtake in order to maintain more of a gap. I took 25 more points today which are very important and I've put together three wins in a row, but we are aware that the season is very long and we are now heading to Jerez where Dani and Jorge are very fast. We will need to be up there with them, fighting for the win!"
Dani Pedrosa
"I enjoyed the race but after losing some time at the start it affected me and I found myself alone again. In the final part of the race I had a good pace and was able to recover places, but it didn't count for much. I took second place, but with the pace that we had we could have pushed for the win. You always have to learn and maybe I saved my tyres too much when I was riding as part of the group. Fortunately we found a good setup that allowed us to be more competitive, and this is positive."
Jorge Lorenzo
"I'm really happy, this is probably the most sweet third place in my career in MotoGP, arriving after two difficult races. We have demonstrated that even in not our best shape we can fight with the Hondas and arrive in a proud third position. We want to improve; I want to improve my physical condition still and also the bike and when the moment arrives I think we will be ready to win races. We have to keep improving and have patience and wait for our moment."
Valentino Rossi
"I had the potential and the pace to end on the podium and especially to fight with the three guys in front. Unfortunately in the first laps first of all I made a mistake and lost a bit but the place I lost some more was when Bradl made a mistake. He arrived too deep in braking and he pushed me out of the track and I lost two seconds on that lap and so the podium."
Bradley Smith
"It was a tough challenge today, but overall I am pleased to once again finish with a decent position. Unfortunately, my start was not ideal and the race was actually a similar scenario to Austin. My pace at the end was exactly where it needed to be, as I started to do low 1:40 laps, but as usual I struggled during the first half of the race when the bike is on a full fuel load. It happens on different race tracks, with various setups and on all types of tyre, so it seems that I have to find a way to adapt better. I just can't ride with the same corner speed and I'm not as smooth as I am at the end of the race. But we already have some ideas and will work on it in Jerez as I know I am there in terms of performance. Altogether the team and I are doing a really good job, but we just need to find that missing piece for Jerez, where we can hopefully make amends and can challenge as the leading satellite MotoGP bike which is the main aim at the moment."
Pol Espargaro
"Of course, it was not a bad race at all, but 8th position is not what I'm aiming for. Especially because I had a really good feeling and a positive rhythm this morning in warm up. However, for some reason I didn't feel the same at the beginning of the race, possibly because of the full fuel tank so it was a bit harder to manoeuvre the bike around the high speed corners. As a result, the start and the opening laps were difficult for me and after just a few rounds I was already alone. Later on I tried to stay with Bradley, but he was getting stronger and I did not feel too confident with my rear tyre, so I decided not to push any harder and risk crashing out. The positive we can take from today is that we have been getting stronger towards the end of the race, and closing in on the riders in front. It is still a big learning process, but we have to be patient, taking it race by race and continue working. Luckily in just a few days of time I will already be back on the bike, trying to fight with the other satellite bikes and aiming for a better result."
Hiroshi Aoyama
"The race was tough. At this new circuit we had many doubts about the durability of the tyres, but I'm very happy to have concluded the race as the best Open class rider. In the last third of the race my tyres were almost on the limit, but I guess this was similar for everyone. I had fun, coming from behind at the end of the race I had some good battles with Hernandez and Nicky and we swapped places several times on the closing laps. I'm glad I was able to place ahead of them and take tenth position. Earlier this year everything was new to me, but I've grown since I joined the DRIVE M7 Aspar team and I think that the result today is the reward for all our hard work. I'm excited, I hope to continue like this next weekend when we go to Europe. I want to thank the team and the sponsors for all of their efforts to make results like today's possible."
Alvaro Bautista
"I really don't know what to say, I am very sorry. It's a shame, because today I had a good feeling ahead of the race. The only thing we can do now is continue to work hard, as always. We hope to reverse the trend the next weekend in Jerez".
Scott Redding
"It's been a difficult race, because I couldn't stop the bike as I was struggling a lot with front grip under braking. I already had a little bit this problem this morning during the warm up, but the situation in the race was worst: I went wide a lot of times and I couldn't really overtake anyone. This problem basically spoiled my whole race: I lost half a second on my pace compared to this morning warm up, so I'm disappointed. Also, I was not feeling really great physically: yesterday I started to feel something like a cold, with a lot of sneezing, and today my energy level came down. It's annoying, because we thought we had a good chance today".
Nicky Hayden
"I really enjoyed riding today. In the race I would have liked to have taken a better result and beaten my teammate after an interesting fight. At the start of the race I did not had a good feeling with the front end. The track conditions had been improving throughout the weekend and so we worked to find rear grip. However, with the improving condition of the asphalt, having so much rear grip made the bike push onto the front end. I guess I am not the only one that this happened to, either. At first I struggled to pick up the pace and move up the field, because I couldn't brake well. As the laps went by I started to feel more comfortable and I managed to overtake people. On the last lap Hiro closed the gap and he was better on the back straight section. I went a little wide and he got past me. It would have been great to finish as the top Open rider, but Hiro deserved it. I will have to be more attentive next time. Nevertheless I am satisfied and I think we did a very good job this weekend; things have gone well."
Andrea Dovizioso
"It was a very tough race, to be honest I didn't think it would go like that. I was a bit unlucky because I also had a problem with the engine, when oil came out and led to a loss of some power. I also think I made the wrong choice of front tyre because I was unable to brake and put pressure on the front wheel, neither under braking nor in the curve, and turn-in was slow as well. The race sort of went a bit wrong for me today, and it just confirms that we still have to improve a lot to be able to stay with the others."
Michele Pirro
"It was a disappointing result, after I had finally managed to find a good feeling with the bike during the warm-up. In the race unfortunately I made several mistakes and lost contact with the group that went from tenth to fifteenth place. It's a pity, because my lap times towards the end were very close to theirs. Now I hope to make a big step forward at Jerez next week."
Andrea Iannone
"I'm very happy with how the race went, I pushed hard from the start and I was going to stay in the leading group, but unfortunately, between the eighth and the tenth lap I was forced to slow down due to the decay of the tires. I have more feeling with the bike and I work always better with my team. I thank everyone for the excellent work done this weekend in Argentina and Ducati for all the support they give me."
Yonny Hernandez
"I'm happy with the todays result, I fought again for the top-ten. In the last laps of the race I suffered the decay of the tires losing two positions. I've felt the support from my fans here in Argentina and I want to thank them all. Thanks to the team and in particular to Francesco and Giacomo Guidotti who are helping me to get better and better."
MotoGP Argentina results
1. Marc Marquez (SPA) Repsol Honda Team 41'39.821
2. Dani Pedrosa (SPA) Repsol Honda Team + 1.837
3. Jorge Lorenzo (SPA) Movistar Yamaha MotoGP + 3.201
4. Valentino Rossi (ITA) Movistar Yamaha MotoGP + 4.898
5. Stefan Bradl (GER) LCR Honda MotoGP + 15.029
6. Andrea Iannone (ITA) Pramac Racing + 19.447
7. Bradley Smith (GBR) Monster Yamaha Tech3 + 24.192
8. Pol Espargarò (SPA) Monster Yamaha Tech3 + 29.118
9. Andrea Dovizioso (ITA) Ducati Team + 33.673
10. Hiroshi Aoyama (JPN) Drive M7 Aspar + 43.279
11. Nicky Hayden (USA) Drive M7 Aspar + 43.352
12. Yonny Hernandez (COL) Energy T.I. Pramac Racing + 44.819
13. Karel Abraham (CZE) Cardion AB Motoracing + 45.178
14. Scott Redding (GBR) Go&Fun Honda Gresini + 48.656
15. Aleix Espargaro (SPA) NGM Mobile Forward Racing + 52.250
16. Hector Barbera (SPA) Avintia Racing + 53.505
17. Michele Pirro (ITA) Ducati Team + 53.669
18. Michael Laverty (GBR) Paul Bird Motorsport + 56.570
19. Mike Di Meglio (FRA) Avintia Racing + 1'03.140
20. Colin Edwards (USA) NGM Mobile Forward Racing + 1'05.760
21. Brok Parkes (AUS) Paul Bird Motorsport + 1'16.722
22. Alvaro Bautista (SPA) Go&Fun Honda Gresini Not starting
23. Danilo Petrucci (ITA) Came Iodaracing Project Not starting