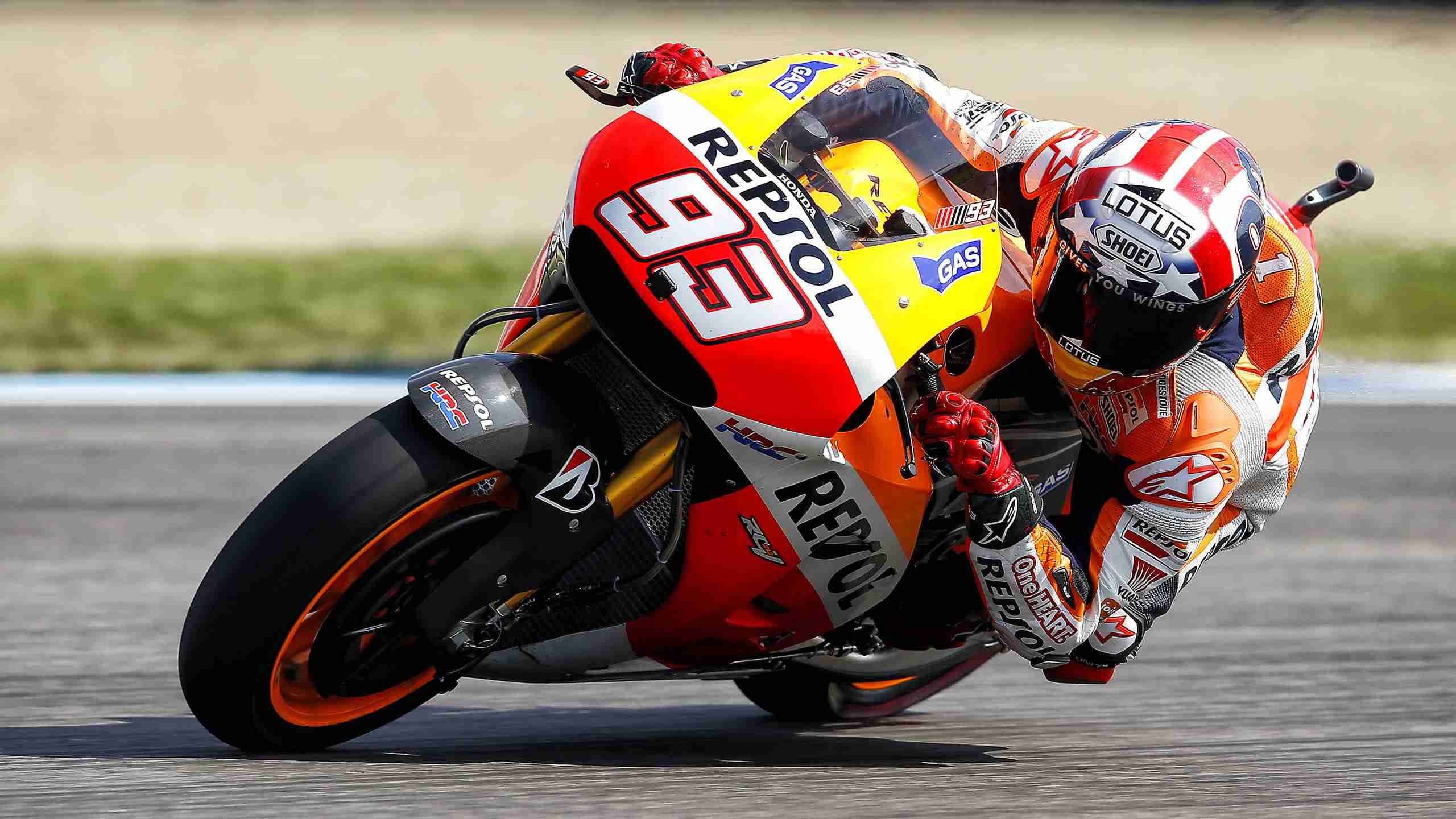 Marc Marquez continued his dominating qualifying form today at Indianapolis Motor Speedway, the Repsol Honda rider setting a lap time of 1'31.619 to take his eighth pole position from ten rounds this season. Having already shown impressive pace during long runs in the practice sessions, Marquez also showed his peerless pace over a single lap, ending the Qualifying Practice 2 session 0.225 seconds ahead of Ducati Team's Andrea Dovizioso who rode brilliantly to secure second place on the grid for the race. Third quickest in qualifying was Movistar Yamaha MotoGP's Jorge Lorenzo who managed a best lap time of 1'31.869 to finish a quarter of a second behind Marquez. Both Marquez and Lorenzo used the combination of the medium compound front and rear slicks to set their quickest time, while Dovizioso used the soft compound rear slick paired with the medium compound front to set his personal best lap time.
Conditions were dry for all of today's sessions with a peak track temperature of 40°C recorded at the start of Free Practice 4. The fine weather allowed riders to compare different tyre combinations during their race simulations, and the harder rear slick options; hard compound for the Factory Honda and Yamaha and medium compound for the Ducati and open-class riders were preferred by almost every rider. Rider feedback for the medium compound front slick, which was brought to Indianapolis for the first time this year has been overwhelmingly positive and this option will be the most widely used choice for the race. The current weather forecast indicates a fair chance of rain tomorrow afternoon with similar ambient temperatures to today.
Marc Marquez
"I am happy to have taken this pole position, because it is important to start well after the summer break. The fundamental thing is that we have a good pace for tomorrow. The tyre choice tomorrow will also be important, especially with the rear. We will see what the temperature is like and, from there, decide which compound to use. I am happy with how I am feeling, and we will try to give 100%, as always".
Jorge Lorenzo
"We tried a new setting during Free Practice 4 with the hard tyre but it wasn't good. We have to understand what the problem was; if the tyre wasn't right or if the setting wasn't good. With the soft tyre the bike was working quite well and when we tried the hard tyre yesterday it was working really good. Tomorrow in the warm-up we will see if the feeling is ok with the hard tyre. During the qualifying I tried to put in a very good lap time. After the first try I was very satisfied with the lap. The second time I wanted to improve a little bit more but I came across so many riders waiting for a tow that I couldn't ride like I did before. I went just two tenths of a second faster, but it was enough to give me this first row, which is a good position."
Valentino Rossi
"I'm quite happy. It was possible to do a little better, especially because I was good this afternoon. During Free Practice 4 I was consistently fast, but starting from the top five is ok for the race. It would have been better to start from the first row, but it's also ok from the top five. I'm quite happy because I'm riding the bike well. I have a good pace and we improved the setting a lot, but the rear tyre choice will be crucial. The soft and hard options are very similar, so it will be a very important decision for tomorrow's race. Here, on the new tarmac, the track changes a lot with every practice session. It now looks like the softer tyre is becoming better while yesterday it was impossible to use, but the two options are very similar."
Dani Pedrosa
"In qualifying I wasn't able to improve my best time with my second tyre, because I couldn't do it on the three attempts I had at a hot lap. When you don't improve on this second run, you are always going to have people move ahead of you on the grid. The times are very close and unfortunately for us we had a bad qualifying session. In any case, I will work with the team tonight and tomorrow morning to try to find a faster pace for the race, and look for a little more rear grip".
Pol Espargaro
"Overall, I am quite satisfied with the second row as qualifying result today and I feel really confident for the race tomorrow. There are two open class bikes in front and I am convinced that I have a better race pace so with a strong start off the grid, we should be able to overhaul them and get into the top five which is what I am aiming for. As for tyres, we still haven't made a full decision on what we will use for the race. The softer compound has really good grip but as the asphalt is aggressive here it may not last the full race distance. Therefore, we will evaluate the situation in the warm up tomorrow morning and make our decision then. Despite this, I am confident and happy with both compounds of tyres and really looking forward to the race where I hope to continue my strong run of results here."
Bradley Smith
"It goes without saying that a fall is never the most ideal way to complete the session, but fortunately I am all ok for tomorrow's race and have only reopened my finger. The cause of the fall was because I was asking a little too much of the rear tyre as it would have lasted a maximum of almost two laps, but I tried to do three. The time itself was acceptable and I am happy to be on the third row, even though I know I could have been faster. The team and I undertook some really positive work during FP4 to prepare ourselves for the race where I used the hard tyre which certainly felt comfortable. We have made no decision on the choice of compound for tomorrow, but we'll wait and see how the grip levels are in warm up before tactfully deciding. Either way, I am happy with either choice of tyre as well as how the Yamaha feels and so am looking forward to getting a strong start plus having a positive race from the third row."
Andrea Dovizioso
"We needed that, the front row always helps! We have done a good job for the race and this weekend we have always been quick in all conditions. I am happy with the feeling and our speed, but I think in any case that the race will be a tough one so for the moment I'm enjoying the front row. I admit that following Marquez gave me a bit of a hand: I had the pace for a low 1'32 lap, but I followed him on his quick lap and I also got down under the 1'32 mark. Unfortunately after a few laps the tyres drop off quite a lot and for us it becomes more complicated. But we'll see tomorrow: in any case starting up front helps a lot and I'll try and take advantage of the situation as best as possible!"
Cal Crutchlow
"We've obviously been having a difficult weekend again, but at least I made it into Q2. I think we made quite a big improvement today and as a result I'm more optimistic after today's performance than what I was yesterday. I'm still a little slow over the initial first lap but I think we found a better feeling and a better overall pace. We need to make a few set-up improvements in the warm-up tomorrow morning and then I look forward to having a better race tomorrow."
Aleix Espargaro
"I'm happy with today's result. It has been a strange weekend. We did some chassis comparison and we worked a lot to improve the set up. It was important to start from one of the first two rows so I'm satisfied. Tomorrow it will be a tough race because, as we saw in the FP4, we are all very close so I expect a difficult race."
Alvaro Bautista
"Luckily I'm feeling okay now, but this morning's crash was really scary; I had a high side and I think I have been flying for several seconds… Hovewer, like I said I'm physically fit, I'm just disappointed because the feeling with the bike is not the best; we have been struggling a lot with rear grip and this is the cause of the crash I had in FP3. In this condition I cannot ride, because if I try to go a little bit faster I risk to crash, like it happened this morning. This is frustrating. For sure tomorrow we will face a tough race, but we will try our best, as always".
Scott Redding
"I've been feeling really good since the beginning of the weekend, and today it was really nice to get to the Qualifying 2 session for the first time this year. I'm happy also because in Q2 I improved my lap time again. Today I was able to push hard all the time, so I'm looking forward to tomorrow's race; we're just struggling a little bit with front grip: after 5 or 6 laps, even if you can't see tyre wear, you feel less grip and less confidence, so we will work tonight to find something to fix it. For the race we will use the medium rear tyre, because after 1 or 2 laps the softer one drops a lot; however, even with the medium compound my lap times are good and I don't feel a big difference, so I'm confident. We will see how it goes tomorrow".
Colin Edwards
"I'm reasonably happy with this qualifying. This morning we had too much weight on the rear so during FP4 we made some adjustments and the feeling improved a bit. I look forward to tomorrow's race. The support of the crowd is amazing. I saw a lot of Texas flags along the track and tomorrow I will give my best to thank the fans for this great support."
MotoGP Indianapolis qualifying timing
FRONT ROW
1. Marc Marquez (SPA) Repsol Honda Team 1'31.619
2. Andrea Dovizioso (ITA) Ducati Team 1'31.844
3. Jorge Lorenzo (SPA) Movistar Yamaha MotoGP 1'31.869
SECOND ROW
4. Aleix Espargaro (SPA) NGM Mobile Forward Racing 1'32.113
5. Valentino Rossi (ITA) Movistar Yamaha MotoGP 1'32.160
6. Pol Espargarò (SPA) Monster Yamaha Tech3 1'32.243
THIRD ROW
7. Andrea Iannone (ITA) Pramac Racing 1'32.254
8. Dani Pedrosa (SPA) Repsol Honda Team 1'32.331
9. Bradley Smith (GBR) Monster Yamaha Tech3 1'32.343
FOURTH ROW
10. Stefan Bradl (GER) LCR Honda MotoGP 1'32.514
11. Scott Redding (GBR) Go&Fun Honda Gresini 1'32.714
12. Cal Crutchlow (GBR) Ducati Team 1'32.794
FIFTH ROW
13. Yonny Hernandez (COL) Energy T.I. Pramac Racing 1'33.166
14. Alvaro Bautista (SPA) Go&Fun Honda Gresini 1'33.294
15. Colin Edwards (USA) NGM Mobile Forward Racing 1'33.625
SIXTH ROW
16. Leon Camier (GBR) Drive M7 Aspar 1'33.747
17. Danilo Petrucci (ITA) Octo Iodaracing Team 1'33.837
18. Hiroshi Aoyama (JPN) Drive M7 Aspar 1'33.948
SEVENTH ROW
19. Mike Di Meglio (FRA) Avintia Racing 1'34.244
20. Hector Barbera (SPA) Avintia Racing 1'34.332
21. Karel Abraham (CZE) Cardion AB Motoracing 1'34.369
EIGHTH ROW
22. Brok Parkes (AUS) Paul Bird Motorsport 1'34.764
23. Michael Laverty (GBR) Paul Bird Motorsport 1'34.814