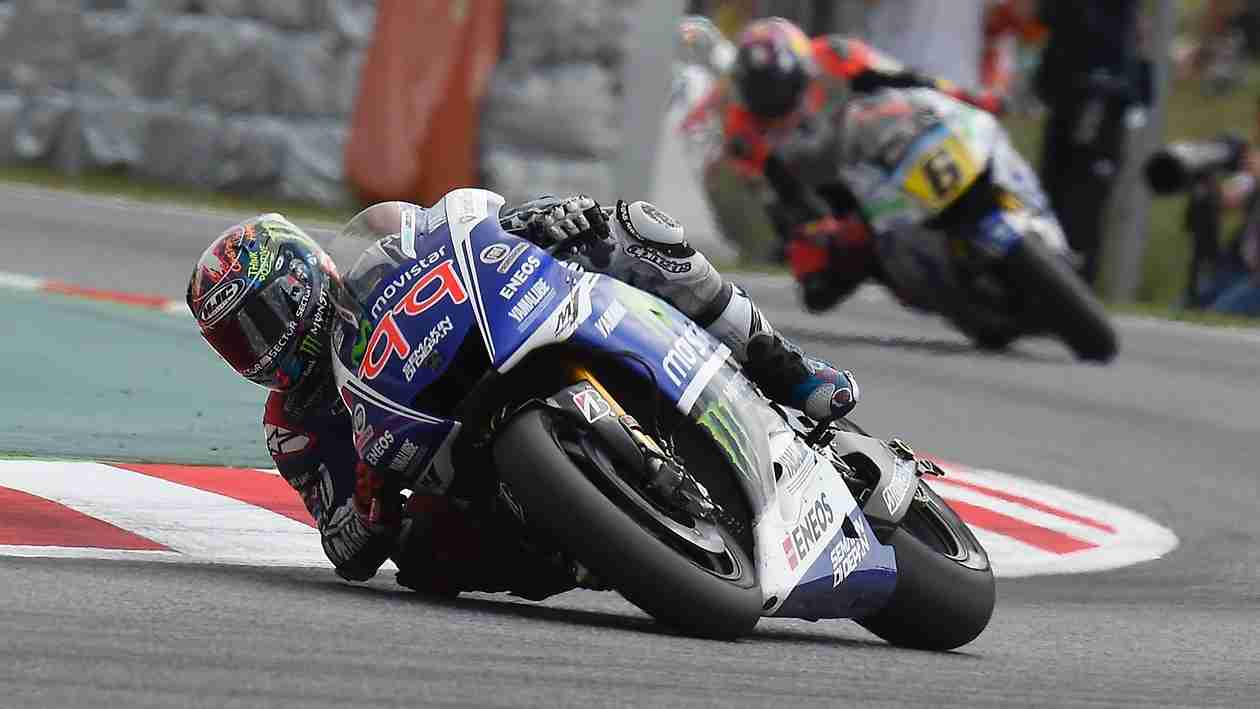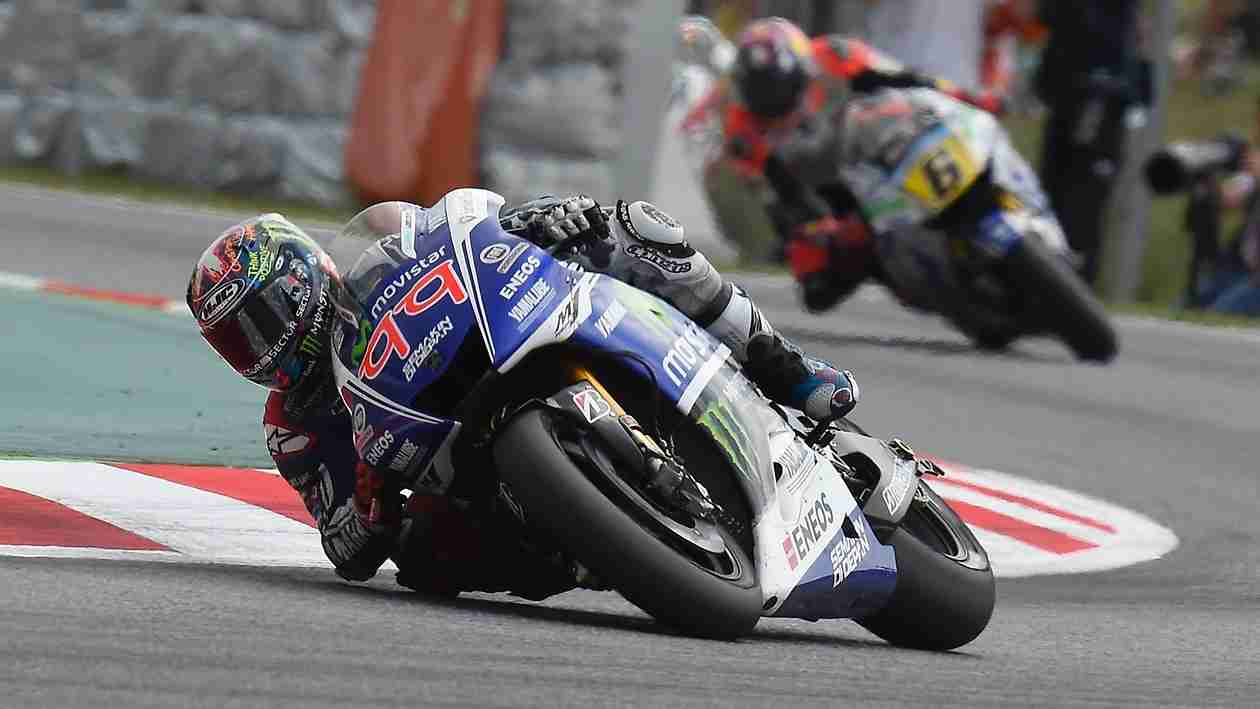 Round eight of the 2014 season is one of the true icons of the MotoGP calendar; the Dutch TT at Assen. This 4.542 kilometre circuit features a variety of slow and fast corners which demand a good bike setup and tyres with high levels of grip and stability. Although it features many fast sections, Assen is one of the least severe circuits for front tyres, but the sequences of right-hand corners such as from Mandeveen to Hoge Heide put significant strain on the right shoulder of the rear tyre.
Rear tyre options for the Factory Honda and Yamaha riders are the medium and hard compound rear slicks, while the Ducati and Open-class riders will be able to utilise the soft and medium compound rears. Due to the particular layout of the Assen circuit, the medium and hard rear slicks feature the same hardness of rubber on the right shoulder which has to cope with the brunt of the forces, while still providing high levels of grip. The lesser-used left shoulder of the medium and hard rear options feature varying hardness of rubber to ensure adequate warm-up performance.
As the Assen circuit is not overly demanding on the front tyre, the three front slick options available to riders are from the softer end of Bridgestone's compound range; the extra-soft, soft and medium compounds. Assen can be quite challenging in wet conditions due to its different sections of tarmac, so the main wet tyre option for this weekend is the soft compound.
Marc Marquez
"We are still in enjoying a really good momentum but we know it can't go on forever! I really like Assen and have had some good results in the lower categories, and last year we took second in my first visit there on the MotoGP machine. The weather is always unpredictable there so we will, as always, work hard from the first session to find a good setup."
Dani Pedrosa
"It was good to be back at the front and fighting in Catalunya! I'm looking forward to going to Assen and hope I'm one step fitter again as last year I didn't really have a good race, so I hope to improve. The weather is usually tricky so you must make the most of any dry track time. I like the track but it's important to find a good setting and feeling with the tyres as there are a few very fast corners."
Valentino Rossi
"Assen is a great track and a good track for Yamaha. The weather will be very important here. You never know if it will be hot or cold or dry or wet. Last year's race was unforgettable but honestly this year I feel I am strong almost everywhere so we have to try hard to beat the competition."
Jorge Lorenzo
"After a bit of a disappointing weekend in Barcelona where I gave my best even when some circumstances didn't help us, we travel to Holland with plenty of optimism. In Barcelona we struggled a bit with the acceleration, especially in the last part of the track where we used to be so strong in the past. This year that issue didn't allow me to fight in front for the victory. Afterwards during two test days we found some solutions to solve that problem and we tested new things to try to cut off the distance with our main rivals. I look forward to racing in Assen, it's maybe my favorite circuit. It's a nice layout defined by some quick corners and a short straight that looks good for us, and especially for the Yamaha. In recent years I couldn't got so many good results but instead I always could find a good set up and ride in my best way. Last season I finished fifth after a surgery on my collarbone and I suffered a lot but finally I could conclude a very special race. Anyway, looking into the future it is the best opportunity to do my best and try to get my first win. We will see!"
Alvaro Bautista
"During Barcelona Qualifying I had a big crash, but fortunately nothing is broken, so I will be fully fit for Assen race weekend. Also at this Grand Prix we will find several fast corners, like at Mugello and Catalunya: at the moment we are struggling with this kind of corners, so we need to improve on this area. Anyway, during the post-race test in Spain we found some improvements with regard to the brakes and hopefully we will use the new parts already in Assen. Unfortunately I was still sore from the fall, so I couldn't do a lot of work on the bike set-up, but we remain confident: if we stay focused during the practice, looking for a good compromise for the fast corners, we can achieve a good result".
Scott Redding
"I like the Assen TT circuit, and I also like the Country, where there is always a good atmosphere. We only need to take a look at the weather, as it could be a little tricky there, always changing. Anyway, this is another circuit on which I'm comfortable, even though it's quite narrow, so I will need a bit of time to get acquainted with it aboard a MotoGP bike. The first sector could suit well our bike, but surely the other two sectors will be difficult for us because of the straights. During the Barcelona post-race test we managed to find some more traction: it will be interesting to see if this could be helpful to be fast in Assen, with all those long corners where you need as most traction as possible".
Andrea Dovizioso
"Assen is a strange track because of the layout and also because of the weather conditions that we normally find during the race weekend. For us last year's race was very difficult, but after the result we obtained in Barcelona, where we cut the gap to the leaders by half from 2013, we hope to continue this positive trend in the Netherlands."
Cal Crutchlow
"Assen is definitely one of the tracks in the championship that I like the most. I had a great race there last year, taking the pole and sharing the podium with Rossi and Marquez. There's no doubt my championship so far has been difficult, but I'm going to Assen with confidence, and we'll all give 100%, you can be sure of that."
Pol Espargaro
"I am looking forward to getting the racing underway at this special circuit in the Netherlands this week. We had a really positive test day after the Catalunya Grand Prix which has given me a further confidence boost ahead of this round and for sure I am very keen to see the results of our experiments at the test in action. Last year the Dutch TT was a really strong event for me where I won the Moto2 race from pole position and although it may be hard to emulate that this year, I still aim to get close to the leading riders. Realistically, I am targeting to be in the top 5 again as I know this is fully achievable and even though the weather can be a bit tricky, I am ready to race in Assen.""It's safe to say that the past five rounds really haven't been how I would have imagined them. My lack of luck in the past races has made things challenging but after the truely productive test, I am certain my fortunes will turn around this week in Assen. I've ridden well here in the past having collected a podium in the 125cc class as well as in Moto2 during my first year aboard the Tech3 Racing Moto2 bike. Moreover the track certainly suits the style of the Yamaha, which I aim to utilise fully to ensure that we have a positive weekend especially in front of the Dutch and English fans who are brilliant and truly love our sport coming to their country."