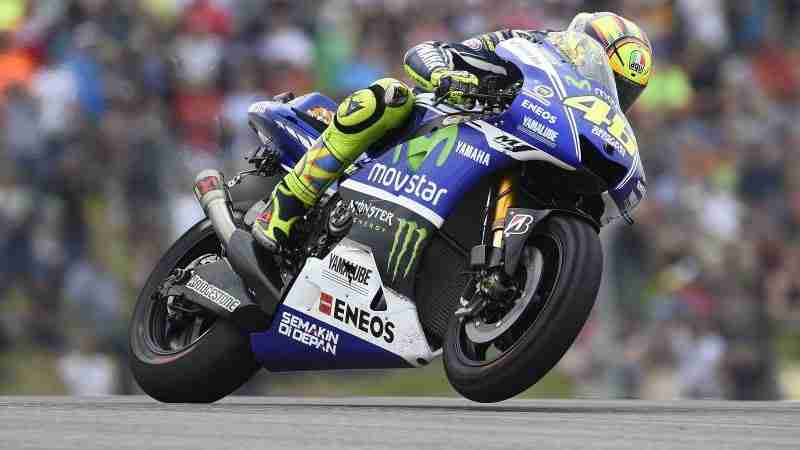 2014 sees MotoGP return to South America for the first time since 2004, as Argentina's Autódromo Termas de Río Hondo hosts round three of the season. Measuring 4806 metres in length, the Termas de Río Hondo circuit is characterised by numerous fast, long-radius corners that are expected to result in one of the highest average speeds of the year. The high speeds, hard braking zones and high camber angles of some corners results in this circuit being one of the more severe for tyres on the MotoGP calendar.
The Rio Hondo circuit has an unbalanced layout with nine right-hand corners compared to just five left-handers. However, the left-hand corners tend to be more severe in nature than the right-handers and in particular corners such as turn six and eleven generate high tyre temperatures, so the overall loads placed on the left and right shoulders of the tyres are similar. This means the rear tyre allocation for this circuit will be symmetric.
The overall severity of the Autódromo Termas de Río Hondo means the rear tyre allocation features rubber compounds from the harder end of the scale. Rear slick tyre options for the Factory Honda and Yamaha riders are the medium and hard compound rear slick, while the Ducati and open-class riders have access to the soft and medium compound rear slicks. As the Rio Termas Hondo circuit is a new addition to the World Championship, Bridgestone's dataset for this circuit is limited, while a wide range of weather conditions could also be encountered. As a result, a special front slick tyre allocation will be offered for this weekend's Argentina Grand Prix to ensure riders have enough options to deal with the potentially variable track conditions. The riders will be able to choose from three front slick options – the soft, medium and hard compound front slicks – instead of the usual two front options offered per race weekend.
Marc Marquez
"Argentina will be a new track for most of us, some riders went a year ago but I don't think the track surface was ideal so they were a little limited on the amount of laps they could do. I'm looking forward to visiting a new circuit and it will be nice for the fans. We will be looking to continue with the same momentum from the first two races of the season."
Dani Pedrosa
"After Austin I'm looking forward to Argentina and getting some laps around the track to feel the bike and learn the circuit! I don't know much about the new track, I've tried to do some homework with maps and videos and find out as much as I could before arriving but it's hard to say something not being on the bike. I'm looking forward to the weekend and meeting the fans over there as it will be my first visit to the country!"
Valentino Rossi
"It is important to go immediately to Argentina after the weekend in Austin and try to get a good result. This is a new circuit for everyone and we have to interpret it well. It is really hard to understand now if this track will be suitable for the Yamaha as there are many variables. We'll know after the first few laps on the track. I am happy with the work we are doing so far and in Argentina we will be even more focused to get good results. We'll have to understand as soon as possible the ideal set up of the bike, and above all we'll have to understand how the tyres behave on this asphalt. We will analyze all the data and we will do our best. Going to a new circuit is always exciting!"
Jorge Lorenzo
"Obviously it's not the beginning of the season I had dreamed of but I'm quite confident that we can revert the situation. It's not easy to swallow what happened at Austin but I always try to get the positive thing even if we are in trouble. Now I'm just thinking about Argentina and I'm really looking forward to racing as soon as possible there. Staying on track is the best way to forget and I think our championship is going to kick off over there. I think I'm going to be much more stimulated in front of the Argentinian fans and finally we will achieve a normal race. That track is a new one in the championship and the first ever visit to Termas de Rio Hondo. That's why we need to improve in a rush from Friday and try to stay calm and concentrate to get the best pace as soon as possible with the bike. Just a few riders could test in Argentina last year so I guess the inconvenience of learning the circuit is almost the same for everyone. Hopefully we will enjoy that track and we will catch a good result before we start racing in Europe. From my side I will arrive with plenty of energy after resting and training hard in Mexico!"
Andrea Dovizioso
"The result in Texas was fantastic both for me and for all the team. It was a really hard race, very tiring, and this third place gave me a special satisfaction. When you are able to obtain these results, which almost seem impossible, it is truly a great feeling. We are working really hard and we are always trying to get the best out of our bike. Now we are going to Termas in Argentina, which is a new circuit for almost all the riders. I have no idea what to expect, but I always like to race on new circuits and so I am curious and very motivated."
Cal Crutchlow
"I am very sad to let the team down like this because I was really looking forward to racing in Argentina. On Tuesday I had some scans on my hand and we saw that my finger was still dislocated from the crash and also broken so Dr. Chao decided to put a pin in to stabilize it. Unfortunately I'm still feeling too much pain in my right hand, my knuckles are the most painful part and I'm not in condition to race this weekend. Now I'm going back to the UK to continue treatment and try and get ready for the race at Jerez."
Nicky Hayden
"I am excited by the idea of racing at a new track. I always like going to new circuits and experiencing new things in a different country. We got to the same tracks every year so it is good to try something new. We have to try and adapt quickly to the layout and get a feeling for the track as soon as we can. Our attitude towards the job will be the same as always, which is to keep learning about this bike and trying to get the most out of it. I am constantly getting to know the bike and the team more and more and that will help us continue to grow together."
Alvaro Baitista
"During the tests carried out last year on the Termas de Rio Hondo circuit I could immediately appreciate some very technical parts of the track: I like it a lot, because it's characterized by many fast corners that suits my riding style. However, it should be said that last year we were able to take advantage of only one day of testing, because we had rain on the second day: therefore we haven't been able to work on the bike set-up. I also remember a very dirty track, as it had just been finished, anyway I believe that it will be okay for the race. In this Grand Prix our priority is to finish the race without taking risks: after the first two races we are still at zero points, so this time we absolutely need to collect some points".
Scott Redding
"The fact that the track of Termas de Rio Hondo is unknown to anyone – apart from the few riders who carried out the tests last year – I think it will make things a bit easier for me, because we will all start the weekend on the same level. In addition, I enjoy a lot riding on a new track: it's always an interesting challenge trying to be fast on a new circuit, it's a new motivation. I look forward to start the first free practice, to see how the bike works on this track".
Hiroshi Aoyama
"Even though we need to keep working hard to improve the performance of the bike the base we have established so far is pretty positive. We are getting clearer ideas every day and the more we learn about the bike the faster we can take it forward. I honestly don't know anything about the track in Argentina, but from what people have told me it is a cool layout, although technically demanding. The positive thing is that it will be a new track for everybody so we all start from zero, everybody is in the same situation. Hopefully the characteristics of the track suit our bike and we can come away with a positive result."