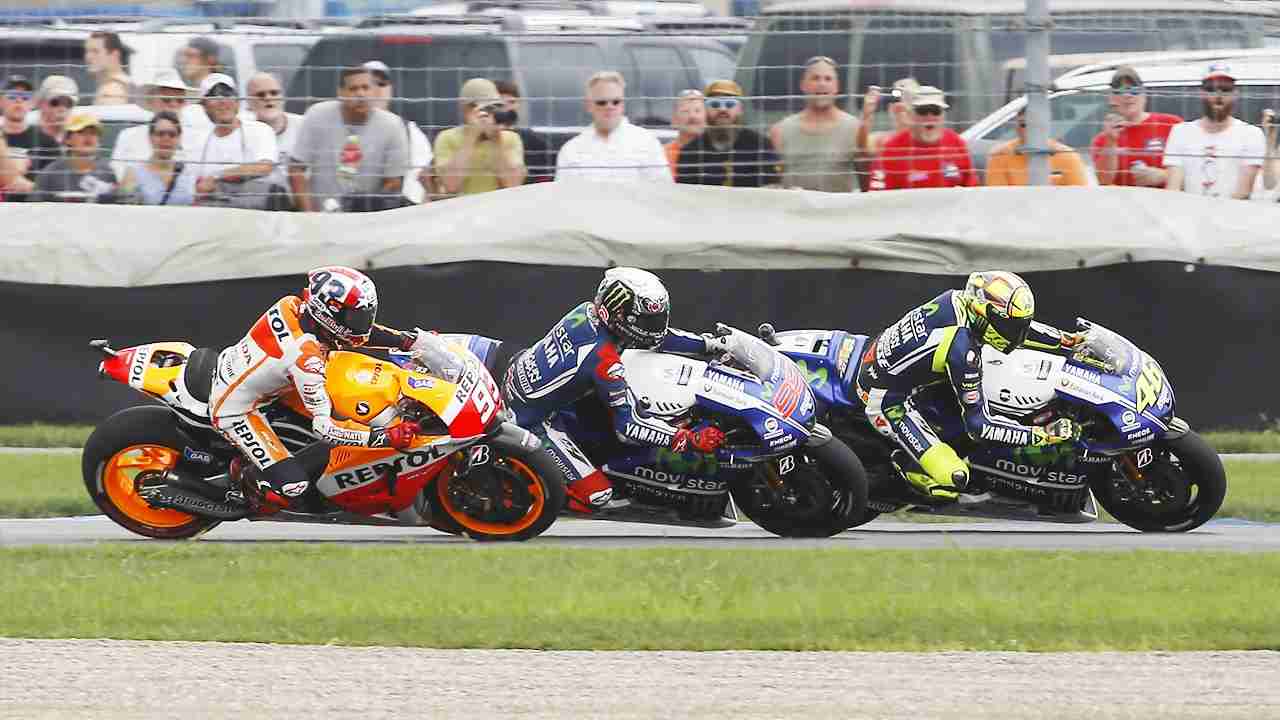 Repsol Honda's Marc Marquez made it ten wins from ten starts in the 2014 MotoGP season as the reigning world champion stormed to victory at Indianapolis Motor Speedway. Starting from pole position, Marquez had a poor start off the line and as the field completed the first lap he found himself in fourth place before he began his fight-back. Following an exciting battle for the lead, Marquez made the race-winning pass on the eleventh lap and was able to increase his pace to ultimately take the chequered flag by 1.803 seconds ahead of Movistar Yamaha MotoGP's Jorge Lorenzo who finished in second place. Third place went to Lorenzo's teammate Valentino Rossi who led the first ten laps of the race after a brilliant start.
Conditions were dry today, with ambient and track temperatures reaching their highest level of the race weekend, with a peak track temperature of 48°C recorded at the start of the race. The higher track temperatures didn't have an effect on race tyre choice, with riders selecting the same tyre combinations they used in yesterday's practice sessions. All except two riders selected the medium compound front slick, with Repsol Honda's Dani Pedrosa and Octo IodaRacing Team's Danilo Petrucci opting instead for the hard compound front slick. Rear tyre choice saw almost every rider select their harder rear slick option; hard compound for the Factory Honda and Yamaha, and medium compound for the Ducati and open-class riders, with only GO&FUN Honda Gresini's Alvaro Bautista breaking the trend by selecting his softer, medium compound rear slick for the race. Tyre performance at this year's Indianapolis Grand Prix which featured a revised track layout and new tarmac was exemplary, with ten of the fifteen riders that finished the race setting their fastest lap in the second half of the race. Marquez's perfect win record means he has amassed 250 championship points to lead teammate Dani Pedrosa by 89 points, while Rossi remains four points behind Pedrosa and in third place in the standings.
Marc Marquez
"I am really happy to have taken this win! After the summer break it was important to start with another victory. Yesterday it seemed like it may be a straight forward race, but it ended up being quite the opposite. We suffered a lot and physically it was hard, there was a lot of humidity and I was sweating a lot. The track temperature rose by 10 degrees today and this made the tyres behave differently. It was hard for me to have the same level of confidence. I was patient at the beginning and when I regained the good feeling I had in practice I decided to push, opening that two-second gap which in the end was enough for the win".
Jorge Lorenzo
"The beginning of the championship was a little bit of a disaster for me. I didn't feel comfortable on the bike and made many mistakes. Now I feel a lot better on the bike and I improved my physical condition. I rode well and consistently and I feel very fit on the bike. I ride against very strong riders now; Valentino improved his form this year. He is faster so it is not easy to overtake him and Marc is no longer the rookie rider he was last year. He has a very strong bike and he has more experience and is really fit and riding well. Despite this we are very focused on improving the bike. Yamaha is working very hard, so I am confident that we will get a better bike hopefully for this year, but if not for next season. Maybe on one of the next tracks that suits my riding style we can challenge Marc, but if we want to be a consistent threat to him in every race, we have to improve a bit more and that's what we are trying to do."
Valentino Rossi
"I am satisfied because this is a good third place after a good battle with Jorge and Marc. I led the race, stayed in front and rode well. I'm happy because usually this is a difficult track for me. We worked well with the team and the bike was good for the race. We were able to achieve a good pace, but now we have to make another step to arrive in front of Jorge and Marc."
Dani Pedrosa
"Overall it has been a difficult weekend in which at no point did I feel good on the bike. We couldn't find a good setup in practice. Then in the race, although I was able to move up a few places, I was always off the pace if I was going to fight for the podium".
Pol Espargaro
"I'm reasonably happy, as it has been a good race but not an incredible one. We collected important points for the championship. I learned a lot as well today and we definitely gave our best so I have to be satisfied with the result. In addition, having just the four factory bikes in front of me I can't complain too much. My start was ok and at the beginning I tried everything to stay with Dani, but during the opening laps he was really strong and escaped quite quickly. Afterwards my race was a very lonely one until I caught Dovizioso. I then tried to push a bit harder to open a gap to him and later on I just tried not to make any mistakes. Indy has been a good start to the second part of the championship but I'm already looking forward to Brno next week where I aim to improve further."
Bradley Smith
"Overall, I am really pleased to get a strong result and finish in the top six, although I was maybe a bit too cautious at the beginning with the hot conditions here, causing the front wheel to tuck an awful lot. However, I remained calm and remembered how long the 27 laps are, so I aimed to preserve my rear tyre as much as possible and then came back strongly during the second half of the race. In fact, around the mid section of the sprint, I put my head down and lapped mid 1'33's as I was chasing after Pol and Andrea Dovizioso, who I overtook with just two laps to go. Obviously, it was a big confidence boost to see the finish flag finally in such a good position which is where I want and need to be. Now I'm looking forward to the next race in Brno where I will try to continue to climb up the rankings."
Andrea Dovizioso
"Today we really have to be happy in any case. Even though the final gap was twenty seconds and we were unable to fight until the very end, we can leave Indianapolis quite satisfied because we were simply much quicker. Unfortunately the rear tyre dropped off a lot and I was forced to use a lot of energy, but in the early laps it was great fun to fight at the front of the leading group: there were also some aggressive contact moves but they were OK, because I was the fifth 'intruder' and no one wanted to lose touch with Marquez! We are continuing to work in the right direction, and I think that our performance today also shows that."
Cal Crutchlow
"We tried our best to improve the whole weekend and the team did a great job to be able to make a bike that was capable of being competitive. So I'm pleased with the result to finish eighth but not with the distance from the winner, which is still too far. After the arm operation I felt I was trying to recover a lot over the weekend but in the race I felt quite strong, it's just that my GP14 was quite difficult to ride. Unfortunately I was just too slow in the first ten laps of the race, but after that my laps were quite fast and consistent."
Colin Edwards
"It was an emotional weekend thanks to the amazing support I have received here at Indy and from all over the world. The race was hard. I was counting the laps and on the slow down lap I waved goodbye to the crowd with the American flag that one guy of the troops gave me. It was great, but now it's time to move on."
Aleix Espargaro
"I had a good start but I was passed on the straight. I was doing my race with Smith and Dovizioso and I was able to keep my rhythm. It's a pity that I was involved in this incident with Bradl. He hit me and my bike was damaged so I had to retire. It's racing but we lost important points. We will be back stronger in Brno."
MotoGP Indianapolis race results
1. Marc Marquez (SPA) Repsol Honda Team 42'07.041
2. Jorge Lorenzo (SPA) Movistar Yamaha MotoGP + 1.803
3. Valentino Rossi (ITA) Movistar Yamaha MotoGP + 6.558
4. Dani Pedrosa (SPA) Repsol Honda Team + 10.016
5. Pol Espargarò (SPA) Monster Yamaha Tech3 + 17.807
6. Bradley Smith (GBR) Monster Yamaha Tech3 + 19.604
7. Andrea Dovizioso (ITA) Ducati Team + 20.759
8. Cal Crutchlow (GBR) Ducati Team + 39.796
9. Scott Redding (GBR) Go&Fun Honda Gresini + 40.507
10. Hiroshi Aoyama (JPN) Drive M7 Aspar + 55.760
11. Karel Abraham (CZE) Cardion AB Motoracing + 1'05.130
12. Mike Di Meglio (FRA) Avintia Racing + 1'05.346
13. Colin Edwards (USA) NGM Mobile Forward Racing + 1'08.919
14. Michael Laverty (GBR) Paul Bird Motorsport + 1'09.203
15. Brok Parkes (AUS) Paul Bird Motorsport + 1'30.613
16. Leon Camier (GBR) Drive M7 Aspar Not classified (8 laps)
17. Andrea Iannone (ITA) Pramac Racing Not classified (13 laps)
18. Aleix Espargaro (SPA) NGM Mobile Forward Racing Not classified (15 laps)
19. Stefan Bradl (GER) LCR Honda MotoGP Not classified (15 laps)
20. Danilo Petrucci (ITA) Octo Iodaracing Team Not classified (21 laps)
21. Hector Barbera (SPA) Avintia Racing Not classified (22 laps)
22. Yonny Hernandez (COL) Energy T.I. Pramac Racing Not starting
23. Alvaro Bautista (SPA) Go&Fun Honda Gresini Not starting
MotoGP Championship standings post Indianapolis
1. Marc Marquez (SPA) Repsol Honda Team 250
2. Dani Pedrosa (SPA) Repsol Honda Team 161
3. Valentino Rossi (ITA) Movistar Yamaha MotoGP 157
4. Jorge Lorenzo (SPA) Movistar Yamaha MotoGP 117
5. Andrea Dovizioso (ITA) Ducati Team 108
6. Pol Espargarò (SPA) Monster Yamaha Tech3 78
7. Aleix Espargaro (SPA) NGM Mobile Forward Racing 77
8. Andrea Iannone (ITA) Pramac Racing 62
9. Bradley Smith (GBR) Monster Yamaha Tech3 58
10. Stefan Bradl (GER) LCR Honda MotoGP 56
11. Alvaro Bautista (SPA) Go&Fun Honda Gresini 50
12. Scott Redding (GBR) Go&Fun Honda Gresini 41
13. Cal Crutchlow (GBR) Ducati Team 36
14. Hiroshi Aoyama (JPN) Drive M7 Aspar 34
15. Nicky Hayden (USA) Drive M7 Aspar 28
16. Yonny Hernandez (COL) Energy T.I. Pramac Racing 27
17. Karel Abraham (CZE) Cardion AB Motoracing 23
18. Colin Edwards (USA) NGM Mobile Forward Racing 11
19. Michele Pirro (ITA) Ducati Team 7
20. Brok Parkes (AUS) Paul Bird Motorsport 7
21. Danilo Petrucci (ITA) Octo Iodaracing Team 4
22. Mike Di Meglio (FRA) Avintia Racing 4
23. Hector Barbera (SPA) Avintia Racing 2
24. Michael Laverty (GBR) Paul Bird Motorsport 2