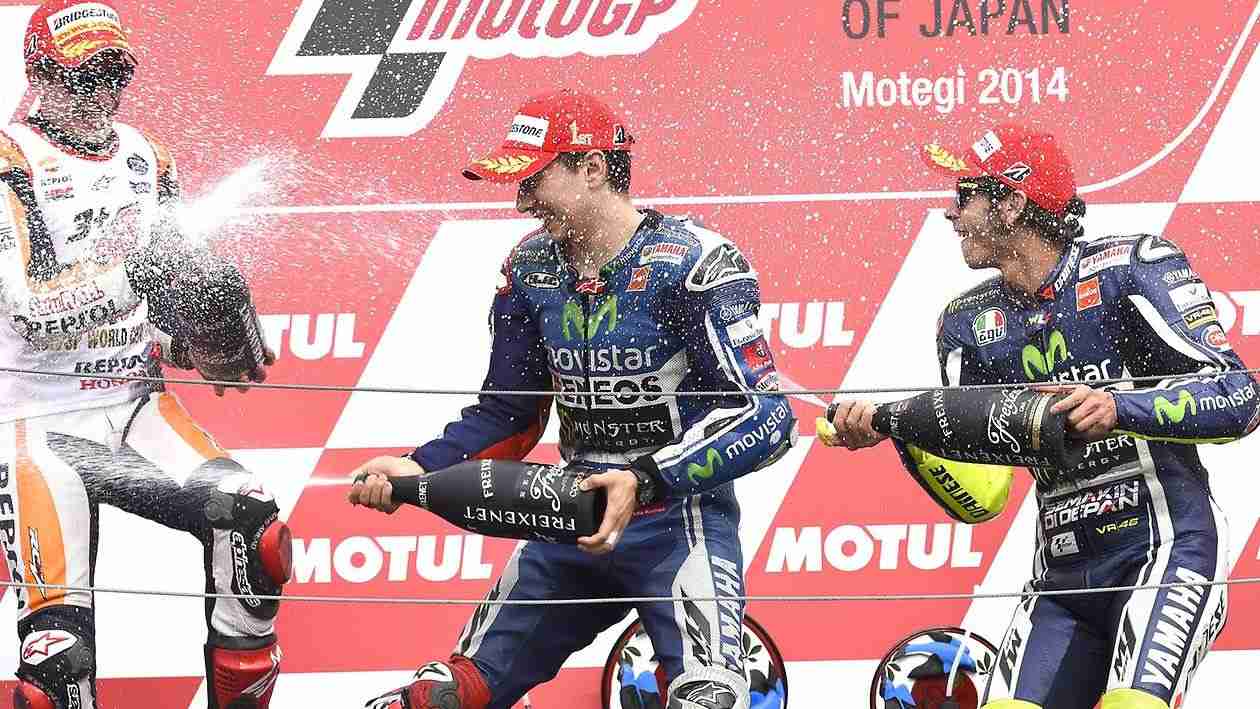 Yamaha MotoGP's Jorge Lorenzo continued his irresistible form in the second half of the 2014 MotoGP season as he won his second consecutive race at Motegi as Repsol Honda's Marc Marquez made it back-to-back MotoGP World Championship titles by taking second place in the Japanese Grand Prix. An exciting start to race saw Movistar Yamaha MotoGP's Valentino Rossi get the holeshot to lead into turn one, a position he held for the first four laps before Lorenzo squeezed past his teammate to take the over at the front. As his rivals battled behind him, Lorenzo set a scorching pace at the front of the field, setting a new Motegi race lap record of 1'45.350 on lap eight and going on to take the chequered flag by 1.638 seconds from Marquez, with Rossi rounding out the podium in third place a further second back.
Race day at Motegi experienced the coolest conditions of the weekend with the peak track temperature recording during the race being 27°C which was 13°C cooler than measured during qualifying yesterday. The fresher temperatures didn't have a significant effect on race tyre choice, with almost every rider opting for the same tyre combinations they used in race simulations earlier on the weekend. All twenty-four riders selected the medium compound front slick, while fifteen riders selected the soft compound rear slick, and the other nine riders opting for the extra-soft compound rear. After record-breaking pace in yesterday's qualifying sessions, more records were set at the Motegi circuit during the race with race winner Lorenzo setting a new race lap record of 1'45.350 on lap eight and the overall race time today being over ten seconds quicker than the existing record. With Marc Marquez wrapping up the title at Motegi, the focus now shifts to the battle for second place in the riders' standings. Valentino Rossi and Dani Pedrosa are currently tied on 230 points, while Jorge Lorenzo is now just three points behind on 227 points and fourth in the standings.
Jorge Lorenzo
"It's unbelievable! It has been a very difficult year but Yamaha has been improving the bike little by little and we're getting better every race. In Aragón, because of the 'flag to flag' we were able to win. We were lucky under the circumstances and I also improved in the race compared to the practice. Here we expected to get more and more strong for the race and be able to fight for the win but we didn't expect to lead by this much and have a gap of 2.7 seconds in the middle of the race. I'm very happy to win the race for the second time in a row. We are happy for Marc that he won the title. This year he was the best in general, so we want to say congratulations. The good thing about this year was that the four top riders were very similar. We had very strong races that were consistent and equal, so for the next races I expect a lot of fights. We are very close to the second position and that's our goal. We are going to try."
Marc Marquez
"I am very happy to have sealed this second consecutive World Championship, because although it is difficult to maintain this level, in the end we succeeded! Today is the time to enjoy this title. In the race I had a very clear objective, which was to finish ahead of Valentino and Dani ‒the other riders did not matter to me so much today. I just had one goal in mind and the important thing is that I was able to achieve it. I want to dedicate this title to all the people who have helped me ‒they know who they are‒ and especially to my family and the team, who are the foundation for all of this."
Valentino Rossi
"From one side I'm very satisfied because the race had a high level. We had a high race pace and were braking the lap record. We rode like this from the beginning to the end and I felt good with the bike. From the other side it's a shame that I was unable to keep the championship open for another week. I tried to get back on Marc, but unfortunately he had something more than me, so he arrived in front of me. I have to say that he deserves this championship. He worked well and was the stronger man this year. Congratulations to him."
Dani Pedrosa
"I wasn't as fast off the start as the riders at the front, which meant that I lost two or three seconds early on. However, later I was able to come back, set good times and cut the distance a lot. However, as has happened to me before on other occasions this season, I was continually having to make up the time that I had lost at the start. I have to congratulate Marc and his team today, because they have done a really good job this season and deserve the title."
Pol Espargaro
"It goes without saying that eighth isn't the position where I want to be and I can't hide my disappointment. It was a tough race today and I just never felt comfortable and couldn't go any faster. My start was an ok one and I did recover a position initially, but I struggled a lot in stopping the bike on full fuel load. From the middle of the race on, I regained some tenths every lap to close the gap on Bradl who was in front of me but unfortunately I caught him too late and couldn't find a way through. At each corner I lost a lot in acceleration so I tried to make it up whilst braking at every turn, but it just wasn't enough. I guess this is all part of my learning experience and we have to analyse our data now to see where we can improve for the next round in Phillip Island in just a couple of days."
Bradley Smith
"Although ninth position is nothing to be hugely excited about, there are still a lot of positives to take from today's race. In terms of the distance back from the leader, I would have been inside the twenty second bracket with Pol, had I not made a small mistake with three laps to go. However, my finish today was still one of the closest for me this season, which is a good step forward. I made this mistake on the first corner which unfortunately caused me to miss out on potentially fighting with Pol and Bradl, so I completed the race in ninth. This position seems to be where we are at right now or at least for this race and I extracted the most from myself and my motorcycle here in Motegi. However, in Philip Island I am sure that we can have a better result as it is a track that I really enjoyed last year on the Yamaha, which performed well. So, I hope to take the consistency and the positives from here and turn it into a stronger result in Australia next week."
Aleix Espargaro
"It was a really difficult race. I made a good start but in the first laps I started to struggle with the brakes that work hard on this "stop and go" track. I lost some positions and then it was impossible to reduce the gap from the front guys. I pushed hard and I crossed the finish line as first open. I look forward to race in Australia next week, one my favourite racetracks in the MotoGP calendar. My congratulations to Marc Marquez for clinching his second MotoGP title. He has made a great season and he deserved it well."
Alex De Angelis
"Motegi is a very technical and demanding track and today I struggled a lot. I was confident for the race but since the first laps I had some technical and electronics issues and I couldn't fight with the other open bikes as I would have wanted."
Andrea Dovizioso
"I think we have to be upbeat about this weekend's result and look at things in a positive way. We went really well in practice and qualifying, yesterday we got a fantastic pole position and we have always been up at the top of the timesheets. We are making our fans dream again and so it's obvious that we are creating expectations, but the fact is that we are still not ready to aim for the win. But it was great to do the early laps in the leading group. I really pushed hard but when the rear tyre started to drop off I was no longer able to keep with them. It's all good experience that will help us for next year and I'm very pleased with the work we have done so far."
Cal Crutchlow
"I'm really disappointed for today's result, and I'm sorry for the team first and foremost. I made an error by slightly jumping the start, so then on the actual start I released the clutch too late and got a really bad start in the end. I tried to make up some time because I didn't want the leaders to get away so much, and I pushed too hard and made a mistake on the wide line into turn 3 and crashed. I was actually quite pleased with my pace this weekend, we did a better job of it as a team, so I'm obviously very disappointed with the result. Hopefully we can make amends in Phillip Island."
Hiroshi Aoyama
"After two crashes already this weekend, which caused me to lose some confidence, I thought it was going to be a long 24 laps today. I didn't have a good feeling with the front but the mechanics worked hard yesterday and up until midnight last night to give me a better setting and I was really able to enjoy myself today. It was the best feeling I have had with the bike all weekend and I was able to put on a good show for my fans. We finished as the top Honda in the Open category and we closed the gap to the fastest riders in the championship."
Nicky Hayden
"I crashed early in the warm-up this morning which definitely wasn't the best way to start the day and it affected my start in the race. Then on the fourth lap Redding ran a little wide and kicked up a couple of stones that hit my fairing and that affected the aerodynamics of the bike, making the front lift up. So it was a frustrating race and I expected to be much faster than we were today. On the positive side we picked up a couple of points and we have come away with something from a race that we knew was going to be tough on my wrist."
Alvaro Bautista
"Given the pace we showed during practice, today our target was to fight for the seventh position: unfortunately, I was not able to do more than that. As always, I couldn't 'feel' the rear tyre and I struggled to stop the bike under braking, so it was difficult to ride. Hernandez passed me at the start and then I was stuck behind him many laps because I couldn't overtake it: I couldn't brake hard, while he was able to brake deep into the corner. When I finally passed him, it was too late to reach the riders in front of me, so I closed the race in tenth position. If these problems will continue it will be very hard to do better results, so we hope to find a solution for the next races".
Scott Redding
"Today I struggled to follow the right line under braking: I went deep several times and I also went off the track on the grass two times, losing a lot of time. It was difficult today to be consistent. We still don't know why we had this problem: we will check alla the data in order to fix ita head of the upcoming races. In addition, in the last 5 laps the front was pushing a lot, because I used a lot the front tyre at the beginning of the race. I'm not satisfied with the result".
MotoGP Motegi results
1. Jorge Lorenzo (SPA) Movistar Yamaha MotoGP 42'21.259
2. Marc Marquez (SPA) Repsol Honda Team + 1.638
3. Valentino Rossi (ITA) Movistar Yamaha MotoGP + 2.602
4. Dani Pedrosa (SPA) Repsol Honda Team + 3.157
5. Andrea Dovizioso (ITA) Ducati Team + 14.353
6. Andrea Iannone (ITA) Pramac Racing + 16.653
7. Stefan Bradl (GER) LCR Honda MotoGP + 19.531
8. Pol Espargarò (SPA) Monster Yamaha Tech3 + 19.815
9. Bradley Smith (GBR) Monster Yamaha Tech3 + 23.575
10. Alvaro Bautista (SPA) Go&Fun Honda Gresini + 35.687
11. Aleix Espargaro (SPA) NGM Forward Racing + 40.668
12. Katsuyuki Nakasuga (JPN) YAMALUBE Racing Team with YSP + 51.027
13. Hiroshi Aoyama (JPN) Drive M7 Aspar + 51.093
14. Nicky Hayden (USA) Drive M7 Aspar + 55.792
15. Hector Barbera (SPA) Avintia Racing + 59.089
16. Scott Redding (GBR) Go&Fun Honda Gresini + 59.508
17. Alex De Angelis (RSM) NGM Forward Racing + 1'16.547
18. Michael Laverty (GBR) Paul Bird Motorsport + 1'28.021
19. Mike Di Meglio (FRA) Avintia Racing + 1'29.470
20. Brok Parkes (AUS) Paul Bird Motorsport + 1'33.253
21. Yonny Hernandez (COL) Energy T.I. Pramac Racing Not classified (1 laps)
22. Karel Abraham (CZE) Cardion AB Motoracing Not classified (10 laps)
23. Danilo Petrucci (ITA) Octo IodaRacing Team Not classified (20 laps)
24. Cal Crutchlow (GBR) Ducati Team Not classified (23 laps)